DepEd Approves Tuition Hikes For 170 Private Schools In Metro Manila
4 min read
Just a few weeks before the start of the new school year (May 22), the Department of Education (DepEd) has announced that they have approved the tuition hikes of 170 private elementary and high schools in Metro Manila.
Out of 2,000 private learning institutions in the nation's capital, less than 10 percent of them were given the green light to hike their fees.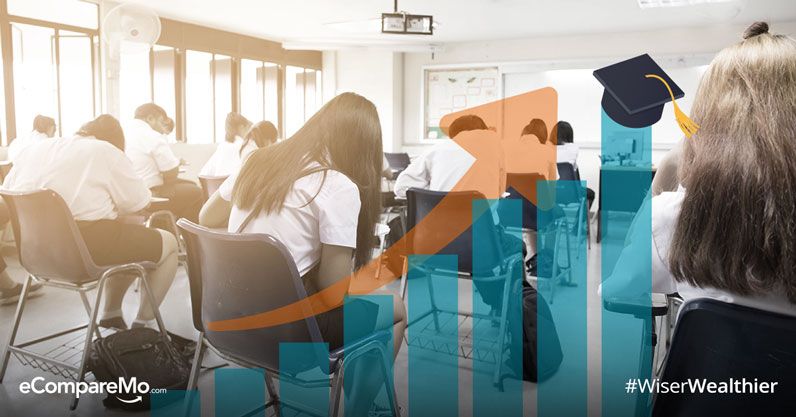 Mostly located in Manila and Quezon City, the schools that were approved by the DepEd to bump their tuition will implement a raise of up to 15 percent. According to DepEd-NCR director Wilfredo Cabral, the government agency enforced the ceiling to keep the request reasonable.
"There were some schools which applied for a higher rate than 15 percent. We returned it, saying that we're limiting the increase only up to 15 percent," Cabral said. "We would want to ensure that the tuition fee in private schools shall not be exorbitant."
Higher (priced) learning
Although the names of the schools weren't released, DepEd released the breakdown of the number of schools increasing their tuition per city:
| | |
| --- | --- |
| City | Schools with a tuition increase |
| Quezon City | 51 |
| Manila | 36 |
| Pasig | 14 |
| Marikina | 11 |
| Taguig / Pateros | 8 |
| San Juan | 7 |
| Mandaluyong | 6 |
| Makati | 6 |
| Las Piñas | 6 |
| Caloocan | 5 |
| Parañaque | 5 |
| Valenzuela | 5 |
| Muntinlupa | 5 |
| Pasay | 3 |
| Malabon | 2 |
| Navotas | 0 |
| Total | 170 |
Per the DepEd's guidelines, there will be a proper allocation in the increase, where 70 percent will go to salary and benefits of employees, 20 percent will be spent on the school's facilities, and 10 percent will be set aside for the institution's return of investment.
"We have private school supervisors. And in the current setup of the department, we have the quality assurance division of the regional office. One division that's looking at the affairs of private schools," Cabral said.
What this means for you
With the tuition hike expected to go in full swing before the new school year begins, parents should be more than vigilant on how their child's school expenses will change.
To help you fully understand the effect of the tuition fee increase on the horizon, we did a sample computation.
Let's say you're planning to enroll your grade 12 kid in a prestigious high school in Metro Manila. Before DepEd approved the tuition fee increase, the breakdown of fees for grade 12 student, based on annual terms are as follows:
| | |
| --- | --- |
| Breakdown | Amount |
| Tuition fees | 77,760 |
| Registration fees | 500 |
| Special fees | 17,050 |
| Miscellaneous and other fees | 12,360 |
| Total | 107,670 |
Schools incentivize all-in cash payments by offering a discount, which is usually around two percent off. If you can take advantage of this discount, you will still have to pay around P106,115.
With up to 15 percent increase in tuition, you're now looking at a total price of between P113,113 and P119,334.
If the normal tuition fee and the discounted tuition fee are still too much for your budget, you will have to settle for friendlier payment terms. Unfortunately, parents who would rather pay their kid's tuition in an installment basis would also have to contend with the increase in the amount; the more payments you make, the higher the interest will be.
Tuition fee on installment can rack up to an additional five percent depending on the installment plan chosen. In our example, tuition fees can go up to around P125,000 depending on the payment terms.
What you can do
A few thousand pesos in tuition fee increase is not a joke, especially with the prices of other commodities prices on the rise. Here are some things you can do to help ease the burden of paying for high tuition.
1. Apply for friendlier terms
Sure, we said that longer terms of payment will mean that you'll be paying more for your child's tuition. However, if you can't scrounge enough amount to fully pay your kid's educational expenses, then you're better off paying what you can initially.
Tuition installment programs may be more expensive in the long run, but you're paying for the convenience of borrowed time.
2. Look for scholarship grants
Is your kid showing exceptional aptitude in academics, sports, music, or the arts? Fortunately, you can seek financial aid from different foundations who are willing to bankroll your kid's education.
Companies, government agencies, and educational foundations are always looking for deserving students who need help to get the schooling they need to develop their gifts.
3. Get a personal loan
If you cannot shoulder the tuition fee in its entirety you can still qualify for and apply for a personal loan . For best results, make sure to compare personal loan products from different banks and only borrow what you need so you won't have a hard time paying off your debt.
5. Transfer your child to a school with lower tuition
Everyone knows how disheartening it is to transfer schools. Unfortunately, this might be what's best for both the kid and the family. This final option should only be reserved when you have exhausted all potential options since this can severely impact the kid.
Don't let the tuition amount be your sole guide in choosing a new school for your child. You should do a research onb the quality of education in your target school and maybe talk with some parents who also send their kids there.
Source: GMA Network