LIST: State Universities And Colleges Included In the Free Tuition Act
5 min read
In 2017, President Rodrigo Duterte signed a law that will subsidize the education of students in 112 state universities and colleges (SUCs) nationwide.
The Universal Access to Quality Tertiary Education Act, which was ratified by Congress, grants free tuition to students from SUCs, local colleges, and state-run technical-vocational learning centers. Before officially signing it into a law, Duterte already asked the Congress to make appropriations for the said bill.
In a report by the Philippine Star, Budget Secretary Benjamin Diokno said that the first year of tuition assistance will start in 2018, as the current academic year had already started. Although heavily opposed, he said that the agency had yet to crunch the numbers before they could come up with an estimated budget for the upcoming year.
Scope and limitation
Under the Republic Act 10931, Filipinos can enjoy free higher education at SUCs and other state-run higher education centers "in pursuance of a bachelor's degree, certificate degree, or any comparable undergraduate degree in any SUC and LUC."
For a person to become eligible to free tuition, he must first pass the entrance examination and/or submit the necessary requirements to be fully admitted.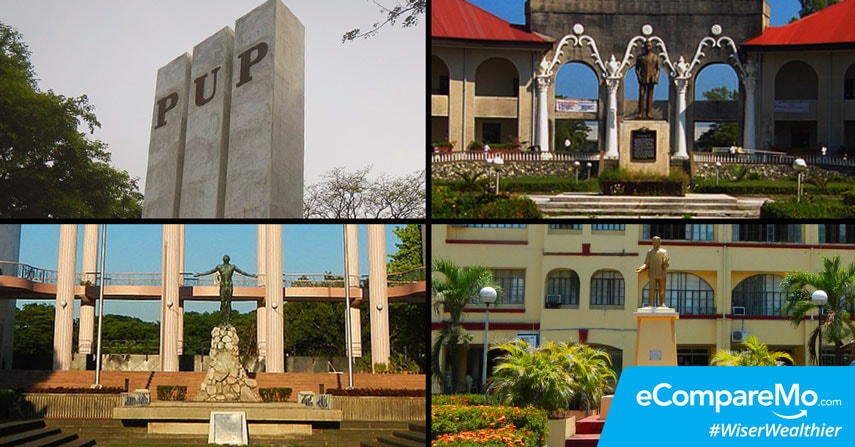 A screening body will determine if he has the financial capacity to pay for his tuition—and opt out of the free tuition program. The said screening committee will be created by each school eligible for free tuition.
Finally, the school will determine the amount they will require in order to remove the burden of tuition and other school fees from their students, which will further be used in the annual National Expenditure Program.
According to the law, the following criteria makes students exempted from not paying school fees:
Students who have already attained a bachelor's degree or any comparable undergraduate degree from any higher education institutions, whether public or.
Students who fail to comply with the admission and retention policies of the SUC or LUC
Students who fail to complete their bachelor's degree or comparable undergraduate degree within a year after the period prescribed in their program
For state-run technical-vocational institutions, students who have obtained a bachelor's degree as well as those who have received a certificate or diploma for a technical-vocational course equivalent to at least National Certificate III and above
Students who fail in any course enrolled during the program period
The list
There are eight SUCs in Metro Manila, 49 in the rest of Luzon, 26 in Visayas, and 31 in Mindanao. The following universtities and colleges are covered by the free tuition law:
National Capital Region (NCR)
Eulogio 'Amang' Rodriguez Institute of Science and Technology
Marikina Polytechnic College
Philippine Normal University
Philippine State College of Aeronautics
Polytechnic University of the Philippines
Rizal Technological University
Technological University of the Philippines
University of the Philippines System
Region I – Ilocos Region
Don Mariano Marcos Memorial State University
Ilocos Sur Polytechnic State College
Mariano Marcos State University
North Luzon Philippines State College
Pangasinan State University
University of Northern Philippines
Cordillera Administrative Region
Abra State Institute of Science and Technology
Apayao State College
Benguet State University
Ifugao State University
Kalinga State University
Mountain Province State University
Region II – Cagayan Valley
Batanes State College
Cagayan State University
Isabela State University
Nueva Vizcaya State University
Quirino State University
Region III – Central Luzon
Aurora State College of Technology
Bataan Peninsula State University
Bulacan Agricultural State College
Bulacan State University
Central Luzon State
Don Honorio Ventura Technological State University
Nueva Ecija University of Science and Technology
Pampanga State Agricultural University
Philippine Merchant Marine Academy
Ramon Magsaysay Technological University
Tarlac College of Agriculture
Tarlac State University
Region IV-A – CALABARZON
Batangas State University
Cavite State University
Laguna State Polytechnic University (Laguna State Polytechnic College)
Southern Luzon State University
University of Rizal System
Region IV-B – MIMAROPA
Marinduque State College
Mindoro State College of Agriculture and Technology
Occidental Mindoro State College
Palawan State University
Romblon State University
Western Philippines University
Region V – Bicol Region
Bicol University
Bicol State College of Applied Sciences and Technology
Camarines Norte State College
Camarines Sur Polytechnic Colleges
Catanduanes State University
Central Bicol State University of Agriculture
Dr. Emilio B. Espinosa, Sr. Memorial State College of Agriculture and Technology
Partido State University
Sorsogon State College
Region VI – Western Visayas
Aklan State University
Capiz State University
Carlos C. Hilado Memorial State College
Guimaras State College
Iloilo State College of Fisheries
Central Philippines State University
Northern Iloilo Polytechnic State College
Northern Negros State College of Science and Technology
University of Antique
Iloilo Science and Technology University
West Visayas State University
Region VII – Central Visayas
Bohol Island State University
Cebu Normal University
Cebu Technological University
Negros Oriental State University
Siquijor State College
Region VIII – Eastern Visayas
Eastern Samar State University
Eastern Visayas State University
Leyte Normal University
Naval State University
Northwest Samar State University
Palompom Polytechnic State University
Samar State University
Southern Leyte State University
University of Eastern Philippines
Visayas State University
Region IX – Zamboanga Peninsula
J.H Cerilles State College
Jose Rizal Memorial State University
Western Mindanao State University
Zamboanga City State Polytechnic College
Zamboanga State College of Marine Sciences and Technology
Region X – Northern Mindanao
Bukidnon State University
Camiguin Polytechnic State College
Central Mindanao University
University of Science and Technology of Southern Philippines – Cagayan De Oro Campus
MSU – Iligan Institute of Technology
University of Science and Technology of Southern Philippines – Claveria Campus
Northwestern Mindanao State College of Science and Technology
Region XI – Davao Region
Compostela Valley State College
Davao Del Norte State College
Davao Oriental State College of Science and Technology
Southern Philippines Agri-Business and Marine and Aquatic School of Technology
University of Southern Philippines
Region XII – Main SOCCSKSARGEN
Cotabato State University
Cotabato Foundation College of Science and Technology
Sultan Kudarat State University
University of Southern Mindanao
Autonomous Region in Muslim Mindanao
Adiong Memorial Polytechnic State College
Basilan State College
Mindanao State University
MSU-Tawi-Tawi College of Technology and Oceanography
Sulu State College
Tawi-Tawi Regional Agricultural College
Region XIII – Caraga Administrative Region
Agusan del Sur State College of Agriculture and Technology
Caraga State University (Northern Mindanao State Institute of Science and Technology)
Surigao del Sur State University
Surigao State College of Technology