Curry, James, Millsap Lead 2018 List Of Highest-Paid NBA Players
4 min read
This year, NBA players are once again dominating the list of the world's highest-paid athletes.
Out of the 100 athletes from various sports who made the Forbes list, 32 people have built their reputations and are earning a fortune off their basketball careers.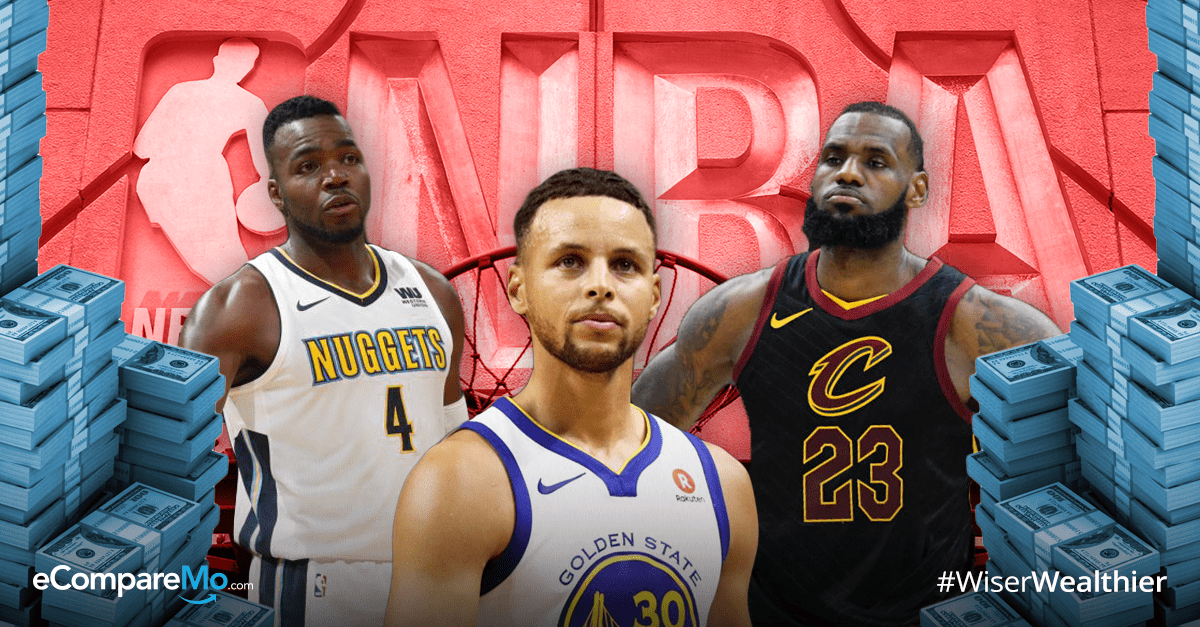 The NBA is among the most prestigious and most lucrative sports leagues in the world. Hoops fans would be delighted to know that their favorite stars don't only make triple-doubles in the hardcourt, but also in real life as well.
Here, prepare to be stunned by the number of  zeros on your favorite player's paycheck.
1. Stephen Curry, Golden State Warriors
$34.7 million
Five-year contract guaranteed at $201.2 million
Golden Warriors Star Steph Curry is now NBA's highest-paid player, dethroning LeBron James. His $201 million guarantee is currently the biggest offer in the entire history of NBA.
Currently, the two-time MVP point guard has been off the court due to a sprained left medial collateral ligament in his knee. In fact, Warriors coach Steve Kerr just announced that Curry will not return for another three weeks for knee rehabilitation.
Even off-court, though, Curry's earning potential is something other players can only dream of. His off-court paychecks hit an estimated $42 million from endorsement partners.
2. LeBron James, Cleveland Cavaliers
$33.3 million
Three-year contract guaranteed at $99.9 million
Now on his 15th season, King James is taking home huge sums from his past two gigs after his return to Cavaliers.
While his on-court earnings may be a little less than rival Curry, the King still dominates when it comes to off-court earnings. He gets around $52 million from endorsement deals with multiple brands.
LeBron may be a multimillionaire but, off the court, he has a reputation of being more frugal then flashy. James' former teammate Dwyane Wade tagged him as the "cheapest guy in the NBA" for being miserly with money. All the better to amass a fortune that will last him—and his family—long after his court career is behind him.
3. Paul Millsap, Denver Nuggets
$30.8 million
Two-year contract guaranteed at $61 million
The 33-year-old former player for the Utah Jazz and Atlanta Hawks landed a big contract as a free agent with the Denver basketball team. "Atlanta decided to go another direction. They didn't want to make an offer," he told The Atlanta Journal-Constitution.
Well, the contract Denver offered, which puts him on the third spot on this list of highest-paid basketball players surely soothed any sting from Atlanta's decision.
4. Gordon Hayward, Boston Celtics
$29.7 million
Four-year contract guaranteed at $127.8 million
After seven years playing with the Utah Jazz, Hayward agreed to play for Celtics. Hayward had also made the leap for a four-year contract worth $128 million.
Considering how his first game with the Celtic's turned out, Hayward has yet to maximize his earning potential. He fractured his left tibia and dislocated his ankle after a bad landing catching a pass from teammate Kyrie Irving.
5. Blake Griffin, Power Forward for the Detroit Pistons — $29.5 million
Five-year contract guaranteed at $171.2 million
The former No.1 draft pick power forward player shook basketball aficionados when the Detroit Pistons put a franchise-shifting trade on the table, bringing him over from LA.
Griffin is just 29 years old this year and in the second year of the five-year deal under the Clippers. He can opt out of the deal in the final year, 2021.
6. Kyle Lowry, Toronto Raptors
$28.7 million
Three-year contract guaranteed at $100 million
According to Bobby Marks of NBA on ESPN, Lowry tiered eighth in votes for All-Star guards in the Eastern Conference.
"The point guard has a $200K bonus if he is voted as a starter or selected as a reserve. Lowry is on pace to play 65 games which is part of the criteria," Marks announced on Twitter.
7. Russell Westbrook, Oklahoma City Thunder
$28.5 million
Three-year contract guaranteed at $85.6 million
The 28-year-old Westbrook signed a $205 million extension that will kick in next season as Paul George and Carmelo Anthony join the roster for OKC.
Currently, he has the biggest total contract in NBA history today with a staggering total of $233 million over six seasons including 2017–18. The Jordan brand also has a 10-year contract with the Thunder point guard for endorsement projects.
8. Mike Conley, Memphis Grizzlies
$28.5 million
Five-year contract guaranteed at $152.6 million
Conley's contract in 2016 was one of the largest in the NBA for that year. He was playing for nine years with Memphis before signing the maximum contract.
Conley's season concluded earlier this year due to surgery on his left heel. The homegrown Ohio State player is in the third year of his contract.
9. James Harden, Houston Rockets
$28.3 million
Four-year contract guaranteed at $118 million
Harden has one more season to play until his four-year extension kicks in on 2019. A staggering $37.8 million is awaiting him for his first season.
His shooting guard contemporaries will definitely :fear the beard" as Harden is set to bag a total of $228 million by the end of the upcoming contract.
10. DeMar DeRozan, Toronto Raptors
$27.7 million
Five-year contract guaranteed at $139 million
The re-sign unrestricted free agent deal DeRozan got in 2016 is considered the second biggest in NBA history.
The two-time All-Star shooting guard has led the Toronto team to 56 wins. His performance also drove the Raptors to their first trip to the Eastern Conference finals.
Sources: AOL, Sporteology, Business Insider, Forbes, CBS News, Basketball-Reference, Bleacher Report