'Dinner In The Sky' And 4 Other Luxurious Dining Experiences In The Philippines
3 min read
The term "affordable" is usually top-of-mind when we think of food choices. Lately, however, it has become trendy to splurge on gastronomic experiences.
In an article on CNN Philippines, San Miguel Pure Foods culinary services manager Llena Tan-Arcenas says there has been an emphasis on "extravagance" and "outrageousness" in food since 2016. Not only does this encompass taste and fusion, but also the uniqueness dining experience too.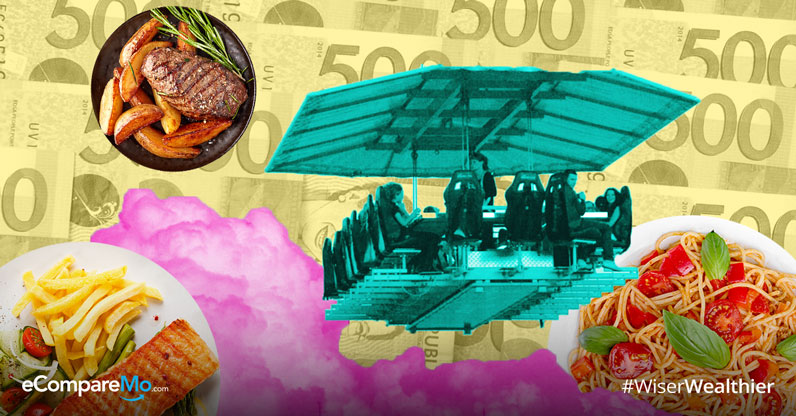 It's time to level-up your food crawl bucket list! From the opulent atmosphere to the first-class service, down to the connoisseur-crafted dish, these dining experiences are worth every centavo of your hard-earned paycheck.
1. Dinner In The Sky
Originating in Belgium, the up-in-the-air 22-seater dining service is now here in the Philippines. Adventurous dinners now can enjoy their meal while suspended up in the skies above Manila Bay.
Tagged as one of the World's Most Unusual Restaurants by Forbes Magazine, the biggest challenge of this Instagram-worthy dining experience is maintaining a pair of steady hands while banqueting 150 feet from the ground.
Customers looking to dine in the skies have two seating schedules to choose from: 5:30 p.m., with a splendid view of the Manila sunset or 7:00 p.m., with a view of the city lights.
Diners may choose from three experiences at three different budgets:
Class

Budget per head

Inclusions

Economy

P9,990

Entrance to DIT lounge
An exclusive 4-course dinner menu

Business

P14,990

Entrance to DIT lounge
Exclusive UPGRADED 5-course dinner menu
Complimentary juice and water
 A glass of champagne (in lounge)
Two glasses of wine (1 in lounge and 1 during meal)

First Class

P24,990

Entrance to DIT lounge
Exclusive PREMIUM 5-course dinner menu
Complimentary juice and water
Free flowing champagne (in lounge)
Free flow wine (lounge and air)
6 pieces of fresh oysters from Finestra
8 pieces of The Patisserie signature chocolates
Priority Boarding: FIRST to board

with a pre-starter of 10 pieces of Sushi from Yakumi
2. Antonio's
This rustic estate in Tagaytay is home to the open kitchen of the esteemed Chef Tony Boy Escalante. The fusion of European and Mediterranean tastes on the menu is what attracts customers from Manila and even curious foreigners.
For a truly luxurious dining experience, splurge on Antonio's famed Certified Angus Prime Roast Beef. Priced at P18,800, the Angus Prime Roast Beef is served with red wine-creamed pepper sauce and four side dishes.
To provide an exclusive dining experience, Antonio's requires you to make a reservation beforehand. If you want to enjoy the prime roast beef, you will need to place an advanced order when you make your reservation.
3. Hide Yamamoto
A win during a casino conquest at the City of Dreams requires a celebration of good luck!
Visit the Singapore-famous Hide Yamamoto for their Japanese barbecue and teppanyaki specialties. Let your inner carnivore savor the legendary Charcoal-Grilled Japanese Beef Sirloin Steak at 500g served with fresh Japanese wasabi at P17,280.
4. Dragon Bar at Solaire
"All that is gold does not glitter," sometimes gold glimmers in a glass. Just like the Remy Martin Louis XIII cognac which cost P11,200 per shot or P199,000 a bottle at the Dragon Bar!
Another golden find in the menu of Solaire's Dragon Bar is one of the world's most luxurious cognac, Richard Hennessy Cognac. This is priced at P16,900 per shot or P239, 000 per bottle. Named after the world's famous cognac house founder, each sip is a taste of history as it is a combination of over 100 brandies aged for 200 years according to brand emissary Maurice-Richard Hennessy.
5. Yacht Hanse 445 Luxury Dinner Cruise
It's a lover's dream to have a peaceful and private sit-down date on a posh yacht.
Got P80,000 to burn? Why not spend it on a luxury dinner cruise for two at the Manila Luxury Club! The illustrious Yacht Hanse 445, the famed "Boat of the Year," will take you on a cruise around Manila Bay for three hours as you and your loved one relish a romantic menu set matched with a premium selection of cocktails and wines.
Sources: Our Awesome Planet, Manila Times, Asia Tattler, Juan Republic, ABS-CBN, Booky