Coron Palawan: Travel Guide, Activities, Budget, And Sample Itinerary
19 min read
Coron is a first-class municipality in the province of Palawan. It includes the eastern part of Busuanga plus 50 islets reaching as far as Tara Island situated at the north-east and Canipo Island located in the south.
This peninsula, included in Forbes Travel Magazine as one of the top 10 best scuba diving sites in the world, features clusters of interesting islets, some embedded with shipwrecks from World War II.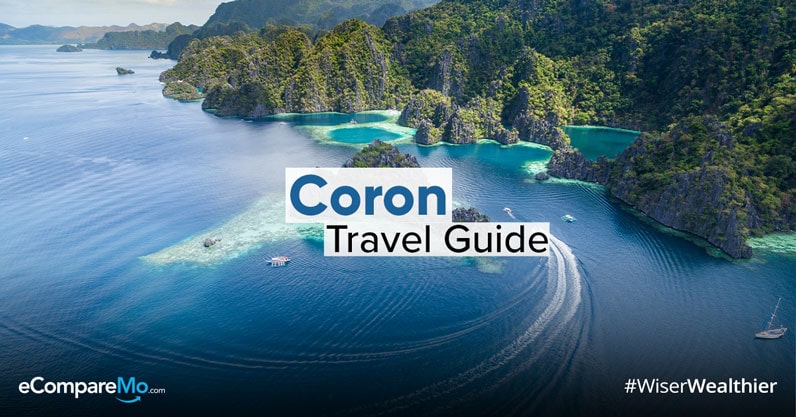 Other fascinating bodies of water such as freshwater lakes, springs, lagoons and the likes mesmerize curious visitors that keep coming back for more.
For your traveling pleasure, here is eCompareMo's Coron Travel Guide for 2019.
When is the best time to visit Coron?
Like the rest of Palawan, Coron is rarely visited by strong typhoons due to its favorable location and is hot all-year-round with a temperature range that varies from 32°C at the day to 24°C at night.
For diving and snorkeling enthusiasts, the sea temperature is suitable for such activities all year, while island hopping is also favorable with its extremely calm winds bearing a speed of around 7.1 KPH.
If you're looking forward to a rainless getaway, however, your best bet is to head to Coron in March as this month has the lowest humidity of around 72.3%.
Dry Season
Monsoon Season

October to the middle of June are considered its summer months with temperatures ranging from 29°C to 32°C.

Anticipate crowds and a slight increase in the rates of accommodations.

June to September are the expected rainy months of this town with 89% to 92% daily chance of rain.

Lodging facilities decrease their rates due to low number of visitors.
(Read: Puerto Princesa Travel Guide 2019: Activities, Budget, and Sample Itinerary)
How to go to Coron
To acquaint yourself on how to reach this refreshing region, check the list below and choose the one you're most comfortable with.
Mode of Transportation
Monsoon Season
Via Air
Philippine Airlines (PAL), Cebu Pacific, and SkyJet Airlines provide daily flights going to Francisco B. Reyes Airport in Busuanga with a flying time of 1 hour. Furthermore, if you're coming from Puerto Princesa, PAL, Cebu Pacific.and AirSwift can take you less than 50 minutes to Coron with their daily flight schedule.
Via Land
If you happen to be in El Nido and would like to go to Coron, ride a Cherry Bus for seven hours then transfer to a ferry boat for a four-hour cruise going to Busuanga. To avail this service, go here: https://biyaheroes.com/#!/. Another alternative is through a fast ferry service provided by Montenegro Lines that can transfer you in 3 hours from El Nido to Coron for only P1,848 per passenger.

Note that only they cruise once a day so advanced booking is a must. To book, go here: http://www.phbus.com/montenegro-shipping-lines/.

Via Sea
For a comfortable trip, 2Go offers tickets going to this dream getaway for P1,072 to P5,080 depending on the accommodation you chose. In addition, if you decide to bring a car in your vacation, you can book this service also offered by 2Go.

Go here for reservations: https://travel.2go.com.ph/.

Furthermore, San Nicholas Shipping (02) 245 2830, J.V. Serrano Shipping Lines (02) 405 01 54 and Atienza Shipping Lines (02) 986 31 18 also provide ferry rides that will take you to this destination in around 12 to 18 hours.

Before availing their services, make sure they comply with safety regulations and standards for your safe travel.
How to get around Coron
Tricycles are abundant in the area and serve the main mode of transportation. P10 is the base fare and, should you want to go to popular destinations near the town proper like the Maquinit Hot spring or Bali beach it will cost around P350 to P450.
Additionally, if you prefer to discover the island by yourself, you can rent motorbikes for 24 hours priced at P500 to P600. For inquiries, call or text 0921 359 3129 or go here https://www.facebook.com/AMRcoron/.
Lastly, to discover nearby islets, motorboats can be hired for P900 to P1,700 per person but if your group decides to rent it as a whole, price ranges from P2,500 to P4,000 depending on the vessel's features.
For further questions, go here: https://www.getmyboat.com/boat-rental/Coron–Mimaropa–Philippines/
(Read: Negros Occidental Budget Travel Guide: Bacolod, Sipalay, Lakawon, And Other Must-See Spots)
Where to stay in Coron (budget-friendly to high end)
Though small, this dream destination has various accommodations that will suit your taste.
From the modest to the grandest, check out the list below.
1. Coron Backpacker Guesthouse
Opened in 2012, this bamboo and sawali facility located at 5316 Coron, Busuanga offer rooms for as low as P550 that can be further discounted if you stay more than a week.
All 11 rooms are equipped with electric fans, two of which can be joined to form a large family room.
For reservations, you may call 0916 400 4871/ 0919 388 6028.
2. Coron Guapos Guesthouse
Found in Brgy Poblacion 5, Upper Bancuang along the National Road, this guesthouse is the choice of backpackers on a budget because of its spacious double room priced at P600 per night.
In addition, their humble lodging has a gazebo with a swing where you can relax while planning out the areas you will explore during your stay.
To avail of their services, you may reach them through email at coronguaposguesthouse@gmail.com or call 0999 993 6639.
3. Bahay Kawayan Backpackers Inn
Situated at 5316 Coron-Busuanga Road, Bahay Kawayan Backpackers Inn provides air-conditioned rooms and nipa huts cooled by electric fans and protected by old fashioned mosquito nets at night.
For P1,350 a night, breakfast not included, you can book their budget double or twin room with a great garden view.
For booking concerns, call or text 0917 731 7172.
4. Charms Hotel
Decently located in Mabintangen Road, this new hotel offers large rooms and all the amenities a rated three-star accommodation should offer.
If you're interested to avail their modernly decorated standard double rooms, price starts at P2,400 a night.
To check other available rooms, visit http://charms.coronhotelsonline.com/en/.
5. Coron Westown Resort
This establishment is known for its serene landscaped garden and classy interiors perfect for your stylish but budget-friendly getaway.
For P3,987 a night, you can rest at their classy deluxe room good for three people bookable at https://www.coronwestownresort.com/ or by calling 0917 704 6176.
6. One Averee Bay Hotel
Rated as one of the most reasonably priced places to stay in Coron, One Averee's homey atmosphere is a must-try for P4,098.
Their location at #3 Brgy Poblacion is near various restaurants and attractions ideal for exploration.
To checkout, their services, go here http://oneavereebayhotel.com/ or call (02) 554 4545
7. Corto del Mar
Five minutes away from Coron Town proper is the beautiful Mediterranean themed Corto del Mar which provides standard room for as low as P5,040 a night.
Aside from being one of the most attractive facilities in the area, they take pride in being ecologically friendly by imposing strict policies regarding their use of water, energy and solid waste management.
For inquiries, call (02) 514 0279 or visit http://www.cortodelmar.com/.
8. Two Seasons Coron Island Resort & Spa
To experience this island at its finest, try out this 4 ½ star rated grand resort and spa.
They provide six types of luxurious bungalows all equipped with high-end amenities such as solar-powered water heaters and hardwood floorings, plus an astonishing view of mountains, sea, hilltops, beaches, island tip and sandbar depending on the room you chose.
Located at Malaroycoy, Coron, its rates start at P25,000/night. Book through https://twoseasonsresorts.com/coron/ or by calling (02) 410 20 75.
(Read: 20 Scuba Diving Places In The Philippines To Add To Your Bucketlist)
Where to eat in Coron
Your taste buds will be satisfied as this region provides a variety of appetizing meals that can fill you up after a day of enjoying corners of this paradise.
Refer to the list below and have a feast!
1. Le Voyage
Le Voyage, found along 5316 National Hwy, is admired for their healthy but tasty meal options such as vegetable lasagna and meatless burgers.
In addition, their tropical-inspired painted walls add serenity to the vibrant atmosphere inside their quaint café.
2. Coffee Kong
Coffee Kong situated along Main Street is known for serving some of the best coffee in town for only P80.
To pair with your caffeine fix, they also have different breakfast staples such as waffles, muffins and set meals at affordable prices.
3. KT's Sinugba sa Balay
For your daily dose of Filipino food, try dining at this modest diner stationed at San Agustin Street in the town proper.
Homemade noodles, fresh catch of the day and classic Pinoy viands such as sisig and adobo are served with prices affordably low compared to nearby establishments.
4. Lolo Nonoy's Food Station
Though Lolo Nonoy's Food Station offers the common carinderia-type setup, their meals are considered one of the best tasting in the area of Brgy. Poblacion 1 along the National Hwy.
In addition, they offer big servings suitable for groups on a budget.
5. Buzz Express
Located along Burgos St in Brgy Poblacion 2, this gastropub is popular for its wide variety of choices that can fill your every craving.
From freshly baked handcrafted pizzas to flavorful ramen with Japanese noodles, Buzz Express is open every day of the week from 7 AM to 12mn.
6. Poco Deli Coron
For anything Italian, German and European, head over to Calle Real St where Poco Deli is stationed serving meals proudly cooked with local and imported ingredients.
7. La Sirenetta Restaurant & Bar
This floating restaurant found in Reef Pier NR Central Market is perfect for couples who want a wonderful view of the sunset while enjoying dinner.
Note that we suggest a 1 to 2 days reservation before dining here to save the best spot for your date. For inquiries, you may reach them at +63 918 903 7063.
8. Epic Café Coron
Visitors who have a sweet tooth can try this hip café's mouthwatering cheesecakes reviewed by locals and tourist as the best in the area.
Situated at Calle Real St., cafe patrons also love their hot and cold beverages offered at a fair price.
(Read: El Nido, Palawan Budget Travel Guide With DIY Itinerary)
What to do in Coron
Like El Nido, there are readily available bundle deals offering island tours in this region, all which are recognized by the local government.
The package includes hotel pick up/drop off, an English-speaking tour guide, boat transfer and fees, buffet lunch served in an island, entrance fees, life vest, and a lifeguard.
We highly suggest that you avail these packages for your ultimate adventure and convenience.
To avail, go here: https://www.travel-palawan.com/destination/palawan/coron-tour-packages/.
Tour A
Offered for only P1,108, these five destinations all offer an enticing experience.
[metaslider id="104282″]
Tour Stop
Activity
Kayangan Lake

This site is one of the most popular in Coron because of its diverse underwater ecosystem easily seen through the clear waters.

To reach this oasis, be ready for a mini-adventure. Upon docking, you will need to take a short hike to reach the viewpoint then scramble down going the other side to reach this freshwater lake.

Note that for their safety, it is suggested that PWDs and senior citizens skip the hike due to the strenuous movements involved.

Smith Coral Garden
For around 15 to 25 minutes, this part of the tour lets you enter the vibrant and submerged world of colorful corals surrounded by vivid marine life through snorkeling.
Coron Youth Club Beach
Also known as CYC, this spot hosts a long stretch of mangroves and rock formations ideal for sunbathEnjoy the picturesque view while your boatmen prepare a sumptuous lunch.
Banol Beach
Banol is a relatively small but beautiful stretch of white sand beach backgrounded by dark limestone walls. Two huts for rent have been erected in the area.
Beach 91
Beach 91 is known for its iconic bridge that connects two huts where visitors can rest or take a quick nap.
Tour B
Tour B is priced at P1,380.
This exciting bundle includes an award-winning lake, an interesting wreck and a lagoon with hidden corners.
[metaslider id="104289″]
Tour Stop
Activity
Barracuda Lake

Popular for its Thermocline water, which means that it is a mix of both fresh and saltwater.

Barracuda Lake is a tourist favorite because of its pristine waters that cited as some of the cleanest in the Philippines.

In addition, scuba and free divers rave about the rich marine life and enjoy the underwater temperatures that go from moderately hot to a chilling cold.

Twin Lagoons

Another favorite destination is the enchanting Twin Lagoons where beautiful, towering limestone guard the green to light blue coastline.

Inside, there are ladders leading to gorgeous corners where you can dive in the water or take photos.

For the especially daring, try to reach the other side of the lagoon. To do so you must swim in between a small opening that leads to another stunning extension.

Skeleton Wreck

In this area, the surface looks normal but as you submerge 10 to 15 feet below, the skeleton of a Japanese ship will reveal itself.

In addition, try spotting one of its famous tenants, the parrotfish with a noticeable protruding "beak" that can be found circling in nearby reefs.
Other tours
1. Coron Island Escapade Tour
Committed to introducing you to the top three best islands in this region, this bundle that costs P1,700 will take you to Malcapuya, Banana, and Bulog Dos, all gifted with sparkling blue to green waters and carpeted with the finest sand there is.
For booking inquiries, click here: https://www.coron-travel.com/island-escapade-tour.
[metaslider id="104293″]
Tour spot
Activity
Malcapuya Island

Possessing the best white sand in the whole of Coron is Malpacuya, a picturesque island with a few nipa huts where visitors can lounge.

In addition, you can stroll going east and climb a hill that offers a relaxing view of this island's southern part where corals are abundant.

Banana Island

Named after its shape and also known as Dicabuan, this islet is more commercialized, offering facilities such as an overnight stay.

Additionally, hammocks and nipa huts are available where you can take a nap while lunch is being prepared.

Bulog Dos Island
Part of the vast islets of Calamianes, this last part of the tour lets you walk in its amazingly long sandbar that will take you to Malaroyroy Peninsula and Bulalacao.
2. Historic Culion Tour
For tourists who want to familiarize themselves with the rich history of this region, try joining the Historic Culion Tour where four major sites will be introduced at a fair price of P1,480.
To avail, go here: https://www.travel-palawan.com/product/historic-culion-tour/.
[metaslider id="104300″]
Tour spot
Activity
Culion Historical Museum

First stop is the Culion Historical Museum that features memorabilia from the leper colony which consisted of 370 people originally from Cebu.

On display are medicines and devices used for their treatments giving visitors an idea of how they try to live a normal life in this island.

Immaculada Concepcion Church

Built on a hill and overlooking the town, this religious site holds some interesting details such walls that came from an old fortress built in 1740.

Want some additional trivia? The church's original painting was done by a leper with no hands. To finish the task, workers would tie brushes in his arms and lift him up as high as they could.

Bulog Reef

Bulog Island is popular for its sandbar that connects 2 islets. This part of the voyage lets you marvel at the seemingly unending diverse marine life flourishing under.

In addition, hammocks are available in Bulog where you can chill your heart out while planning your next trip.
3. Mangrove Forest and Firefly Watching
Best experienced from March to June, this 4-hour tour done at Malbato Mangrove Forest Park includes kayaking through a mangrove forest, firefly watching and buffet dining at a floating restaurant all for P1,000. Note that firefly viewing will be done from afar to lessen noises that might stress these glowing wonders.
To avail, go here: https://www.gopalawan.travel/coron_firefly_watching_tour
(Read: 6 Types Of Travel Insurance And Why You Need Them)
Where to buy pasalubong in Coron
A souvenir serves as a reminder of how awesome your vacation went and can inspire you to save money and work harder for another trip away from your professional responsibilities.
Additionally, it can be given to friends and families who might be interested to join your next adventure.
If you want to take home a piece of this unforgettable island, check out the list below.
1. Coron Souvenir & Gift Shop
Situated in Brgy. Poblacion 5, Bancuang along the National Hwy, this spacious one-stop-shop has everything you need to take home from small items such as keychains to a 4 feet wooden post carved with tribal details.
In addition, all items are affordably priced so you may splurge a little guilt-free.
2. L. Escarda's Coron Harvest
For this region's best produce, head to Brgy Tagumpay and choose from a variety of flavored cashews and pastries infused with this versatile nut.
In addition, you can watch the labor-intensive process of extraction to frying. After seeing the process, you will understand what it is that makes this treat a bit pricey.
3. AVT Bambuhay Craftshop
Though small, AVT Bambuhay Craftshop found inside the St. Augustine Parish Convent Compound, sells unique products made in sturdy bamboos and other natural materials.
Bamboo drinking straws, laundry baskets, colorful bayong bags, and other ethically produced items are displayed that introduces potential buyers to an environmentally considerate lifestyle.
4. Aramintas Arts & Crafts
If you're looking for Palawan pearls, visit this shop located at Real St. where they offer both the South sea and freshwater types sold as a jewelry set or maybe bought per piece.
Additionally, handcrafted items such as export quality statement earrings, bead bracelets, rattan bags, etc. made by the Palaw'an tribe and local artists are also for sale under a fair price.
(Read: Steal My Itinerary: Six Days In Batanes)
Sample 4-day Itinerary for Coron
After considering everything from the month to visit, the tours to take, and the food establishments you want to try out, now is the time to plan your trip.
Still need more encouragement? Check out our suggested itinerary for four fulfilling days in Coron.
Day 1
Time
Activity
Costs
11:00 AM

Arrival at the Busuanga Airport.

You can avail of hotel transport. Just let them know and a van will pick you up.

11:30 AM

Check in at your booked hotel. Ask for their available tours for tomorrow.

Note that this time can change based on the location of your preferred lodgings. Nevertheless, Coron is a small town with no traffic so reaching places is fast and easy.

1:00 PM

After fixing your belongings, it's time for lunch!

Try Lolo Nonoy's Food Station for a variety of classic Filipino meals.

P200-330
3:00 PM
Explore the town. Familiarize yourself with the streets and where to have your next meals. Check out specialty shops and find the ones offering the best price.
5:00 PM
Go back to your rented lodgings and rest. Check your devices for available storage capacities and make sure you have enough for the next coming days.
6:00 PM
Mangrove Forest and Firefly Watching Tour. A van will pick you up from your accommodation from 06:00pm to 06:30pm then take you at Pange't Firefly Floating Restaurant via boat for a seafood buffet.
P1,000
11:00 PM
Back to your accommodations for a good night sleep.
Day 2
Time
Activity
Cost
6:00 AM
Wake up and have breakfast.
7:00 AM
Prepare for your tour. Make sure to bring important necessities such as sunscreen, protective cases for your devices and the likes.
8:00 AM

Start of Tour A.

Again, transportation to and from the location will be provided together with a buffet lunch, entrance fees, motorized boat, and an English-speaking guide.

P1,108 per person
4:00 PM

End of tour.

Freshen up and relax once you're back in your lodging.

6:30 PM
For a memorable dinner, head over to La Sirenetta Seafood Restaurant & Bar and watch the breathtaking sunset while enjoying their famous seafood platter, good to be shared by 4 to 5 people.
P2,900
10:00 PM
Time to rest as we have another exciting day tomorrow!
Day 3
Time
Activity
Cost
6:00 AM
Wake up and have your breakfast.
7:00 AM

Prepare for today's activities. Make sure to bring sunscreen as it gets really hot during the afternoon.

8:00 AM
Tour B
P1,380
4:00 PM
End of Tour B. Chill or take a quick nap in your hotel.
7:00 PM

For dinner, we suggest you try out Buzz Express. Order their handcrafted Margherita Pizza, good to be shared by 4 to 5 people.

In addition, after your meal, you can order their refreshing Sangria made from gin, peach and orange juice, and red wine to cap the night off.

Pizza: P400 Sangria: P400 per pitcher
11:00 PM
Time to rest.
Day 4
| Time | Activity | Cost |
| --- | --- | --- |
| 6:00 AM | Wake up and have your breakfast. | |
| 8:00 AM | Head to Coron Central Market located at the town proper for your pasalubong needs. We suggest you get some of their yummy cashews priced and "danggit lamayo", a rabbitfish sliced in half seasoned with salt then sundried and marinated with pepper, garlic and vinegar. | Cashews: P100 per 125g pack Danggit Lamayo: P400 per kilo |
| 11:00 AM | Go back to your accommodation and checkout. Make sure all items are securely packed and no items were left behind. | |
| 1:00 PM | Board the transportation provided by your hotel/inn going to the airport. | |
| 3:00 PM | Flight back to Manila | |
All in all, not counting your plane ticket, you should spend only about P7,588 for four days. Take note, though this may increase or decrease based on your meal allocation and preferred lodging.
(Read: How To Book Cheap Flights In The Philippines)
Travel Tips
1. Purchase airline tickets at odd hours
It is a known fact that the earliest or last scheduled flight are priced lower than the regular ones so take advantage of it. In addition, arriving in Coron at anytime of the day is safe due to its municipality's good governance.
2. Bring cash but secure it properly
ATM machines are available on the island but consider bringing extra money for emergencies especially during peak seasons to avoid long lines and cash dispensers running out of funds.
3. Skip the skimpy outfits when in town
Though you'll spend most of the time at the beach, pack along something that would cover you up when visiting the town. Be considerate of the locals who are not used to seeing such outfits.
4. Observe but never disturb
When visiting islands during tours, respect the smallest crustaceans to the largest mammals as they play an important part in the area's ecological community. In addition, never interrupt resting animals as they could become violent when provoked.
5. Be a pleasantly memorable guest
Always be pleasant with everyone you interact with during your stay. Be someone who they would like to have over again.