Puerto Princesa Travel Guide 2020: Activities, Budget, and Sample Itinerary
19 min read
People from all over the world flock to the island of Palawan to enjoy the sea, sun, and sand of its world-renowned beaches—but that's not all that the island has to offer.
Visitors to Palawan find a host of other activities to try such as trekking in beautiful protected areas to enjoy the rich biodiversity, diving in crystal clear water surrounded by colorful marine species, and feasting on an affordable array of seafood and delicacies prepared by hospitable locals.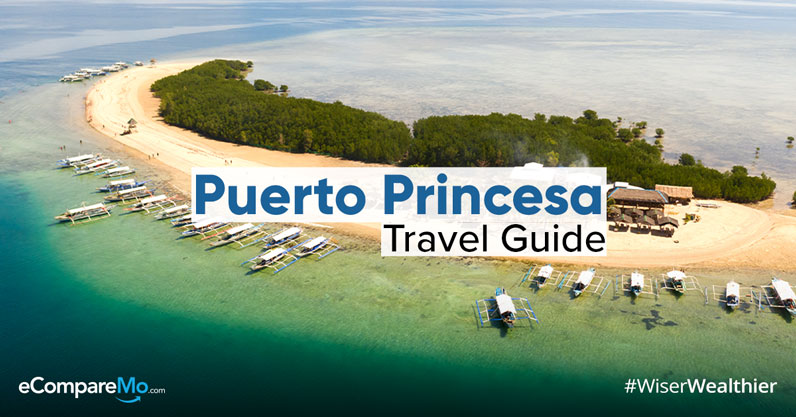 The main gateway to Palawan and all it has to offer is its capital city of Puerto Princesa. Its close proximity to some of the areas good beaches and nature sites allow you to experience the best of Palawan, while still enjoying the laid-back but vibrant arty vibe and comforts of a modern metropolis.
If you want to experience its unforgettable glory, check out our Puerto Princesa Travel Guide 2019.
When is the best time to visit Palawan?
The first week of February up to last week of March is considered the best months to enjoy every inch of Palawan, with a comfortable average temperature of 27° Celsius with no unexpected rainfalls.
The first week of December up to the fourth week of May is also a good choice as the weather is relatively good for anything that the island has to offer.
If you want to meet new friends for your social travel group, November to February are the peak periods while March to June is considered super peak. Take note, however, that this means that you could have trouble booking accommodations and activities.
Depending on what you want to experience, you also have the option to visit anytime during their dry and monsoon season.
Dry season
Summer starts from the first week of October up to the third week of May where temperatures could range up to 33° to 37° Celsius backed with high humidity.
With this, foreign guest coming from cold regions flock this paradise to get a perfect tan.
This period is also considered the priciest as hotels, inns and other establishments fairly increase their prices due to the large volume of incoming guests.
(Read: 20 Scuba Diving Places In The Philippines To Add To Your Bucketlist)
Monsoon season
June to September is expected to bring some rainfalls to Palawan. Fortunately, this place is rarely visited by super typhoons due to its strategic location.
If you're looking to just relax and chill, going there during rainy days is your best bet since fewer tourists are around and hotels and airlines will be offering off-peak prices as promos.
Please take note that in extreme instances, the monsoon season brings rougher and higher waves causing some islands to be unreachable.
How to get to Puerto Princesa, Palawan
To reach Puerto Princesa you have the option to travel by air, land, and cross the sea.
Mode of transportation
Instructions
Via Air

There are two main hubs to Palawan: The Puerto Princesa International Airport, which caters to the mainland's capital; and Francisco B. Reyes Airport in Busuanga, which serves the Calamian Islands.
Other terminals for small aircrafts, namely: Cesar Lim Rodriguez or Taytay, El Nido or the Lio exclusive for Air Swift passengers, Cuyo, Busuanga, Kudat and San Vicente Airport.
If you're flying from Manila or Clark, it will take about an hour. Local carriers such as Philippine Airlines (PAL), Cebu Pacific and AirAsia offer daily trips with varying prices depending on your booking date.
PAL also offers flights to Palawan from Cebu, Kalibo, Iloilo, Cagayan De Oro, Bacolod and Davao.
Cebu Pacific offers flights from Iloilo, Cebu, Cagayan De Oro, Bacolod and Davao
AirAsia offers flight from Cebu, Kalibo, Iloilo, and Cagayan.
For vacationers opting for private air transportation, chartered flights are offered by Airtaxi.ph, Airswift and Skyjet airlines.

Via Land

This is a 12-hour trip, but at least when you get to Puerto Princesa you have the option to tour the city and nearby areas with your own vehicle.
With the help of any map application, proceed to the ramp of South Luzon Expressway (SLEX)/Alabang and stay on the right fork.
Head to SLEX/Osmeña Hway/AH26/R-3 then proceed to the ramp going to the Metro Manila Skyway and exit in Calamba.
Drive along to the SLEX/Pan-Philippine Hwy and exit to Sta. Rosa. Turn right to the Sta. Rosa-Tagaytay Rd then turn right again to the Tagaytay-Calamba Rd.
Upon reaching Tagaytay Rotonda, head straight to Nasugbu Hwy. When you reach the detour, go to the 1st exit to Palico. Turn left at J.P. Laurel St. and head to Calatagan.
Turn right to W Talisay Rd and upon reaching the port, transfer your automobile to a ferry. In 2 to 3 hours, you will arrive in Taytay and around 1 hour you will reach El Nido.
Upon reaching the Taytay-El Nido National Hwy, proceed to the first exit going to the Puerto Princesa North Road on the detour. Go straight and turn right, finally you arrived in your destination.

Via Sea

2Go Travel sails from Manila to Puerto Princesa every Friday with a stopover in Coron on Saturday and arriving at Puerto Princesa the same day. Their price ranges from P1,718 to P6,682 per person with meals included.
Negros Navigation travels every Thursday and reaches Puerto Princesa by Friday. Tickets range from P1,703 to P3,326 including meals.
San Nicholas Shipping provides trips every Tuesdays, Thursdays and Saturdays all departing Manila at 4PM and arriving in Coron the next day at 5pm. Tickets are P800 without meals.
Atienza Shipping Lines navigates every Wednesday scheduled at 6PM with stopovers at Coron and El Nido then stopping at Liminangcong, a small barangay in Taytay, Palawan.

NOTE: Before availing services of shipping companies, make sure they follow strict standards in terms of passenger capacities, safety requirement, and the like because the surrounding seas tend to get really rough on your way.
(Read: Top 5 Most Expensive Beach Resorts In The Philippines)
Getting around Puerto Princesa
Traveling around this city is easy as light traffic can be expected due to the good governance of their officials.
In addition, walking around day and night is safe as mobile patrols frequently roam around making it the 3rd safest city in our country as of March 2018.
By tricycle
Riding a tricycle is one of the most affordable and fastest ways to reach short distances across Palawan. It can accommodate 4 to 5 riders and go to the most remote areas because of its durability.
Take note that, on average, P10 is the fare for a 4 km ride, which is regulated by authorities but as a group, you may negotiate with the driver and ask for some considerations.
By jeepney
Like tricycles, jeepneys' base fare starts from P10 for the first 4 km, and 0.50 pesos are added per km afterward.
In addition, jeepneys are abundant around the area giving you access to well-known spots within towns and villages.
By motorbike and automobile rentals
Scooters and motorbikes can be rented the whole day for around P700 or more depending on the model. These are useful especially when you want to go to explore places unreachable by other modes of transportation but make sure you are accompanied by a local.
By bus and van
For a comfortable trip when traveling long distances, buses and vans are an option costing around P600.
They are readily available once you step outside major airports that could take you as far as El Nido and Coron for a six- to nine-hour drive.
Where to stay in Puerto Princesa
Due to the large volume of visitors every season, this place offers vast choices on accommodation, from the budget-friendly to the extremely lavish.
With that, here is a list of the best places to stay in Puerto Princesa:
1. A's Transient House
Situated in the quiet street of Abad Santos, Brgy Bagong Sikat, A's Transient House is perfect if you're backpacking in Palawan and staying in Puerto Princes just one night.
For groups, they have the "Barkada" rate of P350 per head that comes with a free breakfast. For reservations and inquiries, you may reach them at 0917-1507020.
2. We Travelers Inn
If you want to stay in a reasonably priced hotel near major establishments, check out We Travelers Inn.
Conveniently located on Malvar St., it's near major establishments such as malls and restaurants. Their lodging services is one of the most in-demand by foreign visitors due to their fair prices. At a starting price of P650/night, there are airconditioned rooms with free breakfast.
For reservations, you may call 0915-3208079 or at (048)43400278.
3. Purple Fountain Inn
Located 500 meters away from the airport is the Purple Fountain Inn famous for its colorful and vintage interiors.
Its accessible location at 296 Manalo St. makes dining at famed restaurants along the area easy.
With an initial rate of P960, you can stay for a night and enjoy its charming vibe.
To book a room, visit https://purplefountaininn.com.ph.
4. Casa Mila Inn
Strategically located at Abueg Road, Brgy. Bancao-Bancao which is 10 minutes away from the airport, Casa Mila Inn is perfect for vacationers who want access to the comfort this city has to offer.
For around P980/night, guests can enjoy room service and amenities such as pool, bar/lounge, and restaurant and free parking. To avail their service, call 0928-5034425.
5. A&A Plaza Hotel
5 mins away from the air terminal is the A&A Plaza Hotel located at the National Hwy, cor. Wescom Road, Brgy. San Miguel.
It boasts 86 rooms and the grandest ballroom in the region, but don't let that intimidate you as they offer rooms for as low as P1,040/night.
For reservations, call (048) 434-2274.
(Read: The 13 Best Hotels In The Philippines, According To The 2019 Forbes Travel Guide List)
6. Go Hotels
Go Hotels Puerto Princesa belongs to the series of chains managed by Robinsons Land Corporation.
Located in Brgy San Manuel near Robinsons Place, it has homey and modern rooms initially priced at P1,519 a night. You may reach them at (048) 4340001 to 03.
7. Hue Hotels and Resorts Managed by HII
Located at Km. 3, Puerto Princesa North Road, Brgy. San Miguel, this chic hotel is designed based on the province's rich environment.
To get a taste of their chic and cozy lodging, dial (02) 896 9999/ 896 4061 and 896 3740.
8. The Legend Palawan
Recognized by a trusted travel website with a Certificate of Excellence Award for 2019, This 3-star hotel boasts "Tanglaw," one of this province's best restaurant offering Filipino cuisine.
Rates for a superior room starts at P7,000.
To inquire about their accommodation, you can call them at (02) 702 2700.
9. Astoria
Like other Astoria hotels nationwide, their 4.5-star branch located at Km. 62, North National Hwy in Brgy San Rafael exudes relaxed luxury.
Their deluxe rooms with a starting price of around P11,000 has gorgeous industrial decors with a modern Asian feel.
To inquire, call (02) 687 11 11 local 8302/ 8014/ 8031.
10. Daluyon Beach and Mountain Resort
Another Traveler's Choice for 2019 for the best accommodations is the 4-star Daluyon Beach and Mountain Resort located at Tagabinit-Sabang Rd.
Fronting the West Philippine Sea and surrounded by mountains, they provide lavish cabanas set on a lush landscape with towering coconut trees. P10,000 is their initial rate for a deluxe room.
If you want to experience their world-class amenities, you may reach them at (048) 433 6379/0917 826 99 89.
Where to eat in Puerto Princesa
Now that you have options where to stay, it's time to try out the vast choices of food and snacks Palaweños has to offer.
1. Kalui Restaurant
Patrons, including foreign tourists, praise this restaurant located at 369 Rizal Avenue, for serving delicious Filipino and Asian meals.
In addition, they have tasty choices of vegetarian meals that even nonvegetarians would love.
Note that you are required to remove your shoes before entering this establishment as a sign of courtesy.
2. Ka Inato
Ka Inato is famous for their grilled chicken (breast, leg and thigh part) made flavorful with soy sauce or fish sauce dip, served with a cup of steaming rice and atchara.
Located along the National Hwy in Brgy. San Jose, they feature unique interiors such as pebbled floors, artsy walls, and interesting wood posts.
3. Hen House American BBQ & Grill
For your cravings for tender ribs, pulled pork and other comfort food, head over to Hen House American BBQ & Grill located at Brgy. Bancao, Bancao, Rizal Avenue.
In addition, they also serve alcoholic beverages which are an ideal way to celebrate your vacation.
4. Eightynine Café Palawan
Located at 420 Rizal Ave, Eightynine Café Palawan is recognized for their delicious choices of breakfast served with the best coffee in town.
With this, don't forget to try out their different pasta dishes especially the Lechon Carbonara.
5. Haim Chicken
If you want to try out the best spicy chicken available in town, proceed to Haim Chicken at 294 Manalo Extension where they also serve unlimited rice.
(Read: Cebu Itinerary And Budget Travel Guide 2020)
Top attractions and activities
After your feast, try the fun way of burning some calories by strolling around the city and nearby areas that will introduce you to its culture and rich biodiversity. Below is a list of top attractions and activities to do in Puerto Princesa.
1. Palawan Tribal Village and Butterfly Farm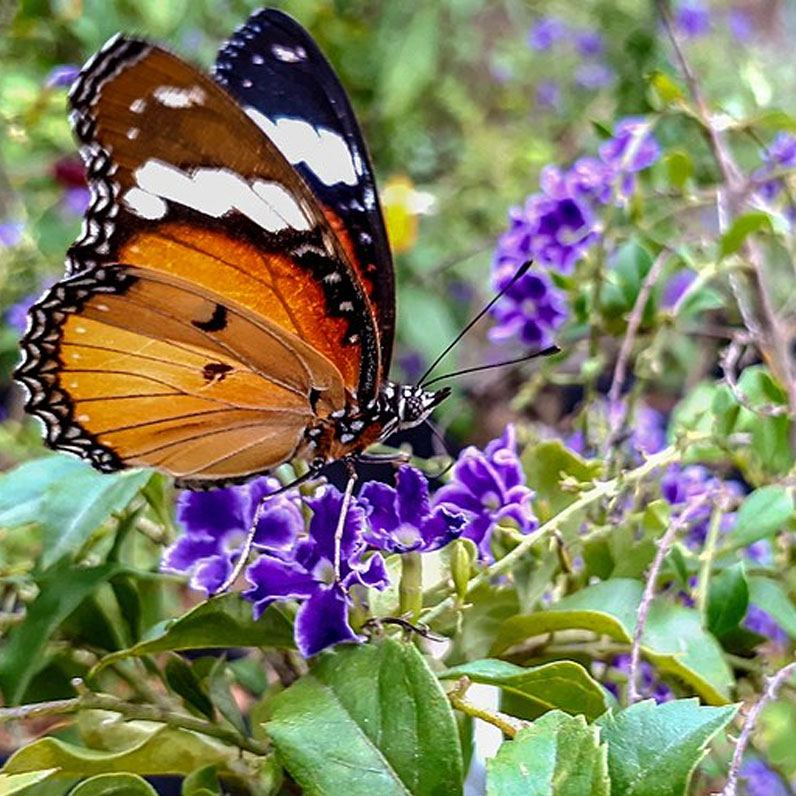 Located at Palawan Butterfly Ecological Garden and Tribal Village in Sta Monica, this special area will introduce you to the varieties of indigenous butterflies and insects inhabiting Palawan.
In addition, you can pay respect and mingle with the Palawan ethnic group, a tribe considered as one of this region's first inhabitants.
2. Plaza Cuartel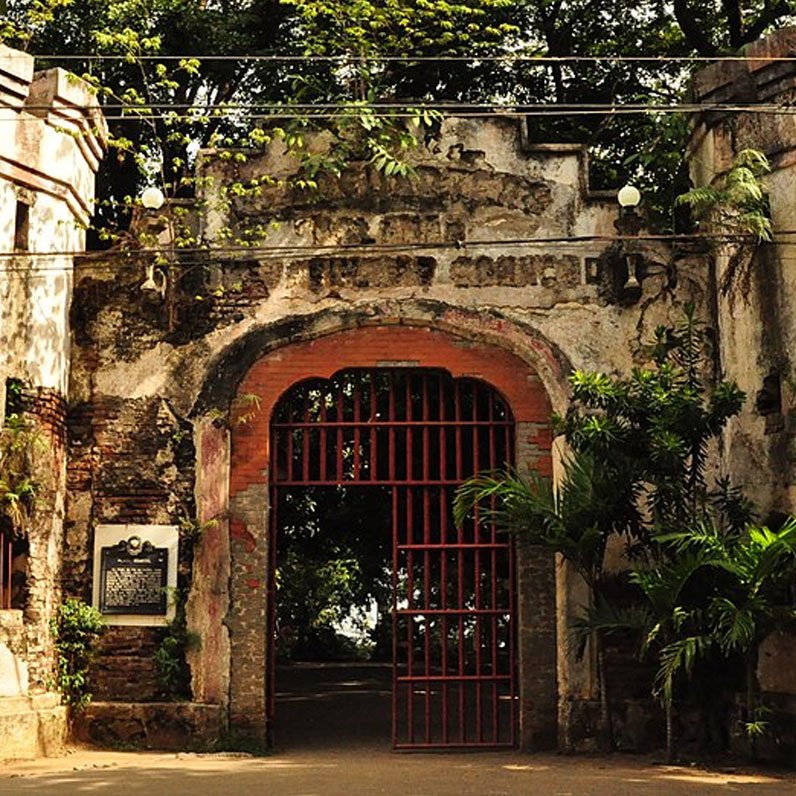 Situated in Barangay Liwanag along Taft St., this historic place was once a garrison for Filipino and American soldiers that eventually became their prison during World War 2.
Chilling stories such as 150 servicemen being burned alive makes this place worthy to be visited and pay respect.
3. The Cathedral of Immaculate Conception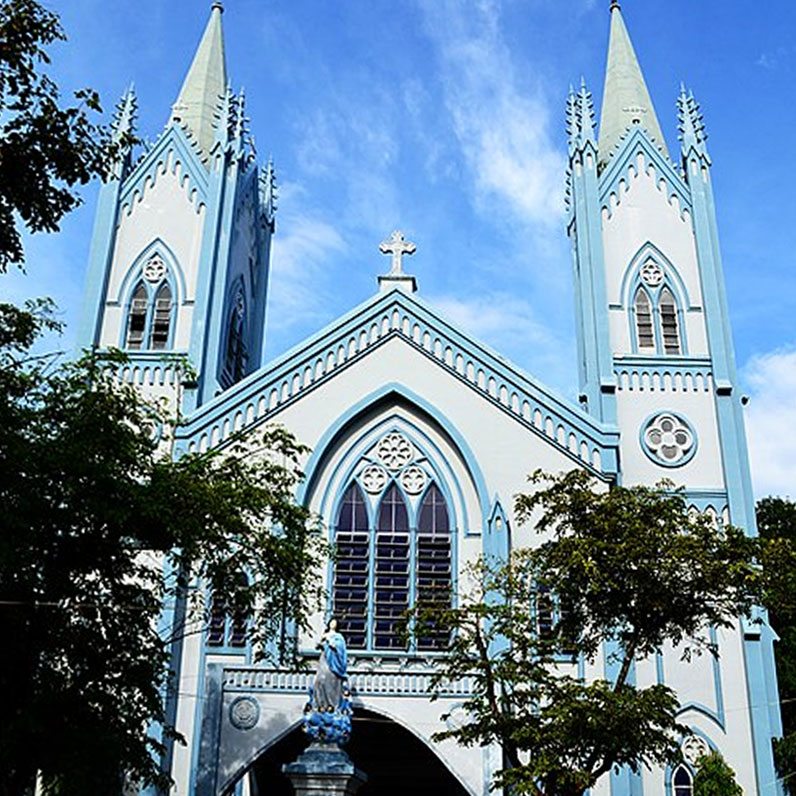 A few minutes away from Plaza Cuartel is the must-see attraction of the gothic-inspired Immaculate Conception Cathedral where the first mass in this town was held.
Don't forget to visit this church to thank the Immaculate Conception of Mary, for welcoming you in her area.
4. Puerto Princesa Baywalk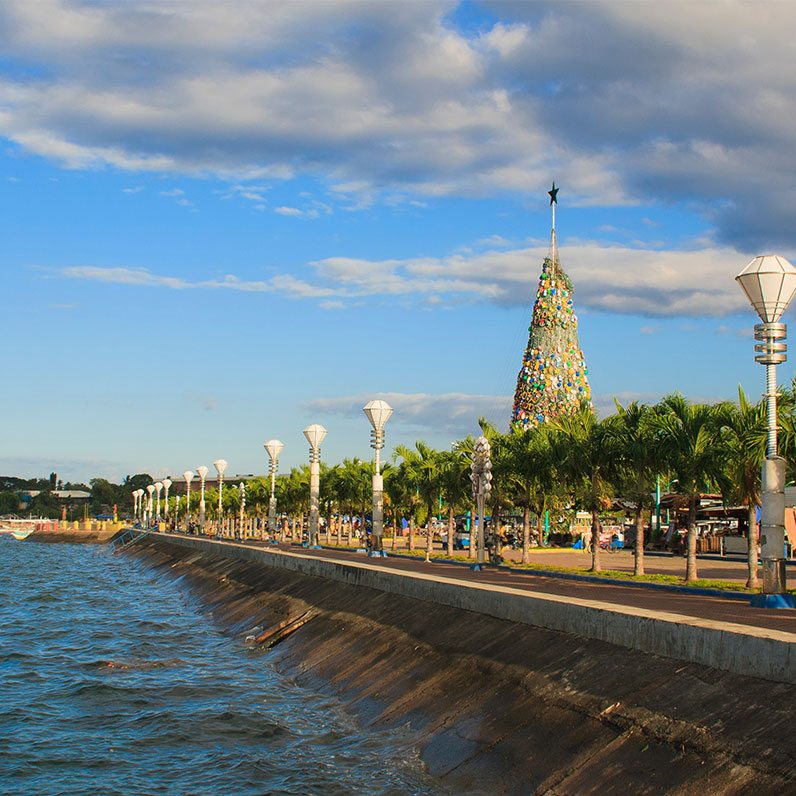 For a relaxing walk and dinner by the bay, head to the Baywalk and marvel at the different shades of orange to red clouds displayed during sunrise and sunset.
In addition, food parks offering group meals like "boodle fight" set (fried or java rice with grilled pork, seafood, and chicken set on a clean banana leaf) is a must-try.
5. Iwahig Firefly Watching & Mangrove Forest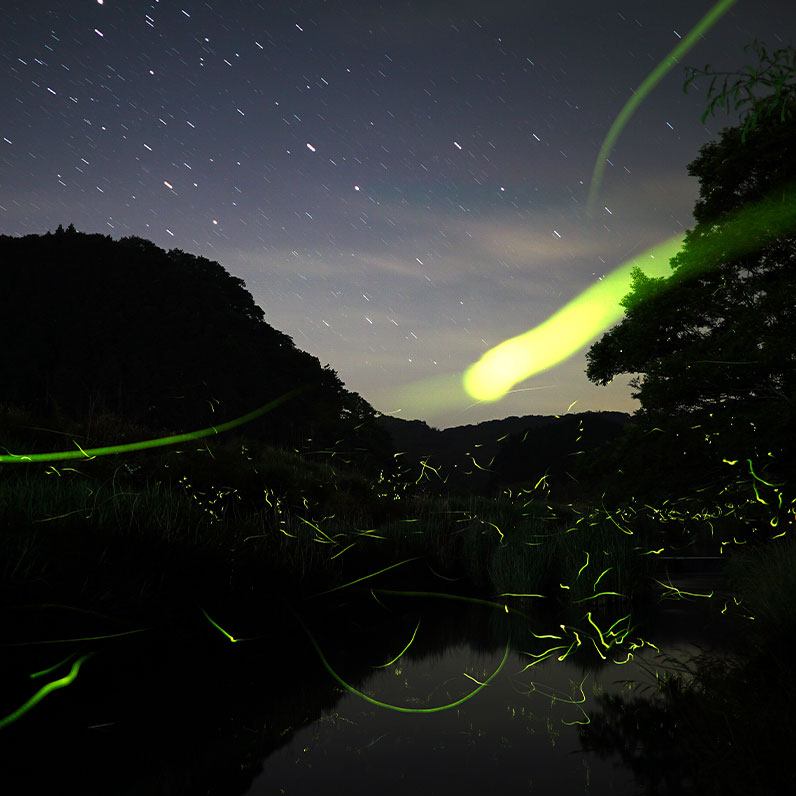 Done during the night, cruise along the Iwahig river and watch the magnificent moving constellations freely flying above you.
Note that it advised not to swat or catch these fireflies as they play an important part in our ecosystem.
6. Nagtabon Beach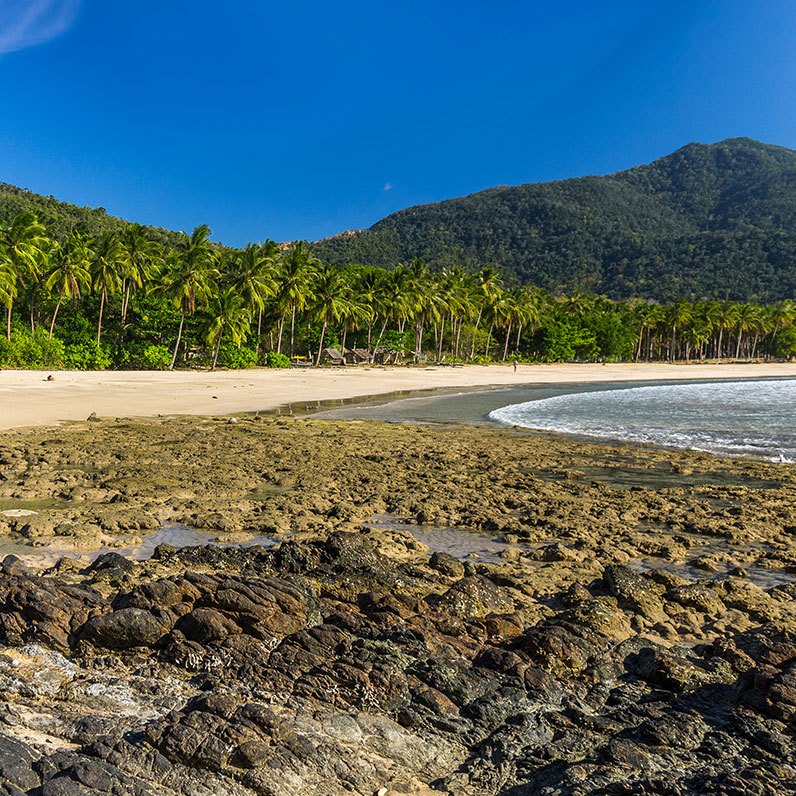 Nagtabon beach is recommended to tourists who want a relaxing spot away from the crowds. You can also try surfing its semi-strong waves.
7. Honda Bay Island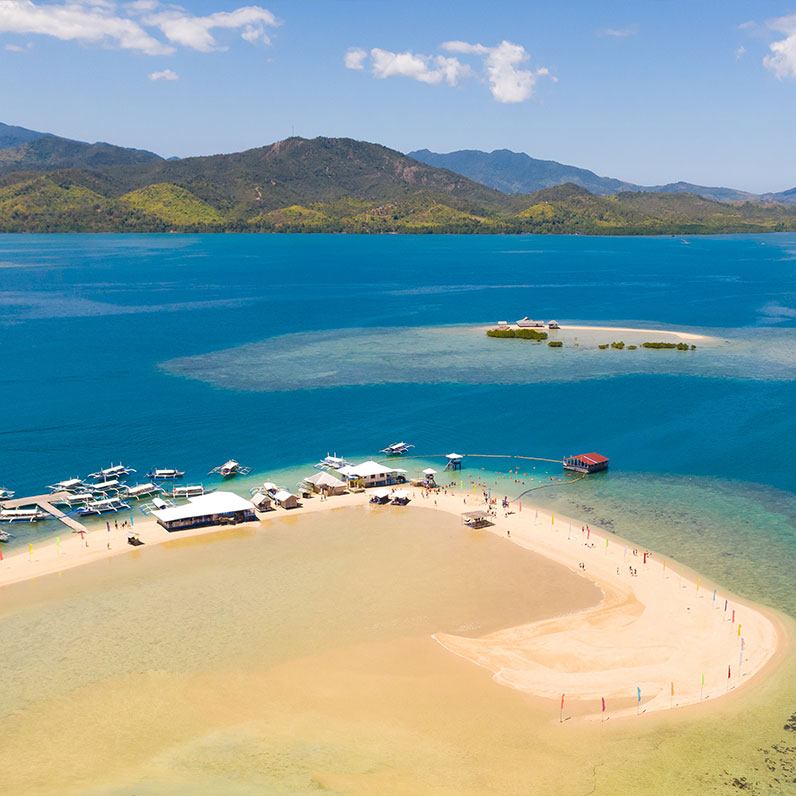 45 minutes away from the city is Honda Bay covered with fine white sand and clean waters.
The islands of this bay include Snake, Luli, Starfish, Cowrie and Dos Palmas all popular with tourists because of its accessibility and natural beauty.
8. Sabang Beach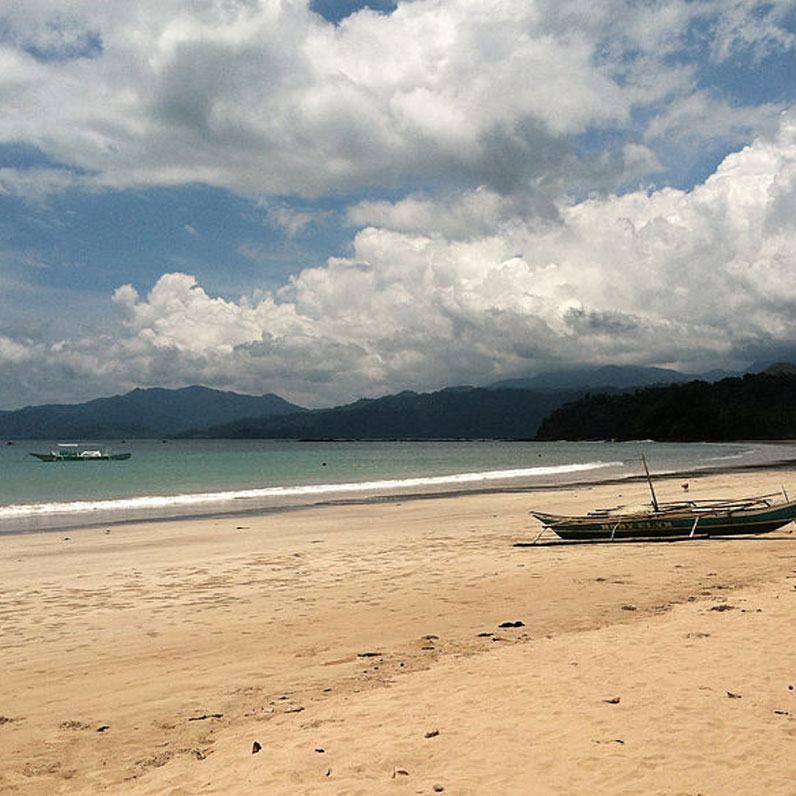 Sabang Beach is a serene area where a small village is located providing tourists with fresh coconuts, fruits, and the likes.
In addition, it hosts an organic farm within the island where you can stay overnight and enjoy fresh farm produce.
9. Puerto Princesa Underground River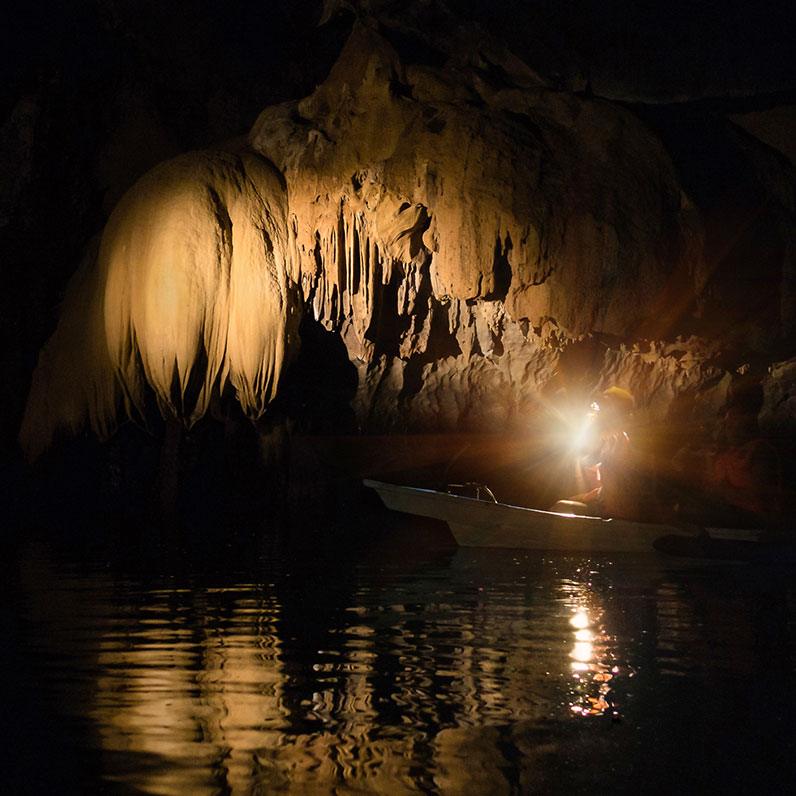 Located 74 km northeast from the city center, this UNESCO's list of World Heritage Sites member is reachable only by joining a package tour in the city.
Once you signed up, travel time by land is around 1 hour and 40 minutes going to Sabang beach then another 30 minutes of boat ride going to the underground river entrance.
Take note that as you reach the island, curious monkeys freely roaming along the shore will welcome you but as suggested by locals, never pet or give them food.
Unexplored places to visit around Puerto Princesa
1. Dumaran, Palawan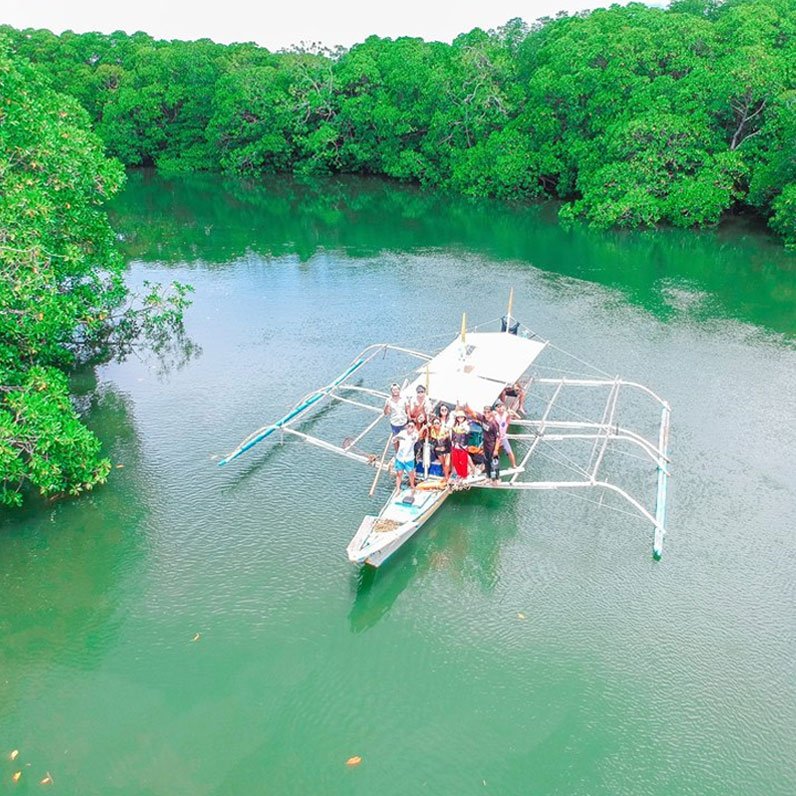 Exactly 231 km away from Puerto Princesa is the laid-back town of Dumaran, reachable through bus and vans. Since some parts of the road leading to this quiet municipality are unpaved, tourists tend to skip this area making it perfect if you prefer an escape from the herd.
From its wharf, you can ride a motorized boat that can take you to Isla Pugon, a beautiful island enclosed with lush mangroves and a mountain top view site where you can take photos of the best sunrise and sunset.
Other places worth a visit are:
Encantadia Island, one of the smallest islet in this area with clear waters boasting colorful marine life
Red Rock Island where you see the vast ocean through its towering edges
Maruyog-ruyog Island where big cottages and pathways invite visitors for a quick nap
"The Queen", where you can snorkel and be amazed at the abundant corals below.
To avail this tranquil experience, you may contact 0910 667 7996 or visit: https://www.facebook.com/pg/DumaranPalawanDiscoveryOfficialPage/services/.
2. Olangoan Falls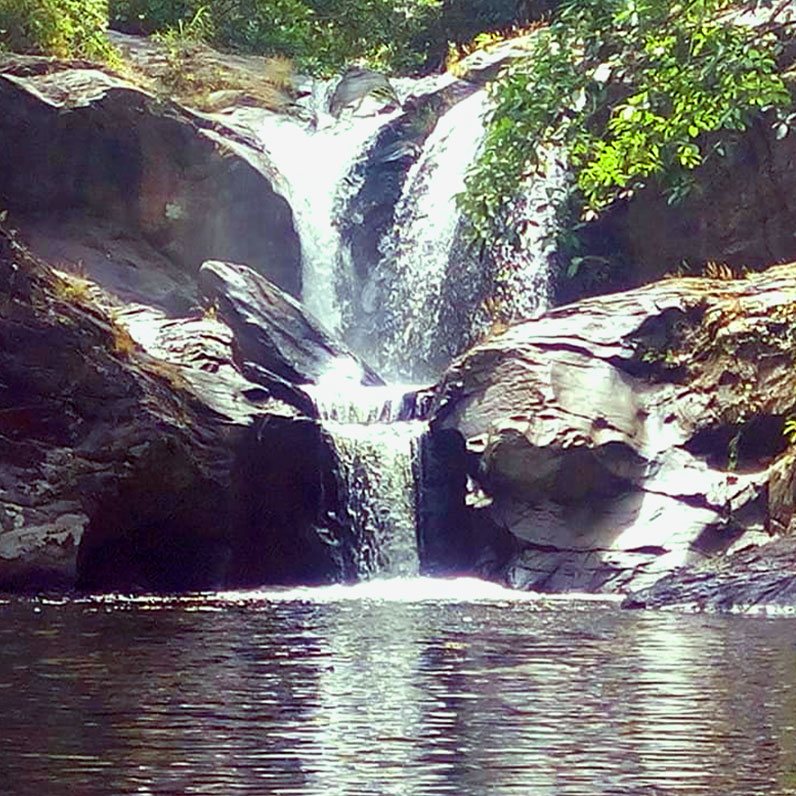 Located in Brgy. Binduyan, an hour drive going north from the capital city, is the refreshing Olangoan Falls composed of a small and main waterfall with a basin.
To reach this site, prepare for a mini adventure as you must trek into a jungle then cross a river with boulders for an hour.
In addition, upon reaching the falls, you can climb further to swim into a big but shallow pool next to a serene forest.
For inquiries, call or send a text message at 0909 063 9119 or visit: https://www.facebook.com/Binduyancommunitytourismassociation.
3. Long Beach, San Vicente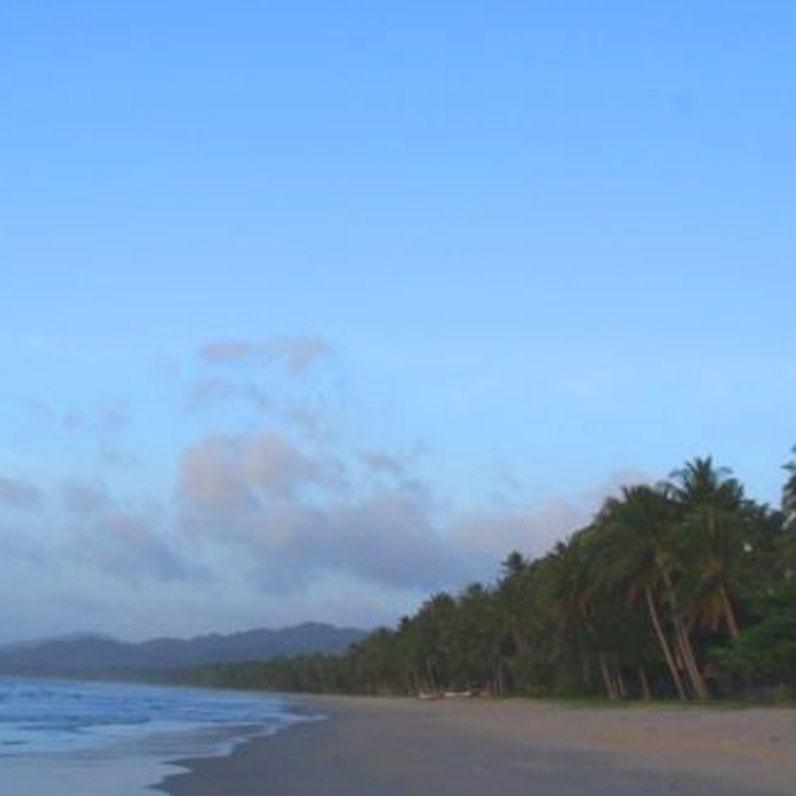 Hailed as the longest white beach in the Philippines, this 14.7 km stretch of sparkling shoreline is slowly gaining popularity with tourists because of its semi underdeveloped charm.
To go to San Vicente from the city proper, you have the option to board a bus and travel 6 hours or ride a van for 4 to 5 hours.
In addition, accommodations are slowly emerging in the area offering a comfortable stay. Click here for reference: https://www.legendarytours.com.ph/attraction/san-vicente/.
4. Balabac Island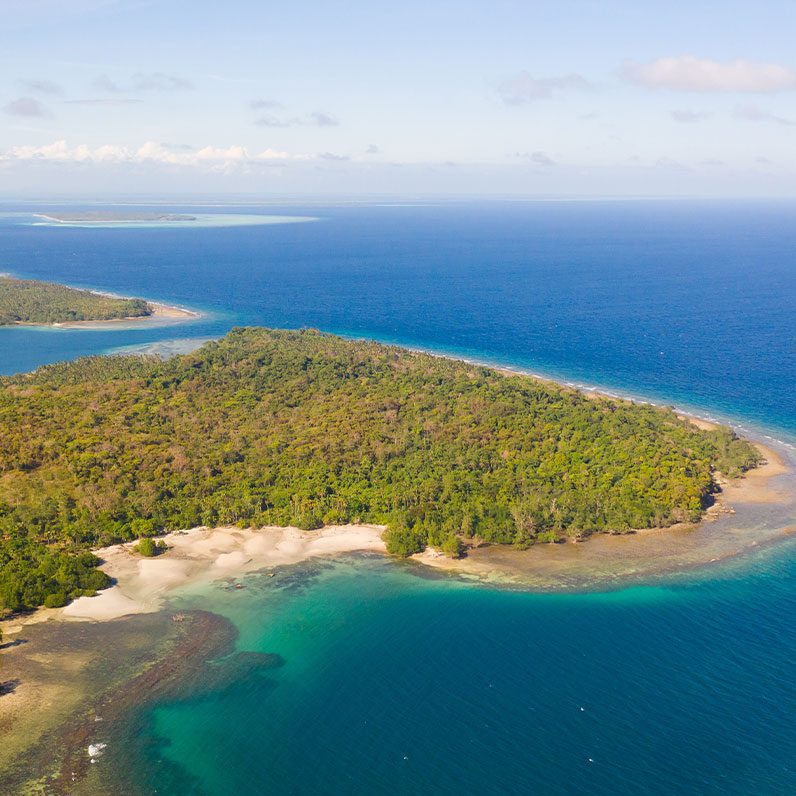 Situated at the southwest of Palawan, Balabac group of Islands holds the best virgin beaches nurturing endemic floras and faunas such as the Philippine mousedeer locally known as "Pilandok."
Buses and vans regularly depart from San Jose Terminal in Puerto Princesa driving four to five hrs to reach Rio Tuba, Balabac's gateway.
Once you're there, try out various activities such as dolphin watching and lounging on the pink sands of Comiran Beach.
For tour concerns, contact Balabac Island Safari at 0918 248 2366 or Rombo Balabac at 0929 140 3125.
5. Taytay, Palawan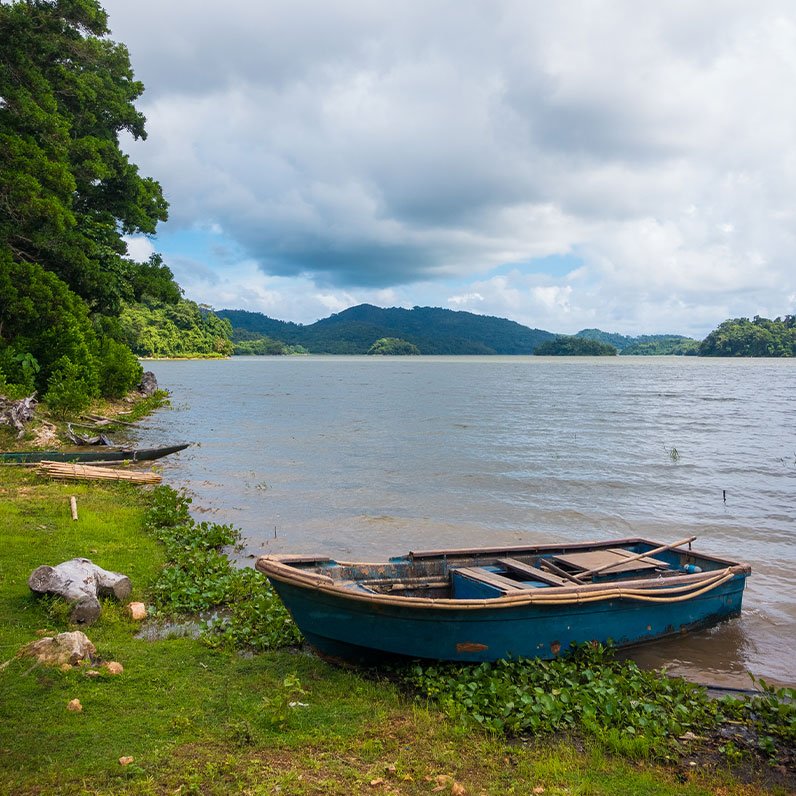 Located on the eastern coast part of this province, Taytay is reachable in four to five hours via bus or shuttle vans from the city's capital.
Expect gorgeous attractions such as the Elephant Island with its hidden lagoon within its cliff, Isla Blanca and its long, white sandbar naturally formed with corals, and Manguao freshwater lake that's home to 100 different species of birds.
For package tour concerns, click here: https://www.travel-palawan.com/destination/palawan/taytay-tour-packages/.
Where to buy pasalubong/souvenir items in Puerto Princesa
A trip is never complete without bringing home something that will remind you of the fun experience you had while on vacation.
In addition, it can be given to friends as a token who missed all the fun.
Here is a list of the best shops to buy pasalubong or souvenir items in this city:
1. Asiano Arts and Crafts
Found in Dagumboy, Rizal Avenue Extension, it has an extensive collection of the famous "Palawan handicrafts" such as detailed wood carvings, different sizes of dream catchers, artworks, etc. Word of warning, the items here are priced on the expensive side due to their world-class quality.
2. Baker's Hill
For foodies who want to take home a taste of this memorable destination, go to Mitra Rd., Brgy Sta. Monica for their popular mongo and ube hopia.
3. MCA Market Mall and Pasalubong Center
If you're on a budget, visit MCA Market Mall and Pasalubong Center conveniently located 10 mins away from the airport for all kinds of affordable mementos.
From wooden refrigerator magnets to classic chandeliers made from shells and capiz, this place gives out discounts if you buy in bulk.
4. Binuatan Creations
Located at Bougainville Drive, Rafols St. Sta. Monica, Binuatan Creations has the best and reasonably priced handloom weaved products for tourists who want wearable keepsakes.
Export quality items made in abaca fibers such as passport holders, fans, sleeping mats, wallets, etc. are all displayed giving buyers vast choices what to splurge on.
In addition, their famous bags, which come in beautiful designs and colors is a must-buy due to its durability and classic appeal.
5. Delma Pearl and Pasalubong Center
This shop located at Mercado de San Miguel in Brgy. San Miguel offers exquisite and pricey south sea pearls sourced locally with international quality.
In addition, they also have cultured freshwater pearls that can be bought at more affordable prices.
(Read: Negros Occidental Budget Travel Guide: Bacolod, Sipalay, Lakawon, And Other Must-See Spots)
Must-try dishes in Puerto Princesa
This town has eclectic offerings of food that may look bizarre but surprisingly appetizing with lots of nutrients.
1. Tamilok
Usually eaten fresh from the rotting wood where it resides, this shipworm is very slimy and goes down quickly once you swallowed it.
Tamilok is popular in local restaurants where it is served with a spicy vinegar on the side if you're having second thoughts on its taste.
2. Crocodile meat dishes
With a firm texture and taste similar to chicken, farmed crocodile meat is preferred by locals and tourists due to its high protein content.
In Puerto Princesa you can find classic Filipino dishes like Sisig, Bicol Express, Tapa, and even sausages revamped using this low cholesterol meat.
3. Lato Seaweed
Also called sea grapes or green caviar, this type of seaweed is popular due to its succulent texture and mild salty taste.
Lato seaweed is prepared as a salad mixed with vinegar, onions, and tomatoes.
Sample three-day Itinerary for Puerto Princesa
Now that you're familiar with what Puerto Princesa has to offer, it's time to pack your bags and experience why people keep coming back to this majestic place.
Below is a detailed example of how your trip will go:
Day 1
| Time | Activity | Cost |
| --- | --- | --- |
| 8:00 AM | From Puerto Princesa International Airport, ride a tricycle heading to your accommodations Check in, secure your belongings, and if it's available avail of your hotel's free breakfast. | Tricycle: P10 to P100 depending on distance |
| 10:00 AM | Join the Honda Bay Tour which includes an Airconditioned Van transfer from your hotel to the bay, a motorized boat that will take you to the islands, a buffet lunch, entrance fees, safety gears including a life vest and a licensed tour guide. To book this deal, go here: https://www.gopalawan.travel/Honda_Bay | P1,700 per person |
| 3:00 PM | Back to the Hotel, relax and freshen up. Make sure to back up the photos you took from your first taste of this town. | |
| 6:30 PM | Iwahig Firefly Tour. Cap off your first night by watching nature's glowing beauties in Iwahig. The tour includes van transfer to and from your hotel, boat transfer, a licensed tour personnel and a buffet dinner. | P1,300 |
| 11:30 PM | We give you the option to go back immediately to your hotel or try out Puerto Princesa Baywalk where you can purchase alcoholic drinks paired with grilled seafood and meats. | Food and drinks at Baywalk: About P400 |
| 1:00 AM | Sleep and prepare to make awesome memories again. | |
Day 2
| Time | Activity | Cost |
| --- | --- | --- |
| 6:00 AM | Breakfast at the hotel | |
| 7:00 AM | Underground river tour. Underground river tour that costs P2,240 for adults and P1,350 for children under 7 years old. This includes a roundtrip van transfer, buffet lunch, boat transfer, entrance fees and permits, a licensed English-speaking tour guide, 45-minute kayak tour of the underground river and audio device fee. | P2,240 for adults and P1,350 for children under 7 years old |
| 4:00 PM | Arrival at the hotel. We suggest you use this time and head to the nearest public market for pasalubongs where they are priced low compared to specialty shops. To check the nearest in your location, you may use your trusted location app. | Packed cashew nuts initially priced at P200. Dried and salted squids and different types of fish are also displayed offered at P50 per bundle. |
| 7:00 PM | Dine at Kalui Restaurant for your seafood cravings. Order their "Day's Catch" that comes with vegetables, white or red rice and camote mashed paired with either fish steak, fish cordon bleu, shrimps and squid. For desserts, head to Eightynine Café and try their double chocolate blackout cake aptly named "Death by Choco" to clean your palate. | Day's Catch: P264 Death by Choco: P160 |
| 11:00 PM | Go back to your hotel and rest for tomorrow's activities. | |
Day 3
Time
Activity
Cost
6:00 AM
Have your breakfast and prepare to check out.
7:00 AM
Join the city tour that cruises to special destinations like the Palawan Wildlife Rescue & Conservation Center, Plaza Cuartel and the Cathedral, Rancho Santa Monica, Baker's Hills, Butterfly Garden & Tribal Village, Binuatan Creations and Pasalubong Center.

Van transportation, a licensed tour guide, entrance fees and pick up to your accommodation and drop off service to the airport is allowed as long as you coordinate with the tour organizer.

P600
6:00 PM
Drop off at the airport.
For roughly P5,500 per person excluding airfare and your preferred accommodation, you can have a delightful three-day experience in this magical place.
(Read: Why You Should Use A Credit Card For Travel)
Tips on traveling to Puerto Princesa
Book during an airfare sale Purchasing a ticket through online promos and sales is the core of your vacation. It will determine if you can splurge on other things like a good place to stay in, your food choices and the entire allotted budget. In addition, make sure that you pick good days to be there when booking online. Make sure the weather is suitable for exploring the area.
Consider who you are traveling with Being with travelers having the same age allows you to go all out with the attractions and adventures in a tour package. On the other hand, if you're with kids, senior citizens and PWDs, it may limit the area you can visit. Check out what each tour package provides and make sure all will have a good time.
Pack light! As much as possible, bring only one large bag containing lightweight clothes, swimwear and other necessities for an easy journey. In addition, sharing toiletries like shampoo at toothpaste with your travel companions allows everyone included in the trip to save space in their luggage.
Respect the place and its locals Once you reached this paradise, never litter, pluck flowers and the likes as each living thing plays an important role in its ecosystem.
In addition, smile and be friendly to Palaweños as they are known to very polite, honest, and hospitable. Lastly, wear appropriate clothes especially if you're near schools and churches. Bikinis and boardshorts are meant to be worn only when you're on the beach.
Don't disturb the marine life You may observe but never try touching sea creatures while snorkeling and diving as it may stress them. Always remember that you are the visitor in their homes so paying respect is a must.