2020 El Nido, Palawan Budget Travel Guide With DIY Itinerary
20 min read
If you travel around 230 km away from Palawan's capital city of Puerto Princesa, you will find the Municipality of El Nido.
El Nido, at the Northern tip of Palawan, is famous as a gateway to some of the most beautiful spots in the province. From here it's easy to take a tour to the best-hidden sanctuaries located within the municipalities' 45 islands.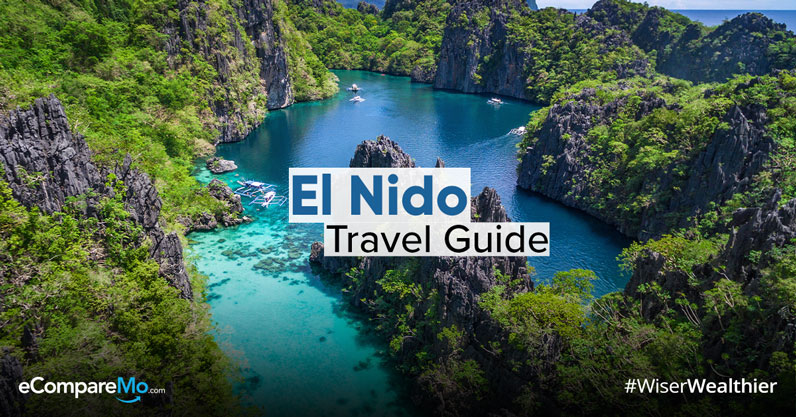 With countless awards and accolades, including being number 4 in the prestigious Conde Nast Traveler's list of "20 Most Beautiful Beaches in the World, this place will leave you breathless and speechless, all in an amazing way.
We know you're interested with its turquoise water, glistening white sands and ecological diversity, so here is your El Nido, Palawan Travel Guide for 2019.
When is the best time to visit El Nido?
It's good to know that this haven doesn't experience typhoons because of its strategic location. So even the monsoon season won't stop you from enjoying El Nido.
Between November and May are considered the ideal time to go because of the pleasant temperature of 24°C to 30°C perfect for swimming, sunbathing and island hopping.
In addition, scuba divers can submerge any time of the year because its ideal climate that varies from 24°C to 26°C from December to March and 26°C to 29°C from April to November.
| Dry Season | Monsoon Season |
| --- | --- |
| If you prefer months without rain during your trip, book from December to May with an average temperature of 28°C to 32°C. | Expect heavy rains backed with strong wings from June till October with varying temperature of 24°C to 27.2°C. |
| Less rains means more visitors and crowded tourist places. It can also mean higher prices. | We advise you to skip July as it is the rainiest month bringing strong waves limiting your access to destinations that needs a boat ride. |
(Read: Puerto Princesa Travel Guide 2019: Activities, Budget, and Sample Itinerary)
How to go to El Nido
After considering the season, it's time to acquaint yourself on ways how to reach this dream getaway.
Refer to the guide below and have a safe trip!
Mode of Transportation
Instructions
Via Air
Philippine Airlines, Cebu Pacific and AirSwift have daily direct flights going to this spot from Manila or Clark to San Vicente Airport in El Nido.
Via Land

Ride an air-conditioned van from the Puerto Princesa airport priced at P350 to P450 each that will take you to El Nido in 5 to 6 hours.

On the other hand, traveling via bus from the city capital is around 6 to 8 hours amounting to P500 to P600 each while renting a car would cost P2000 to P3500 per day and can take you to paradise in 5 hours.

To book a bus, check here: http://www.phbus.com/cherry-bus/.

Via Sea

Though it's possible, it would be time consuming as from Manila, you have to ride a ferry going to Coron, then stay for a night to catch the earliest scheduled trip going to El Nido.

Estimated total travel time is roughly 24 hrs.

If you're interested, you can check: https://travel.2go.com.ph/ and http://www.phbus.com/montenegro-shipping-lines/
For a relaxing journey, we suggest you choose the mode of transportation your most comfortable with even if it takes longer than the others presented because it will give you peace of mind.
(Read: 20 Scuba Diving Places In The Philippines To Add To Your Bucketlist)
How to get around
Exploring the town proper by foot is ideal but if you decide to rent a motorbike, it would cost P600 to P800 a day, gas not included. Discounts are given if you rent it for 3 days or more.
In addition, tricycles can take you to popular destinations like the Las Cabanas beach that would cost P150 one way while P1,200 to P1,400 can take you to the beaches of Nacpan and Duli.
Where to stay (affordable to expensive)
Booking a place to stay is easy as this island offers a variety of accommodations from budget-friendly hostels to high-end lodgings located in exotic destinations. For suggestions, check out our list.
1. Mad Monkey Hostel
Mad Monkey Hostel at Nacpan beach, Sitio Calitang in Brgy. Bucana is well known for its fun atmosphere and nightlife.
Local and foreign backpackers love staying at this inn with accommodations at a starting price of P1,100 per night.
To book a room, you may call 0945 412 2369 or visit https://www.madmonkeyhostels.com/nacpan/.
2. El Nido Bed, Bunks and Beyond
If you want to stay close to in-demand attractions like the beaches of Ipil Ipil, Seven Commandos, Papaya, and the Big Lagoon, Bed, Bunks and Beyond is ideal for you.
Groups can avail a room with 6 bed at a starting rate of P700 during low seasons while private rooms with two single beds are available for P1850 a night.
To avail their accommodations, you may contact 0905 552 3346 or visit Cabigsing Beach in Bacuit.
3. A Place to Remember
Situated in Serena St. Brgy Buena Suerte, A Place To Remember is a 3-star hotel exuding homey vibes. It has rooms good for 2 adults with a starting price of P2,300.
For inquiries, text or call 0917 801 1925 or visit https://www.facebook.com/A-Place-to-Remember-El-Nido-244228848979312/.
4. Four Seasons Seaview Resort
Guests who love a bit of privacy can check-in at the Four Seasons Seaview Resort.
Tucked away at Sitto Lugadia, Brgy. Corong Corong, they offer rooms with great views of the Helicopter and Miniloc beaches priced at P2,716 a night.
They are reachable through 0917 541 9804.
5. Angel Nido Resort
Angel Nido Resort located at Caalan Beach in Barangay Masagana has room façades reminding guests of old Manila's charm.
Their seafront cottage that features a breath-taking view of the Bacuit Bay is suggested for couples who want to take their bonding moments to a higher level.
You may avail their accommodations with a starting rate of P2,798 through 0939 165 8916 or visit https://www.angelnidoresort.com/.
6. El Nido Moringa Resort
Positioned in Brgy. Corong Corong, this recently opened 3-star hotel has nicely decorated and spacious double rooms offered for a base price of P10,000.
In addition, they boast a moderately sized swimming pool where you can chill while gazing at lush greeneries.
For reservations go to https://www.moringa-resort.com/home or dial 0999 537 3006.
7. Qi Palawan
Located on a remote island in Sitio Palabuyan, San Fernando, this place is a proud member of Zero Carbon Resorts, an organization acclaimed for its economic and environmental sustainability in their facilities.
In addition, they provide 8 gorgeous bamboo themed rooms/villas set on the beach meant for private couples and groups with rates starting from P11,750.
For advance booking concerns, go to http://www.qipalawan.com/ or dial 0939 925 9433.
8. El Nido Resorts Lagen Island
Located on the tip of Lagen Island, countless websites have featured this eco-sanctuary resort because of its spectacular scenery and excellent lodging facilities especially the water cottages built on stilts, offered at P18,200 during low peak season.
In addition, you can stroll through their forest trail and view the breathtaking coves situated on the other end of the island.
To view other room options, you may visit https://www.elnidoresorts.com/lagen-island/ or call (02) 902 5934.
Where to eat
We listed down the best food establishments you can find in El Nido that you can try out during your stay.
You're sure to enjoy the areas abundant supply of fresh and delicious seafood cooked in every way possible in these establishments.
1. Silog Republic Restaurant
Craving for some good old, reliable silog upon waking up? Silog Republic, located at Brgy. Maligaya, Rizal St., Zone 1 has got you covered.
Their Silog meals, affordably priced at P89 can fill you up till lunch. In addition, they can also deliver within the town.
2. Botanica Café and Gin Bar
For freshly baked pastries matched with one of the island's best coffee, proceed to Botanica Café and Gin Bar conveniently located in Amboy St, corner Pecado.
One of their must-tries is the refreshingly yummy ube latte that costs P190 and that can also be ordered over ice.
In addition, they serve delectable meals for lunch and dinner and at night, this gorgeous 2-story establishment transforms into a fun place with themes ranging from trivia games to salsa nights.
3. Tambok's El Nido
Found at Brgy. Villa Libertad, Taytay-El Nido National Hwy, Tambok's is considered as this towns favorite local restaurant that serves revamped food like the Pancit Buko and Sisig Burger.
4. Kina Pards Resto-Bar
Kina Pards Resto-Bar is known for their tender goat meat dishes such as Kaldereta and Papaitan (goat innards, carefully cleaned and cooked).
Foreigners appreciate its offering of local meals all priced low but which tastes better compared to other diners.
Visit them at Corong Corong or you may reach them at 0939 514 0980.
5. Palaone Chon Resto El Nido
If you suddenly long for the taste of Lechon, you should visit Palaone Chon located at the National Hwy, Corong Corong, as they offer succulent roasted pig for as low as P200.
(Read: 11 Best White Sand Beaches in the Philippines)
6. Happiness Beach Bar
Beautiful lightings plus trendy swing seats makes this diner/bar one of the coolest places to chill in Serena St.
A must try in their menu is their signature hummus considered as the best in the area by islanders and foreign visitors.
7. Republica Sunset Bar
True to its name, Republica Sunset Bar offers a spectacular view of the sunset on the side of Sitio Lugadia in Corong Corong.
They offer a wide range of tapas and callientes that must be paired with Paella or Fideua.
In addition, they offer a variety of affordable cocktails perfect for sipping as you gaze at the sun going to down.
8. Trattoria Altrov'e
Trattoria Altrov'e is extremely popular in Calle Hama, Brgy Buena Suerte for serving brick oven-baked pizzas for under P410, good for 5 to 6 people.
During the island's peak season, long lines of enthusiastic crowd patiently wait in front of this Italian restaurant to try out their pie and other favorites like Pasta, Lasagna, etc. all priced fairly.
Top Attractions and Activities to do in El Nido
It is highly suggested that you avail of island tour packages which are accredited by the local government and offered by hotels and locally-based agencies for your convenient exploring.
The voyage bundle priced at P1,200 to P1,500 is inclusive of a motorized boat, life vests and other water safety equipment, a licensed English-speaking tour guide and a lifeguard, usually starts at 9 AM and ends at 5 PM.
In addition, a scrumptious buffet lunch will be served at the island your boat is docked during the afternoon, consisting of chicken, fish and pork viand with steaming rice and drinks.
To know what each tour provides, check the list below. You can book either of these tours by going to https://www.elnidoparadise.com/island-hopping/el-nido-tours/
1. Tour A
Considered as the best and most preferred by tourists, this package priced at P1,200, gets you acquainted with popular bodies of water in this area all blessed with a distinct charm that you will truly adore.
[metaslider id="104134″]
Tour Stop
Activity
Small Lagoon

Situated in Miniloc Island, this stunning spot enclosed with limestone rocks is a favorite of first timers because activities such as kayaking, snorkeling and swimming can be done within the lagoon.

In addition, some parts are shallow so non-swimmers can walk around and watch fishes circle around the area.

It is advisable that you wear protective footwear like water shoes and the likes due to sharp rocks and corals underwater.

Big Lagoon

This larger cove is so picturesque that solemn intimate activities such as weddings, proposals and dates are done here. You should definitely think about it but expect to pay a huge amount for a one-day event.

In addition, like its smaller version, kayaking is offered here so you can admire the walled limestone formations and paddle around corners displaying different fauna and flora.

Note that you must always check submerged rocks because sea urchins are abundant within the area.

Secret Lagoon

Also known as the "Hidden Lagoon", curious visitors line up to its natural formed opening to get inside this "mini arena like" wonder in the middle of the sea.

Once inside you'll notice a small strip of sand complete with trees, rock formations, and other greeneries to explore silently waiting for your arrival.

Shimizu Island

Named after a Japanese diver who was found lifeless on its shore, Shimizu Island is the 4th stop in Tour A.

While your freshly cooked lunch is being set up by boatmen, you can stroll along its powdery white shore or snorkel under its clear waters.

7 Commando Beach

For your final stop, 7 Commando Beach will give you a glorious stretch of light brown sands where stores offering fresh Buko juice, Halo Halo and the likes are located.

In addition, you can chill at cottages that can be rented for a fair fee while enjoying the soft sounds of waves kissing the shore.
2. Tour B
For a minimal fee of P1,300, Tour B will take you to 5 islands, one of which offers a sandbar and an underwater cave seemingly floating above saltwater.
[metaslider id="104140″]
Tour Stop
Heading 2
Snake Island

Snake Island has an exciting sandbar that connects the main island to another during low tide.

For activities, you can swim around its crystal-clear water or snorkel to check out the rich ecosystem below.

Pinagbuyutan Island
Also known as Inabuyatan which means "Enchanted" due to its towering height of 337 meters, this islet is perfect for groups seeking quiet time away from the crowd.
Entalula Beach
Even though some parts are closed by its private owner, you can still swim around the cove and take pictures of the unique diamond shaped formation standing along the shore.
Cudugnon Cave

Cudugnon Cave, located in an island with the same name, is believed to be a Neolithic burial area where artifacts such as human bones were discovered.

Pottery and jewelry belonging to New Stone Age people who once inhabited this cave were found inside.

Once you're done exploring, lunch will be served at open cottages in the secluded white beach.

Cathedral Cave

Another cave included in this package is the Cathedral where you will either swim or kayak to roam around inside.

As you enter, various shapes of stalactites and stalagmites are on display while the dark green water below is luminescing.
3. Tour C
Tour C costs P1,400 and will cruise you around stunning islands, beaches, and the famous Matinloc Shrine.
[metaslider id="104146″]
Tour Stop
Activity
Helicopter Island

Named after its noticeable shape, this gorgeous limestone formation resting in turquoise water hosts tall cliffs where a lush rainforest carpets most of the island.

Near the big cliff on the other end is a medium sized strip of fine cream sand ideal for taking quick naps or a lazy lounge.

Matinloc Shrine

Also known as the Shrine of Our Lady of Matinloc, this abandoned but still in demand shrine houses a sculpture of Jesus Christ, Mother Mary and angels set up amidst a forest.

Though unfinished, people still flock to pray and climb a special cliff that provides a breathtaking view of some parts of Matinloc Island.

Secret Beach

Also located within Matinloc Island, this not-so-secret spot is only accessible by entering a hole underwater then ascending into a mini pool circled by dark limestone formations.

Fine, white sand is found on the other end where you can sunbathe and marvel how this spot came to be

Star Beach

Also known as Talisay, lunch is cooked and prepared in its shore while you can take a dip in its clear and refreshing water.

In addition, blue starfishes are known to inhabit in this part but can only be seen depending on the season.
4.Tour D
For this bundle affordably priced at P1,200, you will get to go to 6 picturesque beaches all with different charms that you will truly enjoy.
[metaslider id="104151″]
Tour Stop
Activity
Ipil Beach

Though this is a private property, they allow visitors to enjoy this spot made dramatic by 3 mountains standing proudly on the background.

Prenup photos are done in Ipil as it offers one of the best views of the sunset.

Cadlao Beach

Comparable to the Big Lagoon, this cove is surrounded with dark limestone rock walls naturally sculpted over time.

It's calm, light blue waters will invite you for a swim or dive to wonder at how graceful the marine life is.

Paradise Beach

Though a bit far, this area is worth it as lunch will be served on its fine, white shore shaded by groups of swaying coconut trees.

After your meal, you can kayak and check the different species of coral abundant below.

Pasandigan Beach

Guarded by 2 massive limestone formations, this area is a common rest point for visitors voyaging under package D.

In addition, private overnight camping can be done in Pasandigan where you can enjoy its ultra-clear waters and stargaze at night. To check out the rates, click here: https://www.elnidoadventure.com/overnightcampingtour

NatNat Beach

Located in Cadlao Island, few voyagers make this area as one of their stops which means you can relax for a few minutes, away from groups of tourists.

It offers a long stretch of white sand ideal for sunbathing, lounging with friends and daydreaming when will you come back to this paradise again.

Bukal Beach
Another destination where pre-nuptial photoshoots are done, this small island offers beautiful backgrounds backed with an unlimited supply of cool sea breeze.
Unexplored Places to visit in El Nido
1. Linapacan Archipelago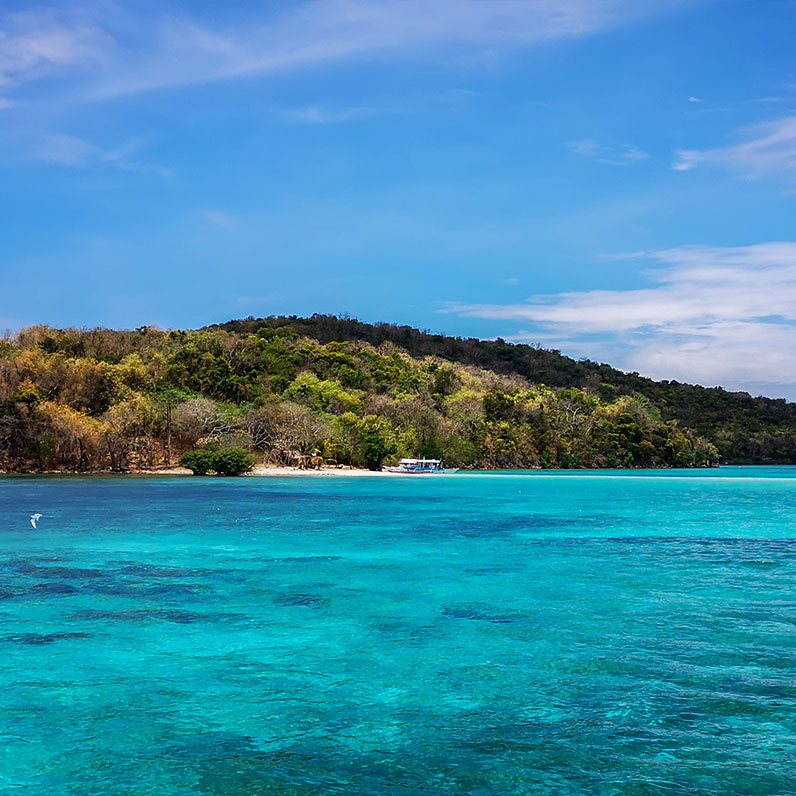 Located in between Coron and El Nido, Linapacan features clear, pristine waters which made number one in the list of "35 Clearest Waters in the World to Swim Before You Die" from the American news site Daily News Dig last October 2013. It beat out the Maldives and the Hanauma Bay of Hawaii.
Riding a boat can take you to this breathtaking site where you can snorkel, and island-hop to its equally interesting nearby islets.
2. Inapupan Island
For a memorable interaction with sea turtles, take a 30 minutes boat ride going to Inapupan Island which is a favorite resting spot of these majestic marine reptiles.
3. Patoyo Island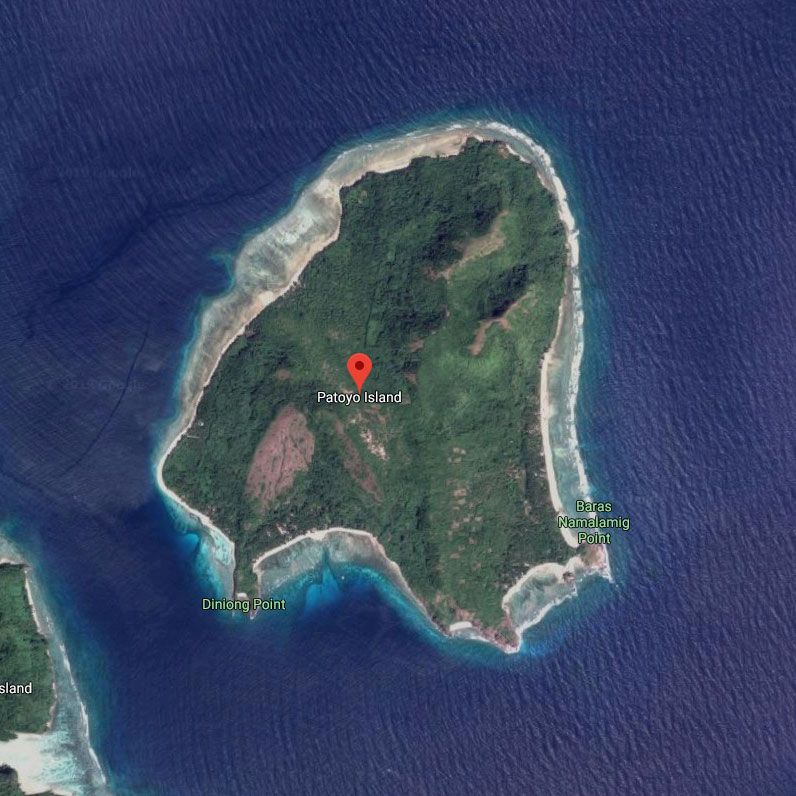 Slowly gaining interest from vacationers is this area situated in the eastern side of San Miguel, Linapacan's main town.
Fun activities are offered at the Patoyo Kitesurfing Nature Camp ranging from gymnastics workouts on bamboo to scuba diving in two shipwrecks.
To avail of this specialty lodging, you may reach them at 0998 983 4011.
4. Eli and Mephdet Islands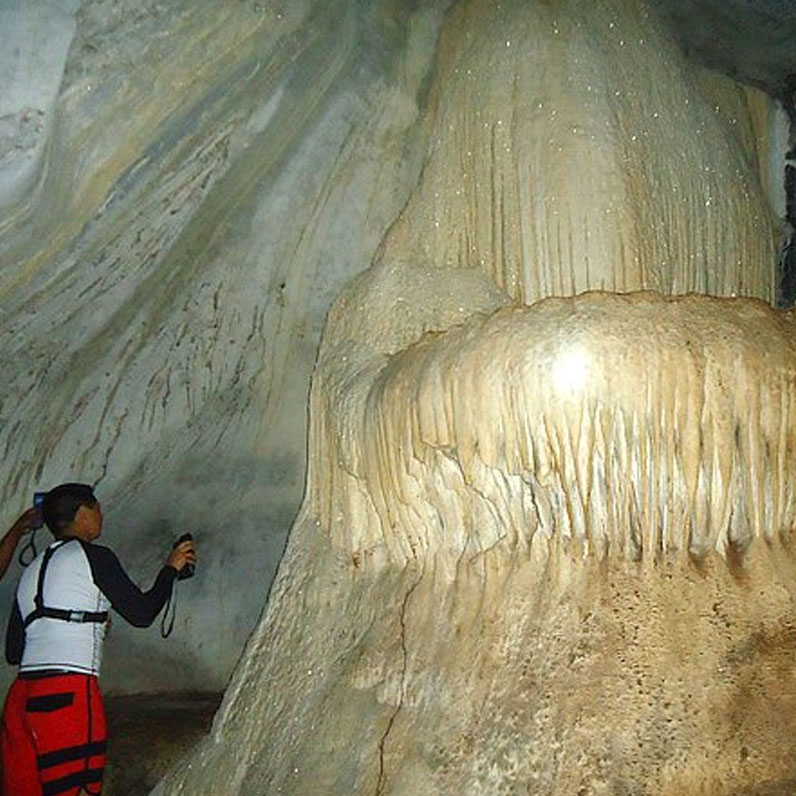 At the southern part of San Miguel is Eli and Mephdet Islands known for its "Eli Cave" that has sparkling sections and limestone foundations.
In addition, for a mini-adventure, you can check out two sunken ships near the cave.
(Read: Negros Occidental Budget Travel Guide: Bacolod, Sipalay, Lakawon, And Other Must-See Spots)
Where to buy Pasalubong / Souvenir items in El Nido
Buying a souvenir enables you to look back at the wonderful memories you had while visiting this "once dreamed place".
Furthermore, little items bought can be given to loved ones to show that you remembered them while you're having a good time.
Check out the list below to find out where to buy trinkets, displays, and other items worthy to be taken home.
1. Recuerdo De Palawan Crafts and Souvenir Shops
Located in Zone 2, Bucana, this store offers famous Palawan handicrafts such as an intricately made miniature Spanish ship, rustic picture frames, weaved baskets, etc. all priced affordably.
In addition, discounts will be given if you buy refrigerator magnets, keychains, and other small items in bulk.
2. PrintCentral
If you want shirts stating your love for this town, proceed to PrintCentral found at Rizal St., Buena Suerte and have your t-shirts or bags printed with any design to your satisfaction.
Additionally, they also have readymade silkscreened shirts and mugs embossed with scenes of your new favorite place.
3. Marchylle Souvenir and Pasalubong Center
Located in Calle Hama, Buena Suerte, this stall sells everything from accessories made interesting with shell accents to wooden carvings.
Furthermore, quirky wall displays are also available that can add a statement in your homes.
4. El Nido Boutique & ArtCafe
For your future beach getaway, head to this store found in Sirena St., Buena Suerte where colorful designed clothes such as bohemian-inspired tops, sarongs and the likes are for sale.
5. El Nido Public Market
Try visiting this town's public market situated at Rizal for their famous cashews, dried seafood products and anything ideal to take home.
Moreover, their prices are low compared to specialty stores in commercial areas.
(Read: Are Excessive Flight Delays Covered by Travel Insurance?)
Sample 4-day Itinerary for El Nido
After getting acquainted on everything you need to know about this popular island, stop daydreaming and experience it firsthand.
Refer to the detailed sample below and have fun!
Day 1
Time
Activity
Cost
7:30 AM
Arrival at Puerto Princesa. Since almost all accommodations offer pick up from the airport going to El Nido, you don't need to book in advance but if you decide to travel on a budget and avail of lodging without transportation transfers, you may ride a tricycle going to San Jose Terminal.
Tricycle: P60
8:30 PM
Ride a bus going to El Nido. Note that this will take 6 to 7 hours travel time but it's a nice drive anyway. Just look out the window and view the mountains covered with greenery along the way.
P480
3:30 PM
Arrival at terminal
4:00 PM
Arrival at your accommodations. Fix your belongings and make sure its secured. Charge your phone and leave a decent amount of memory in your cameras or mobile devices for your anticipated photos/videos.

Ask the lobby if they offer tour packages. Hostels and inns usually provide these voyage bundles.

5:00 PM
Proceed to El Nido Tourism office at Real St. Brgy. Buena Suerte to pay the mandatory environmental fee and have yourself registered.
P200
5:30 PM
Explore the town and check restaurants for an early dinner. We suggest dining at Tambok's where you can feast on their inihaw na idsa and laing all served with steaming rice.
Inihaw na Isda: P130 Laing: P140
7:00 PM
Walk around the shore and take photos
10:00 PM
Go back to your lodging and rest for a fun filled day tomorrow.
Day 2
Time
Activity
Cost
6:00 AM
Wake up and have your breakfast. Make sure to waterproof important items that you will bring along the tour.
8:00 AM
Go to the port and smell the wonderful scent of the morning sea breeze. You can stretch a little or do your routine exercises.
9:00 PM
Proceed to the port and board the boat that will take you to Tour A for a fixed price of P1,200 plus P200 for the swimming gears rental.
Tour: P1,200 Swim gear rental: P200
5:00 PM
End of your first cruise to different amazing islands. Head back to your rented place to change clothes and rest.
7:00 PM
Time for dinner. We know you're starving from this day's jampacked schedule, so we suggest trying out Trattoria Altrov'e known for their generous serving of delicious pizzas good for 4 to 6 people.
Pizza: P410
9:00 PM
Back to your resting place. Prepare your stuff for tomorrow and again, make sure you still have enough space on your devices for more photos and videos.
Day 3
| Time | Activity | Cost |
| --- | --- | --- |
| 6:00 AM | Wake up, exercise and relax at the bay while waiting for the sun to rise. | |
| 7:00 AM | Go back to your lodging place and have your breakfast. | |
| 9:00 AM | Proceed to the port for Tour C. | Tour: P1,400 Safety gear rental: P100 |
| 7:00 PM | For dinner, we suggest Botanica Restaurant's delectable Spanish Sardine Pasta. After your meal, you can try out their vast choices of alcoholic drinks like the Marilyn Mango (smashed mango paired with gin) while participating in their enjoyable night themes like trivia games and salsa dancing. | Spanish Sardine Pasta: P220 Marilyn Mango: P230 |
| 10:00 PM | Time to rest to recharge for next day's escapade. | |
Day 4
| Time | Activity | Cost |
| --- | --- | --- |
| 6:00 AM | Wake up, eat your breakfast and proceed to the lobby to checkout | |
| 7:00 AM | Ride a tricycle going to the bus terminal | P25 |
| 8:00 AM | Ride a bus heading to Puerto Princesa. They usually have stopovers where you can buy lunch. | Bus: P480 Lunch: P200 |
| 2:00 PM | Upon reaching the terminal, you can checkout MCA Market- Pasalubong Center where you can buy this region's famous harvest- cashews priced from P200 depending on the grams per pack. | Cashews: P200 depending on the grams per pack |
| 4:00 PM | Walk 5 to 10 mins to reach the airport. Check in and pay for the terminal fee. | P200 |
Following this IT, you can have a 4-day stay in El Nido on a budget of about P5,100 per person.
Travel Tips
Take advantage of airline promos. Book during various sales offered by airlines but make sure you pick a date with the best weather.
Set a meeting with everyone included in the trip. Have a group talk to plan your trip. Finalize everything especially the itinerary that must be approved by everyone. In addition, consider their condition and special needs.
Bring light clothes. This town gets humid especially as the day progresses, so we suggest bringing lightweight clothes made of cotton that can absorb your sweat while letting you move freely.
Cover up! Dress modestly especially when you're away from the shoreline. Wear something to cover up your bikinis and put on a shirt when roaming around town as a sign of respect to locals and your fellow travelers.
Souvenirs are bought, not taken. During island tours, never take anything that interests you like a piece of coral, shells, etc. as they are part of the ecosystem and may cause imbalance affecting other species. For reference, check out the following link to familiarize yourself with the seashells that are illegal to be taken from the beach: https://www.philippinebeaches.org/forbidden-sea-shells-illegal-export-collecting-law/