LISTED: Christmas Bazaars, Night Markets, And Expos In Manila This 2019
3 min read
'Tis not just the season to be jolly, it's also the best time for bargain-hunting and bazaar shopping.
This season of giving, bazaars, and Christmas markets can give you the best deals and promos. You get to stretch your budget, all while checking off the items you need.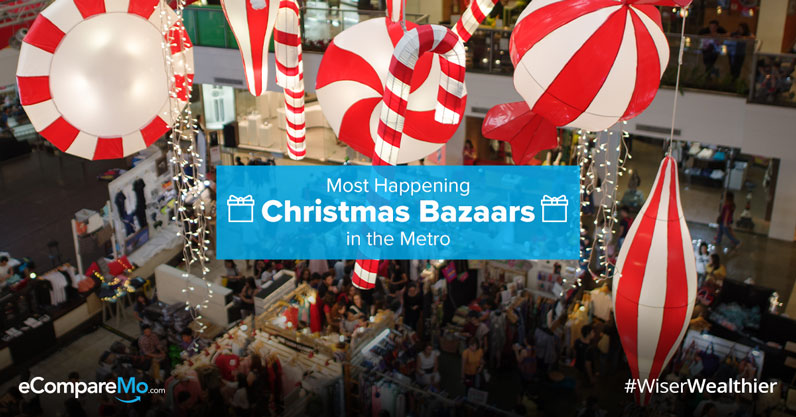 So take out your wish lists, fill up your baskets, and get ready to enjoy a whole lot of fashion, food, and more shopping destinations this 2019.
Here are 27 (and counting) Christmas Bazaars and other events happening in the metro for the whole month of November and December. Merry Christmas and happy shopping!
1. A Circuit Holiday Night Market
WHEN: November 15-17, 2019
WHERE: Globe Circuit Event Grounds, Makati City
2. Aklatan: An All Filipino Book Fair
WHEN: November 20-21, 2019
WHERE: Megatrade Hall, 5th Level, Building B, SM Megamall, Mandaluyong City
3. American Women's Club Bazaar
WHEN: December 10, 2019
WHERE: SMX Convention Center, SM Mall of Asia Complex, Pasig City
4. Babypalooza Bazaar
WHEN: November 16-17, 2019
WHERE: Fortune Hall Elements at the Centris, EDSA corner Quezon Avenue, Quezon City
5. Big Brands Sale
WHEN: November 27, 2019 – December 1, 2019
WHERE: Megatrade Hall 1, 5th Level, Mega B, SM Megamall, Mandaluyong City
6. Bijoux De Lou at the Assumption Bazaar
WHEN: November 17, 2019
WHERE: Dusit Thani Hotel, Makati City
7. Christmas Bazaar by Yabang Pinoy
WHEN: November 16-17, 2019
WHERE: The Filinvest Tent, Spectrum Midway Alabang, Muntinlupa City
8. Christmas Calle Night Market
WHEN: November 14-17, 2019
November 21-24, 2019, 2019
November 28 until December 23, 2019
WHERE: Old Ford Driveway Area, Alabang-Zapote Road, Ayala Alabang, Muntinlupa City
9. Global Pinoy Bazaar at Rockwell
WHEN: November 30 – December 1, 2019
WHERE: The Fifth at Rockwell, Powerplant Mall, Makati City
10. Grand Yard Ukay-Ukay Pre-Christmas Bazaar 2019
WHEN: November 16, 2019
WHERE: NIA Village Tennis Covered Court, Pantabangan Street, NIA Village Tandang Sora, Quezon City
11. Holiday Bazaar Fair MNL
WHEN: November 24, 2019
WHERE: Valle Verde 5, Covered Court, Pasig City
12. Kalakal CALABARZON 2019
WHEN: December 4-8, 2019
WHERE: Megatrade Hall 1 and 2, 5th Level, Mega B, SM Megamall, Mandaluyong City
13. Kids Craze Warehouse Sale
WHEN: November 29-December 1, 2019
WHERE: Megatrade Hall 3, 5th Level, Mega B, SM Megamall, Mandaluyong City
14. Manila Sundance Bazaar – SM North Edsa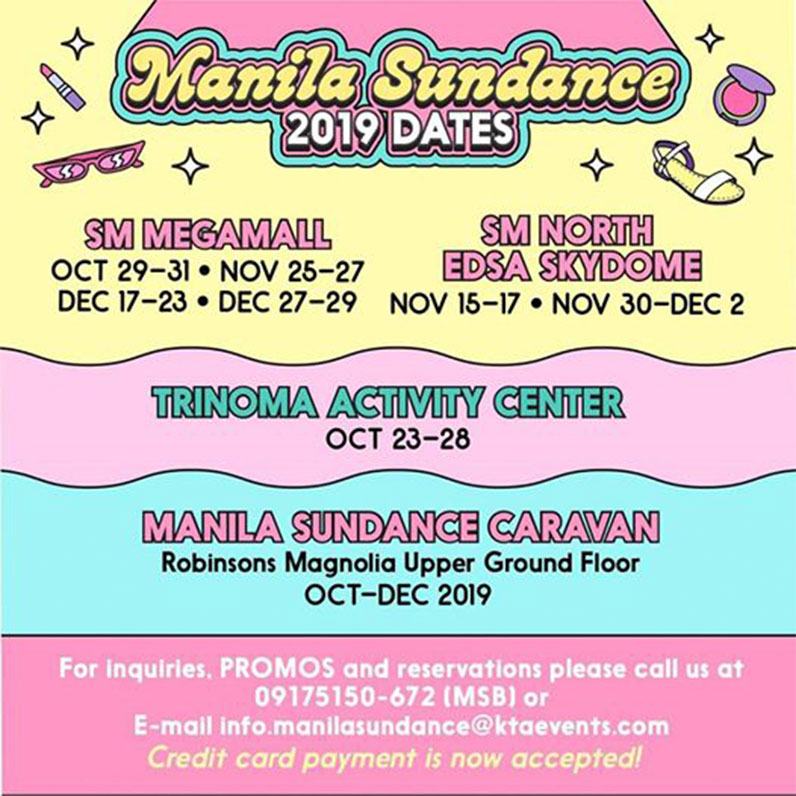 WHEN: November 15-17, 2019
November 30-December 2, 2019
WHERE: Skydome, SM North EDSA, Quezon City
15. Manila Sundance Bazaar – SM Megamall
WHEN: November 25 – 27, 2019
December 17-23, 2019
December 27-29, 2019
WHERE: Megatrade Hall 3, 5th floor, Building B, SM Megamall, Mandaluyong City
16. Mega Brands and Lifestyle Sale
WHEN: December 20-22, 2019
WHERE: Megatrade Hall 1, 5th Level, Mega B, SM Megamall, Mandaluyong City
17. Metro Fiesta Expo 2019
WHEN: December 4-8, 2019
WHERE: Megatrade Hall 3, 5th Level, Mega B, SM Megamall, Mandaluyong City
18. Noel Bazaar 2019 – SM Mall of Asia
WHEN: December 19-22, 2019
WHERE: Function Room 4, SMX Convention Center Manila, SM Mall of Asia, Pasay City
19. Noel Bazaar 2019 – Filinvest
WHEN: November 27 – December 1, 2019
WHERE: The Filinvest Tent, Spectrum Midway Alabang, Muntinlupa City
20. Noel Bazaar 2019 – World Trade Center
WHEN: November 15-24, 2019
WHERE: World Trade Center, Pasay Extension corner Sen. Gil J. Puyat Avenue, Pasay, Metro Manila
21. SM Kids Warehouse Sale
WHEN: November 28, 2019-December 1, 2019
WHERE: Megatrade Hall 2, 5th floor, Building B, SM Megamall, Mandaluyong City
22. Super Shoes and Bags Sale
WHEN: December 28-31, 2019
WHERE: Megatrade Hall 2, 5th Level, Mega B, SM Megamall, Mandaluyong City
23. Toy Kingdom Warehouse Sale
WHEN: December 20-22, 2019
WHERE: Megatrade Hall 2, 5th Level, Mega B, SM Megamall, Mandaluyong City
24. Trendsetter's Bazaar
WHEN: December 10-15, 2019
WHERE: World Trade Center, Pasay Extension corner Sen. Gil J. Puyat Avenue, Pasay, Metro Manila
25. World Bazaar Festival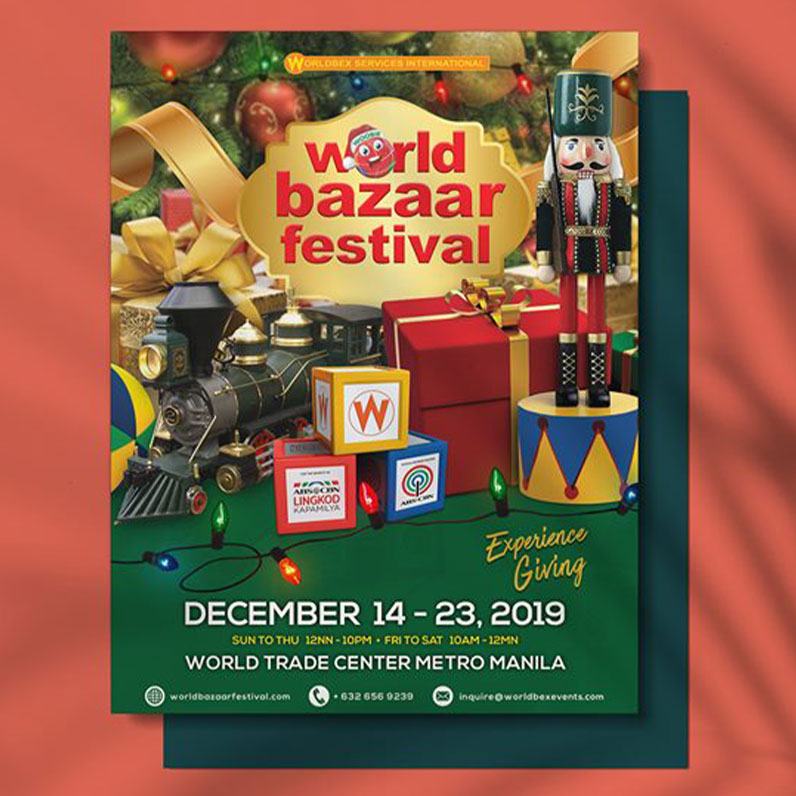 WHEN: December 14-23, 2019
WHERE: World Trade Center, Pasay Extension corner Sen. Gil J. Puyat Avenue, Pasay, Metro Manila
26. Zonta Alabang Christmas Carnivale Bazaar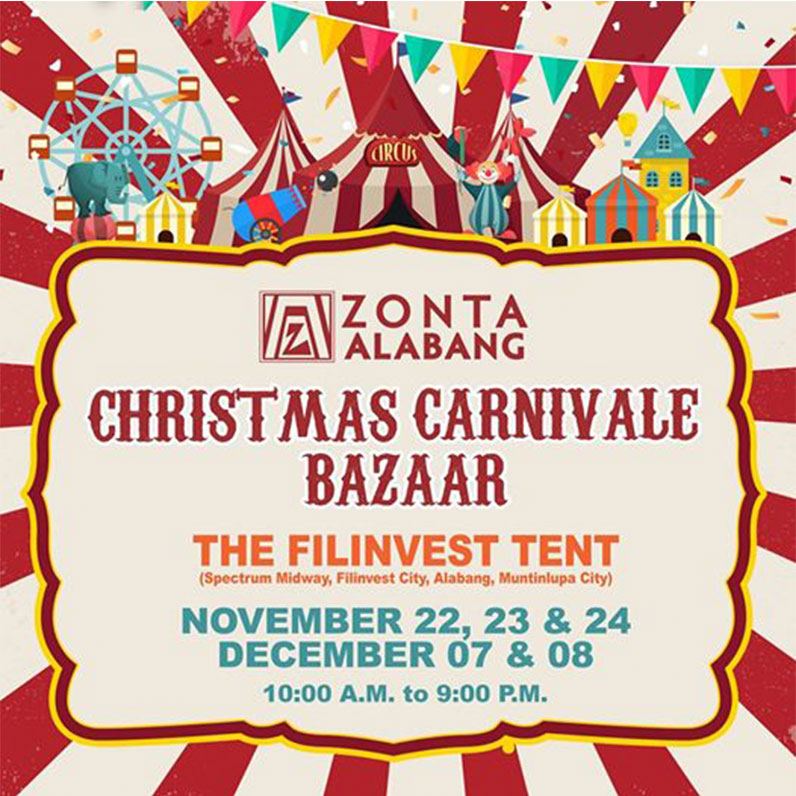 WHEN: November 22-24, 2019
December 7-8, 2019
WHERE: The Filinvest Tent, Spectrum Midway Alabang, Muntinlupa City
27. 14th Christmas Toy Fair
WHEN: December 13-15, 2019
WHERE: Megatrade Halls 2 and 3, 5th Level, Mega B, SM Megamall, Mandaluyong City