We've Made A List Of 2020 Planners To Choose From, So You Won't Have To
8 min read
There is no such thing as "best planner for 2020." To each his own—and it all depends on your taste, personality, plans, and whether or not you really do have a plan. (Apparently, there's now a planner for people who don't have plans whatsoever.)
So here, we put together all the 2020 planners available at the moment, with emphasis on price, design, and features (hint: all of them have calendars!). Now it's up to you to figure out which one works best for you.
We still have a few weeks before 2019 finally caps off, which means there's definitely time to plan ahead. Because the year 2020 is when you have to have a clear vision of yourself and your goals.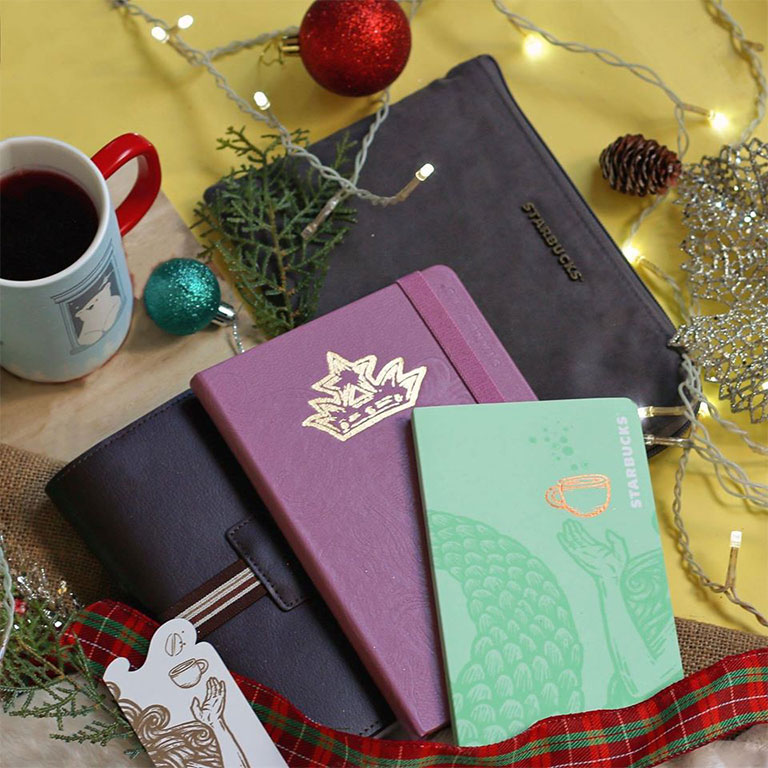 1. The main event: Starbucks 2020 Planner and Travel Organizer
Who is it for? Long-time Starbucks Planner fans
It's impossible to talk about planners without mentioning the famous Starbucks Planner. The unveiling of these planners is practically a holiday tradition for many of the coffee shop chain's patrons.
Last year, the international coffee chain doubled down on its holiday promo by adding a travel organizer to its Christmas collectibles.
This year, Starbucks is making both the planner and the travel organizer up for grabs—and they come in two exciting colors: Berry Pink and Frost Gray for the planners and Neo Mint and Coffee for the travel organizers.
All notebooks sport an embossed siren logo with shimmering gold details. Just like last year, the planners come with a protective zip pouch while the travel organizers have a leather case packaged with them.
To own your Starbucks Planner or Travel Organizer, all you need to do is collect 18 stickers. Each sticker can be obtained by getting any tall, grande, or venti drink from any of their branches. This means that you must shell out between P2,160 and P3,600 to get one planner.
Collecting all four will cost you from P8,640 to a whopping P14,400. Don't forget that the sticker season only lasts until January 6, 2020.
Pro tip: If you're in it only to get one planner, stick to tall drinks so you can scale down the cost of getting your very own Starbucks planner.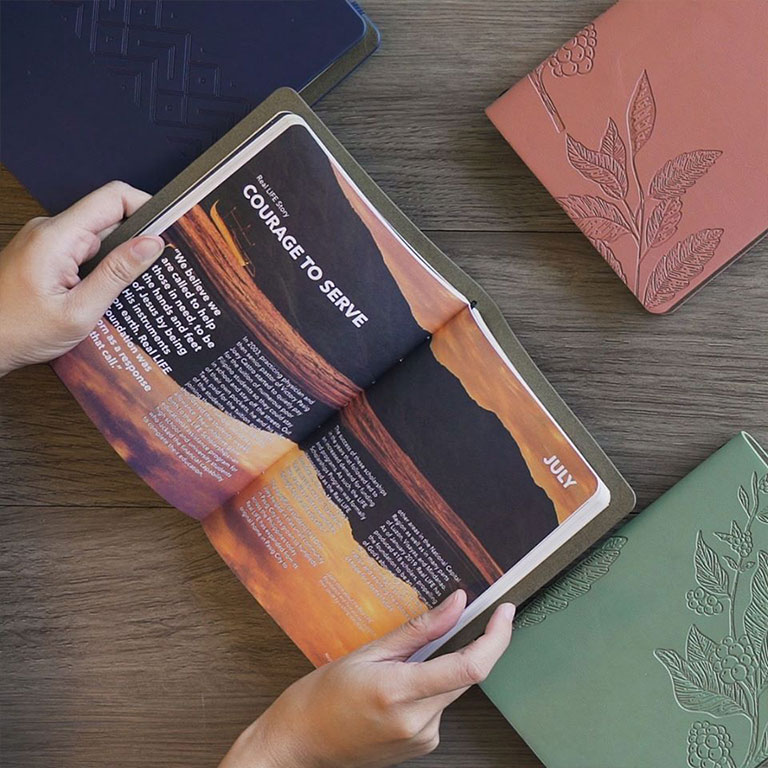 2. The generous one: Coffee Bean & Tea Leaf Giving Journal
Who is it for? Caffeinated geeks with a heart of gold
It's easy to claim that the Starbucks Christmas promo singlehandedly started the craze for journal promos in the country. But if you want your planner hunting to be a bit more nuanced than just sticker collecting, then maybe Coffee Bean & Tea Leaf's Giving Journal is the right one for you.
How does it work? According to the coffee chain, all proceeds from the Giving Journal promo will go to the Real LIFE Foundation, a non-government organization that helps underprivileged Filipino youth.
As for the journals, you can choose from four muted colors with sleek embossed patterns: navy blue, taupe, pink, and green. Inside, you will find a planner that has monthly dividers, picturesque photos of the country, and other portions that will help you get your 2020 goal.
When you're done with the journal, you can refill it with another notebook, and go on with your writing.
How can you get your Coffee Bean & Tea Leaf Giving Journal? Simply get 12 stamps from 11 regular drinks and a holiday-themed beverage.
For peso-pinchers, you can get 12 stamps by spending a minimum of P1,505 for 11 of their cheapest coffee options and one regular-sized holiday drinks. Meanwhile, the maximum amount you can spend on coffee for a single journal is P2,220.
Want all Giving Journals? Prepare yourself for a caffeinated holiday season as you must fork out between P6,020 and P8,880.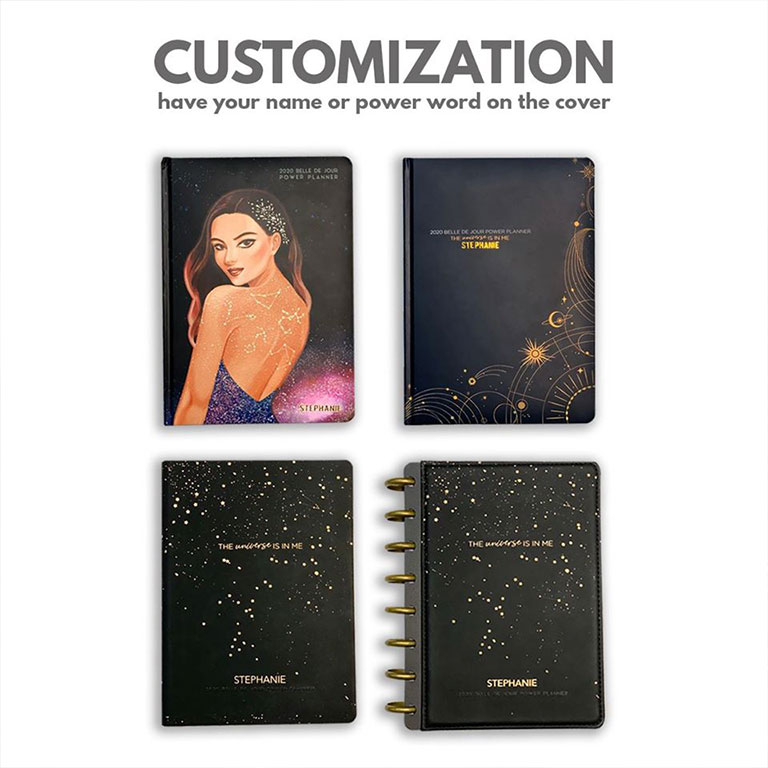 (Read: Beat Inflation: A Guide To Surviving The Starbucks Price Hike)
3. The chic: Belle de Jour Power Planner
Who is it for? "Live, love, laugh" people
"The universe is in me" is the theme of the 2020 Belle de Jour Power Planner—and they made sure that you will remember that whenever you whip out your planner.
According to their product page, every copy "aims to remind women that they are unstoppable to make their dreams/goals happen for they are one with the universe."
For this set, they have four versions of their annual Power Planner, all with variations of their theme for 2020:
BDJ Classic
BDJ Leather
BDJ Limited Edition
BDJ Discbound
Despite their differences in cover and binding, the Power Planner comes with the same offerings: 192 pages in full color, back pockets for receipts and other little things, elastic band to hold it together, magnetic bookmarks, and others.
While these may sound like run-of-the-mill journal features, what makes Belle de Jour's organizer stand out include coupons that are worth over P40,000, BDJ Lifestyle Card, and the chance to have your Power Planner customized with your name (for a fee, of course).
As of this writing, the 2020 Belle de Jour Power Planner is down to P900 from the original price of P995. Adding your name to the planner will cost you an additional P50.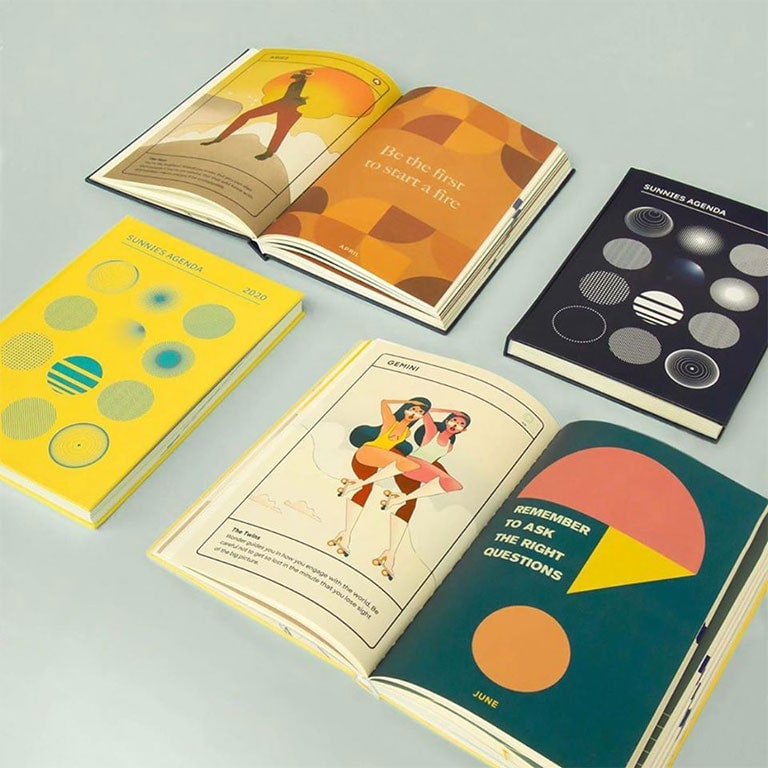 4. The rising star: Sunnies Agenda 2020
Who is it for? Astrology nuts and minimalist freaks
Do you like astrology? Well, eyewear chain Sunnies Studios has not one but two planners for you this season. And if you like a little boost of encouragement for your star sign, there's a reason why their planners might be the perfect one for you.
For the 2020 Sunnies Agenda, you can choose between two designs: Sun and Moon. Each variation comes with its own sleek, minimalist cover that draws inspiration from the celestial bodies and our long-standing love affair with astrology. Neat.
Inside every Sunnies Agenda are something journaling freaks will love: spacious weekly pages, zodiac profile for a little dose of positivity, astrological charts, and other bits and pieces that will help you keep going next year. Each page also comes in sleek design that can match any aesthetic you would like to appear on your pages.
How can you get your 2020 Sunnies Agenda? Visit any branch of Sunnies Studios and either buy it on its own for P599 or you can pair it with any of their products and the planner is yours for only P199.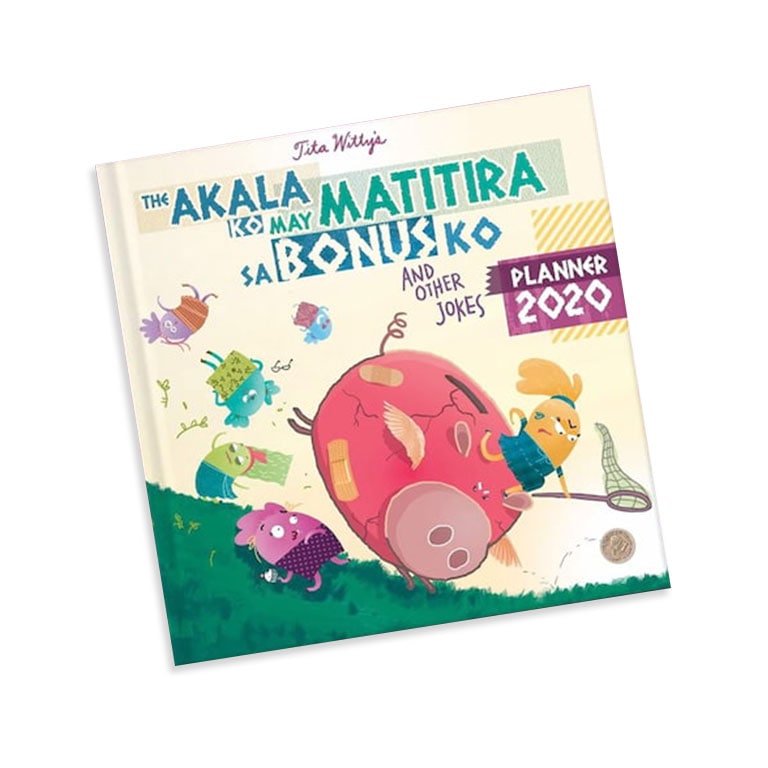 5. The goofball: Tita Witty's The Akala Ko May Matitira Sa Bonus Ko And Other Jokes Planner 2020
Who is it for? Every self-respecting/self-deprecating person
For the sake of brevity, let's all agree to just call it 2020 Tita Witty Planner.
If you've been looking for planners year after year, chances are you've encountered this insanely funny and relatable planner by Witty Will Save The World. Now on its 10th iteration, the Tita Witty Planner 2020 is back with everything you've loved from the brand and more.
The 2020 Tita Witty Planner has daily, weekly, and monthly portions to help you survive the difficult life of adulting. Its beautifully wacky illustrations are spread throughout the pages of the planner, making you laugh and cry as you remember your everyday struggles as a (barely) functioning adult. Also, it comes with two sticker packs.
To get your 2020 Tita Witty Planner, go to their website and order it online for only P580.
(Read: 10 Ways Being A "Tita" Actually Saves You A Lot Of Money)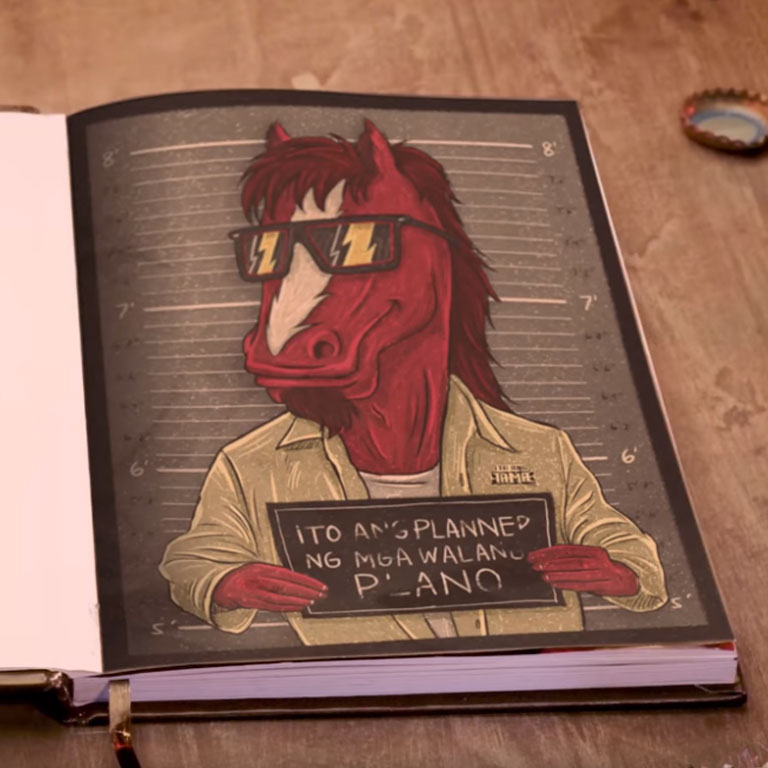 6. The dark horse: Red Horse Beer's Ang Planner Ng Mga Walang Plano
Who is it for? Alcohol fiends
There are dozens of entries out there that are worth the top spot. However, it's difficult to ignore a dark-horse candidate that just came out of nowhere and blew everyone away.
Red Horse Beer, one of the top-selling brands of San Miguel Brewery, killed it by unveiling their very own planner: Ang Planner Ng Mga Walang Plano.
In a move that came out of left field, the alcoholic beverage brand released its own planner that can rival even the most famous ones.
Outside, it's as simple as it appears with a cover that only consists of a solid black finish with the Red Horse Beer logo on it. However, don't let its simplistic cover fool you: the real kicker is on its pages.
Ang Planner Ng Mga Walang Plano comes with a lot of gimmicks, based on its promotional video: quizzes, crossword puzzles, drinking games, and even drinking passes to get you off the hook when you're out with friends.
How much does it cost? No, sir, Red Horse doesn't want you to pay for anything to get the planner. You can get Ang Planner Ng Mga Walang Plano by, according to Interaksyon, "tagging friends, subscribing to their YouTube channel or visiting their Facebook page."
(Read: 15 Handy Tips On How To Survive Holiday Reunions)
The runners-up
The previously mentioned planners aren't the only ones worth your time, attention, money, and plans. If our top picks didn't appeal to you, here are other 2020 planners you can get and their cost:
1. Where To Next WTN Planner 2020: Coming Home
Cost: P730 (plus P150 shipping if total purchase is below P1,500) Where to get it: Where To Next website
2. Filed 2020 Scribble Planner
Cost: P695 Where to get it: Filed website (currently sold out)
3. Papemelroti 2020 Pocket Planners
Cost: P20 Where to get it: Papemelroti branches nationwide
4. MUJI 2020 Planner
Cost: P395 Where to get it: MUJI branches in Makati, Taguig, Mandaluyong, and Pasay
5. Design Your Life DYL 2020 Planner
Cost: P695 Where to get it: C&S Designs website
6. Love & Light Co. Walk in Love Planner 2020
Cost: P624 Where to get it: Love & Light Co. website
7. Mercury Drug Suki 2020 Planner
Cost: 40 Suki Points Where to get it: Mercury Drug branches nationwide
8. Typo A5 Weekly Buffalo Diary
Cost: P679 Where to get it: Typo's Zalora webpage
9. Everyday Explorers Co. Let's Be Explorers Undated Planner 2020 Edition
Cost: P1,000 Where to get it: Everyday Explorers Co. website
10. Paulo Coelho Secrets: Day Planner 2020
Cost: P814 Where to get it: Fully Booked branches nationwide
Are we missing something? Share your thoughts in the comments.