Dapitan Arcade Shopping Guide 2020: Best Finds For Your Home
9 min read
Baclaran and Divisoria are considered meccas for bargains. Patrons flock to buy anything priced considerably low compared to malls that can be further reduced using a buyer's charm.
Not to be left out is another must try shopping sanctuary "Dapitan Arcade," or simply "Dapitan."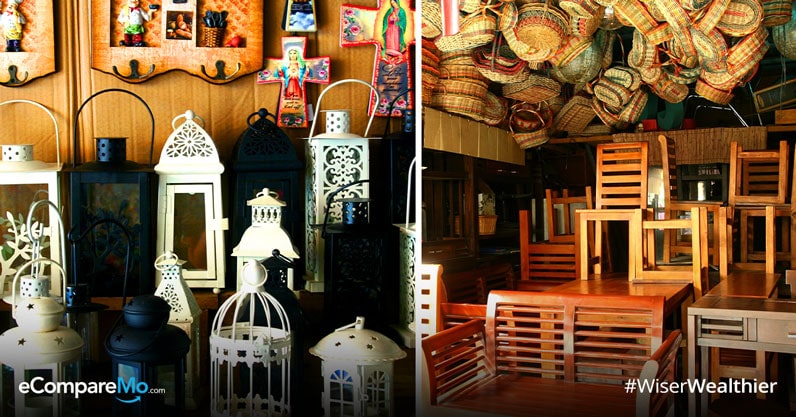 Dapitan came from the the Cebuano word "Dapit," meaning "to invite." True its name, since Dapitan Arcade opened in 2003, it has been an inviting oasis where budget-conscious consumers can source one-of-a-kind export quality items.
We know you're interested, so here is an overview of Dapitan Arcade, how to get there, and some tips to make the most of your shopping while you are there.
How to go to Dapitan Arcade
Using your trusted map application, you may type in No. 37 Dapitan Corner Kanlaon St. Laurges, Quezon City, 1114 Metro Manila. Note that Dapitan Arcade starts from Apo Street and goes all the way to Mayon Street and expectedly, still expanding.
Take note that the nearest and most visible landmark to Dapitan Arcade is San Isidro Labrador's Community Center, which is only five minutes away.
In addition, if you're up for some adventure and prefer traveling using public transportation, you may refer to the guide below.
Proceed to Paseo de Roxas/ Ayala Avenue Intersection and ride a bus going to Quezon Boulevard. Get down at Padre Burgos St. Manila. Once there, ride a jeep going to San Isidro Labrador Community Center.
Ride a jeep going to Taft Ave then ride another jeep going to San Isidro Labrador, QC. Once you're there, Dapitan Arcade is within reach
Ride a bus going to Leon Guinto Sr., Manila. Go down at Taft Avenue then ride a jeep going to the Community Center in San Isidro Labrador, QC.
Ride a bus going to Taft Avenue. Once you are there ride another going to the Community Center
From Bonifacio Global City (BGC)
Walk towards 26th St. then ride a bus going to Edsa. Once you reach Edsa, ride a bus again going to F.B. Harrison Intersection Eastbound or Senator Gil Puyat Avenue, Pasay then ride a jeep going to San Isidro Labrador Community Center.
Go to the LRT Doroteo Jose Station and ride a jeep going to Quezon Blvd/ P. Paredes Intersection. From there ride another jeep to the Community Center in San Isidro Labrador.
Go to the M. Asistio Avenue/ Luis De Leon Intersection and ride a jeep going to Kamantigue/11th Ave. Once you're there, proceed to Andres Bonifacio/Marvex Drive Intersection, QC. Ride a bus off to Del Monte Avenue/A. Bonifacio Intersection, QC. Once you're arrived at Apo/ Quezon Avenue Intersection, ride a jeep going to Dapitan/Kanlaon Intersection.
Ride a jeep at Carlos Palanca Sr going to Ramon Magsaysay Blvd. Once there, wait for a bus headed to Quezon Blvd/ P. Paredes Intersection then ride a jeep going to Community Center, San Isidro Labrador.
Take note that the Dapitan Arcade operating hours are from 9am to 7pm but some stalls open as early as 8am and close beyond the usual time if it's a peak season.
Let the shopping begin.
(Read: The Best Times Of The Year To Buy Anything)
Dapitan Arcade stall guide
One important tip once you reached this shopper's paradise: Keep calm and move along. First-time buyers can attest how visually stimulating this place is given the vast array of choices and perfect deals. It's a great temptation to splurge and go over budget.
To give you a preview of what to expect, here is brief overview of some stalls and what they offer:
Stalls 1 and 2
If you're planning to put up a catering business, the items at these stalls have got you covered. They offer the famous "Dapitan Arcade Tiffany Chairs" matched with a gold painted table perfect for that elegant but cozy vibe.
In addition, hotel-type stainless steel cutleries, classy porcelain/ glass dinner wares and other essentials are also available.
Stall 3 and 4
The most noticeable thing about stall 3 and 4 is their massive display of decorative jars. From the regal looking to the quirky, like a vase shaped like a big swan, any homeowner who visits their shop always comes out with 2 to 3 pieces.
Their price range varies on the design and height, but would you believe that their most expensive vase costs P600 only?
Stall 5, 6, 7 and 20
If you're looking for affordable furniture in Manila, you must visit stalls 5, 6, 7 and 20.
Unpainted and rustic wooden chairs, bed frames, bookshelves, crates, bench etc. are available on hand. You can also provide a design that they can customize based on your budget.
Stall 8
For around P1,000, modern looking iron wall displays can be bought at stall 8.
Different sizes and shapes ranging from circular to complicated designs hangs around their shop waiting to be bought.
For the holidays, metal Christmas trees and other festive ornaments are being offered if you want a contemporary themed celebration.
Stall 10
If your aiming for that Zen inspired vibe for your humble abode, try going to Stall 10.
Colorful and gold coated porcelain buddhas line up their shelves together with other interesting pieces such as a lifelike deer's head, cute owls, and turtles all creatively made using ceramics.
(Read: A Newlywed Couple's Guide To Buying Furniture)
Stalls 16 and 49
Stall 16's most distinct and in demand items are the wooden wall decors penned with warm quotes and inspirations commonly used by coffee shops and bistros.
During Christmas, they have one of most extensive collections of miniature figures ranging from the nutcracker to Santa Claus.
In addition, antique inspired signages, metal candle holders, iron clocks, musical carousels etc. are available.
Stall 32
Stall 32 houses an eclectic collection of figurines that can change the mood of any corner of your place.
Ballerinas, painted clowns, kissing cupids and the likes are exhibited in and outside of their stall making choices a bit hard for buyers.
Stall 34
For relaxing scents that can be used at home, office or any business establishments, stall 34 has got what you need.
Scent diffusers and sprays flavored with pink grapefruit, morning dew, aqua fresh and the likes can be purchased at a very reasonable price.
In addition, faux flower arrangements can also be purchased to match the fresh olfactory goodness that comes with their products.
Stalls 64 and 65
If you're looking for festive Christmas decorations as early as now, you may visit stall 64 and 65. You can't miss them as there is a 2 to 3 feet Santa Claus set in a lamp post priced at P2500.
In addition, they also offer ornaments like the scaled-down mechanical festive villages, uniquely beautiful snow globes housed in hanging lamps and an 8 inches polyresin nativity scene set.
Stall 67
One of stall 67's most noteworthy product is their industrial desk lamp made from recycled metal pipes with retro shaped light bulb adored by buyers who likes anything inspired by steam punk.
In addition, they sell and accept orders for affordable customized furniture made from Palochina.
Stall 69
For your garden display needs, stall 69 has vast collections of frogs, dwarfs and other fun ceramic figurines that you might want to check out.
Their collection of sleeping buddhas with a starting price of P800 is one of their best products that you must consider.
Guide to Dapitan Arcade's second floor
If you think you have seen it all at the first floor, going a level up will surprise you.
Display accents, export quality dried flowers, colorful ferns and simulated fruits set up in a woven basket are lined up to be purchased.
In addition, various shapes of pink and orange Himalayan lamps can be bought to add a soothing effect in any space. Suspended lighting fixtures such as intricately designed Capiz lanterns, Monaco inspired chandeliers and crystal studded corner lights are up for sale.
If you're looking for statement pieces, they offer a finely designed wall décor resembling a peacock's tail affixed within a wall clock; 4ft candle holders in various designs made with iron and mirrors surrounded by round pieces of recycled steel.
Moreover, crystal clusters such as amethyst and tumbled semi-precious stones matched with large to small wood carvings adds character when exhibited in a space.
For relaxation purposes, assorted man-made fountains and wooden musical box producing calming sounds are available.
If you're looking for a unique holiday piece, a one of a kind wooden Christmas tree made from dried, horizontal branches exuding a country homes vibe is ready to be purchased.
(Read: 10 Online Shopping Websites In The Philippines With The Best Deals And Discounts)
Shopping Guide to Kanlaon Street
If you think Dapitan Arcade already satisfied your shopping cravings, a walk along Kanlaon St. will change your mind.
Take a look at stalls offering handicraft items such as wooden bowls, plates, spoon and fork and versatile weaved baskets. And all are priced fairly lower compared to those inside the Arcade.
In addition, antique looking pitchers with elaborately designed glass, colorful mason jars, bottles and other glassware are all displayed waiting for their buyers.
For quirky collectors of anything unconventional, other shops offer interesting decors such as a 3 feet wooden seahorse, a ceramic unicorn's head, miniature dog breeds collection that you could definitely suit your taste.
(Read: Know The Pros, Cons, And Risks Of Buying From The Gray Market)
Tips on shopping at Dapitan Arcade
List all items that you need, not want. Be considerate of your budget and always remember that you have other expenses you need to attend to.
Instead of bringing a shoulder bag that swings freely on your side, put your cash in your front pocket or in a small backpack positioned in front of you so that it is more visible.
Bring a collapsible wheeled cart so your hands are free while looking into piles of items but make sure to constantly check on it especially in crowded areas.
Wear comfy shoes or slippers and be ready to stroll the whole day.
Dress down with lightweight clothes and bring some extra shirts if you need to change. Some shops are located outdoors, and it can get humid as the day progresses.
Go there as early as you can. Filipinos believe in Buena mano (a Spanish term that means giving luck or blessing for the first sale of the day) where customers can request for discounts.
(Read: Filipinos And The Culture Of Haggling)
In addition, being there prior to the opening time allows you to be acquainted with the facilities and enables you to get a decent and secured parking space.
Bring water or anything that can hydrate you. It can save you some time from falling in line to buy and you can use the cash for other important purchases
Smile and be pleasant in dealing with sellers for a good impression. Making small talks with them creates a quick connection that could possibly lead to great discounts.
In addition, once they remember you, they can provide further reductions on your second visit.
Check the condition of anything that interests you. Look for cracks, holes or other imperfections that could limit its use.
Do not stay too long inside a shop as others might have better products to offer bearing more affordable price tags.
Haggle but do it in a fair manner. Most of the time, these stalls are manned by salespeople who are employees not the owners.
Buy in bulk especially for giveaways. You can save more when you buy per boxes but make sure to double check all items inside.
With this, you may proceed and enjoy your mini treasure hunt adventure but be prepared because as every first time and hooked shopper would say "I'll be back again."
(This article was written on July 5, 2019, and updated on January 13, 2020.)