Beware Of People Who Try To Open Your Car Doors While Stuck In Traffic
4 min read
If you're one of the many people who scroll through on Facebook Watch, we're pretty sure you've seen quite a few incidences bukas kotse videos for the past few weeks.
Unlike your traditional bukas kotse MO where perpetrators would wait for the coast to clear before they forcibly open the victim's car and steal anything valuable inside, this one is more brazen. These people forcibly open your vehicle's doors while you're stuck in traffic.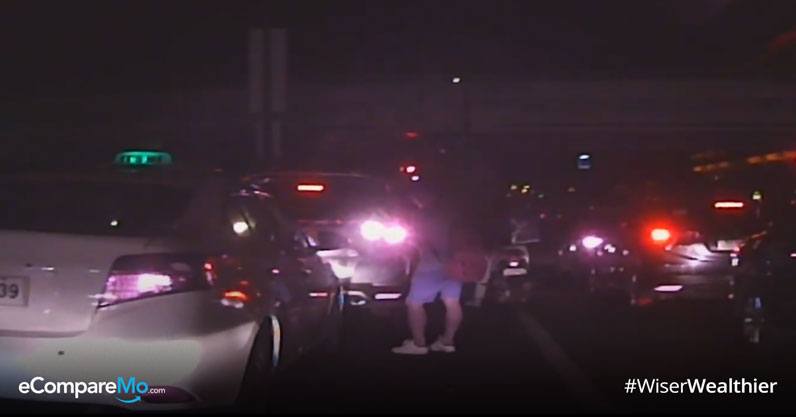 They don't care if there are children inside or if they can get anything at all. They will go through the vehicles one by one to see if there is anyone unlucky enough to leave their doors unlocked. To them, vehicles stuck in traffic are a door to instant money.
Brave new world
What's the difference between this and your typical bukas kotse gang? For starters, your average break-in job requires some stealth and finesse. Typically, they would do the job at night, especially when there's little to no people around.
To get into the car, they either have to smash the glass to bits or unlock the car by poking the locking mechanism to open it. Once they have access to your vehicle's contents, they'll just take whatever they can and quickly get away.
Unfortunately, what we're seeing right now is something different. Based on the videos posted on Facebook, suspicious-looking people would go to the middle of the road while the vehicles there are at a grinding halt. While they're stopped, they would open the doors of cars one by one with reckless abandon.
After an unsuccessful attempt, they would abandon their current target and move on to the next car, doing the exact thing over and over again. Based on the videos we've seen, none of the cars shown were victimized. Although they don't have refined techniques, they leave no door unchecked, including rear doors for SUVs.
(Read: Basag Kotse Gang: How To Prevent Thieves From Breaking Into Your Car)
The legal eagle
While those incidents scared people enough into posting them on Facebook—and were eventually picked up by news outfits—there are questions as to whether there is actually an attempt to rob people in those cases.
In a report by ABS-CBN News, Atty. Claire Castro clarified that people have to establish a clear-cut case that the perpetrators actually have the intent to steal belongings from vehicle owners.
"Binubuksan niya, ang elemento kasi ng robbery, you have to prove the intent to gain… You have to prove kasi the elements gusto lang mangasar o manakot, there should be the intent to gain," said Castro.
If there is clear evidence that it is an attempt to rob people, whether it is successful or not, people can press charges against the caught perpetrators.
If they break in your car and they take your belongings, it is considered an act of robbery since they forcibly opened your car. Meanwhile, doing the same thing but not yielding any loot can be considered attempted robbery.
Under the Revised Penal Code of the Philippines, an act is considered robbery if there is an "intent to gain" someone else's property. In addition to the said element, the methods used should be "of violence or intimidation of any person or using force upon anything."
The hidden perpetrator
The rise of these Bukas Kotseincidents may be more than alarming. However, there is one perpetrator that can be just as guilty as those who attempted to open car doors on the road. The culprit? Heavy traffic.
Yes, not only does traffic causes the Philippines to bleed billions of pesos every day, it is also providing opportunities for criminal elements to take advantage of people who are stuck on the road. After all, would you risk chasing someone who took your belongings and leave your car in the middle of the road?
The Bukas Kotse perpetrators aren't the only ones emboldened by the atrocious vehicular flow in the country. Last month, two incidents of street children ganging up on jeepneys went public. In one of the incidents, they intimidated the passengers stuck in traffic and took their items. Some of the passengers were even hurt by the children.
In another incident, another group of minors attacked an elderly jeepney driver on Taft Avenue. The group stormed the vehicle, dragged the driver out, and beat him so they could mug him. Eventually, the Manila Police District found the kids and took them to custody. Unfortunately, the victim hasn't been identified.
(Read: The 4 Most Common Car Insurance Scams In The Philippines—And How To Avoid Them)
But will it claim?
Despite the media coverage, these events won't be the end of it. It can happen to you and to others—and it happens when you least expect it. If you have comprehensive car insurance coverage, you might be wondering if being a victim of bukas kotse will make you eligible to file for claims.
We asked eCompareMo Car Insurance Concierge Manager Louie Reyes if there is a chance you'll get compensated if you're a victim of these incidents.
"While it is unfortunate if it happens to you, you cannot file for a claim for the items stolen to you even if the robbery happens inside your vehicle. Comprehensive car insurance only covers you in events such as vehicular accident, property damage, bodily injury, theft, fire, and collision," Reyes said.
However, damages arising from an attempt to steal your belongings are covered, since they fall under malicious acts from a third party.
Whether it will happen to you or not, the best way to protect yourself from bukas kotse acts is to lock your door at all time.
Sources: Chan Robles Virtual Law Library, ABS-CBN