Top Burger Places In Manila
11 min read
Created as something that can be easily prepared and eaten on the go, the burger has come a long way from its origins of being sold on wheeled carts.
Now a burger is a specialty perfected with a combination of high-grade beef, crispy vegetables, and special — sometimes secret — sauces that magically binds them all in between two pieces of bread. And many times they are served in comfortable and Instagrammable dining spots.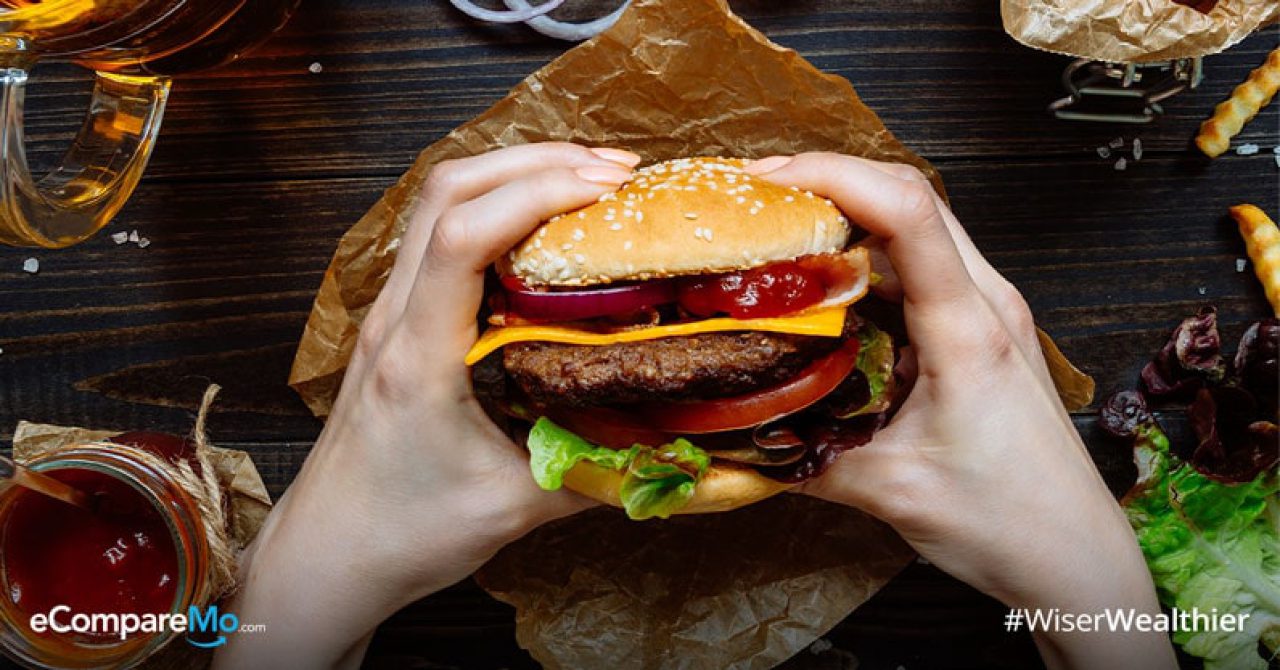 This comfort food can be enjoyed any time of the day, making it a crowd favorite as it instantly satisfies anyone with its tender, smokey goodness.
From the prized wagyu to equally pleasurable vegetarian alternatives, we searched the Metro for your next indulgence that will feed your cravings.
Here is our list of the Best Burgers in Manila.
1. Sweet Ecstasy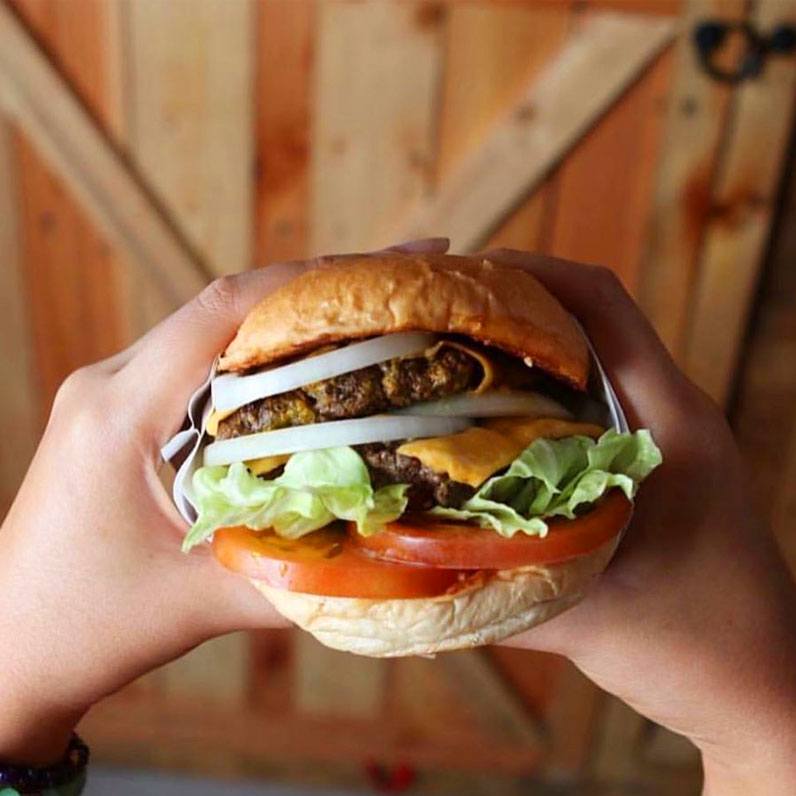 Where to find it?
10 Jupiter St. cor. Asteroid St., Barangay Bel-Air, Makati
57 Scout Tobias St. Barangay Laging Handa, Quezon City
Ayala Malls The 30th, Meralco Ave., Pasig
2/F, Uptown Parade, 36th Street Corner 9th Avenue, Taguig
Contact number: 0915 052 3826
Operating Hours: 11:00 AM– 12:00 AM
Sweet Ecstasy lands on the third spot in the 50 Best Burgers in Asia for 2019 as researched by bigseventravel.com, a popular website known for ranking the greatest of everything worldwide.
Patrons claim it's the greatest burger in Manila excellently crafted with a very juicy patty coated with cheese and sandwiched between two freshly toasted buns.
Additionally, vegans are also welcome as they serve the "BEYOND X BURGER", a satisfying alternative that is dairy and meat-free.
2. Lusso
Where to find it? Level 1, Greenbelt 5, Ayala Center, Greenbelt, Makati City
Contact Number: 02 7756 58 93
Operating hours: 11:00 AM – 11:00 PM
Also claiming the 16th spot in Big 7 Travel's list is Lusso and its masterpiece, a demi pound hamburger garnished with lavish flavorings.
Aside from handcrafted buns and onions cooked with Prosecco wine, sandwiched between a patty of US ground beef is foie gras, a fattened liver of a goose or duck, it has a sophisticated explosion of flavors in each bite
3. Buns & Bros Handcrafted Burgers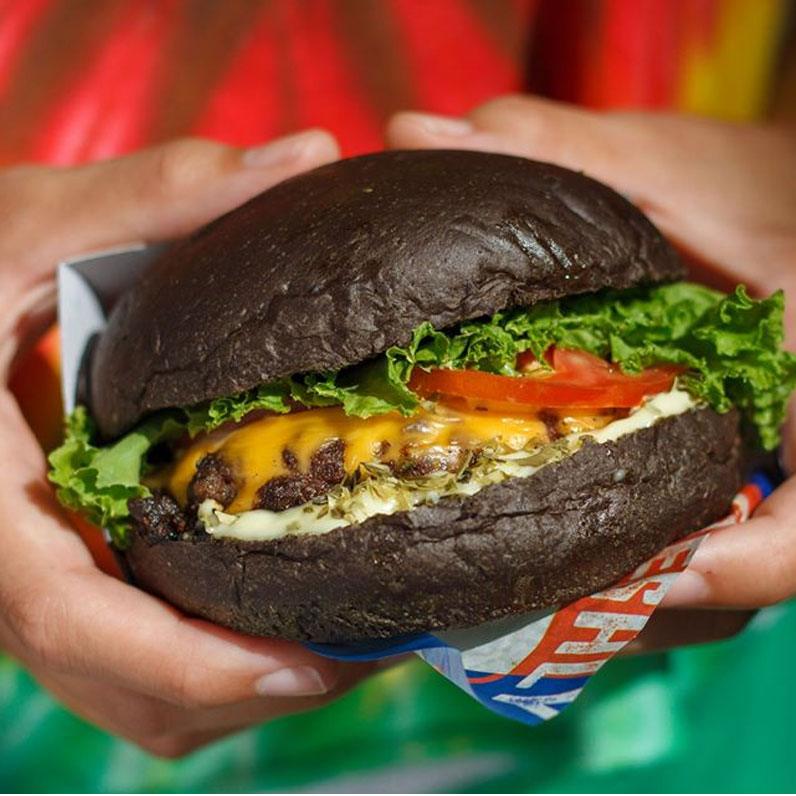 Where to find it? Ayala North Exchange, Ayala Avenue Corner Amorsolo Street, Legaspi Village, Makati City
Contact Number: (02) 7750 53 77
Operating Hours: 10:00 AM – 9:00 PM
The secret to this burger joint's delicious offerings are smashed beef patties that help retain the moisture inside, making it juicier than most ground beef patties. Visit this bistro tucked in the busy streets of Makati and feast on their wide selection of tasty treats.
In addition, you may choose black brioche buns made flavorful with Cerveza Negra. It will surely give your taste buds a wonderful experience.
4. Oarhouse Pub of Manila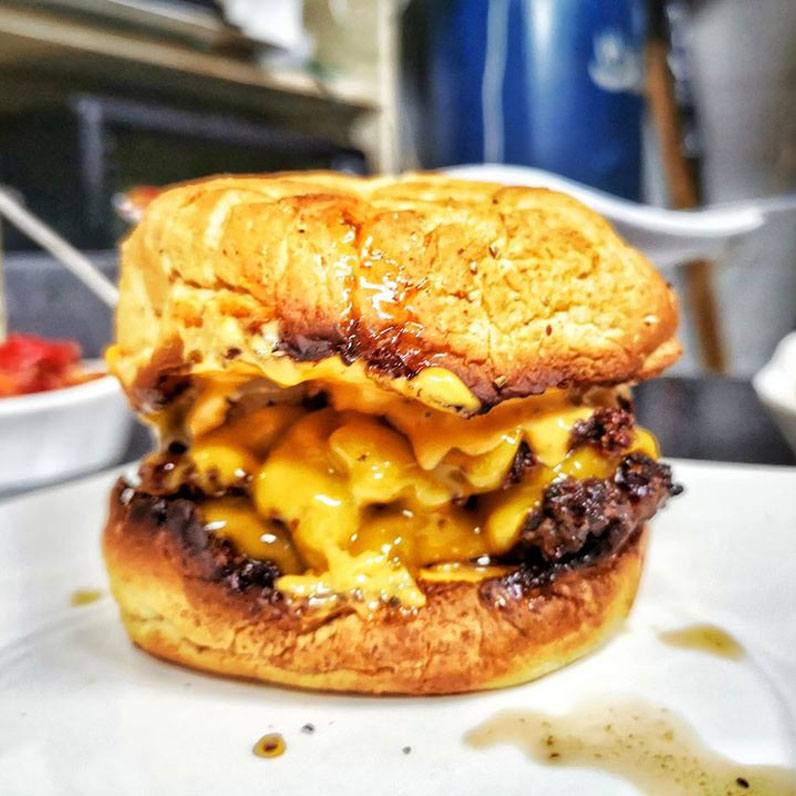 Where to find it? 1688 B, Jorge Bocobo Street, Malate, Manila
Contact number: (02) 8516 72 96
Operating hours: 5:00 PM – 2:00 AM
A calming ambience, hospitable staff, and South American comfort food are the trademarks of the modest dining establishment known as the Oarhouse Pub of Manila.
Their menu boasts a wide array of alcoholic drinks, Filipino dishes, and their top-selling American classic double cheeseburger that is so unforgettably exquisite you will keep coming back for more.
5. Burger Geek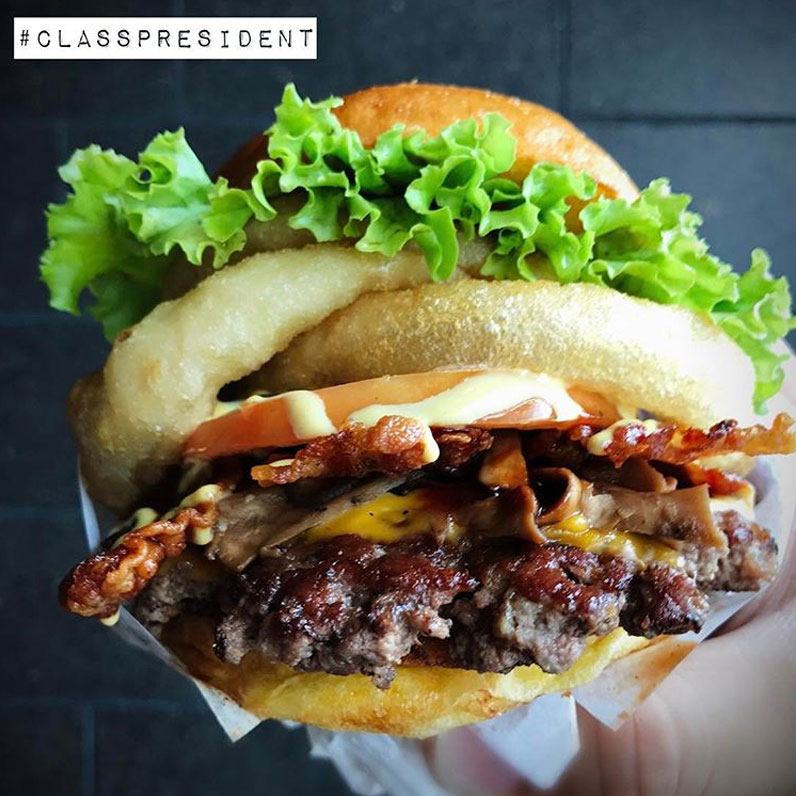 Where is it located? 16A Molito Complex, Madrigal Avenue, Alabang, Muntinlupa
Contact number: (02) 8801 29 03
Operating hours: 11:00 AM – 11:00 PM
The South area's go-to for perfectly grilled squashed patties set on an airy bread bun is this quirky, themed eatery conveniently located in one of the city's lifestyle malls.
Aside from their burgers comically named "The Cheerleader", "Class President", "Prom King", etc., you may choose to pair each with "Umami Corn", "Fried Pickles", "Mac & Cheese" and other promising side dishes.
6. 8 Cuts Burger Blends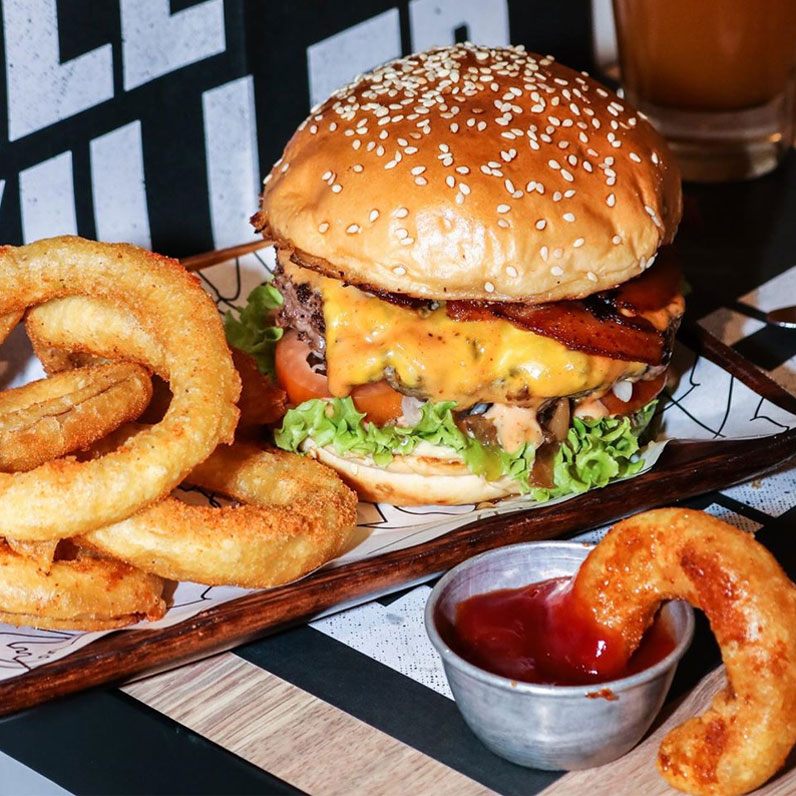 Where is it located?
SM Megamall Fashion Hall – (02) 631 4388
Power Plant Mall, Rockwell – (02) 720 5980
Serendra – (02) 550 1964
South Wing, Mall of Asia – (02) 831 6957
Salcedo Vill., Makati – (02) 507 0581
Promenade Mall, Greenhills – (02) 656 7972
Alabang Town Center – (02) 801 5936
Greenbelt 2 – (02) 400 4453
Operating hours: 11:00 AM – 11:00 PM
Whether you like your block of beef cooked well done, medium well or medium, 8 Cuts has got you covered.
Additionally, this modern and edgy specialty snack bar lets you choose what type of bun, toppings, and beef blend you want to binge on. Their customizable burgers are guaranteed to satisfy any picky appetite.
To go with your customized meal is their coveted onion rings that are exceptionally crispy and perfectly coated with a tangy batter.
7. POUND by Todd English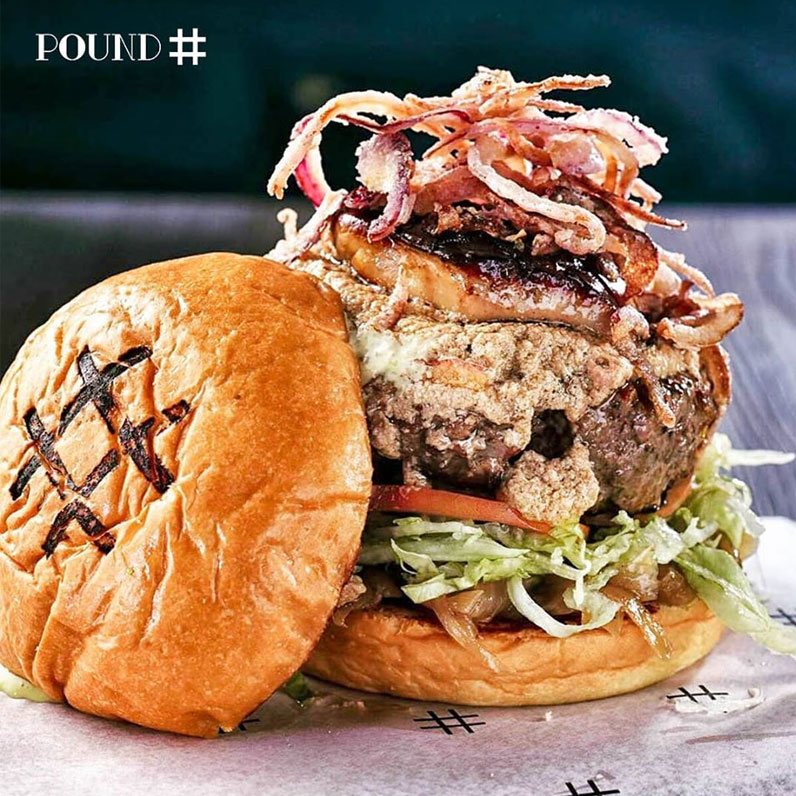 Where is it located?
B3, Bonifacio High Street, 9th Avenue, Bonifacio Global City
Second Floor, Mega Fashion Hall, SM Megamall, Ortigas
Level 1, Ayala Malls Vertis North, Bagong Pag-Asa, Quezon City
G/F Main Mall, SM Mall of Asia, Mall of Asia Complex, Pasay City
G/F Pedro Gil Wing, Robinsons Place Manila, Ermita
Corte de Las Palmas, Alabang Town Center, Alabang, Muntinlupa
Second Floor, Eastwood Mall, Libis, Quezon City
Upper Ground Floor, Main Building, SM City North EDSA, Bago Bantay
Operating hours: 10:00 AM – 10:00 PM
Famous for having burnt signature strategically placed on top of their bun, POUND by Todd English rightfully deserves to be mentioned as they can turn casual diners to devotees.
This stylish, old-world themed joint complete with leather chairs, marble tables, brass utensils, and a counter-style setup offers the desired "Pound Foie Gras Burger" consisting of high-quality ingredients made special with 50g of seared foie gras.
Another offering worth bingeing on is the massively satisfying "Crispy Chicken Burger" with golden fried chicken thigh, spices, and a special sauce that will surely be your new favorite.
8. The Snack Shack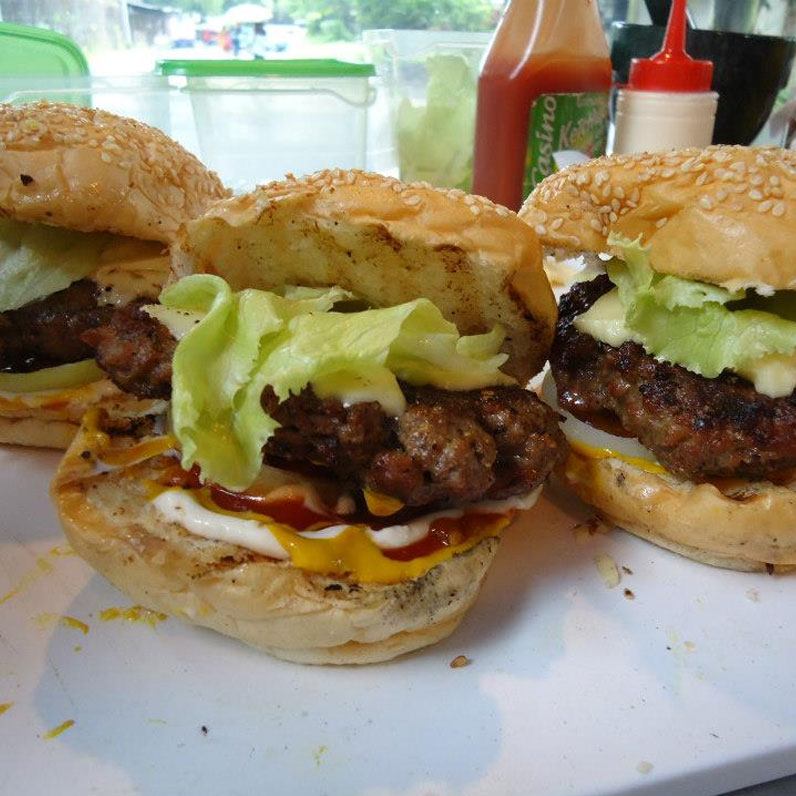 Where is it located?
109 V. Luna Avenue Extension, Sikatuna Village, Quezon City
32 Bayan- Bayanan Avenue, Concepcion Uno, Marikina City
J. P. Laurel Street, Area 2, UP Diliman, Diliman, Quezon City
Operating hours: 11:30 AM – 9:00 PM
The Snack Shack's humble beginnings started in Diliman, where students flocked to relish their yummy offerings prepared fresh daily.
Featuring an oversized charbroiled patty blanketed with crackling lettuce and snuggled between the usual bun, what makes it delightful is its affordability, but the taste exceeds those served by others.
With three strong branches today and slowly becoming a cult favorite, their menu may not offer you wagyu or other expensive alternatives, but their highly praised quarter pounder will put multi-million dollar food establishments offering the same to shame.
9. The Farm Organics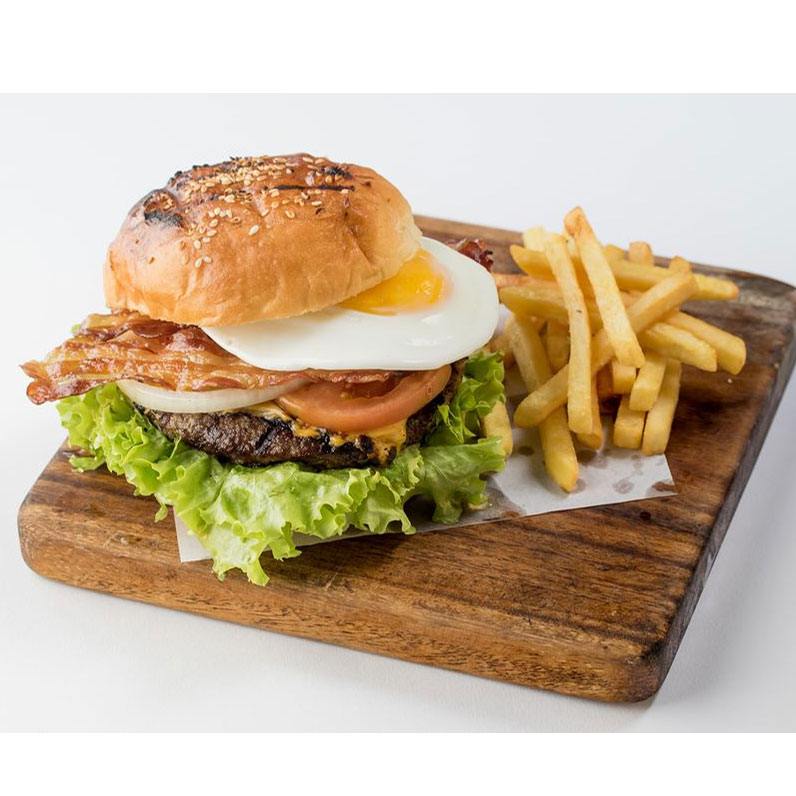 Where is it located?
Ground Level One Legacy Place, Don Jesus Blvd., Alabang Hills, Muntinlupa, Metro Manila, Philippines
P1 Level, Power Plant Mall, Rockwell Center Lopez Drive, Barangay Poblacion, Makati, Metro Manila, Philippines
Operating Hours: 11:00 AM – 9:00 PM
The Farm Organics menu specializes in everything naturally grown advocating the vast benefits organic food delivers.
Additionally, they proudly bear the certification as the first provider of organic beef in the Philippines. Their special burgers prove that grass-fed and range free cattle is the way to go, as the taste is clean and the meat doesn't need much seasoning.
10. Nokal MNL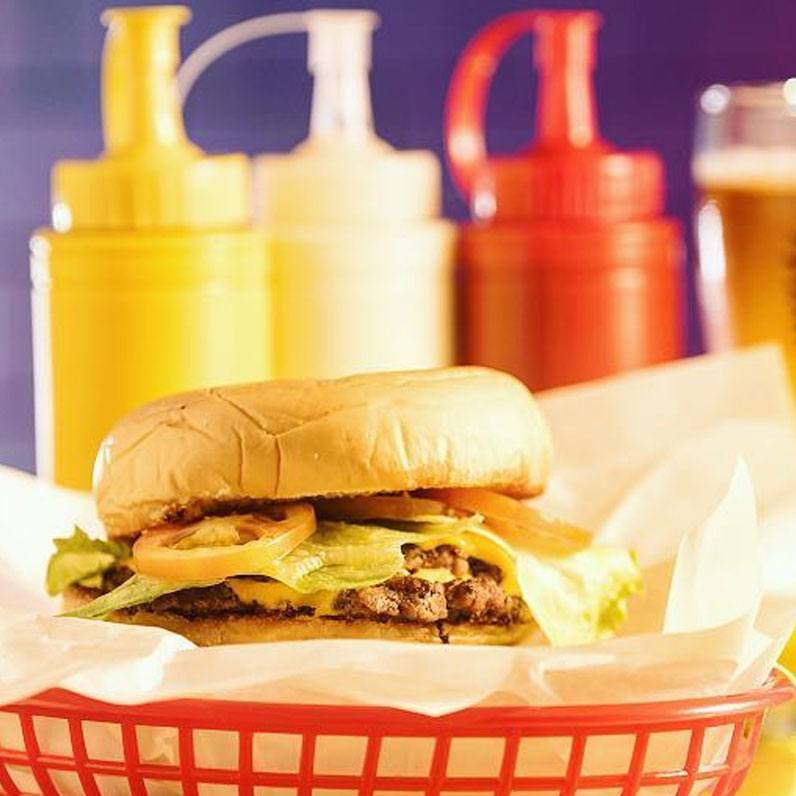 Where is it located? 8464 Kalayaan Avenue, Poblacion, Makati City
Contact Number: 0917 318 1385
Operating Hours: 6:00 PM – 4:00 AM
Set on the lively area of Poblacion is Nokal, a three-storey, very Instagrammable place where you can find one of the most in-demand burgers in Makati.
They offer a delectable 160g regular cheeseburger and 80g Jr. version. Both variants are of United States Department of Agriculture (USDA) prime beef guaranteeing a mouthwatering experience.
11. Charlie's Grind and Grill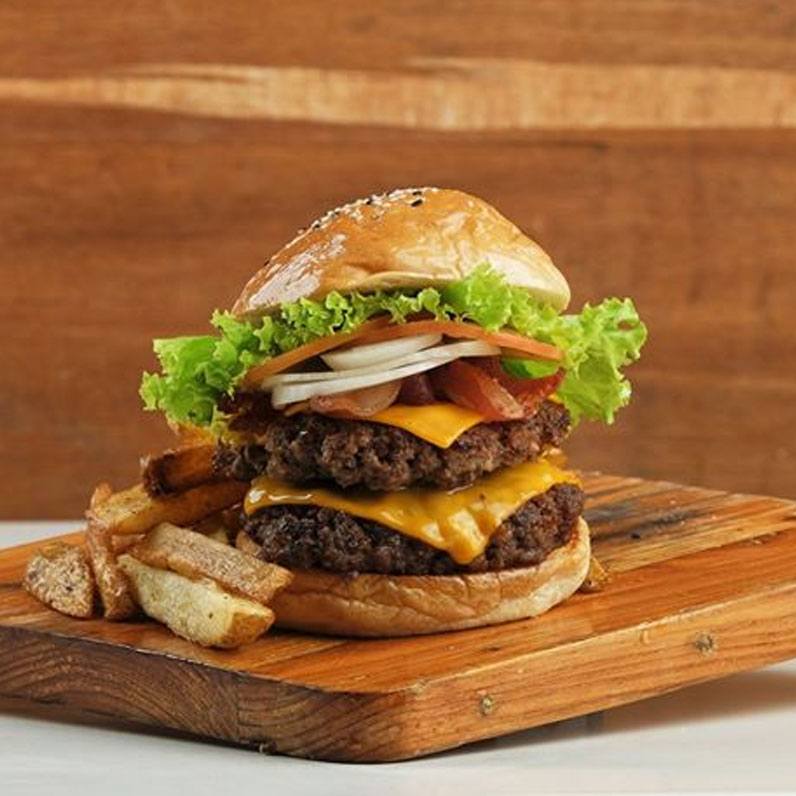 Where is it located?
16 East Capitol Drive, Brgy. Kapitolyo, Pasig City – 744-4724 & 0906-325-9323
170 Aguirre Ave., BF homes, Paranaque – 0917-134-6208, (02) 577-2543
24 Sgt. Esguerra St., Brgy. South Triangle, Quezon City – 968-8590 & 0917-709-6861
Operating Hours: 11:00 AM – 1:00 AM
Considered by many as the most popular burger in Pasig, patrons living as far as Marikina brave heavy traffic to visit their branch in Kapitolyo just to have their weekly dose of "Charlie's".
From the exceptional Wagyu to Black Angus, expect thick but succulent patty flanked in a perfectly textured bread that is priced fairly. Also, luckily for those not from Pasig, they've since branched out to Paranaque and Quezon City.
(Read: Top 20 Ramen Places In Manila: Savory Goodness From Noodles To Broth)
12. Hunger Buster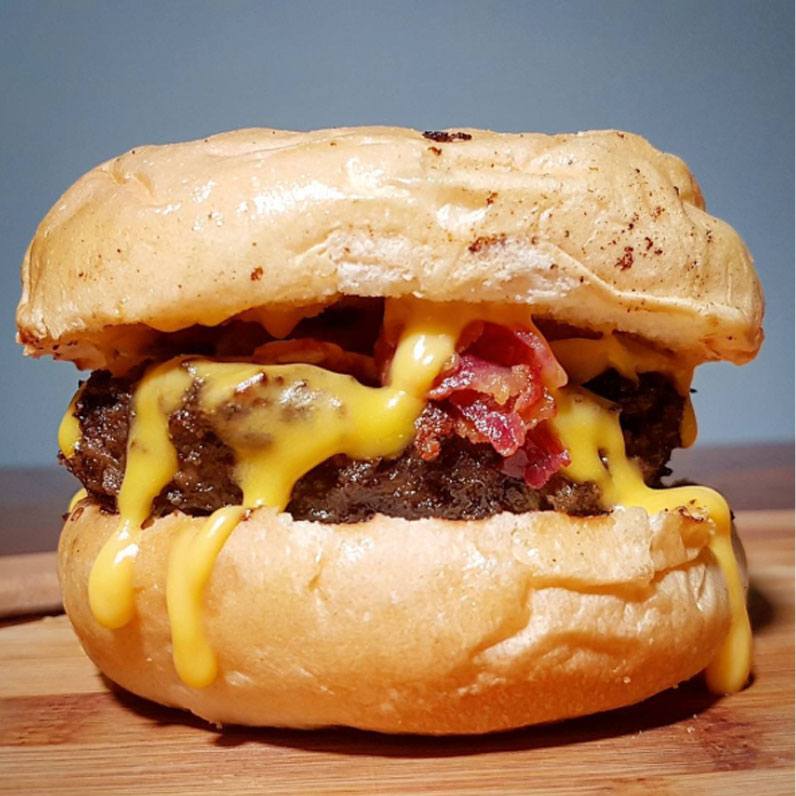 Where is it located? 2507 Taft Avenue, Malate, Manila
Contact numbers: (02) 8242 77 89, (02) 7506 58 40
Operating hours: 9:00 AM – 9:00 PM
Aside its affordability, Hunger Buster's edge comes from its patty which has a good balance of lean fat and red meat boosting its flavor and texture with every bite.
Furthermore, they offer equally delectable sides such as their handpicked flavored buffalo wings and greaseless fries which are commonly sold out every day.
13. Pink's Hotdogs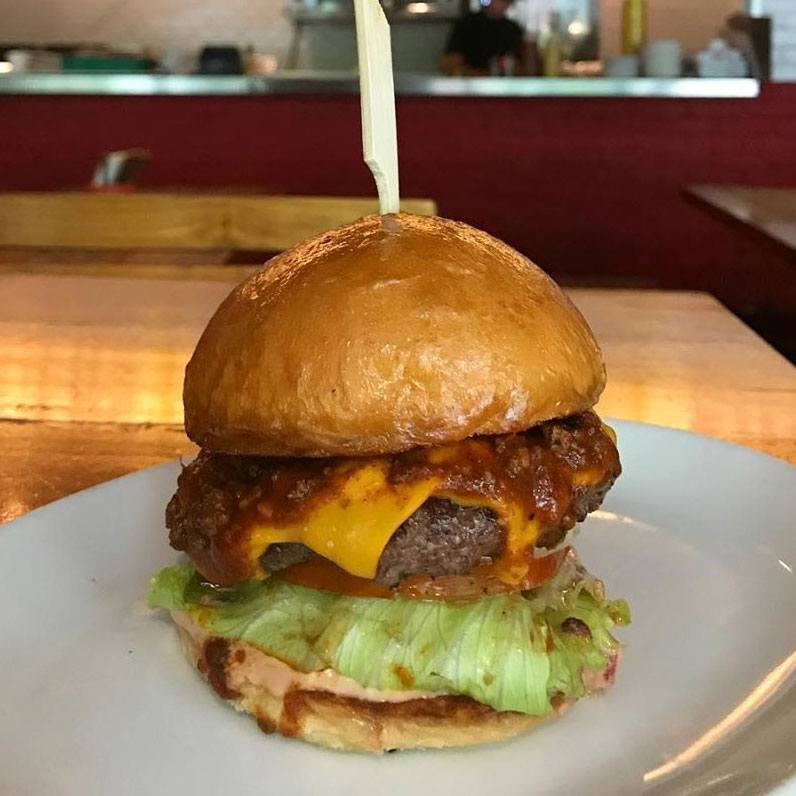 Where is it located? Ground Floor, Shangri-La at the Fort, Bonifacio Global City
Contact numbers: (02) 8772 11 47
Operating hours: 11:00 AM – 2:00 AM
Aside from their legendary hotdog sandwiches commended by Former US president Barrack Obama, Martha Stewart, and other notable personalities, their hamburgers are delicious. You must order both during your visit.
First-time diners claim how impeccably seasoned their patties are creating a luscious taste that doesn't need any condiments.
Furthermore, although a US franchise, it's nice to know that they use locally produced meats that are a big help in our cattle industry.
14. POPS Beyond Better Burgers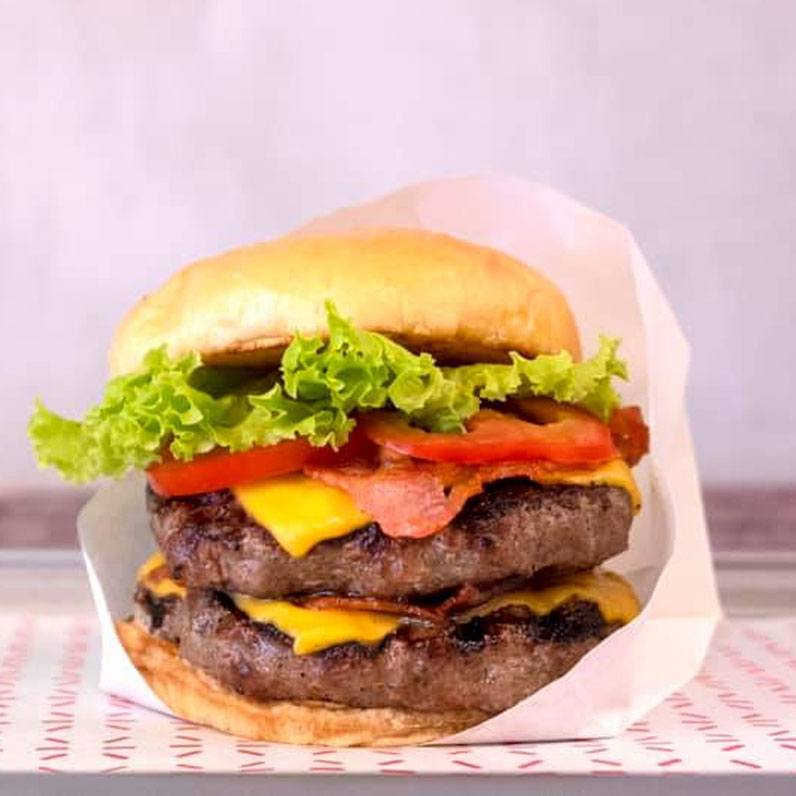 Where is it located? Petron Gas Station, Katipunan Avenue, Pansol, Loyola Heights, Quezon City
Contact number: 0917 897 7477
Operating hours: 12:00 PM – 9:00 PM
Stuck in traffic along Katipunan Avenue and need to fill your car and your tummy? Head out to "Pop's" for their scrumptious choices and satisfying dining experience.
This community bistro is home to the renowned 100% Angus, 1/3-pound, flame-grilled beef burger that drips aromatic meat juice every bite.
In addition, they came up with the "Burgers with Benefits Program" that support the feeding program of Ateneo De Manila through proceeds from every burger sold.
(Read: 19 Best Sinigang Restaurants In Manila 2019)
15. Jess & Pat's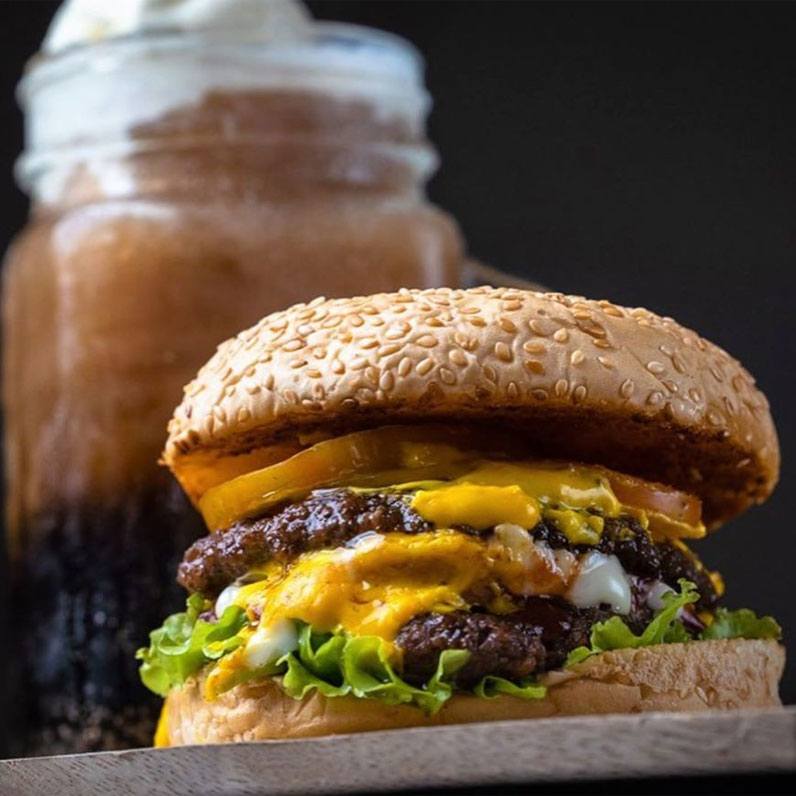 Where is it located? 63 Maginhawa Street, UP Village, Diliman, Quezon City
Contact number: 0916 625 5771
Operating hours: 4:00 PM – 12:00 AM
Aside from being a famous chillout place for groups along Maginhawa Street, Jess & Pat's charm comes from their irresistible and reasonably priced food.
Their top seller the Anakin Skyburger, only costs P180, but you get two slabs of beef with double slices of cheese enveloped in a velvety bun.
Their menu features other appetizing treats that you can enjoy while listening to the live band performing every night.
16. Raging Bull Burgers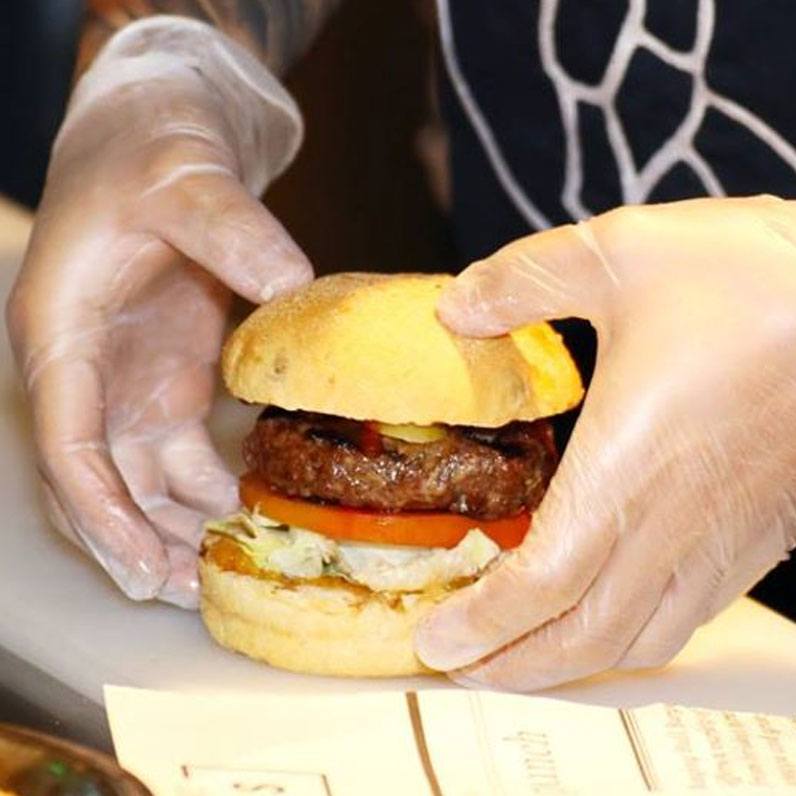 Where is it located? Ground Level, West Wing, Shangri-La at the Fort, 30th Street corner 5th Avenue, Bonifacio Global City, Taguig City
Contact number: (02) 882 008 88
Operating hours: 7:00 AM – 11:00 PM
One popular joint among real burger lovers is the Raging Bull. This is one hype that truly delivers as they serve premium patties for their famous burgers. Their biggest ones are the Mighty Beast for P295, which is made of 1/3 pound premium US Angus beef, and the Raging Wagyu P345, being as fiercely delicious as it sounds, with its 1/3 pound Prime Australian Wagyu. Come visit them at Shangri-La at the Fort and see what it's all about.
17. H.I.D Burgers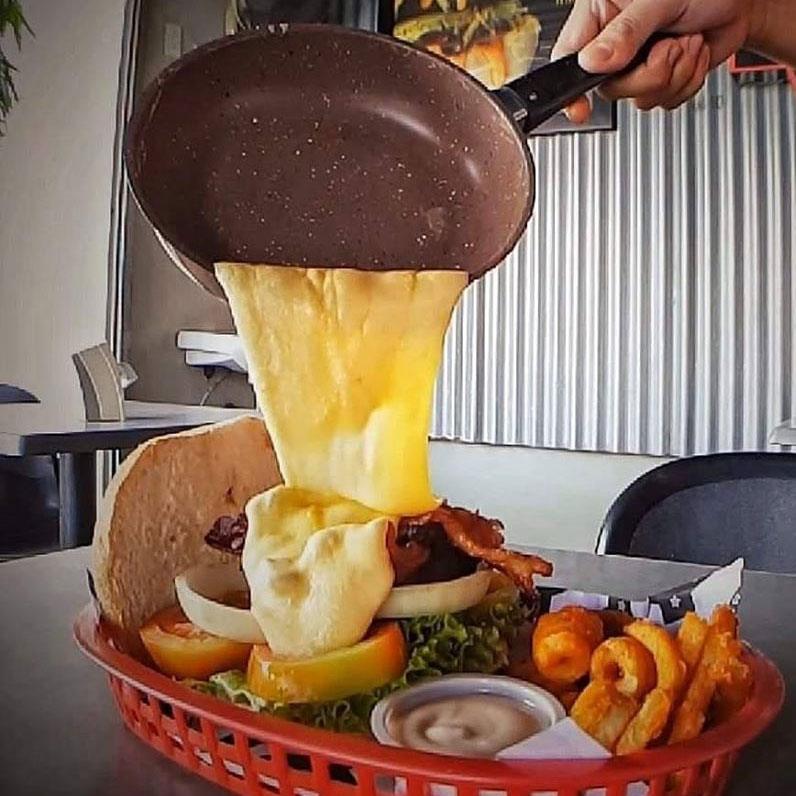 Phoenix Gas Station, Imelda Ave., Brgy. San Isidro, Cainta, Rizal – (02) 217-8086
J&H Building Quezon Ave, Manila East Road, Brgy. San Isidro, Angono, Rizal – (02) 633-6447
D'Lucas Commercial Center, Marcos Highway, Brgy. Masinag, Antipolo City – (02) 696-0648.
Caltex Station, Sen. GIl Puyat Ave. (Buendia), Brgy. San Antonio, Makati City – (02) 215-0427
Hebron Gas Station E. Rodriguez Avenue, Provincial Road Brgy. San Jose, Antipolo City – (02) 706-4839
Operating Hours: 11:00 AM – 12:00 AM
H.I.D. or Healthy and Irresistibly Delicious has been satisfying old and new followers with their greaseless, generously portioned, and affordable burgers since 2011.
The raclette version is a burger covered with alpine cow milk cheese. It's so satisfying and huge that two people can share it.
Additionally, to go with your ample meal is their classic potato wedges that are so good, you will order more for take-out.
(Read: 30 Instagrammable Restaurants In Manila)
18. Catch272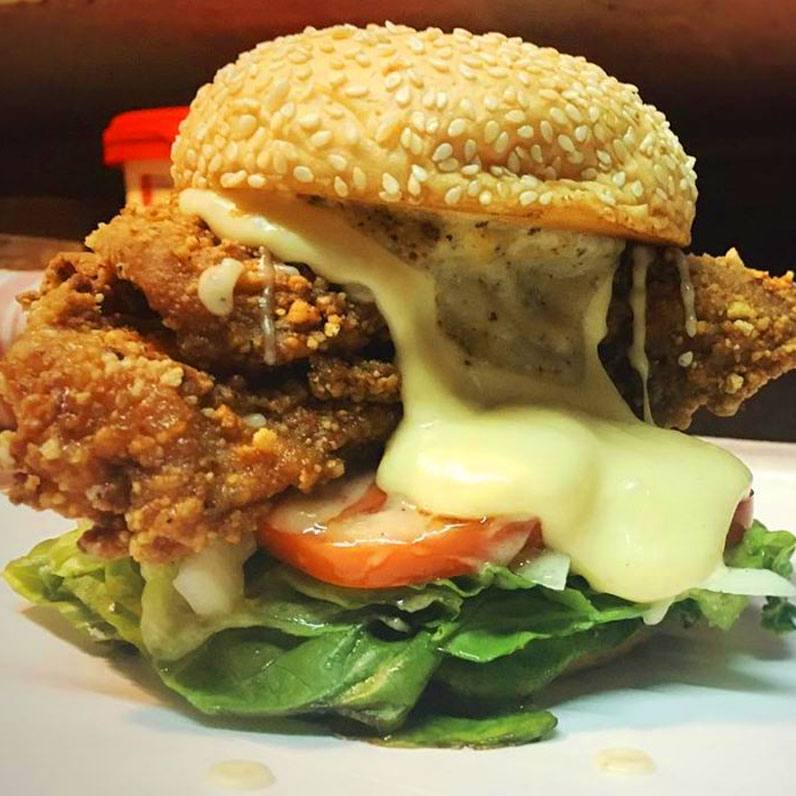 Where is it located: 41-B, T. Gener Street, Kamuning, Quezon City
Contact Number: 0995 222 1782
Operating hours: 7:00 PM – 3:00 AM
Catch272 is an intimate watering hole filled with interesting people, good music, and great food choices. It is also home to what frequent customers claim is the top burger in QC.
Aside from the tender sesame buns, the meat's consistency is flaw, made more interesting with other add-ons such as the mildly salted crisped bacon.
19. HEY HO Garage Burgers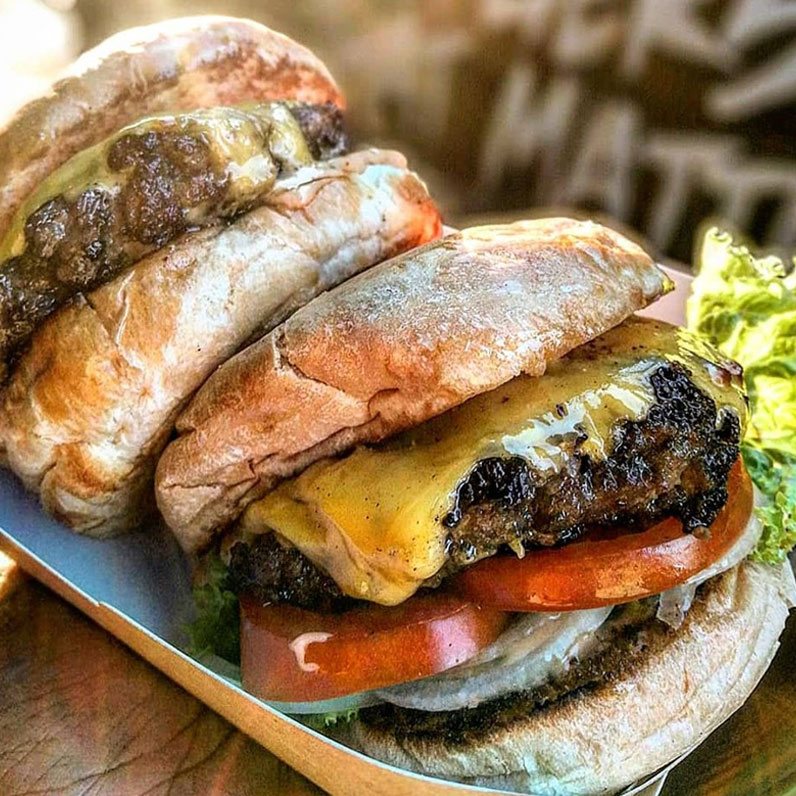 Where is it located: 2518 Bigbend Street, Parkhomes Subdivision, Tunasan, Muntinlupa City
Operating Hours: 3:00pm – 12:00am
Quietly tucked inside a garage in Muntinlupa is "Hey Ho", providing southies with the finest burger in Alabang.
An example is "The Lulu" seasoned with peanut butter and a spicy onion jam recommended if you want it zesty and creamy. Surprisingly, it works, and the distinct taste borders between sweet and tangy.
If you want to binge on all their creative offerings, we suggest you order the "Boatless-Burg-Cruise" that has three mini burgers, all flavored differently.
20. Wildflour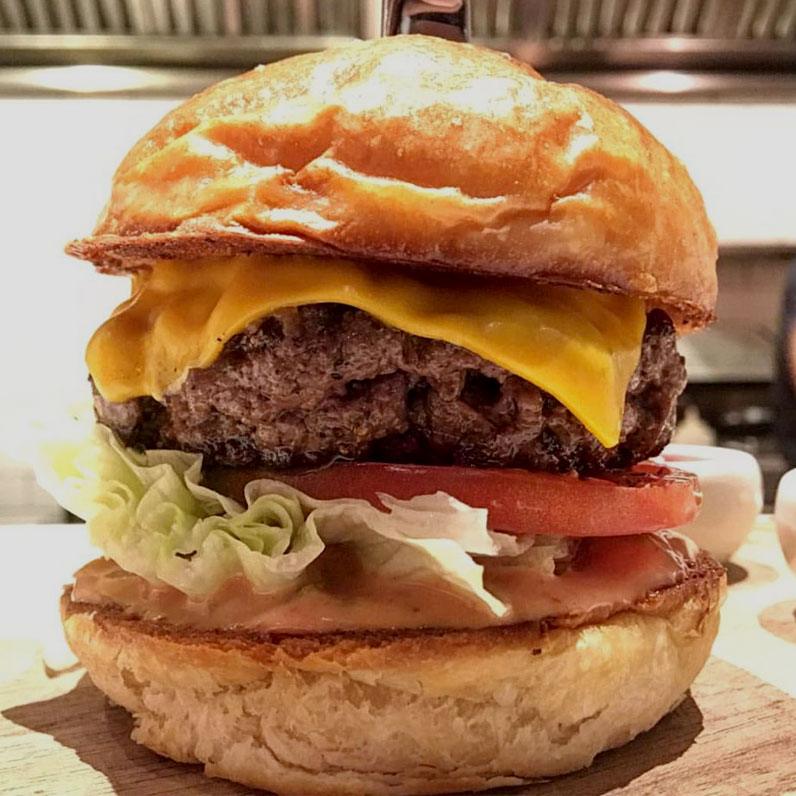 Where is it located?
G/F Net Lima Building, 5th Avenue Corner 26th Street, Bonifacio Global City, Taguig City
G/F V-Corp Tower, 125 LP Leviste St., Salcedo Village, Makati City
G/F Frabelle Buisness Center, 111 Rada St., Legaspi Village, Makati City
G/F The Podium, 18 ADB Ave., Ortigas Center, Mandaluyong City
O'Square Building, Greenhills Shopping Center, San Juan City
Ground Floor, 8 Rockwell Center, Plaza Drive, Poblacion, Makati City
Operating hours: 6:00 AM – 11:00 PM
Amidst the wide array of sumptuous meals Wildflour is recognized for, their "California Burger" stands out.
Their artisanal brioche bun is slightly flaky, but one bite will reveal a delicately smooth texture complimenting the towering block of carefully flavored beef enhanced with melted cheese.
Additionally, the crispy potato fries that comes with the meal is heavenly, ideally eaten with the cheeseburger to give it a crunchy feel.