Airbnb Vs. Hotel: Weighing The Pros And Cons Of Different Types Of Accommodation
2 min read
Transient homes, pension house, hostels, budget hotels, private vacation house—these are the common options when going away for a vacation.
However, a new trend has emerged in the accommodation arena, where technology fashioned a platform to make home-sharing a convenient possibility. Hotel accommodation, however, remains an all-time favorite among many travelers.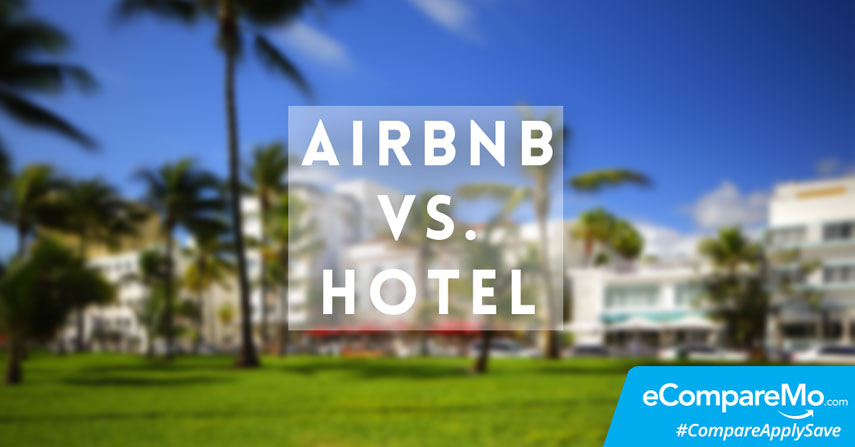 Home-sharing and hotel both offer a huge difference in experience, considering the essential components such as safety, proximity, convenience, and budget as major considerations.
Putting price and personal preferences aside, what remains constant is that all travelers seek the value of their stay.
So between Airbnb listings and a hotel accomodation? Which one is more suitable for your trip?
There's consistency and reliability in hotels
Primarily, you get what you pay for. Book a hotel suite with $1,000/night rate and you can expect five-star treatment and access to luxurious amenities.
There's a helpful and hospitable concierge, peace of mind from strict 24/7 security, on-call hotel service to attend to your needs and concerns, among others.
In terms of booking, check in and check out times are standard. There is also the element of reliable reservation process as well as ease in last-minute booking.
As with Airbnb, you need to book in advance as you need a response from the host for confirmation and clarification. Booking is upon the discretion of the host, and in some cases, even when you book a month ahead, the host can cancel a week before your stay.
Home-sharing offers versatility
You can choose your budget range—from a shared bunk bed room with no air-conditioning to a prestigious estate mansion.
You can stay as close as you want to your itinerary or even hole up in the most secluded and private part of town, as Airbnb allows the user to check for the proximity of a location.
You can also choose the level of privacy, whether you want to rent a private room or an entire home, or share your accommodation with other boarders.
Being in direct and constant communication with the host gives a homey and hospitable vibe, and allows for easy clarification of the coverage of your stay. Some renters even give good bargains especially when you are staying for a longer period.
You will see that not all accommodations listed on Airbnb have the same amenities. You must devote some time to find the place most suitable for your need, preference, and budget.
Things to consider before booking
Aside from budget, location, capacity, room type and size, and security, what else do you need to check before pressing the "book now" button?
Meal options. Do they serve food? Is there a complimentary breakfast? Are there any store or local flavors situated nearby?
Parking. How many cars can the hotel or host accommodate?
Connectivity. What is the signal strength in the area? Does it have free and fast internet connection?
Amenities and inclusions. Are there any gym, pool, or spa that guests can use? Are toiletries provided?
Family-friendliness. Does the place have safety bars? What are your child-safety measures? What are the rates and deals for child accommodation?
Accessibility. Is it close to public transport stations? How accessible is it to the nearest hospital?
Additional fees. Do they charge a cleaning fee? Do they have a service charge? How much are the fees for extra mattress, towels etc.?
Special policies. Are guests allowed to bring pets? Are guests allowed?
Customer reviews. Read what previous guests can say about their stay at the place and their relationship with the host.