Adulting 101: A Fresh Grad's Guide To Employee Requirements And IDs
7 min read
(Editor's Note: Adulting 101 is a series of articles that will serve as a guide for young adults on various adulting stuff.)
Hey, fresh grads! Welcome to the real world. In case you didn't know, it's a world where, however you choose to see it, you're going to have to work your way toward landing and keeping the right job.
If you've already found one, then congratulations. Now you will only need to complete your pre-employment requirements before starting.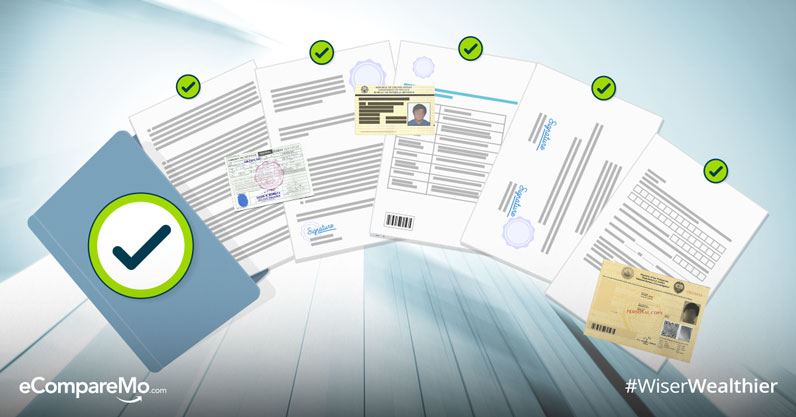 How to get these, you ask? Worry not as we've compiled the most common employee requirements and Government IDs you will need to get and submit as a new employee.
4 document requirements you (probably) already have
Birth certificate


Employers would prefer to see your NSO Birth Certificate, and might ask for a copy of one.

College diploma
Usually, the HR officer would ask you to submit it but will return it to you, too. Sometimes a copy will do so prepare photocopies of your college diploma as early as now.
Marriage contract
If applicable, for tax record purposes.
Transcript of Records
From your college or university. Submit a photocopy, but also bring the original copy in case the HR officer asks to see the original one.
10 government IDs and clearances you will have to get, and how
These are the most common government IDs and clearances that you will be required to submit to your employer. Take note that, which ones a specific employer might ask for may vary, but there's no harm in getting a few ready in advance.
Cedula or Community Tax Certificate
Being one of the oldest form of identification in the country, a Cedula is proof of your residence in the municipality or city you're in. Individuals who are at least 18 years old are eligible to apply for a Cedula and pay community taxes.
HOW: Go to the Office of the Municipal Treasurer in your local Barangay or Municipal Hall (Munisipyo).
You will need to fill up an application form, and pay a fee, which varies per city or municipality.
The Cedula is not a photo-bearing government ID and will only need your thumbprint and signature on the document.
Barangay Clearance
This is required by employees as proof of good moral character, ensuring that you have no local record for any wrongdoings, and you're basically a good resident in the Barangay that you're in.
HOW: Go to your Barangay Hall. Fill up the application form and pay the fee. The fee varies per barangay.
You may be required to submit a Cedula, depending on the barangay officer.
BIR TIN
A BIR TIN, or Tax Identification Number is mostly used for tax purposes. Once you get your TIN, that is the one number you are supposed to use for your whole life. You use it when filing taxes and it can be used as a form of identity. Many government agencies and even private financial institutions will ask you for your TIN number before you can transact with them.
HOW: Good news, If you're applying as a new employee, your employer will be the one to get a BIR TIN for you. Take note that registering for a TIN is free of charge, so your employer shouldn't charge you anything. You can and should also know what your TIN is, so make sure to ask them for it.
Also, it's important that you should only have one TIN number. If you were employed before, even part-time or short time, your previous company should have already gotten a TIN for you. You will need to find out from them what that was and submit it to your new employer.
PhilHealth Number
PhilHealth is a government-owned and controlled corporation (GOCC) that serves as your insurance in case of medical emergencies. Your contributions here are automatically deducted from your salary.
HOW: You can register and get your PhilHealth Number online or personally.
If you opt to register online, go to the PhilHealth Electronic Registration System website. Read the instructions and fill out the necessary information fields. You may opt to upload a copy of your valid government IDs such as a Passport, or a copy of your Birth Certificate. You will get your number via email.
If you choose to apply personally, download and print out the PhilHealth Member Registration Form (PMRF), and completely fill it out before submitting it to the nearest PhilHealth office. In some PhilHealth Express offices, you can already get your PhilHealth number and ID on the same day.
Pag-IBIG Fund Number
Pag-IBIG is another GOCC established to provide housing and financial assistance to both government and private employees. You will have monthly contributions that will be automatically deducted from your salary and, in time and given the complete number of contributions, you apply for a cash or housing loan with Pag-IBIG
HOW: In most cases, first-time employees will be registered by their employers, and they won't even have to do anything. Just follow up with your employer on your Pag-IBIG Fund Number. You can, however, also apply yourself online by going to their website.
SSS Number (or E1 Form)
Your SSS ID number is one of the foremost requirements if you are a private employee. Like Pag-IBIG and PhilHealth, SSS is also a GOCC and a government-imposed employee benefit for cash and housing assistance, when you've reached a certain number of automatically deducted contributions.
HOW: You can begin your application for an SSS Number online, via the SSS website. BUT, you're still going to have to go to an SSS branch to finish the application.
Go to the SSS website and register. Via e-mail, your going to get a link to continue your registration. Click on that link and fill out the required information. Click on the Generate SSS Number button. You will your SSS number and a copy of your Personal Record Form on e-mail. Print these out.
Take these two forms to the SSS branch.  You will be required to submit them along with your Birth Certificate, and if it applies, your Marriage Certificate and Birth Certificates of you child/children.  After the application, you will already be given an E1 Form with your lifetime SSS Number.
National Bureau of Investigation (NBI) Clearance
This document provides you with clearance from the NBI. It is proof that you have no wrongdoing, existing criminal case or legal offense on a national level.
HOW: This 2018, they have applied the "No Appointment No Entry Policy" for applicants. This means that you can't just walk into the NBI office. Instead, you will need to register online on the NBI Clearance Appointment site pay at their partner Bayad Centers, such as LBC or Cebuana Lhuillier, Mobile Payments, 7-Eleven, Mobile Payments, or Over-the-Counter Payments with BDO, BPI, Unionbank, and Metrobank.
Just follow the instructions on your online registration and you will be able to choose which payment option is amenable to you. The current NBI Clearance fee is now at one hundred thirty pesos (P130), from the original P115.
You will be able to choose the schedule that works for you, and the nearest NBI branch that you can apply for. Once you go there, you can line up and head straight to biometrics for the NBI officers to register your fingerprints and take your photo. Make sure you wear a sleeved shirt and a proper outfit and bring valid government IDs too.
Police Clearance
Much like the NBI Clearance, having a Police Clearance shows proof that you are cleared of any criminal offense/s in the police department. It is one of the valid government IDs you can for legitimate identification.
HOW:

Go to the nearest Police Station, fill out the Application Form, and submit it along with your Cedula and Barangay Clearance. The fee may vary, but you will be able to receive the document on the same day.

Bio-Data
Depending on your employer, they can provide the Bio-Data sheet to you that you will just need to fill up, or you can provide them with a duly filled out Bio-Data that you have prepared ahead. They will need your personal information for their database, and also in applying for government IDs mentioned above, and your payroll bank account.
Medical Certificate (Fit to Work)
Lastly, you will be given a list of things you need to be cleared for medically, showing proof that you are fit to work. Depending on the employer, you are either free to choose which clinic to go to and may have to shoulder the cost of all consultations and diagnostics, or it's all for free and through a partner medical center of your company.