Adulting 101: A Condo Dweller's Guide To Metro Manila's Palengke Areas
4 min read
With the worsening traffic situation in Metro Manila, it's but ideal to live closer to offices in the city's central business districts.  This means taking shelter in the city's many condo units.
There are currently three main Central Business Districts in Metro Manila. You have Ortigas Center in Pasig, Bonifacio Global Center in Taguig, and the country's financial capital, Makati. Many of the city's condos have sprouted around these areas. "Walk to work" —condo sellers often entice potential buyers.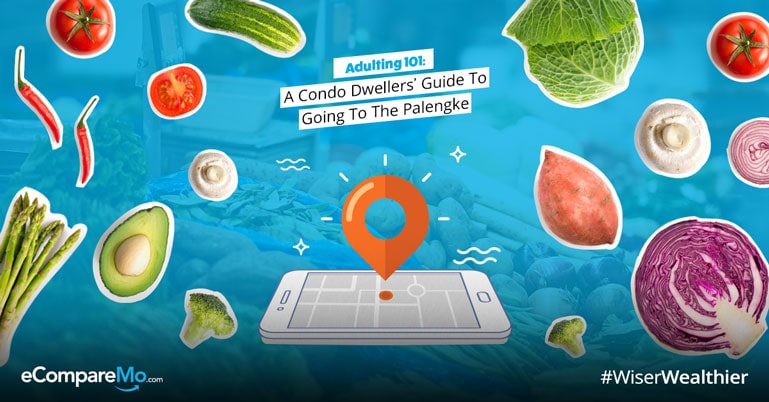 Then there are several other dense areas where high-rise condos meet universities. These are Katipunan in Quezon City and the University Belt in Manila .
And as far as urban developments are concerned, this is where it's all happening. Right at the center of these CBDs, and the areas surrounding them. Most people in the workforce, especially millennials, would prefer a more convenient life if they can afford it.
Everything within walking distance?
Moving out and into a condominium may make your office commute easier, but it also comes with its share of challenges. One big challenge is how to eat healthy on a budget.
While many condo units are quite close to eateries, convenience store chains, and even supermarkets, the wise millennial on a budget should also consider preparing food for themselves and scouting around for nearby wet markets.
In this article for Adulting 101, we give millennials, expats, and condo dwellers, in general, a guide to wet markets around Metro Manila. This is so you will have options to buy your fresh produce and food supplies in this time of inflation, where most prices of commodities have gone up. And in a way, do our own part in supporting local farmers and small businesses, too.
(Read: A Young Filipino's Complete Guide To Moving Out)
For Quezon City condo dwellers
Quezon City holds government offices, specialized hospitals, and the biggest universities in the country. There are lots of cheap and good finds in its wet and dry markets.
Commonwealth Market, Commonwealth Avenue.  Fresh produce, meat, and fish as they are delivered here daily. This is also one of the cheapest places you can buy food around the metro.
Farmers Market.  Gen McArthur Avenue
Nepa Qmart.  Edsa corner Ermin Garcia Street
SIDCOR Sunday Market . Edsa corner Quezon Avenue, Diliman
Balintawak Public Market, Balingasa. Most markets in Bulacan drop their produce here
Visayas Avenue Wet and Dry Market
For Makati and Taguig condo dwellers
While these areas may be famous for their upscale weekend markets, there are also small palengkes quite close to residential areas.
There are the well-organized and pricier weekend markets—Salcedo Saturday Market , and Legazpi Sunday Market that sell organic produce and good food , and then there are the likes of JP Rizal Wet Market and Washington Wet Market in Barangay Pio del Pilar, Makati.
Other local markets where you can get fresh produce, meat, and fish on the cheap are:
Guadalupe Public Market
Sacramento Market , Santa Barbara St. corner JP Rizal
Pio del Pilar Wet Market
Poblacion Wet and Dry Market
Kalayaan Talipapa Market
Barangay Sta. Ana Talipapa Market
AANI Weekend Market,  FTI Complex, Palayan Rd, Taguig
Comembo Wet Market
Pamilihang Bayan Wet and Dry Market
For the Manila condo dweller
Manila holds the University Belt and is quite dense in residential and commercial areas. Condo dwellers will find cheap produce in these markets nearby:
Dagonoy Public Market , F. Torres St. (formerly Dagonoy St.) corner Onyx St., San Andres Bukid, Manila, Metro Manila, Philippines
Paco Market
New Antipolo Public Wet Market Vendors
Santa Ana Wet and Dry Market
For the Pasay condo dweller
Home to the biggest mall in the country and close to the international and domestic airports and several universities. Given this, it's no wonder that Pasay has seen a lot of high-rise condos rise up over the years.
Do your weekly food shopping at the following markets:
Pasay City Wet Market
Santa Ana Wet and Dry Market
Cartimar Wet Market
Balagbag Wet and Dry Market
For the Mandaluyong condo dweller
A rather inexpensive spot located conveniently between the two CBDs of Makati and Ortigas, Mandaluyong is quite attractive to those looking to move into a condo.
Mandaluyong still holds way more reasonable rates for condo units and has a not-so-expensive cost of living , as compared to its neighboring cities.
These Mandaluyong wet markets are a condo dwellers best bet for food shopping
Barangka Dry and Wet Market, 436 Barangka
Mandaluyong Public Market , 520 Fabella Road, Mandaluyong
(Read: Adulting 101: A Seven-Day Crash Course On Moving In To A New House)
For the San Juan condo dweller
If you work near the San Juan area and decide to make your home in one of its condos, your best bet for a convenient wet market is the Agora Public Market along N. Domingo.
For the Pasig Condo Dweller
This is where the Ortigas Center CBD is located. And sure enough, you'll see old and new high-rise buildings surrounding the area.
Here are the wet markets you can go to for a more affordable food supply.
Pasig Public Market
Pasig Mega Market
Have something to add? Share them in the comments.