Balikbayan Boxes 101: An OFW's Guide To Packing And Sending Packages Home
6 min read
Balikbayan boxes are a tradition among Filipino households who have a loved one working abroad, especially during the holidays.
Balikbayan boxes are packages sent by Overseas Filipino Workers (OFWs) to their families in the Philippines. These boxes are filled with a variety of items from small souvenir items, to necessities such as clothing and groceries items, to big-ticket surprises such as appliances and toys.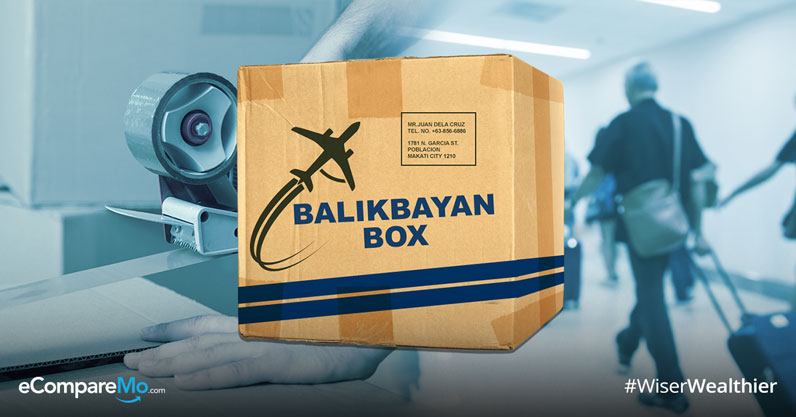 Depending on the OFWs budget, and their loved one's wish lists, balikbayan boxes come in a variety of sizes and are typically sent during the Christmas Season or other special occasions.
Much like any package sent from abroad, the sending of a balikbayan box is governed by a variety of rules, regulations, and policies. To help out our hardworking OFWs and take some of the stress of the season off of them, here are a few handy tips to packing and sending balikbayan boxes.
1. Make a checklist and a budget. Double check and stick to it.
The biggest mistake OFWs make when sending Balikbayan boxes to their families back home is giving in to the urge to cram every bit of space in the box with whatever they can.
Although it is difficult to resist the thought of sending pasalubongs to your families and relatives, racking up in debt is a lot more difficult especially during emergency situations.
Be a smart spender. Don't just buy and buy and buy. Before you make a purchase think hard about whether it is something you really want to send your family back home.
A good way to control your spending yet still send back a balikbayan box stuffed with items your family and friends will love is to make a list. Write down what you think should go into your box. This includes any special requests or wish lists that were sent to you. Try to include the prices as well.
Now, take a long, hard look at your funds. Remember, you shouldn't bankrupt yourself in order to send a balikbayan box home. Decide on how much you can afford to spend on items for the box and how much you will need to hold back for your own living expenses.
Go through the list and decide which of these are really essential and wanted. Estimate how much you will spend on each item. Keep trimming till you come up with a list of items that fit your budget.
Remember, you're also going to have to spend on shipping and possibly taxes and duties so make sure to a lot part of your budget to those as well.
2. Make sure you prepare and submit your info sheet along with your box.
Accomplish, sign and submit the required Information sheet from the Bureau of Customs (BOC). Fill it up properly and completely with these personal details:
PART 1 
Address of sender (both abroad and in the Philippines)
Complete name of sender
Citizenship
Contact number
Date of birth
Email Address
Passport details
PART 2 
Contact number, postal and email address of the consignee (receiver)
Relationship of the sender to the consignee (receiver)
Itemized listing of all the goods in each Balikbayan box as well as their respective quantities and descriptions
Number of Balikbayan box/es
Number of availments within the calendar year
The total value of the contents of the Balikbayan box/es
Other essential information required by the BOC
Submit the information sheet with:
a.)  A photocopy of any valid ID with your citizenship, full name (first name, middle name, surname and suffix), date of birth and place of birth.
b.) A copy of the Information page of Philippine Passport (with personal information, picture and signature)
If applicable, you should also submit the following: A photocopy of foreign passport (with personal information, picture and signature) and a copy of proof of dual Filipino citizenship in cases of absence of Philippine Passport for dual citizens.
c.) Permanent Resident ID (Green Card, IQAMA), if applicable
d.) Overseas Employment Certificate (OEC) or OWWA Card, if applicable
e.) Work permit
g.) Unified Government ID issued by the DOLE
h.) Any Philippine Government issued ID (with Filipino citizenship) or any foreign government issued ID (with full name, date of birth, place of birth and Filipino citizenship)
i.) Receipt or equivalent document covering the goods inside the Balikbayan box/es (if available)
(Read: Things Only People With OFW Relatives Can Relate To)
3. Figure out if your box is tax exempt
There is a tax exemption if the declared value of your Balikbayan box does not exceed P150,000. However, you can only send 3 Balikbayan boxes (each of which should not exceed P150,000) per calendar year (from January 1 – December 31).
Balikbayan boxes that fall under "De Minimis Importation", meaning they are valued at P10,000 and below, are also not subject to taxes. However, a balikbayan box that only has a De Minimis value, is considered still considered one allotment of your allowed three boxes a year .
Each Balikbayan box also has a processing fee of P250 to be paid to the BOC .
Failure to comply with the obligations stated (required documents and accepted value) will result in exclusion from tax exemption. A P300,000 fine shall be imposed on violators and they may face criminal prosecution.
4. Make sure that you have the right sized box
Here are 4 different Balikbayan box sizes accepted by various cargo companies :
Mini box: 1 cu/ft or 12x12x12 inches.
Medium box: 3.0 cu/ft or 18x18x16 inches
Large box: 4.5 cu/ft or 18x18x24 inches
Extra-large or Jumbo box – 6.0 cu/ft or 24x18x24 inches
5. Check that the items are of allowed quantities
Check ahead of time with your chosen cargo company about their allowable quantities per items are.  Also, check that whatever you put in your box is not for importing.
Here are some items that you can include in your Balikbayan boxes and their allowed quantities.
| | |
| --- | --- |
| ITEM | ALLOWED QUANTITY |
| Bar soap | 2kg |
| Childcare | 5kg |
| Cosmetics | 1kg |
| Household substances | 5kg |
| Lipstick | 10 pieces |
| Lotion | 2kg |
| Perfumes | 5 pieces |
| Processed foods | 10kg |
| Shampoo | 2kg |
| Toys | 10 pieces |
| Vitamins, supplements, and other health supplements intended as maintenance | 500g in total |
| Wines and liquor | 2 bottles not exceeding 1.5L |
On the other hand, banned items are as follows:
Ammunition/bullets
Cash
Illegal drugs
Large quantity per item that is intended for business
Pirated DVDs
Pornographic materials
Seeds and plants
(Read: OFW Money Saving Tips For Coming Home This Christmas)
6. Choose the recipients and alert them ahead of time.
Before completely sending those boxes to your families, check and discuss with them whatever is inside your boxes. Remind them to double check what's inside, match it to a master list that you should send them and immediately report any loss of items.
In addition to, in order to avail, qualify and enjoy tax exemptions on balikbayan boxes, the BOC has established a database or registration system for the Deconsolidators (senders) which are the Qualified Filipinos While Abroad (QFWA) and their Consignees (recipients) who should be from their respective families or their relatives of up to fourth degree of consanguinity.
Keep in mind that there is a processing fee of P125 which is inclusive of the customs documentary stamps (P15) and legal research fee (P10) that is collected by the forwarder to be dispatched to the BOC.
In cases of unclaimed Balikbayan boxes, a Notice to File Entry or Claim shall be sent by the BOC to the names and addresses listed by the deconsolidators and shall be claimed within 15 days from the receipt of notice.
The sender will be responsible to shoulder all charges prescribed by the Customs Memorandum Order (CMO) such as that of the conveying, receiving and lodging of the said shipment (Arrastre), government storage, shipping demurrage, stripping and stuffing charges, and other incidental expenses.
A Forfeiture Fund charge shall be required from the deconsolidator in cases of implied abandonment of the Balikbayan box/es. Failure to comply with such policies will result in various impositions and sanctions prescribed under Customs Administrative Order 01-2018 (CAO 01-2018).
If you have more questions regarding these matters, you can check the BOC's Amended Rules on balikbayan boxes.  You can also visit the Bureau of Custom's (BOC) official Facebook page or email them at boc.cares@customs.gov.ph.