A Philippine Passport Holder's Quick Guide To Applying For A US Tourist Visa
11 min read
Thinking of traveling to the United States for a vacation? You might be wondering how to apply for a US tourist visa.
US Visa application for Philippine passport holders can be daunting. Other than showing proof of financial means for the trip, the visa applicant also has to show proof of rootedness in the Philippines. These two are the most crucial requirements to ace the application procedure.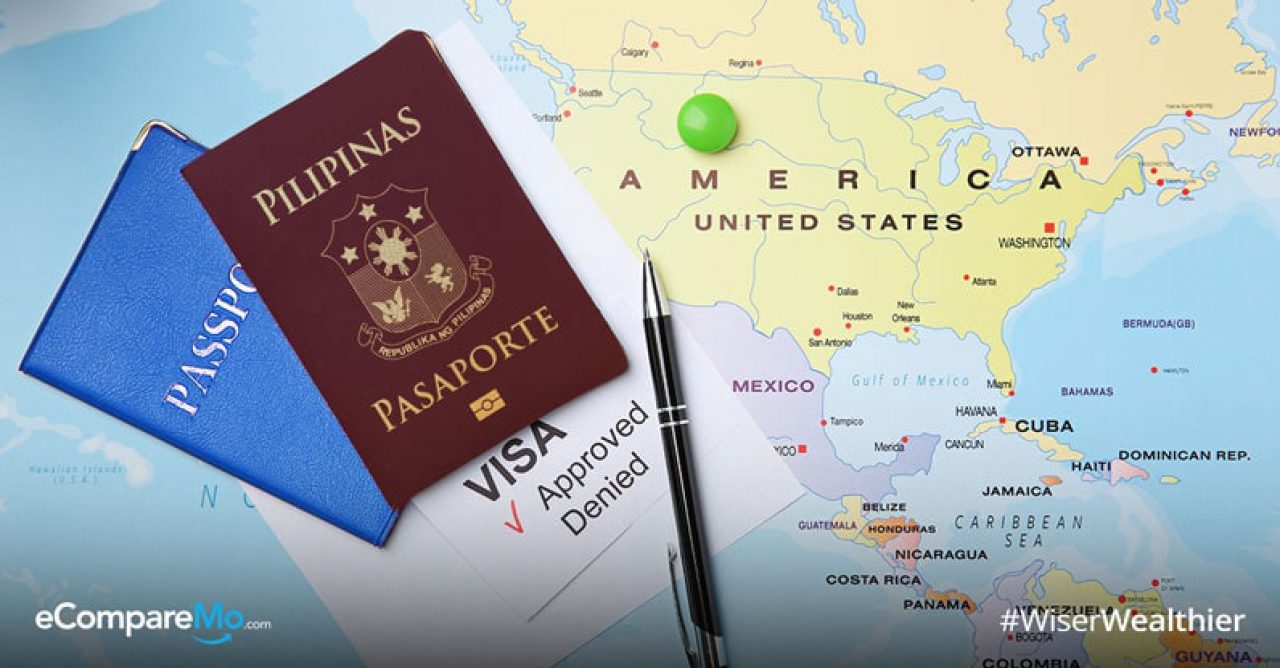 These requirements are all within reason, as there are a lot of Filipinos who tend to overstay and risk getting banned for life, for a chance to live in the US.
In fact, last year, H-2A and H-2B visa applications for Filipinos were banned by the United States Department of Homeland Security (USDHS) due to the increasing number of overstaying Filipino H2-B workers.
This article is a guide to US Visa B-1 and B-2 visitor visa application. B-1 is for business, while B-2 is for travel or getting a medical treatment in the US.
Who can apply for a travel/business visa to the US
As stated by the US Travel Docs website, "Section 214(b) of the [US Immigration and Nationality Act] (INA) presumes that every B-1/B-2 applicant is an intending immigrant. You must overcome this legal presumption by showing:
That the purpose of your trip to the US is for a temporary visit, such as business, pleasure, or medical treatment
That you plan to remain in the US for a specific, limited period of time
Evidence of funds to cover your expenses while in the United States
That you have a residence outside the US, as well as other binding social or economic ties, that will ensure your return abroad at the end of your visit"
Further, the Appointment Schedule page also makes the following information clear:
The US Visa application fee of $160 or around P8,640 for B-Visa type applications is non-refundable
Getting approved for a US Visa is not a guarantee that you will be allowed to enter US soil
This power to grant entry is given by a Department of Homeland Security (DHS), Customs and Border Protection (CBP) official. There's also the Philippine Immigration official who will check your documents and ask a few questions about your trip before you're allowed at the boarding area for your flight. See the list of Philippine Immigration documents below.
Now that the most important policies are laid out, let's look at the US Business and Tourist Visa requirements (B-1/B-2) and application steps.
(Read: Your Philippine Passport Can Now Take You To 66 Countries Without A Visa)
B-1/B-2 Visa Requirements and Application Process
Bring these requirements:
Completely filled-out Non-immigrant Visa Electronic Application Form or DS-160.
A valid passport for travel to the United States, valid at least six months beyond the intended period of stay.
One 2×2 photo adherent to the photo requirements.
Receipt showing payment of $160 non-refundable visa application processing fee, paid in local currency.
Any of the following supporting documents:
Proof property or business ownership; or assets, if self-employed
Travel itinerary or other proof of your planned trip
Letter or certification from employer detailing your position, salary, years employed, authorized vacation
Payslip from the last three months
Certificate of Employment
Relative's proof of status residing in the US (Green card, naturalization certificate etc.)
Valid IDs (company, school ID)
Proof of previous US trips
Most recent bank, insurance and other financial statements
Income tax records
Proof of previous travels
Follow these steps
Pay the visa application fee of USD160, or P8,640. You can pay through BPI or Bancnet online, or over the counter. Secure the deposit slip.
Complete the Nonimmigrant Visa Application form online and make a printed copy.
Schedule an appointment through this page. Prepare your passport number, MRV payment receipt number, 10-digit barcode number in the DS-160 confirmation page.
Go to the US Embassy Consulate on the date and time assigned to you for the interview. Bring the printed copy of your invitation later, printed DS-160 confirmation page, one recent photograph, current and old passports.
Tips and important notes to ace the US Visa interview
The interview is the most nerve-racking part. How you answer the consul will make or break the approval of your visa application.
You will be interviewed by US consuls, so be sure that you communicate well in English. Avoid using slang as it is a formal interview.
Be polite and straightforward with your answers. Keep your answers concise and do not elaborate unless asked for a follow-up question.
Be honest about your real intention and present a valid purpose for your visit.
Present solid proof that you will come back. Establish truthfully and factually that you are only going to the US for a vacation, and not as an illegal immigrant.
Show proof that you have good financial standing, and a stable source of income.
Take time to read more information on the official US Embassy website. The information posted here could change without further notice. Always refer to the official US Embassy website for more details.
There's no dress code required but be presentable. If you are a student, you may wear your school uniform. If you are a public service employee, wear your uniform or professional attire.
Do not volunteer any information or present documents if not asked by the consul or you will look desperate; this will only raise more suspicion. Ensure that you have the proper documents ready in case they ask for proof.
Most importantly, do not present fake or tampered documents. The consuls have ways to verify information. Falsifying your documents may even cause you to be banned from applying ever again.
Philippine Immigration required documents
Once you have your visa and are about to depart for the US, you still need to get through immigration. Make sure that you have these with you:
US Visa with valid passport. The passport must be valid for at least six months, and within your length of stay.
Roundtrip ticket. You can add in travel details as hotel reservations, and travel itinerary, as well as address and contact numbers of families/relatives/friends you're staying in.
Proof of rootedness in the Philippines, such as your Certificate of Employment, Business Permit, and/or Proof of Property/ies
Valid IDs
Most recent BIR Income Tax Return
Bring original and photocopies of these documents. The immigration officer will go through your papers all while asking you questions about your trip. You've made it this far, so by now you should already know to answer them truthfully.
(Read: Types Of Work Visas And Permits In Top OFW Destinations)
These people applied for a US visa, what did they do right? Or wrong
What should one expect when applying for a US Visa? Some people say it depends on the consul, but taking from these personal stories, both granted and denied, it's really more about preparedness. It's all about showing proof and being sure that you are indeed, coming back to the motherland and that you have zero intention of overstaying.
Irene, 30
Irene applied for a US visa back in 2018. Her travel purpose was she wanted to watch the last VANS Warped Tour. Her interview began really well but her application didn't go as well.
"The consul started chatting with me and told me stories of how he used to watch the Warped Tour every year. He told me about his experiences, and I really thought we hit it off well. In the end, I still got denied," she recalls.
"I guess sometimes people just get lucky. I brought my business permit, and I also have multiple entry visa to other countries. Others don't even have a travel history, but they get approved anyway. So, I can't really be sure about the other factors why we get denied," Irene shared.
Emil, 28
Emil went to the interview with his family. Families applying for a US Visa are usually interviewed one at a time. Of course, there's no guarantee that everyone will get granted a visa. Each one should still prepare the complete documents and proof of rootedness in the Philippines.
"The consul didn't even look at my supporting documents, just my application form. I said I was going to Coachella. The last question the consul asked me was if I was sure I was gonna come back. I just said yes, and I got the ten-year validity," he said.
Howard, 33
Howard's application, in his own words, was fast and straightforward. He got a ten-year validity after a less than five-minute interview.
"I applied last year (2018), and my main purpose was to watch the New Year's Eve ball drop in New York with my family. I went to the interview with my parents, and my brother and sister. I was then told by the consul that the NYC ball drop isn't worth it, being a New Yorker himself."
Howard recalled the consul did most of the talking, and even convinced him not see the NYC ball drop anymore, because according to him, it might turn Howard off and he wouldn't want go back to New York
"I was also asked if I had relatives in the US. I told them that our relatives are in LA. He asked if I was going to go visit them, but my plans are still pretty vague at that point so that's what I told him."
The NYC 2018 New Year's trip with Howard's family didn't push through, but he is planning a US trip with his fiancé next year, after their wedding.
Ivan, 42
Ivan applied for a US Visa three times and on the third one, got a ten-year validity. His story echoes that of every US visa applicant coming from the province who had to prepare a long way ahead.
He first tried to apply in 2009, as he came from Bicol, he took a long bus journey and even had to rent a hotel room. He then woke up early to stand in line to enter the embassy.
"I tried my US visa application with an invitation from my sister. She's a cardio-nurse in a university hospital, and she was about to get married," said Ivan about this first visa application attempt.
"A male consul interviewed me. He was not looking at me. He was just looking at the pre-filled application form the whole time. I was rejected," recalls Ivan.
Ivan said he was rejected due to being single and the fact that he was working in a medical field.
Then in April 2009, Ivan got another invite. This time, it's from the School Nurses International (SNI). They were having a Seminar for Nurses at New Jersey, near his sister's residence. Ivan said he e-mailed the organizer, and detailed that he is a medical officer supervising a number of nurses. The SNI replied that he can attend, so he applied for a red passport. The red passport is granted to "members of the Philippine government for use on official business, as well as employees of Philippine diplomatic posts abroad who are not members of the diplomatic service."
Ivan said the application for a red passport is almost the same as a tourist visa. He attached the email with the SNI organizer, along with the requirements of traveling for a government employee such as travel order, office clearance and leave form. This is done in a separate window just for red passport applicants. This time, Ivan said, he was approved because his requirements were complete. The red passport, he said, was only good for three months.
The third US Visa application for Ivan was on February 2016. His parents were already in the US at the time with his sister. His father suffered a stroke and his sister asked him to come over to assist in his care.
"She sent an invitation attaching the medical abstract of my father. I was interviewed by a female consul," said Ivan.
This time, Ivan shared, the consul asked for his travel purpose. He told her of her father's status and his need for assistance. And since he's already stayed in the US for almost two months, his visa was approved. Ivan was granted a ten-year multiple entry visa this time.
Kyle, 28
While Kyle's story is for an immigrant visa, it's still helpful to know about her interview and the questions she was asked.
"I'm going to the US on December 18 on an immigrant visa. I was approved. I wasn't asked a lot of questions, but the other applicants there were asked a LOT of details regarding their ties [in the Philippines], families, etc."
As for Kyle, she was just asked about the last time she saw her mom, and if they still talk.
She said, "Others were asked where they will be staying in the US. With whom, how many residents, where are your other relatives, etc. The consul looked at my documents. 90% of the time, I was just watching the interviewer look over my documents. There was a lot of awkward silence."