A Bargain Hunter's Guide To 2018 Christmas Bazaars
5 min read
Tis the season for hunting the best bargains at Metro Manila bazaars! A little knowledge of food, fashion, weekend markets, and Christmas shopping venues  and dates around town can help you stretch your peso.
For your ultimate thrift-shopping guide, here are 10 must-visit holiday bazaars and events by top organizers this 2018. Mark your calendars, gather your family and friends, and ready your lists. Aren't you in for a sweet treat!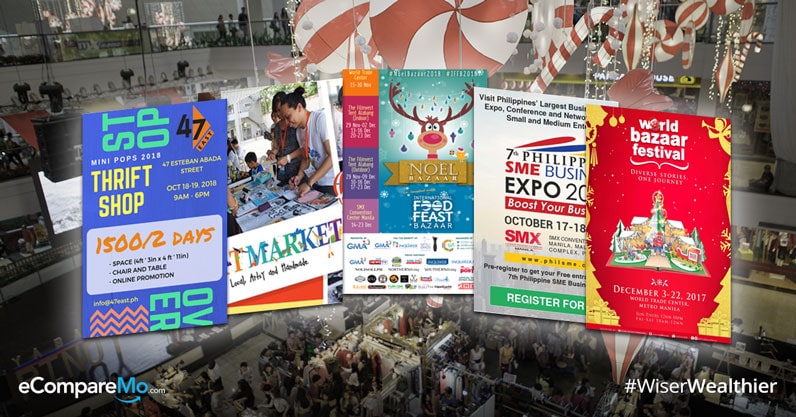 1. Noel Bazaar
If you want to spice up your usual holiday shopping tradition, go and visit the one of the most popular and longest-running bazaars in Manila, now back for its 18th run.
Aside from eating and shopping, you can participate in other activities at the Noel Bazaar such as cooking demos, contests, fashion shows, and on-stage performances. In addition, you can catch favorite Kapuso stars in their GMA Celebrity Ukay-Ukay and GMA Celebrity Auction.
Food, shopping and a glimpse of your favorite celebrities, what more can you ask for?
You can catch the Noel Bazaar during the following dates:
November 15 to 30: World Trade Center, Pasay City
November 29 to December 02; December 13 to 16; December 20 to 23: The Filinvest Tent Alabang (Indoor)
November 29 to December 09; December 10 to 16; December 17 to 23: The Filinvest Tent Alabang (Outdoor)
December 14 tp 23: SMX Convention Center Manila, SM Mall of Asia Complex
(Read: Official List Of 2019 Philippine Holidays Now Out)
2. The American Women's Club of the Philippines Bazaar
Christmas is the season of giving and sharing, and if you want to enjoy yourself and at the same time help other people, you have to visit and experience the American Women's Club of the Philippines  Bazaar.
With a goal of supporting the community services and charity projects of their organization, proceeds of this bazaar will go to local Philippine charities.
Eager to get your hands on high-quality goods like handcrafted jewelry, skin care products, seasonal products, and more? Visit the SMX Convention Center during the following dates:
October 2
November 20
December 11
3. 7th Philippine SME Business Expo

If you want to support up-and-coming entrepreneurs, the best way to find the best of the best is at the Philippine SME Business Expo (PHILSME).
The largest small and medium enterprise trade show will feature over 100 business solutions from a wide variety of sectors.
The two-day event will give update on the latest innovations, trends, and everything you need to know to become a successful entrepreneur in the Philippines and the whole ASEAN region.
Go to the SMX Convention Center on October 17 and 18 and become part of the biggest SME event in the Philippines. Also, have we mentioned the PHILSME is free?
4. Wanderlust Travel Fair
Get your passports and suitcase ready for the Wanderlust Travel Fair. Score cheap deals on flights, hotels, and bundle tours for the ultimate affordable getaway.
Head to Fisher Mall in Quezon City on November 17 and 18, bring your family and your friends with you and be prepared to make new memories in 2019.
5. Organic and Natural Products Expo
Hailed as the first of its kind in the Philippines, Organic and Natural Products Expo is here to spoil all lovers of organic, natural, and plant-based products from local crafters.
Get a chance to learn health and wellness tips from experts, expand your market, grow your business, find awesome guilt-free brands, and more.
The Organic and Natural Products Expo will run from September 20 to 22 at the SMX Convention Center. Don't forget your eco bags!
6. World Bazaar Festival
The longest running charity bazaar in the Philippines is back!
World Bazaar Festival is ready to offer a wide range of selections of bags, clothes, leather goods, lifestyle products, novelty items, perfumes, toys, fashion items, and more. And for a good cause!
Get overwhelmed by over 600 exhibitors from different companies and thousands of shoppers strolling around and stopping by from one booth to another.
Prepare your wallets and your shopping bags and be ready to enjoy and the same time help those in need.
Catch the World Bazaar Festival from December 12 to 22 at the World Trade Center, Pasay City.
7. Christmas Toys and Collectible Fair 2018
Calling all kids and kids at heart! Your most awaited toys and collectibles fair is happening this 2018. Also known as Christmas ToyCon, this bazaar will be held at SM Megamall on December 14 to 16. Stalls will be set up waiting for your shop 'til you drop this holiday season.
If ever you're in doubt if there will be enough toys for everyone, keep in mind that the Christmas Toys and Collectible Fair 2018 will be teeming with sellers of different toys like Gunpla kits, Funko Pop toys, and so much more.
8. 47East Thrift Shop
Those who frequent the greater Loyola Heights area may have probably seen 47East on Esteban Abada Street, a swanky mixed-use property designed for remote workers and students. If you need a reason to visit the area more than the bars and restaurants there, you may want to check out 47East's Thrift Shop next month.
Get a headstart on your holiday shopping needs this October 18 and 19 as 47East Thrift Shop will cater all your fashion, food, lifestyle, and other needs. Enjoy shopping pre-loved and brand-new items from your neighborhood sellers and avoid the mad mall rush this season. You can find 47East at 47 Esteban Abada Street, Loyola Heights, Quezon City.

9. Luke Who's Selling: A Bazaar Like No Other
Did you know that you can spend money on your shopping needs and still help those who are in need? For three years now, the Women's Board of St Luke's Medical Center has been conducting a bazaar to raise money for indigent patients of the hospital.
If you have nothing to do on October 27 and 27, head to the North Forbes Park Covered Court and do some guilt-free shopping. After all, it's time we give back for a great cause.
10. Babypalooza Bazaar
Whether you'll be having a Valentine's baby this November or you're just preparing for your new kid, you can score great deals on all baby items at Babypalooza Bazaar. Now on its 17th year, you can find great deals on both brand new and pre-loved goodies for you and your infant.
In addition to a baby shopping spree, you can meet and socialize with the participating parenting community and learn new products and services relevant to your daily parenting needs. Enjoy fun on-stage activities, yummy foodand bring home giveaways for you and your kiddos.
Catch the Babypalooza at the Fortune Hall, Eton Centris, Quezon City on November 17 and 18.
Sources
When in Manila, American Women's Club of the Philippine official website, American Women's Club of the Philippine Facebook page, Manila Bazaars, Sulit.ph, Worldbex Services International official website