Beat Inflation: How To Start Your Own Backyard Vegetable Garden
6 min read
Everywhere you go, people are talking about inflation and its effect on the prices of goods. We don't have control over the prices of goods, but we can mitigate the negative effects through one simple thing: gardening.
You might think that growing your own vegetables requires a vast tract of land or a powerful green thumb. We are here to tell you that that is not so.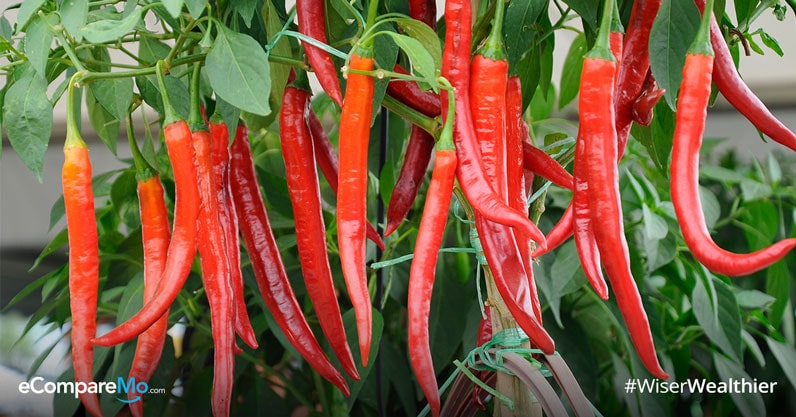 You don't need a huge lot or expert gardening skills to grow these vegetables. Beat inflation by turning your house in a real-life Bahay Kubo!
For the first timers
Not everyone has experience growing vegetables and it does require a bit of skill. Luckily, these skills are easy enough to learn. To start your journey into home gardening, you can first test your gardening prowess by raising herbs.
Why herbs? For starters, herbs are low-maintenance plants that have tons of uses in the kitchen. They are easily grown in pots. A few potted plants you can get are basil, mint, and oregano, among others.
You can elevate any dish by adding a few crushed leaves picked fresh from your own herb plants. Herbs can also make your home more aromatic and they can add life and character to your home.
While herbs can be grown from seeds, its simpler for the novice gardener to get a few potted seedlings from several seedling banks and gardening shops. Here are a few of them:
Cedarhills Garden Center – 57 Mother Ignacia Avenue, Paligsahan, Quezon City
Mahogany Market – Mahogany Avenue, Kaybagal South, Tagaytay City
Farmer's Market – Central Avenue, Socorro, Cubao, Quezon City
Agri-Aqua Network International – FTI Complex, FTI Avenue, Western Bicutan, Taguig City
Thyme Square by GreenHearts – 72 Mother Ignacia Avenue, Paligsahan, Quezon City
Baguio City Market – 38 Rajah Soliman Street, Bagong Lipunan, Baguio City
One you get your seedlings, you just need to water them and see they get the right amount of sunlight, and when they grow a bit bigger pick and use the leaves.
(Read: Follow These 4 Commandments If You Want To Eat Healthy Without Breaking The Bank)
Tools of the trade
To make home gardening much more convenient, invest in some gardening hardware.
Since the activity will require you to work with soil and dirt, it's not advisable to use home tools like kitchen shears or spritzer on your plants too. Fortunately, your basic gardening tools are inexpensive, and they won't take up that much space in your toolbox.
Here are some items you need to get before you start with your gardening:
Pruning shears . Ideal for trimming dead or damaged branches and leaves easily and harvesting the fruits of your labor without damaging the plant, make sure that your pruning shears have spring-action handles to minimize hand strain when pruning.
Spritz bottle . You might need two of these: one for watering your plants and one for spritzing chemical liquids like pesticides and fertilizer. You can easily get them on your market's dry section, so don't bother with the fancy schmancy versions available in your big box stores.
Trowel . Used for transferring soil or seedlings to a soil bed. This means it will usually be in contact with moisture. For more bang for your buck, invest in a trowel that has an ergonomic curved handle to avoid wrist straining and coated metal blade for rust resistance.
Gardening gloves . Look for waterproof and cut resistant nylon gloves with excellent grip so none of your tools will slip from your hands.
Not everything you need for your home gardening project should be bought from your local dealers. For other items like pots, you can repurpose old cans or plastic containers. However, make sure that you puncture the bottom portions of your repurposed containers for water drainage. If you have old plastic crates and wooden boxes, you can also turn them into planters for your project.
Choosing the right soil is important. However, don't get too stressed about it since the best and most convenient way to get your soil is by purchasing them from your home garden supply shops. Make sure to get soil rich in humus and nitrogen.
Pro tip: Starbucks gives away bags of coffee grounds for home gardening projects for free! Just go to your nearest Starbucks branch and ask them about Grounds For Your Coffee Garden bag. You can add a thin layer of them to your plants to supercharge their growth.
Choosing your vegetables
After you've cultivated your love for gardening through taking care of herbs, it's time to level up your home garden by growing what will keep your refrigerator full of fresh produce.
To find out which vegetables are worth growing, we looked into 15 Filipino dishes that have vegetables as their main component:
Adobong kangkong
Atsara
Chopsuey
Dinengdeng
Tortang talong
Ginisang ampalaya
Ginataang kalabasa
Laing
Pinakbet
Ginataang puso ng saging
Ginisang upo
Munggo guisado
Ginisang togue
Sinigang
Kare-kare
After checking their most common ingredients and making a tally on which vegetables are more often used in these, we found out that the following five are the ones you should plant. After all, they have more uses than others, which means you can save regularly with your very own produce:
Onion
Garlic
Tomato
String beans
Eggplant
Among the top five most commonly used vegetables in Philippine cuisine, three of them can be grown from pots or containers while you may need a bigger place to cultivate plants like a backyard or a dedicated home garden for the rest.
Vegetables like tomatoes, garlic, and onion, can be grown in pots or containers. When it comes to potted tomatoes though, you can only cultivate a specific type known as cherry tomatoes. Other variants might need more space.
Eggplants, string beans, and the larger tomato plants will require bigger containers or even smaller lots for growth.
(Read: 5 Grocery Items You've Been Storing Wrong)
Without garden
Onions.  To grow onions in container gardens, you need wide-mouthed containers that are at least 12 inches deep. Make sure you place at least five inches between each plant and they're not buried in more than two inches of soil.
Garlic . You can grow garlic in your own home if you have a container that is at least eight inches deep. Once you've filled your container with rich soil, you can get your cloves and plant them four inches away from one another.
Cherry tomato . For your tiny tomatoes, you can grow it indoors provided that you place it somewhere with enough sunlight. To keep the plant upright, you can either make a cage for your tomato plant or tie the stem to a wooden stick skewered to the soil.
With garden
String beans . Since string bean plants are prone to twining and can grow up to more than one foot high, you must install a trellis above your string bean plant and guide it's growth with a stake and yarn.
Eggplant . To grow an eggplant, you need at least two feet deep soil to allow its roots to take hold. Water them deeply at least twice a week or when the soil starts to show dryness. Use stakes or trellis to support the branches since their fruits can be too heavy for the branches to support. Adding fertilizer to the soil should also be done twice a month.
Tomato . Since your average tomato plant grows its roots extensively, you need to make sure there's enough room in your garden for it. While they need constant exposure to the sun, leaving them exposed can prevent the flowers from developing and cause leaves to curl. If the weather is too hot, you can either cover your plant with a light material or a mesh. Water them from the roots only to avoid fungal infection.
Home gardening can be quite difficult at first, but with enough patience and research, you can beat inflation and maybe, you can start growing your money too!
Sources
https://www.realliving.com.ph/home-improvement/gardening/4-steps-for-starting-your-own-garden?ref=article_related
https://www.urbangardeningmom.com/blogs/news/grow-your-own-tomatoes-at-home/
https://www.goodhousekeeping.com/home/gardening/a20707074/container-gardening-tips/
https://www.growveg.com/guides/a-common-sense-guide-to-using-coffee-grounds-in-the-garden/