The New iPhone XS Max Could Buy You 80 Kilos Of Siling Labuyo
5 min read
How do new iPhones hold up in the time of inflation and skyrocketing prices of goods?
Apparently, still very well. After all, who wouldn't get excited about—not one, not two—but three iPhones for this year?
Apple last week introduced the new iPhones XS, XS Max, and XR. According to the Cupertino-based tech titan, these new smartphones, now all devoid of the home button, are the most advanced iPhones ever. That is, until the new iPhones come out next year.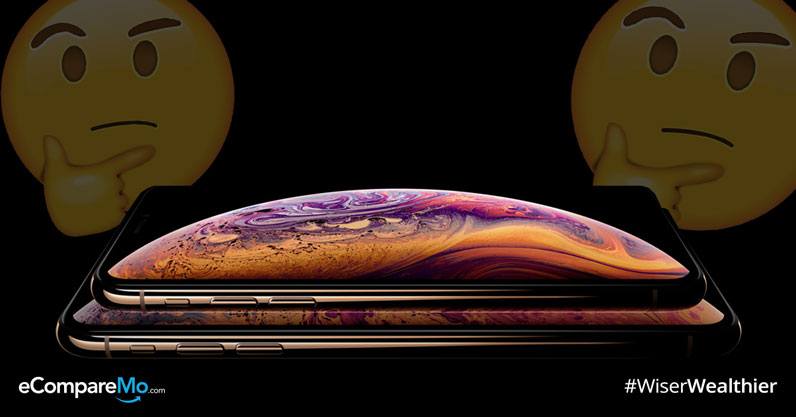 For this year's lineup, the iPhone will come in three variants, which are the XS, XS Max, and XR. The XS line will pick up where the iPhone X left off: a smartphone with end-to-end screen. However, it comes in two sizes now: the XS has a 5.8-inch display while the XS Max boasts a 6.5-inch screen. Both use Apple's Super Retina Display, which was also present in 2017's X.
If you're a die-hard Apple fanboy, chances are you're probably thinking on how you'll get your hands on the new iPhones. Unfortunately, the current inflation crisis in the Philippines—which according to Bloomberg is the king of inflation in the region—will render your salary less valuable. But hey, at least you get a new phone! And we've got the reasons why you should get the new iPhones.
The rising tide
If you're giddy because of the new iPhones, you're probably thinking now how to raise your funds for the shiniest Apple smartphone to date.
Let's say you are in desperate need to get your hands on the iPhone XS Max 512 GB. Since there is no official local price yet, we'll use the conversion from its US price of $1,499 (P80,960).
For the price of an iPhone XR Max, you can get 80 kilos of siling labuyo and live like Pablo Escobar. However, don't hold your breath just yet.
You can feed an entire town with that money if you decide to spend it on well milled rice, which is currently priced at around P48 per kilo. That's a little over 1,600 kilos of rice!
Not a big fan of Maroon 5? Good then, because by buying the new iPhone, you just saved yourself from spending on three VIP standing and 2 upperbox tickets to Adam Levine and co.'s Philippine concert in March 2019.
iPhone = Inflation Phone?
But don't celebrate just yet. Although no predictions for September's inflation rate are out yet, the peso sank against the dollar at P54 each. According to ABS-CBN News, the dismal performance of the local currency dragged the stock market down to 7,000 level.
With a weaker peso, commodities will also be affected negatively, petroleum prices compounded by the rising prices of crude oil, and god knows what else. Of course, your lovely iPhone won't be spared by the increasing prices of goods.
Now how much does the iPhone XS Max 512 GB stack against the rising prices of goods? We did the math, so you don't have to:
Broccoli (at P200 per kilo): 404 kilograms
Beef rump (at P390 per kilo): 207.5 kilograms
Entire McDonald's menu (P4,852 for all items, one serving each): 16 units
Cinema 76 Film Society tickets (P200 per head): 404 tickets
iPhone 8 64 GB (P39,490 per unit): 2 units
Galunggong (P200 per kilo): 404.8 kilos
EC Gas (P840 per 11-kilogram cylinder): 96 cylinders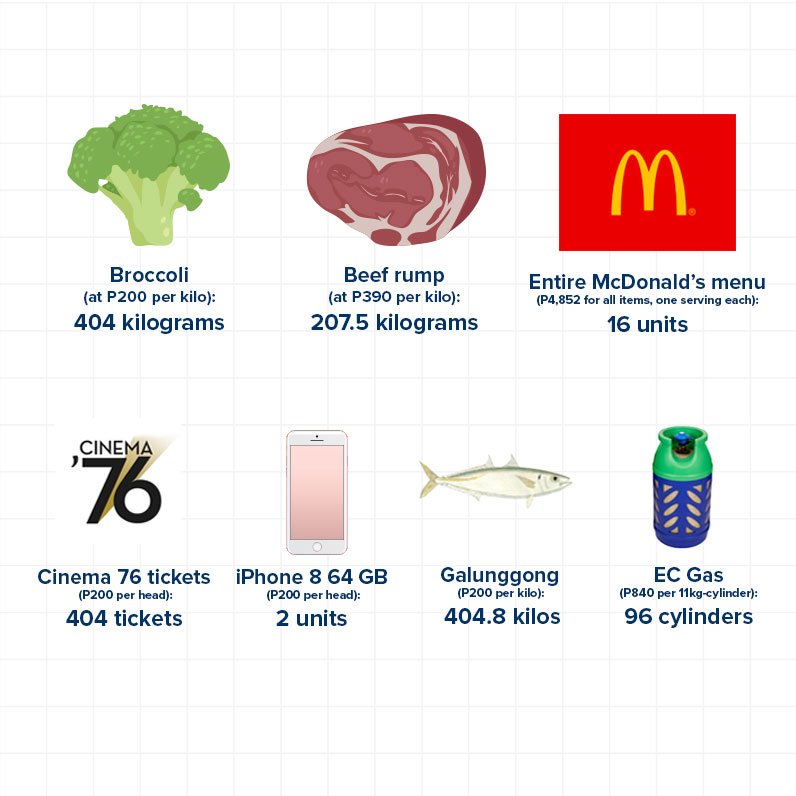 Regardless of your salary, you can actually fork out enough money to pay for the top-of-the-line iPhone XS Max.
Want to truly say you "earned" this smartphone? Using figures from the Philippine Statistics Authority and PayScale as reference for salaries, we calculated the number of hours you need to put in:
Bank branch manager (P315.65 hourly median salary): 257 hours
Customer service representative (P119.75 hourly median salary): 676 hours
Software engineer (P205.50 hourly median salary): 376 hours
Registered nurse (P89.74 hourly median salary): 902 hours
Chief executive officer (P999.50 hourly median salary): 81 hours
Human resource manager (P252.50 hourly median salary): 321 hours
Senior graphic designer (P189.89 hourly median salary): 426 hours
Corporate lawyer (P384.03 hourly median salary): 210 hours
Office administrator (P113.61 hourly median salary): 713 hours
President of the Philippines (P750 hourly median salary): 108 hours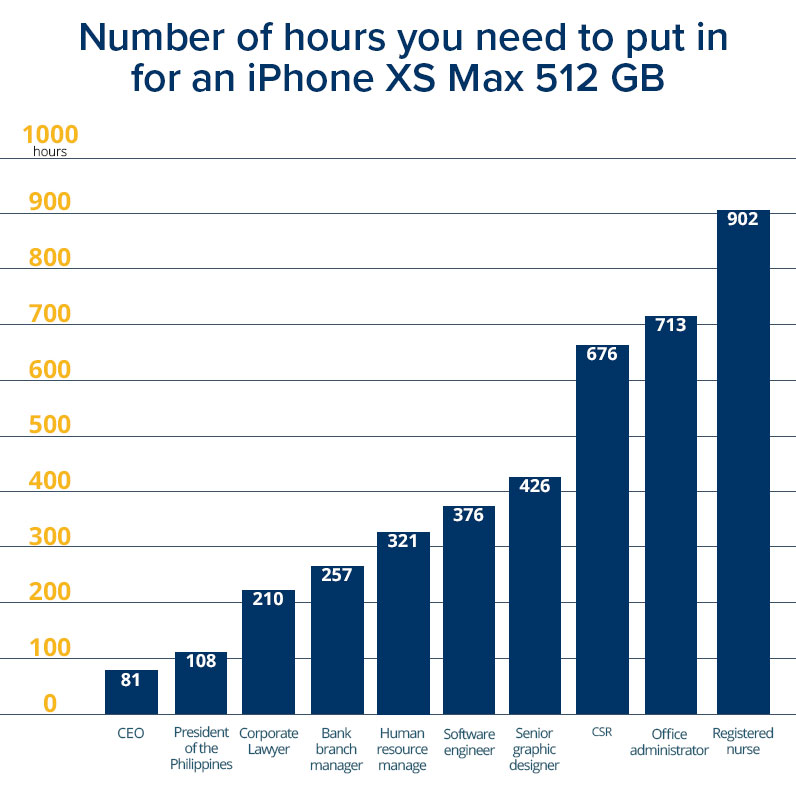 The kings are back
Under the hood of the iPhone XS line is Apple's A12 Bionic chip. How does it stack against the A11 Bionic chip that serves as the beating heart of the iPhone X and allowed the current flagship to do stuff like facial recognition and other bells and whistles?
A few months ago, Apple rumor mill Cult of Mac predicted that the A12 Bionic chip will be 20 percent faster and 40 percent more energy efficient than its predecessor.
With a seven-nanometer processor, travel time between processes from one component to the other is shortened, therefore increasing its performance and reducing waste heat.
Apart from the cutting-edge processor, the XS and XS Max will also ship with up to 512 GB of storage and include features like 3D Touch display, Face ID, Qi wireless charging, and other things you can currently find on the X. Although no announcement yet, the XS line will be equipped with a 4 GB RAM.
For the iPhone XR, it seems like the tech giant rehashed its technique when it released the iPhone 5S five years ago. To accompany the 5S, Apple came up with a "lite" version in the form of the iPhone 5C.
This year's 5C is the XR, which comes with all the iPhone goodness found in XS and XS Max. Unlike the two phones, the XR will ship with 3 GB RAM, a somehow-in-between screen size 6.06 inches, Liquid Retina Display with lower pixel density, and other more inferior features. However, the XR will be cheaper than the XS phones and it will come in six bold colors!
No official word yet regarding the price of the new iPhones in the Philippines yet. According to the Apple US website, the XS 64 GB starts at $999 (P53,970), the XS 64 GB Max at $1,099 (P59,373), and the XR 64 GB at $749 (P40,464). However, expect the price tags here to be a bit jacked up compared to the US prices.
Sources: Apple, GSM Arena, Cult of Mac, Wired, Department of Energy, Payscale