9 Hot Summer Business Ideas To Earn Extra Cash
3 min read
This season, why don't you take advantage of the scorching heat and summer vacation? You have a number of summer business ideas to choose from; you just have to know where to start.
With enough capital, you can start the most of these profitable ventures especially made for a tropical country such as ours. Make sure you grab them while they're hot!
1. Serve ice-cold treats
Forget about bingsu and gelato! For Filipinos, the sweetest way to fight the scorching sun is with frozen treats.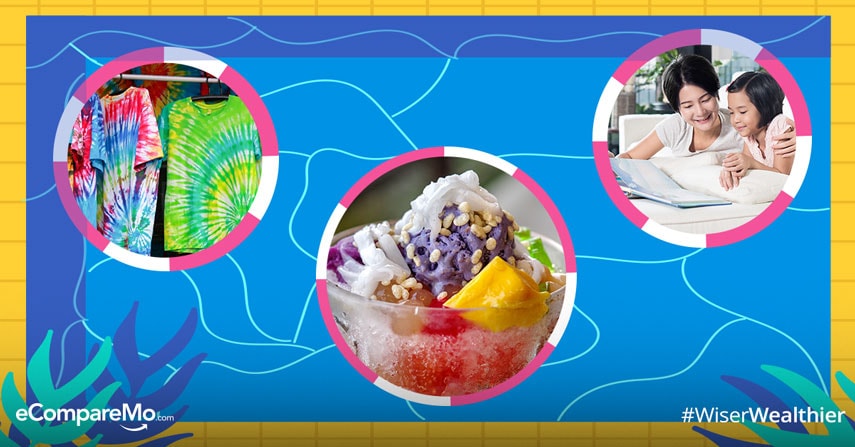 On a weekend, you can set up shop and sell ice-cold refreshments like sago't gulaman, halo-halo, saging con yelo, ice candy, or shakes. These summer refreshments can easily be made using readily available ingredients in the market. Have we mentioned that they're also cheap to make?
2. Print tie-dye shirts
Tie-dye shirts may initially have been associated with hippies, but their high-energy swirls and random patterns will always be in style in summer.
All you need to start your own tie-dye shirt lines are some shirts, colored fabric dyes, and a few rubber bands.
Tie the rubber bands around different segments of the shirt, dip the shirt in the dye solution, then let it dry. Need more tips or inspiration? Websites like Pinterest and YouTube have tons of tutorials you can learn from.
3 . Make money off resort commissions
Do you have friends who own a private pool or a resort? Summer is the perfect time for a cool and chill getaway.
Help your friend and yourself out by referring their place to others. Arrange a referral fee that will ensure that you, your private pool owning friend, and the party looking for a getaway spot all walk away happy.
4. Teach kids while they're off school
Do you have good grammar? How about a head for numbers? Patience with kids? Why not work as a summer tutor?
Unlike regular tutorials where you need to meet with the kid every day after school, summer tutorial sessions can be on a more flexible basis. The subjects will be more along the lines of supplementary education to further hone their skills for the upcoming school year.
6. Become a pet caretaker
Pets are just furry members of the family, but sometimes out-of-town trips aren't suitable for their health. With a lot of families taking advantage of the season to get out of town, there will be a demand for people who can watch over their pets for the time being.
With this gig, everything's basically provided already—all you need to do is feed, bathe, and walk with their lovable pets. Playing with them is definitely a plus.
7. Sell all your unused stuff
One man's pre-loved item is another man's treasure. A general household cleaning will result in you finding a lot of stuff you no longer need but might be able to sell.
Whether they're books, clothes, appliances, or toys, someone will be more than happy to take them out of your hands in exchange for cash. Plus with the boom of online selling, your garage sale can reach the entire country.
8. Start a catering gig
Any respectable celebration, regardless of the season, requires good food. If people don't have the time to prepare their own food, then that's your cue to seize the opportunity and prepare some home-cooked food for them. All you need is a passion for cooking, a decent workspace, and a bit of marketing and your set.
9. Rent your car to people
Have car, will travel. But, If you're not planning on traveling yourself, think about renting out your car to people who will. You can create an ad for your car rental service on the most famous online marketplaces like OLX and Buy and Sell. Keep in mind to be generous with the details of your vehicle and your terms of rental. Also, van owners have a more competitive edge over sedan drivers.
Got more business tips for the summer? Share them in the comments.