10 Extremely Profitable Business Opportunities To Explore This 2018
5 min read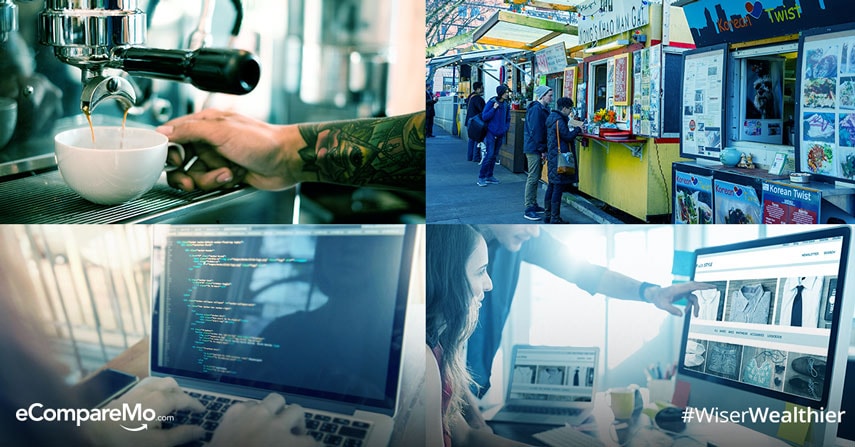 Dreaming of having your own business? If you've been planning and saving in the years prior, then 2018 should be the year you finally translate all those preparations into action.
If you need any more ideas on how to best invest your money, here's a list of businesses that are profitable in 2018.
1. Online Marketing
Marketing and advertising are two different things, with the latter being a subset of marketing. Paid advertising can be done when you've put in place all components that make your marketing tools work. And all these can be done via social media.
If you're skilled in social media management, social media marketing, content writing, or even graphic design, then you can sell your skills to earn more money in this area.
Along the way, you'll learn to provide a more personal, high-value content for your own business or your client's followers.
Eventually, you may even expand to becoming an Online Marketing Consultant if you've gained enough experience and network in the field.
2. Web Developing or App Developing
There's no denying that experts in Information Technology (IT) can earn a lot of money. Technology is fast-paced and constantly evolving, and if you have the skillset in creating websites or apps, it's time to sell your skills with local and/or international clients, and earn more money.
If you're into Mobile App Development, there are three ways you can earn money:
Paid downloads. If you set a price for every app or game download
Free downloads. As users download your app for free, you can earn money through in-app advertisements
In-App Purchases. You earn money through paid upgrades or content inside the app
And of course, if someone decides to buy your mobile app or game, that's when the big bucks start coming in. To give you an idea, the challenging and highly popular mobile game Flappy Bird earned USD 50,000 PER DAY from in-app ads, according to its developer Dong Nguyen from his The Verge interview in 2014.
3. Healthy/Low-Calorie Meal Plans
If you're a foodie and into health and fitness, know that the demand for good, affordable healthy food will only increase this year—and this might be the break that you've been waiting for.
You don't need to have set up a physical store or food cart right away. You can start small and sell healthy packed meals to your friends, or people closest to you.
4. Online Business
Entrepreneurs are born out of their idea and passion to mix business with pleasure, typically starting in an area they are knowledgeable at. We're lucky to be living in the age of internet and social media, where online selling is as easy as posting on your social media platform without much startup capital needed.
Buy and sell branded apparel, pre-loved clothes, collector's items, and even homemade pesto or chili garlic in a bottle.
Whatever it is that you're knowledgeable in or love doing, you can start earning money from it by simply posting them online. You can start learning the ropes of the business as you go along.
5. Gourmet or Third-Wave Coffee
With this generation becoming more mindful of what they consume, the love of third-wave coffee is a fast-growing trend.
Getting into third-wave coffee means that you use beans that are carefully grown and sourced through fair trade, then prepared with utmost care by highly skilled baristas. It's also a great way to promote homegrown Philippine coffees.
6. DIY Laundromat
If you have enough money to buy laundry equipment, set up a DIY Laundromat. It's actually one of the fastest-growing small businesses right now, especially in areas where people are always busy.
You also don't need to be there all the time, thus making it a good source of passive income if you just hire some trustworthy people to manage the place. If you're short on capital, you can always look for investors to get things started.
7. Handicrafts or Recycled Items for Sale
If you're creative and passionate about helping save the environment, you can help in your own way by making recycled handicrafts you can sell online.
There are already a lot of Filipino brands that started small but have now made a big name for themselves with their sustainable products. The limit is your creativity and imagination in making very economical and environmentally friendly products to sell.
8. Food Carts
Food carts and stalls are now becoming even more popular with food parks popping up around the metro, and even in the provinces. You can even start with as low a capital as P10,000, depending on the food that you're going to sell.
You can try franchising or creating your own food business, for as long as you're ready to take on the challenge.
9. Stock Investing and Trading
You've probably heard a lot of talk about Bitcoin by now, but it's not just the only thing that's worth investing in as far as online trading goes. For as low as P5,000, you can start stock trading with Philstocks. You can also create an account on websites like Coins.ph for around the same amount to start your Bitcoin investment.
Or you could hedge your bets and put a little money on both. You'll only need to spend time in learning the tricks of the trade, and, for as long as you're interested and assertive, you will surely grow your money in this arena.
10. DIY Travel Business
A lot of DIY travel businesses are starting to make noise on social media recently, and rightfully so, as more and more people are enticed with backpacking and traveling. So if you're passionate about traveling and share that love with others—and earn a profit as well.
You will need to come up with fun and cost-effective itineraries to entice people to travel with you.
First, do your research about the places where you want to go: where to stay, fun activities to do, budget-friendly modes of transportation, etc. Then get your name out there, and organizing a travel community with a bunch of like-minded and friendly people who are willing to pay for that adventure with you.
Looking to scale your business? Apply online for a Business Loan and enjoy personalized service today.