7 Smartphone Mounts For Your Car That Are ADDA-Compliant
5 min read
On June 21, the Department of Transportation (DOTr) finally issued the implementing rules and regulations of the much-discussed Anti Distracted Driving Act (ADDA).
Also known as the Republic Act No. 10913, the bill lapsed into a law during former President Aquino's time and was formally put into place during the current administration. In a nutshell, the ADDA prohibits the following while driving:
Using mobile communication devices to write, send, or read a text-based communication or to make or receive calls
Using an electronic entertainment or computing device to play games, watch movies, surf the internet, compose messages, read e-books, perform calculations, and other similar acts
While the intentions of the bill were good, the law drew widespread backlash because of its unclear rules.
After consultation with different sectors, especially in terms of smartphone placement in cars, the government finally came up with the best solution: a leeway of four inches from the dashboard where people can place their gadgets. This will come in handy in times where the phone is used as a navigation tool with the help of apps like Waze and Google Maps.
eCompareMo did a little window shopping to find you the best smartphone car mounts that are stylish and of course, ADDA-compliant. Also, keep in mind that windshield and rearview mirror mounts are out.
Spigen Kuel Stealth Cradle
P1,400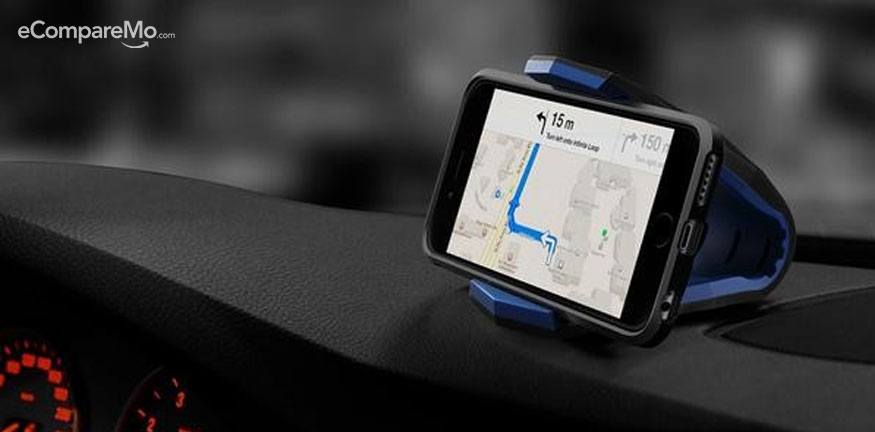 Do you prefer to display your phone on a landscape orientation without shying your eyes away from windshield? The Stealth Cradle is for you.
Equipped with a reusable gel pad to keep it tucked on your dash, Spigen's smartphone cradle gives you maximum viewing efficiency even on curved surfaces. In addition, it has two viewing angles for flexibility and can be placed and removed to the cradle with only one hand. Mind that car dashboards with leather finish are not compatible with the gel.
Koomus CD-Air
P2,833
Most cars today still come with an entertainment system equipped with a CD slot. But now that we either just stream music via Bluetooth or plug a thumb drive loaded with our favorite road tunes, the CD is becoming a rarity in a car.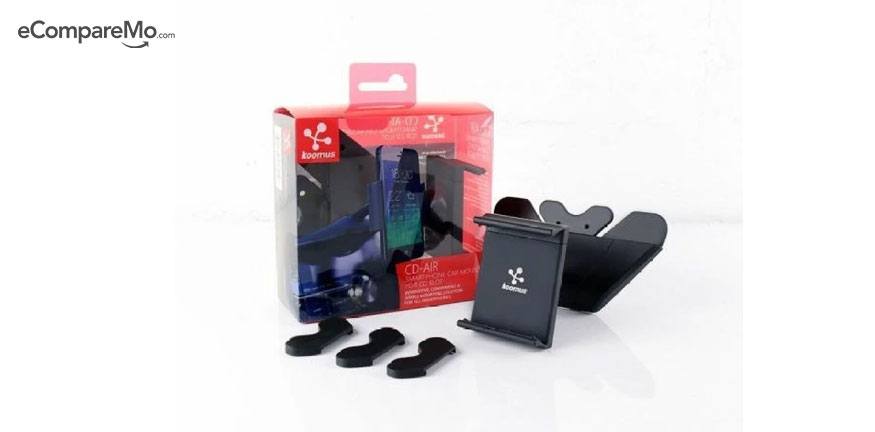 Fortunately, you can still repurpose your car's CD slot with the Koomus CD-Air, a phone mount that can be installed on the disc slot without any assembly required.
The CD-Air uses a ball mount for the cradle that allows 360-degree view of your phone and a lever keeps the mount from falling. It can also be switched from portrait to landscape.
Scosche Magic Mount Clip
P1,350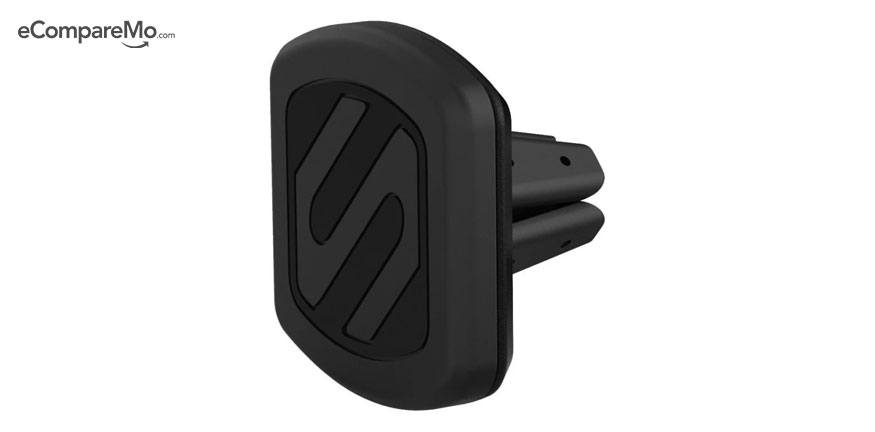 Magic Mount Clip may sound like a snipped from favorite (or least, depending on your tastes) Channing Tatum film, but this Scosche product works well for people who don't like to install suction cup-equipped mounts onto their dashboard. If you want your phone placed somewhere inconspicuous like your car's aircon, get the Magic Mount Clip.
Simply tuck the unit's clippers to one of your aircon blades, equip the magnetic plate that comes with it on your phone, and you can use the Magic Mount Clip as your phone's holder. It also doubles as a phone stand when you're no longer driving.
Macally MCUPPER
P999
Those who don't take the drive-thru for a morning coffee run may have little use for their cup holders. Of course, that's aside from serving as your coin repository from parking and toll change. Those who don't drink non-alcoholic beverages and drive can reuse their cup holders as smartphone mounts.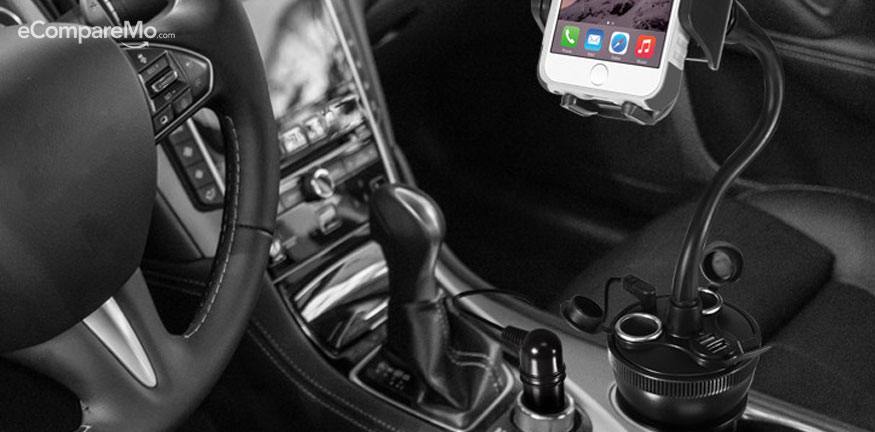 The Macally MCUPPER gives you a nice gadget mount and more. Aside from the 8-inch flexible neck capable of giving drivers 360-degree rotation of their phone, the MCUPPER also comes with a 21-Watt USB charger that draws power from the car lighter. You can charge two devices at the same time and allow you to navigate with ease. But remember, don't drink and drive.
Naztech MagBuddy
P1,656
Magnets, how do they work? Well, for Naztech MagBuddy, you just place the magnetic plate on your phone or case, mount the telescopic holder on your dashboard, and just let it stick. If it doesn't get simpler than that, we don't know anymore.
Unlike other phone mounts with a fixed length, the MagBuddy comes with a retractable arm that locks in place whatever length you choose. Combine that with a ball base and you'll get maximum view.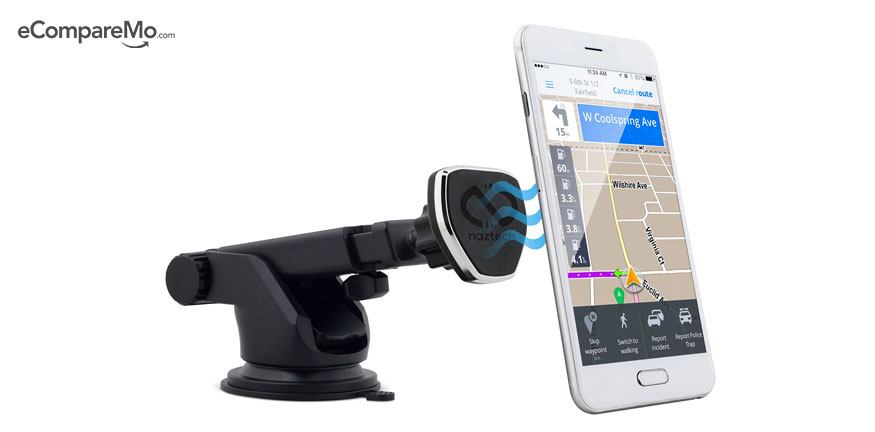 What makes magnetic mounts better than your usual phone holders is the absence of arms or brackets that can obstruct your phone's screen or prevent you from accessing certain commands on the edge of the screen. This gives you total control over your phone.
Black Box SM1000 Smart Rearview Mirror
Price unavailable
Dashcams are becoming a dime a dozen nowadays. They come in handy when you get into an accident and you need to make a claim to your car insurance provider. However, US-based dashcam maker Black Box took this a step further.
They probably asked: "What if we combine the rearview mirror, dashcam, Android device, and GPS navigator in one?" And the Black Box SM1000 was born.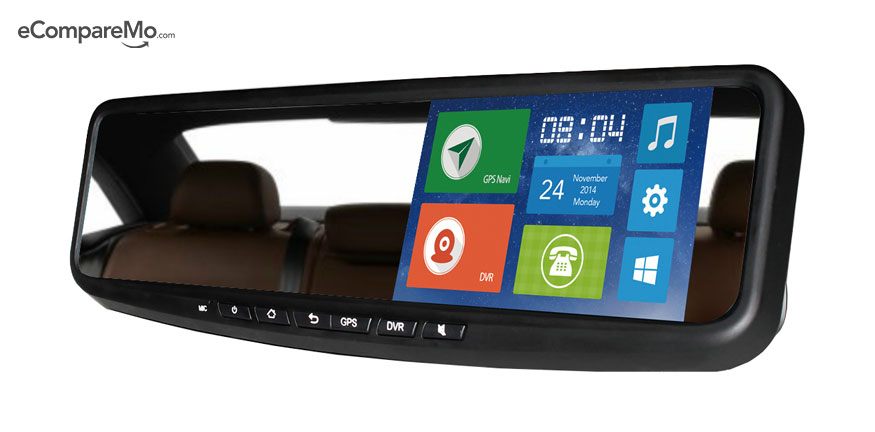 Built to replace your boring rearview mirror, the SM1000 is like your Android smartphone and your rearview reproduced. It is packed with an Android 4.4 system, GPS tracking, and full HD resolution
The OS will allow you to control the dashcam aspect, while you can load it with apps like Waze and Google Maps via 3G or Wi-Fi. Just set up a hotspot via your phone and hook the SM1000 in it and you're good to go. Just don't play games with it while driving.
2Din 6.5" Car DVD GPS player
P7,300
If you don't want to use your phone as a navigator for certain reasons, there's always the option of rigging your entertainment system and replacing it with something that does more than just play CDs.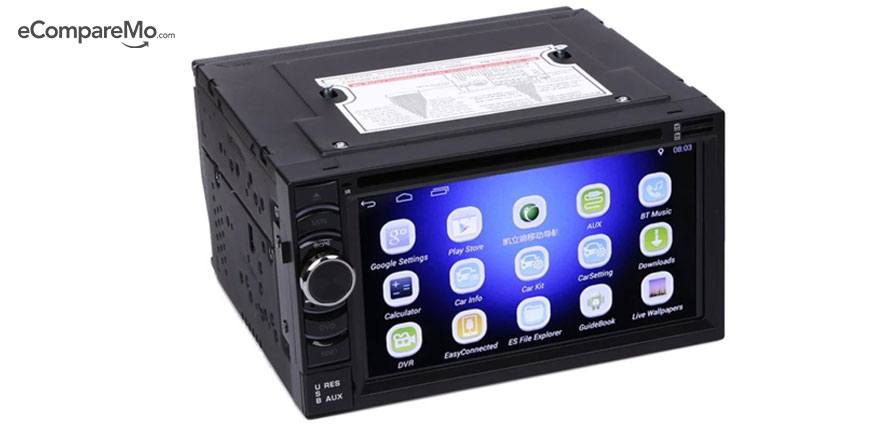 The 2Din entertainment CD may have a CD slot, but it does more than just that. Powered by an Android 4.4 OS, this all-in-one car device can be installed with apps you will need for navigation and more.
In addition, it is also pre-loaded with GPS maps in case the cell reception becomes poor. What sets this apart from other devices is that it is MirrorLink compatible, meaning you can connect your Android phone to your navi and perform a multitude of functions there.