5 Extreme Sports Activities Around The World For The Adventurous Tourist
6 min read
Travel is all about seeing new sights and experiencing new things.
While there's something to be said for leisurely strolls looking at natural and man-made landmarks, quiet meals of exotic foods, and museum tours, sometimes you need something a bit more extreme.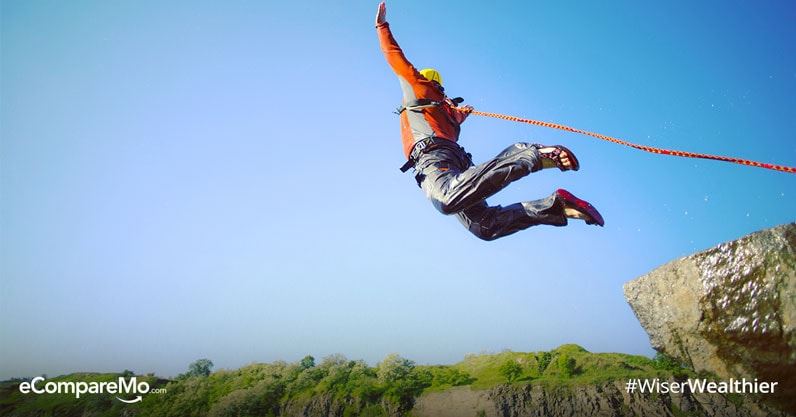 If you've always been an adrenaline junkie or are just thinking of making your trip into a real adventure, you might want to travel someplace where you can try out an extreme sport.
Surfing, parasailing, scuba diving, white water rafting, and skydiving are just a few of the popular extreme sports tourists love to try.
While those sports will surely get your adrenaline pumping, in this post, we're going to look at five extreme activities that are a little more off the beaten tourist path.
1. Bungee Jumping
Jumping off a ledge and free-falling toward the ground—trusting that a safety cord attached to the edge—will keep you from going splat.
During a bungee jump, you're usually jumping off a fixed object like a building or a bridge. It is also possible to jump off an airborne moving object like a helicopter or a hot-air balloon. The safety cord you are attached to stretches on the way down and, when it reaches maximum length, the recoil yanks you back up in the air.
If you want to try bungee jumping, you can travel to Macau, where the world's highest commercial jump point (233m) is found at the Macau Tower. You can also go to where it all began—New Zealand—where the Kawarau Gorge Suspension Bridge (43m) became the world's first commercial bungy jumping site in 1988.
You don't have to leave the country to jump into bungee jumping though. There's the Tree Top Adventure Park in Subic, where you can take the plunge off a 60-foot tree. There's also the Bungee Swing Plunge over at the Danao Adventure Park in Bohol, which drops you 45-meters over a canyon.
2. Sandboarding
Do you love taking to the curbs and grinding down the asphalt? Or is riding the perfect wave more your speed? Why not try a change of pace and of scenery by going sandboarding?
In sandboarding, your feet are strapped onto a board, like what snowboarders use. You then stand up and slide and glide down sand dunes.
Sandboarding is usually enjoyed in desert areas or along sandy coasts.  One good place to try is Lucky Bay, located around 30 km south of the town of Kalbarri in Perth, Australia. You can book sandboarding tours in the town and spend the whole day exploring the dunes.
Europe isn't really a continent known for sandy areas but, over in Hirschau, Germany is Monte Kaolino. This is an artificial sand dune made of 35,000,000 tons of sand. It serves as the site of the Sandboarding World Championship.
Over in the province of Ilocos Norte, sandboarding adventures draw both local and foreign tourists alike. There are two places to go sandboarding in the province, the La Paz Sand Dunes near the city of Laoag and the Paoay Sand Dunes.
3. Canyoneering
Canyoneering is an outdoor activity that combines trekking, climbing, rappelling, and swimming into one extremely adventurous day.
When you go canyoning, you explore mountain canyons—often alongside or in mountain streams and rivers—on foot.
In South Africa, canyoneering is called kloofing, and it's quite a popular outdoor activity around Cape Town. From the city, you have easy access to several canyons just a few hours' drive away including Suicide Gorge and the Nuy River Gorge. In France, they have the Verdon Gorge, considered one of the most beautiful river canyons in Europe, carved out by the turquoise-green Verdon River.
The Kawasan Falls in Cebu has become quite the popular canyoneering destination over the years. You follow the blue waters of the Kanlaob river through a series of small waterfalls and drops until you get to the main waterfall.
4. BASE Jumping
BASE Jumping is the shorter, but some say the more dangerous little brother of sky jumping. It also shares some elements with bungee jumping as your basically leaping off a ledge—except in BASE Jumping there is no safety cord.
The BASE in BASE Jumping is actually an acronym for the four types of structures that jumpers might take the leap from: B-uildings, A-ntennas, S-pans (bridges) and E-arth (cliff-tops).
In BASE Jumping, jumpers leap of the edge of a tall structure, going into freefall until the pull the cord of a parachute that helps them land safely on the ground.
Another variation of BASE Jumping involves the use of a wingsuit, a full body jumpsuit with webbing the stretches along the side of the suit from the hands to the legs. By spreading their limbs, the jumper is able to use the webbing as "wings" to glide through the air before deploying the parachute to go the rest of the way down.
BASE jumping is considered an extremely risky sport so you shouldn't attempt it without getting some instruction beforehand. Many structures that seem ideal for BASE Jumping also prohibit the sport there, so you need to look for a place where BASE Jumping is legal if you want to take the leap.
The Perrine Bridge, over in Twin Falls, Idaho, is the eight highest bridge in the United States. BASE Jumping is allowed year-round and the drop is about 486 feet high.
On the Island of Zakynthos in Greece, the Navagio Beach is a popular and legal spot for BASE Jumping. Jumpers jump from a 656-foot rock and land on the sand of the beach below.
Closer to home, another place to try BASE Jumping is the Dahilayan Adventure Park in Bukidnon. Their Skytower BASE Jump is an eight-story platform that allows jumpers to experience a freefall and guided descent of about 10 seconds. More than enough to get your adrenaline pumping.
5. Freediving
Scuba diving is a great way to experience life underwater. But if gliding around looking at fish isn't extreme enough to get your adrenaline pumping, try freediving.
In freediving, a diver descends underwater without the use of an oxygen tank and breathing apparatus. Basically, the diver takes a big gulp of air before taking the plunge and that one breath should be enough to see them descend and ascend.
The Red Sea in Egypt provides perfect freediving conditions all year round. You can dive into warm calm waters filled with corals and fish. The fishing village of Amed in Bali, Indonesia is the base of many freediving centers and a jump off point for many freediving spots where you can see shipwrecks and marine life.
The island of Coron in the province of Palawan has many freediving spots, one of the must-sees though is the Barracuda Lake.
This lake, surrounded by giant limestone walls, is made of both freshwater and saltwater. The waters are calm and clear, allowing free divers to go down quite deep even without the use of fins.
Lovers of marine life should definitely try Balicasag Island, a marine sanctuary in Bohol and Pintuyan in Southern Leyte where migrating whale sharks pass to feed.
No matter where your taste for adrenaline-pumping extreme adventure takes you, make sure you travel with the peace of mind that a good travel insurance policy can bring.
Malayan Travel Master insurance plans ensure that you are protected against small annoyances such as lost baggage and trip interruptions and cancellations. They also provide you with medical assistance both here and abroad and this extends to medical treatment and assistance for accidents that might have occurred during some extreme sports: Winter Sports, Trekking, Mountain Climbing, and Scuba Diving.