5 Best Credit Cards For Christmas Shopping
3 min read
The truth is that as adults, we're required to play the role of Santa, and we've got only got ourselves to ask for help. So why not make the most of your finances this holiday season by using choosing and using the right credit card?
Here are the five best credit cards to use for your Christmas shopping. Packed with rewards and deals, these credit cards will see you through this holiday season and beyond.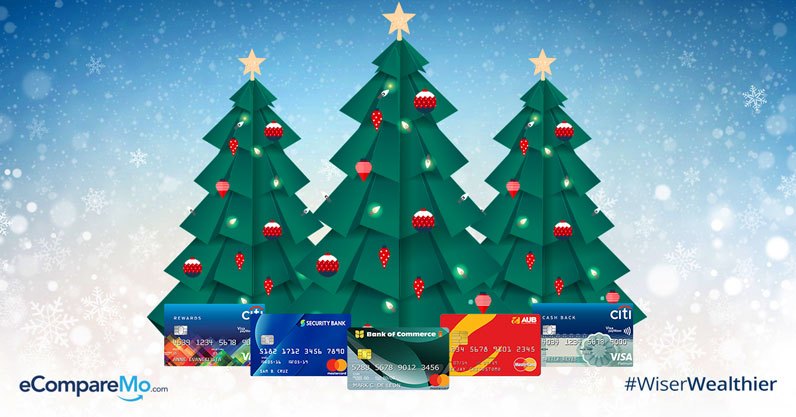 1. A credit card that's generous with cashback rewards
Citi Cash Back Card
Every purchase you make using the Citi Cash Back Card earns you a 0.20% rebate. Imagine using this on the busiest shopping season of the year.
You can save as much as P12,000 per year when you use it to pay for your purchases and utilities.
Aside from shopping, using this card will get you rebates for more practical purposes—like paying for groceries and your utilities. There's a special rebate of up to 6% when you use this card in supermarkets, and a 2% rebate when you pay your Meralco bill through Citibank Online or Citi One Bill.
Bonus? Gift-giving is extended by Citi when you apply now until February 28, 2019, and get P5000 worth of FREE eGift at UNIQLO.
(Read: Top Credit Card Promos For December 2018)
2. A credit card that's loaded with rewards
Citi Rewards
The Citi Rewards Card simply. well, rewards you for using it for shopping and more.
Every P30 spent earns you 1 rewards point, which you can exchange from a wide array of freebies, promos, and gifts.
Thinking of booking a Christmas trip? Well, the Citi Rewards Card also lets you use reward points to book Cebu Pacific flights and hotel accommodations.
Bonus? The free P5,000 UNIQLO eGift is open to all new Citi cardholders who apply online and use their card for the first time, until February 28, 2019.
3. A credit card that's loaded with features
 AUB Classic
We understand it can get hectic for you this month. That's why we recommend the AUB Classic credit card for those always on the go and would want to pay their card bills on their own terms.
Get this, you get to choose how many times in a month you're gonna pay. Say, once or twice a month, and yes, even weekly. You can then choose the payment date options that are most convenient for you. What's more, you can set the minimum monthly payment according to the frequency of payment you've chosen.
It doesn't end there, though. There's also 0% interest on purchases made after the billing statement cutoff. The minimum gross monthly income required to apply is only P21,000. Apply now!
(Read: Beat Inflation: How To Avoid Overspending This Holiday Season)
4. A credit card with zero-percent interest on installment
Bank of Commerce MasterCard Classic
Got some items you want to splurge on this Christmas? The Bank of Commerce Mastercard Classic lets you have worry-free payments with their 0% Installment option.
Go one-time big time on items that you've always wanted to buy, but don't want to pay in for full just yet. The 0% Installment Plus is payable with 3, 6, 12, 18, 24, and up to 36 months. This is available among Bank of Commerce partner merchants.
The Bank of Commerce also rewards their cardholders for shopping with points that can be exchanged for a wide array of merchandise. Every P25 spent with your Bank of Commerce Mastercard Credit Card earns you a reward point.
You can get 5x more points earned for dining and shopping. The minimum monthly gross income requirement is only P21,000.
5. A credit card that provides consumer security
Security Bank Mastercard Classic
By far one of the easiest and fastest banks to apply for a credit card, Security Bank also ensures that both first-time and long-term credit card holders will have the utmost security. And as described on their website, the Security Bank Mastercard Classic is the one that's right for first-time cardholders.
It offers one rewards point for every P20 spent. These points are non-expiring, and can be used to exchange from Security Bank's list of freebies or merchandise. And for your own peace of mind, there's the Mastercard eSecure that brings another layer of verification when you're shopping online.
Bonus? The first year annual membership fee is already waived for all Security Bank Mastercard Classic cardholders.
The minimum monthly gross income is only at P15,000.