10 Essential Noche Buena Food Items And Their Prices
2 min read
December has already arrived, and the festive air is everywhere.  Aside from holiday shopping for fashion and gadgets, every Filipino is also anticipating filling up on their Noche Buena food favorites. Many are already starting to list down the ingredients and planning trips to the grocery store.
To help budget their Christmas grocery expenses, consumers can check the Department of Trade and Industry's e-Presyo, an online price monitoring system that contains a breakdown of both basic and season commodities.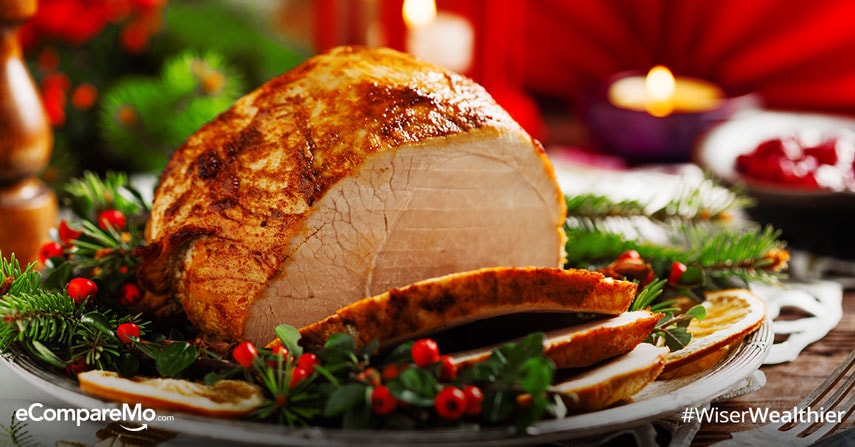 While there are enticing Christmas baskets and grocery bundles, here are the suggested retail prices of some Noche Buena essentials as per DTI's mandate.
1. Ham (1 kilogram)
| brand / variant | Suggested Retail Price |
| --- | --- |
| Swift Jamon de Bola | P345 |
| Frabelle Jamon de Bola | P320 |
| Purefoods Jamon de Bola | P315 |
| King Sue Sweet Ham, Cooked | P430.50 |
(Read: Noche Buena, Medianoche Hacks For Your Holiday Binge Eating)
2. Keso De Bola  (500 grams)
| brand / variant | Suggested Retail Price |
| --- | --- |
| Ques – O De Bola | P247.50 |
| Che – Vital Cheese Balls | P258.25 |
| Danes Cheese Ball | P269 |
| Magnolia Queso De Bola | P304 |
| Magnolia Gold Edam Cheeseball | P410 |
3. Elbow and salad macaroni (1 kilogram)
| brand / variant | Suggested Retail Price |
| --- | --- |
| Sunshine Elbow and Salad Macaroni | P68.25 |
| Amigo Segurado Elbow Macaroni | P69 |
| Fiesta Elbow and Salad Macaroni | P69 |
| Ideal Gourmet Elbow and Salad Macaroni | P84.90 |
| Royal Elbow and Salad Macaroni | P88 |
| Del Monte Elbow and Salad Macaroni | P91.80 |
| La Filipina Elbow Macaroni | P93.45 |
4. Spaghetti sauce (1 kilogram)
| brand / variant | Suggested Retail Price |
| --- | --- |
| Hunt's Spaghetti Sauce Pinoy Party Style | P64.50 |
| UFC Spaghetti Sauce – Supermarket | P64.50 |
| Amigo Segurado – Sweet Blend Style and Italian Style | P68 |
| Clara Ole – Filipino Style | P69.75 |
| Del Monte Spaghetti – Filipino Style | P73.40 |
| Royal Sweet Spaghetti Sauce | P68 |
5. Tomato sauce (1 kilogram)
| brand / variant | Suggested Retail Price |
| --- | --- |
| UFC Tomato Sauce – Supermarket | P60.80 |
| Clara Ole Tomato Sauce | P61.75 |
| Amigo Segurado Tomato Sauce | P62 |
| Hunt's Tomato Sauce | P62.50 |
| Del Monte Tomato Sauce – Filipino Style | P65.50 |
6. Pasta (1 Kilogram)
| brand / variant | Suggested Retail Price |
| --- | --- |
| Sunshine Spaghetti | P56.25 |
| El Real Spaghetti | P57 |
| La Filipina Spaghetti | P87.10 |
| Ideal Gourmet Spaghetti | P88 |
7. Fruit Cocktail
| brand / variant | Suggested Retail Price |
| --- | --- |
| Seasons Tropical Fruit Cocktail (822 g) | P181.10 |
| Dole Tropical Fruit Cocktail (822 g) | P71.50 |
| Today's Mixed Fruits (836 g) | P68.10 |
| Del Monte Fiesta in Extra Light Syrup (836 g) | P69.45 |
(Read: Outsmart Supermarkets: Grocery Cost-Cutting Guide)
8. Mayonnaise (470 grams)
| brand / variant | Suggested Retail Price |
| --- | --- |
| Best Food Regular Mayonnaise Mayo Magic (Pouch) | P90.50 |
| Best Food Regular Mayonnaise Mayo Magic (Bottle) | P101.50 |
| Lady's Choice Regular Mayonnaise (Pouch) | P152 |
| Eden Mayo | P164 |
| Best Food Regular Mayonnaise (Bottle) | P178.50 |
| Lady's Choice Regular Mayonnaise (Bottle) | P170 |
9. Sandwich spread (220 milligrams)
| brand / variant | Suggested Retail Price |
| --- | --- |
| Best Food Sandwich Spread (Pouch) | P50 |
| Best Food Sandwich Spread (Bottle) | P57 |
| Eden Sandwich Spread (Stand-up Pouch) | P59.85 |
| Lady's Choice Sandwich Spread (Pouch) | P63.50 |
| Eden Sandwich Spread | P67 |
| Lady's Choice Sandwich Spread (Bottle) | P72.50 |
| Lady's Choice Sandwich Spread Chicken, Ham (Pouch) | P86 |
| Lady's Choice Sandwich Spread Chicken, Ham, Tuna, Bacon (Bottle) | P95 |
10. Creamer 
| brand / variant | Unit | Suggested Retail Price |
| --- | --- | --- |
| Alaska Crema | 250ml | P43 |
| Nestle All Purpose Cream | 250ml | P52 |
| Nestle Thick Cream | 300g | P69 |
| Angel Krem Queso | 370ml | P55 |
| Angel Kremdensada | 410ml | P46.50 |