10 Best Beach Houses Near Manila Perfect For A Quick Group Getaway
6 min read
Planning a successful beach getaway for big groups takes a lot effort—and accommodations with a lot of space. That's why large families and barkadas would prefer staying at beach houses in Batangas or villas near the Metro.
Renting a private beach house or villa ensures a comfortable and accessible stay. There's plenty of rooms, complete amenities, and a proper dining area to cook and eat together.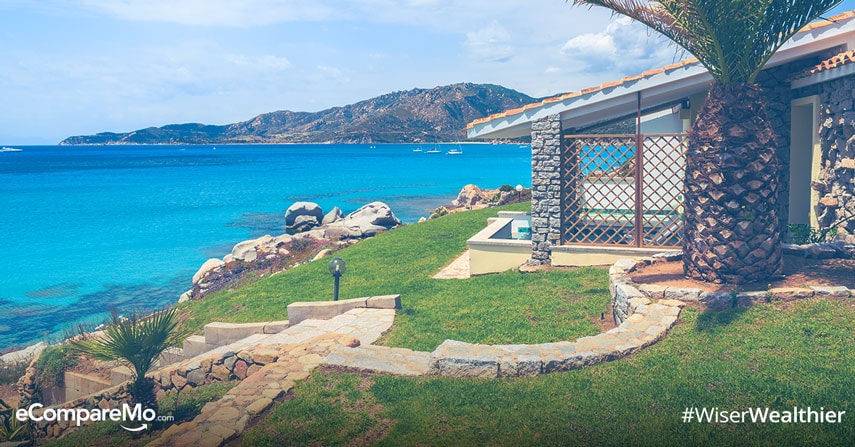 In this post, we've compiled the best beach houses for rent in Batangas and other locations near Manila, so you won't have to. Among them are Subic, Bataan, Quezon, La Union, and Ilocos.
See which ones of these summer destinations will fit your size. Book them quick. The slots run out fast!
1. Villa Beata in Calatagan, Batangas
Villa Beata is a four-bedroom house that accommodates twelve (12) guests and has a surrounding balcony overlooking the ocean and mountain scenery. Complete with comfortable couches, six beds, a beautiful garden, and an infinity pool, this beach house in Calatagan, Batangas truly provides a classy and comfortable accommodation for big groups. And if that's not enough, they also have free breakfast for guests.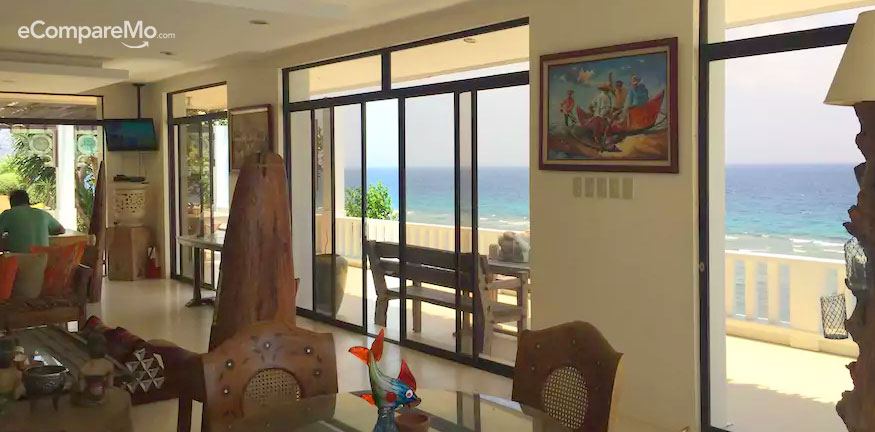 This house is listed on AirBnB.
Amenities

Bed and breakfast overlooking Calatagan beach and mountain view.
6 beds, and 6 bath
Accommodates 12 guests, with P800 charge for additional guests

Rate
2. Stilts in Calatagan, Batangas
Stilts in Calatagan is one of the more popular resorts in Batangas, with villas reminiscent of the over the water bungalows of the Maldives. The private villas are separated by wooden bridges and surrounded by the water.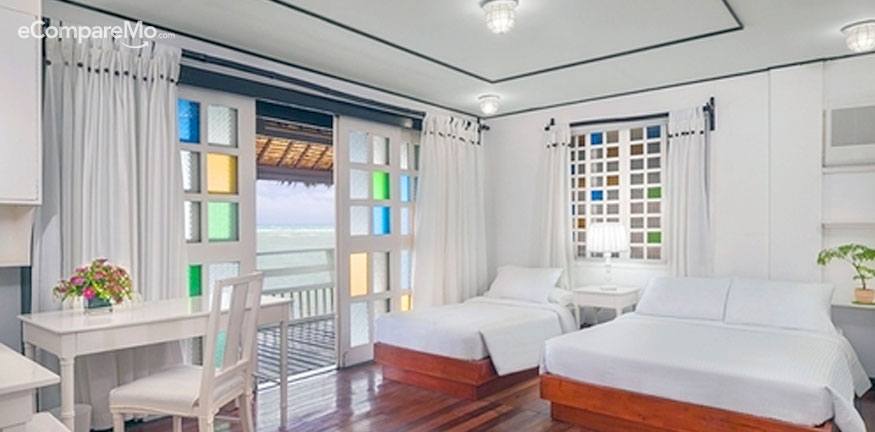 Feel like a swim? Jump right into the water from your room. There's also a long stretch of nearby shoreline for sports or team building activities. Other amenities offered by the resort are a garden, tree houses, and a garden restaurant with the view of the beach.
Stilts has its own website. You can search for them and book online.
Activities

Massage and Spa
Boat adventures, P1000 per hour for Medium Banca – 5 guests,

and P1600 per hour Large Banca – 8 guests

 Snorkeling with masks and fins at P200 per trip
Paddle Board P300
Speed Boat P1500 per hour for 3 guests

and P2500 per hour for up to 5 guests

Single Kayak – P250 per hour, Double Kayak P350 per hour
Pedal Boat P400 per hour
Floating Island P350 per hour up to 4 persons
Banana Boat P375 per person, per session

Rate

Starts at P9400 per night for 3 persons on peak season, up to P18800 per night for 7 persons on peak season
3. Casa Monk in Nasugbu, Batangas
Nasugbu is a favorite tourist destination in Batangas. Maybe you've already been here a couple of times. Well, it's about time to take that vacation experience up a notch. Book that grand vacation at Casa Monk, Nasugbu with your big family or group of friends.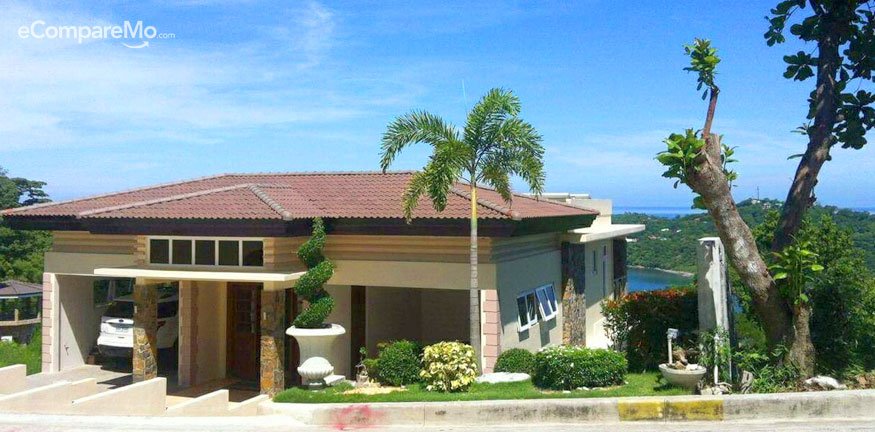 Located inside the Terrazas De Punta Fuego Subdivision, this four-story, 714 square meter house has a majestic view of the ocean. You can enjoy this view from the balcony or the infinity pool. Not convinced? Check out the photos and satisfied guests' rave reviews on the Casa Monk AirBnB page.
Amenities

4 bedrooms with en-suite bathrooms, 4 beds, up to 15 guests
Modern kitchen
Bar entertainment area with the view of infinity pool out front
Sauna and steam room
Grilling area
Bose surround system speakers
Karaoke – Magic Sing provided, strictly until 10 PM only
Secured Parking space
Shuttle van services – NAIA to Casa Monk round trip

Rate

P26,007 per night, up to 15 guests
4. Stonehouse Villa in Candelaria, Zambales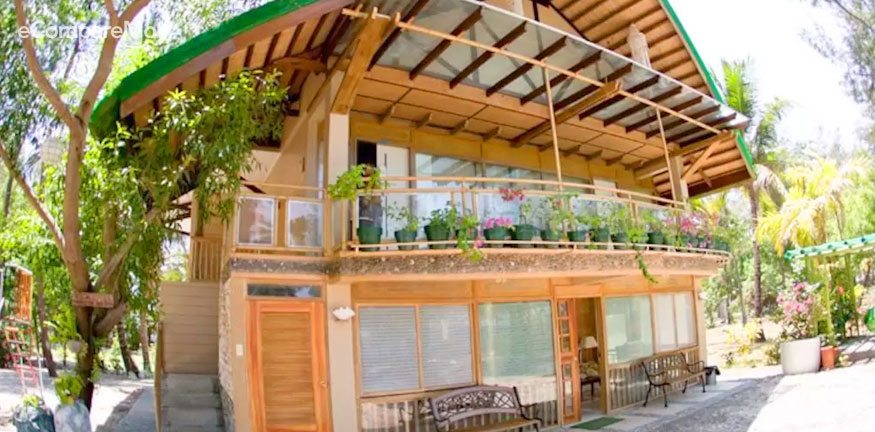 Located at Potipot Gateway Resort, this one-bedroom villa combines its homey interior with modern furniture and a beachfront balcony.  Take a closer look at the villa by searching for it's Air BnB page.
Amenities

1 bedroom
Washer
Free Wi-Fi
Free parking within

Potipot Gateway Resort premises

Swimming Pool
Cable TV
Modern Kitchen
300-thread count bed linens

Rate

P10,000 minimum of five persons
5. Private Beach House in San Bernardino in Subic, Zambales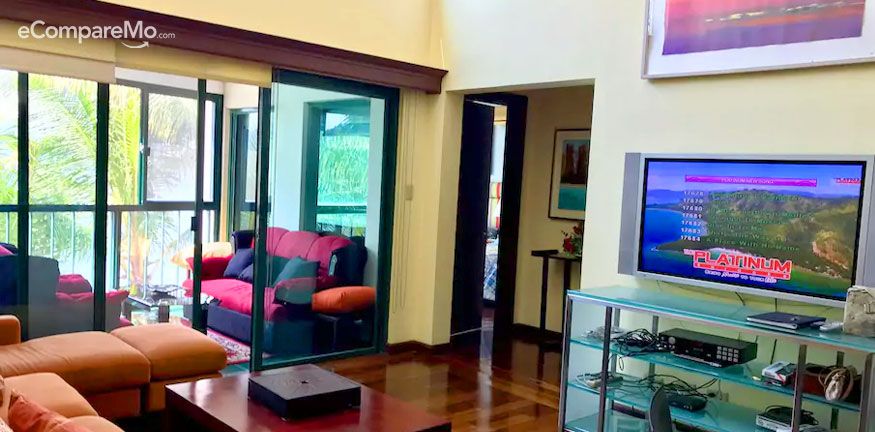 Located in Triboa Bay, San Bernardino at the Subic Bay Freeport Zone, this private three-bedroom house is located in front of the private beach. It is also easily accessible to tourist destinations such as Ocean Adventure, Zoobic Safari, and restaurants around the area. Check out the house and book it on Air BnB.
Amenities

Kitchen
Cable TV
Free parking on premises
Day tour assistance
Air conditioning

Rate

P10,506 per night, up to 14 guests
6. The Nook in Morong, Bataan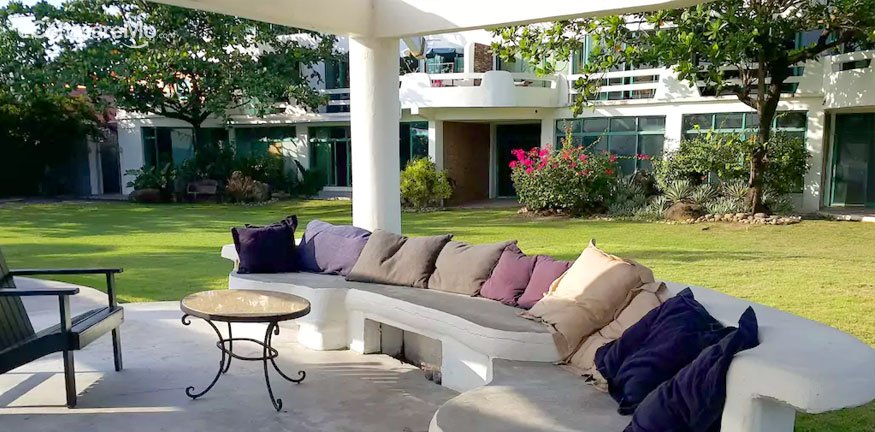 Aptly named The Nook with its cozy apartment style house fronting the beach, it can house up to ten guests. Have a relaxing and homey vacation with its three bedrooms, eight beds, three baths, and a high ceiling dining area and fully functional modern kitchen. Lounge at their huge beachfront garden, which claims to have one of the best sunset spots. Check out the Nooks page on Air BnB.
Amenities

3 bedrooms, up to 10 – 15 guests
Garden space and gazebo can accommodate events
Free Wi-Fi at the garden area
Essentials such as towels, shampoo, and hair dryer are provided
Free parking on premises
A laptop friendly workspace

Rate
7. Beachfront House in Baler, Quezon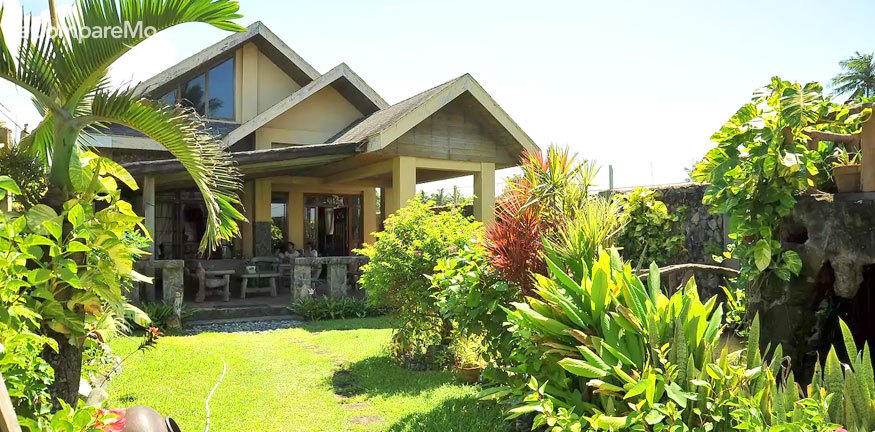 Surfing was first introduced in the Philippines when the 1979 Francis Ford Coppola movie Apocalypse Now was shot in Charlie's Point, Baler. Thanks to the film crew who left their surfboards, Baler locals learned to ride the waves. Fast forward to today and surfing has become a favorite watersport in the country, with Sabang Beach in Baler being one of the most famous surfing destinations in the country.
If you want to travel in Baler with a big group, one place to consider is the conveniently located Sabang Beach House. It has a swimming pool, a garden, and a rustic interior that compliments the laid-back beach vibe in Baler. Check it out on Air BnB.
Amenities

 4 bedrooms, up to 10 – 15 guests
6 beds, 3 baths
A swimming pool
Free Wi-Fi
Free parking at the guest house empty lot area
Fully functional kitchen
Karaoke machine
Cable TV
Laptop friendly workspace
Shampoo, towels, and hangers are provided

Rate

P11,484 per night, and P300 per night for each additional guest
8.
180-Degree View by Eugene's Place

 in Baler, Quezon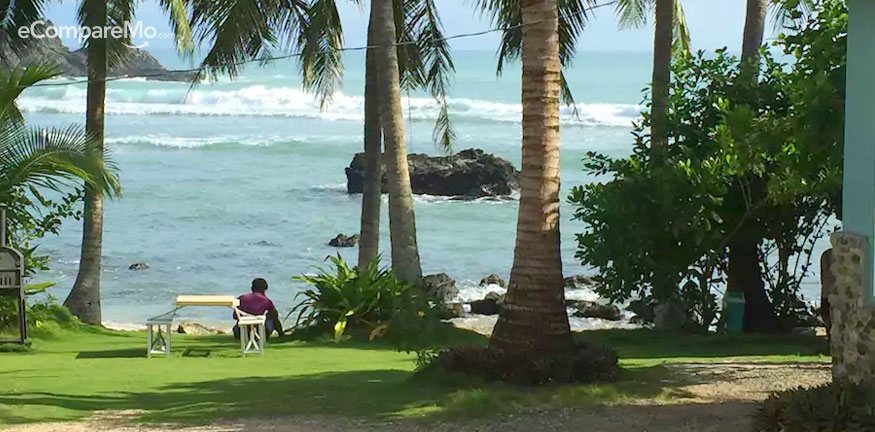 If you are not into surfing, Baler is still a great place to rent a beach house. Baler can be enjoyed by just chilling by the beach and spending a quiet night in with friends at a really comfortable place. And this Baler experience is sure to get an upgrade at Eugene's Place.
This two-story Italian-inspired glass house has a 180-degree view of the beach. Enjoy your peaceful and relaxing stay at the beach when you check in here via Air BnB.
Amenities

2 bedrooms, 4 beds, up to 6 guests
2 baths with heated shower
2 verandas
Located in front of Sabang beach
Fully functional kitchen

Rate

P2,510 night, up to 6 guests
9. Stunning Beach House near Vigan, Ilocos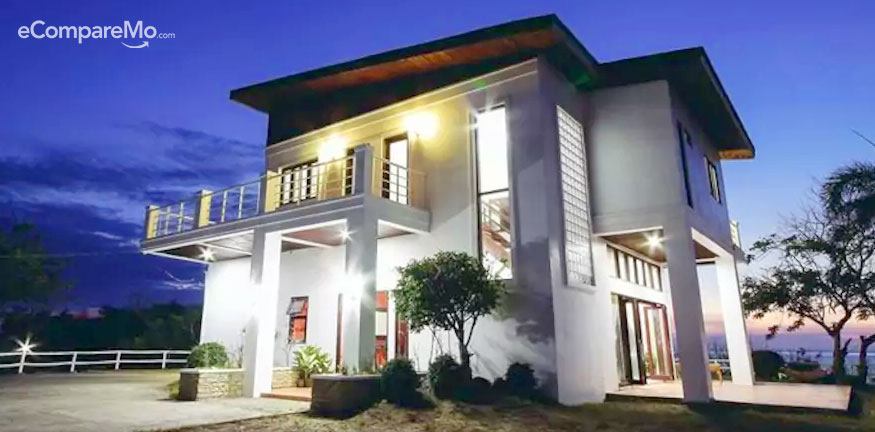 Vigan is also one favorite travel spot near Manila. And if you're looking for a beach house in Ilocos, this beautiful beach house is located in front of a secluded beach in Santo Domingo, Vigan. It can accommodate up to fifteen guests who can enjoy the private beach all to themselves. Check them out in Air BnB.
Amenities

4 bedrooms, 10 beds, up to 15 guest
2.5 baths
Free Wi-Fi
Fully functional kitchen
Free parking on premises

Rate

P6,966 per night, up to 15 guests
10. Greenhouse – Elias' Room in San Juan, La Union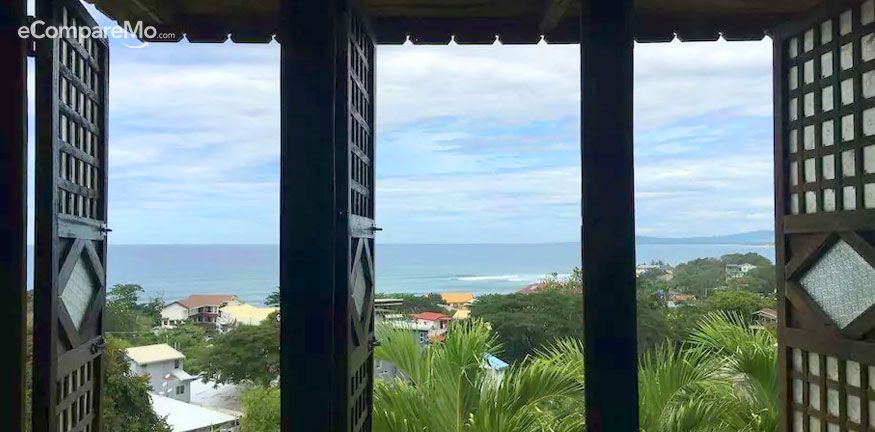 Hailed as the surfing capital of the north, San Juan, La Union has lots of commercial establishments and a lively nightlife in the surfing area. But for groups wanting to have their own private hideaway, there's Greenhouse beach house located right at the San Juan surf beach. It is located uphill with an overlooking view of the beach, and a cozy rustic interior to match the beauty of the place. You can easily see if the waves are good for surfing from the common living room.
Check out the house on Air BnB.
Amenities

1 bedroom, 3 beds
Shared living room
Common grilling area

Rate

P3,022 per night, up to 6 guests