'WILD' Diseases: DOH Advises The Public To Take Precautions Against Leptospirosis, Dengue, Et Al.
3 min read
The coming of the rainy season in 2018 has also brought an outbreak of leptospirosis to Metro Manila.
Leptospirosis is a disease transmitted by contact with the urine of some animals. Rats are known to be the most common animal capable of transmitting leptospirosis through its urine.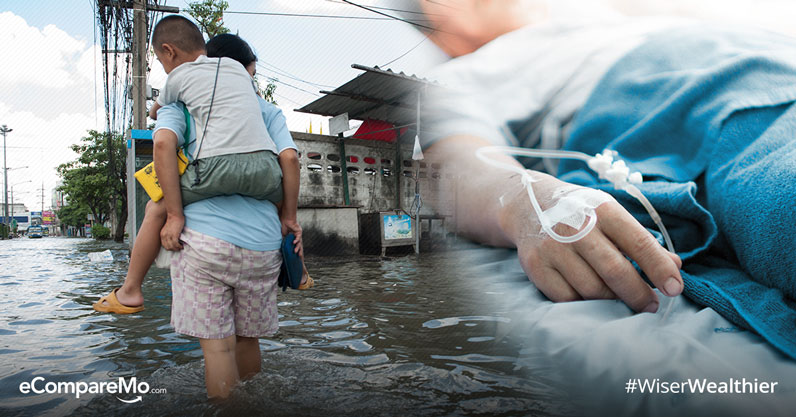 Leptospirosis cases are usually recorded during the rainy season when street floods force people to wade in the dirty water.
Symptoms include a high fever, headache, abdominal pain, vomiting, chills, and reddening of the eyes. The Manila outbreak was confirmed by Health Secretary Franisco Duque to CNN Philippines yesterday (July 6).
Since January 1 to July 3 of this year, a total of 363 cases and 52 deaths due to leptospirosis occurred in Metro Manila. Just this past month, the reported cases were 38 percent higher than the reported average of the previous years.
According to the DOH figures, the following are areas affected by leptospirosis:
City
Barangay

Malabon

Concepcion

Mandaluyong

Addition Hills

Navotas

North Bay Boulevard

Pasig

Pinagbuhatan

Paranaque




 

BF Homes

San Dionisio

Quezon City




 




 




 




 




 




 

Bagong Silangan

Batasan Hills

Commonwealth

Novaliches Proper

Payatas

Pinyahan

Vasra

Taguig




 




 




 

Lower Bicutan

Maharlika Village

Signal Village

Western Bicutan
Between the period of June 10 and July 2, a total of 40 cases were reported in Quezon City. Batasan Hills and Commonwealth had the highest concentration with nine and seven, respectively.
Taguig reported the second highest number of cases with 16. Five of these cases were in Lower Bicutan.
In Malabon, Mandaluyong, Navotas, and Paranaque, each of the affected barangay reported 3 cases each. Pasig reported 4 cases in one barangay.
Nationwide, the DOH has recorded 1,030 leptospirosis cases for the period of January up to June 9. 99 people who contracted leptospirosis died.
What can be done?
Duque has urged local governments to conduct an information campaign on the disease. He is also urging the public to see a doctor after they wade into floodwaters.
Local governments also need to take steps to improve flood control in their areas, ensure proper garbage collection, and control the rat population in order to stem the rise of Leptospirosis in their area. Both the World Health Organization (WHO) and the DOH recommend avoiding contact with floodwater to avoid catching leptospirosis.
If you do need to venture out during a flood, its recommended that you wear boots, gloves, and masks. You should also wash and shower as soon as possible.
The symptoms of leptospirosis can appear anytime within a two- to 30-day period. The infected usually start showing signs around five to 14 days.
Early identification is key to treating leptospirosis. If unidentified and untreated, leptospirosis can lead to liver and kidney failure as well as meningitis.
Wet and 'wild' rainy season diseases
Leptospirosis is one of the W.I.L.D. diseases that the DOH cautions the public about every rainy season.
W.I.L.D. is an acronym that stands for the following:
Waterborne diseases (diarrhea, gastroenteritis, typhoid fever, cholera, hepatitis A and other diseases contracted by ingesting contaminated water and food)
Influenza
Leptospirosis
Dengue
Keeping an area clean and flood-free are important to avoiding waterborne diseases and leptospirosis. It's also important, after the floodwaters have receded, to conduct search-and-destroy missions to ensure that there are no standing pools of stagnant water where dengue mosquitos can breed.
Being aware of the symptoms of W.I.L.D. diseases is important. So is seeking treatment. But the most important thing to remember is that these diseases are preventable.
Be aware of the weather and take precautions to protect yourself from the rain, wind, floodwaters, and mosquitos.
Sources:
https://weatherph.org/weatherwiser-rainy-season-diseases/
http://newsinfo.inquirer.net/910699/doh-rainy-season-advisory-dont-go-wild