'Build, Build, Build' Projects To Earn P31 Trillion And Generate Over A Million Jobs
3 min read
The fruits of the government's Build, Build, Build project will lead to over a million jobs and generate P31 trillion for the country's coffers.
During a press briefing on Wednesday (June 27), the National Economic and Development authority (NEDA) released updates on the government's infrastructure projects.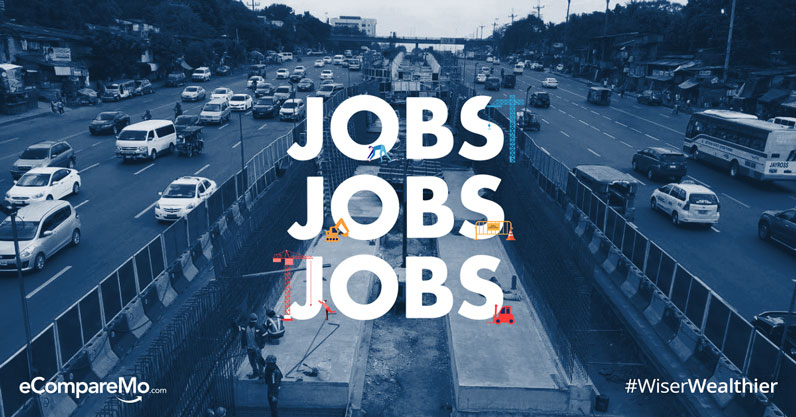 Currently, 35 projects worth P1.2 trillion have been approved by the NEDA board. Another 33 projects, amounting to P628 billion, are awaiting approval. There are also an additional seven projects in the pipeline but these are not subject to NEDA approval.
All in all, these projects amount to a P10.6-trillion investment in infrastructure that is expected to return threefold to the tune of P31 trillion.
The implementation of these 75 projects is a target set and met by the current administration, said NEDA Assistant Secretary Jonathan Uy.
"About 32 of the 75 will be completed by 2022," said Uy.
The projects to be completed include:
Clark International Airport Expansion Project
Subic-Clark Railway Project
New Cebu International Container Port
PNR South Commuter Line (from Tutuban to Los Banos)
PNR South Long-Haul (from Manila-Bicol)
MRT-LRT Common Station
Metro Manila BRT Line 1 (on Quezon Avenue)
Metro Manila BRT Line 2 (on EDSA/Central)
Mindanao Railway Project Phase 1-Tagum-Davao-Digos Segment
Bonifacio Global City to Ortigas Center Road Link
Binondo Intramuros Bridge
Estrella-Pantaleon Bridge
Panguil Bay Bridge
More construction projects = More jobs
The projects under the Build, Build Build program are also expected to generate some 1.1 million jobs annually.
"This is the multiplier effect," explained Uy. "Contractors will also subcontract and there are also peripheral industries in construction sites."
According to the April 2018 Labor Force Survey, it is the construction sector that has indeed employed the most workers from the past year.
The number of Filipinos employed in construction rose from 3.55 million to 4.02 million. According to Dominique Tutay, the director of the Bureau of Local Employment, the increase in construction jobs is attributable to the Build, Build, Build project.
She elaborated that government infrastructure projects are usually a driver of employment grown in the construction sector. But she also noted that private sector initiatives also contributed to the increase in construction jobs.
No 'Chinese debt trap,' says NEDA
Meanwhile, Socioeconomic Planning Secretary Ernesto M. Pernia dismissed fears about the negative effects of the administration's alleged habit of borrowing from China.
"Given the various experiences of other countries that dealt with China, we are now even more cautious, extra careful in having projects funded by China," he said.
According to Pernia, there is only one project that has currently been signed for funding with China. This is a P3.135-billion loan agreement for the Chico River Pump Irrigation project. The loan will cover 85 percent of the estimated P3.689 billion project.
The project is to be implemented by the National Irrigation Administration and will cost a total of P4.472 billion.
"Our China loans, they're basically lending financing," elaborated NEDA Undersecratary Roland G. Tungpalan.
"The contractors are simply contractors, so if you have a port or a bridge that is financed by China, and if there's a failure, the government simply takes on the property. It's not going to the Chinese financers."
The Department of Finance (DOF) has released a statement stating that the following projects were being pitched to China-based AIIB for financing support: the Metro Manila Bus Rapid Transit System Phase 3 ( from BGC to NAIA); the Pasacao-Balatan Tourism Coastal Highway; and the Camarines Sur Expressway Project.
Sources:
https://www.rappler.com/business/205941-philippines-infrastructure-program-return-investment-neda
http://www.gmanetwork.com/news/money/economy/658427/gov-t-targets-to-complete-32-flagship-infra-projects-by-2022/story/