Why Your Travel Insurance Claim Is Denied
2 min read
You may have heard of horror stories surrounding denied travel insurance claims. These could happen for a variety of reasons: from technicalities to lack of education on coverages.
How do you avoid all the hassle? Most of these travel insurance cancellation reasons often result from not reading the fine print. Get to know your travel insurance coverage by reading through the terms and conditions, and ask your insurance agent for more details.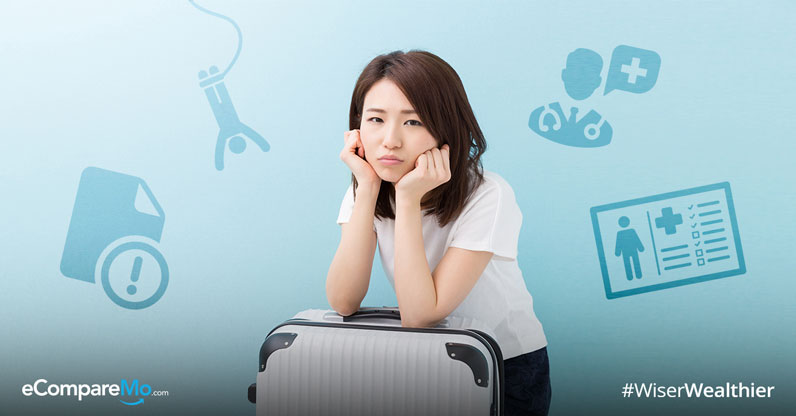 Here are five travel insurance claim tips so you avoid every possible mishap, and know what to prepare when filing claims.
1. Incomplete documents
No matter which country you're in, always ask the medical facility of every proof of transaction you've had with them. Be informed of your travel insurance's claim time limit when submitting your documents.
To get your reimbursements for medical insurance, get the full contact details of the doctors who tended you as well as receipts for every transaction. You should also be aware of the maximum benefit limit (MBL) of every coverage your insurance has. This is how you'll get an estimate of how much you'll be getting after collecting all the paperwork and calculating the total medical expenses incurred.
2. Your medical history
Does your travel insurance come with pre-existing conditions coverage? If not, emergencies related to your conditions will not be covered by your insurer.
If you failed to declare pre-existing conditions and a medical emergency happened during your trip, your claim is void and all your expenses won't be reimbursed.
Ask your insurance agent if this is covered. You won't even have to worry about prices so much as there's already a lot of affordable and comprehensive travel insurance to choose from.
3. Not listening to your doctor's advice
Some people will still go on with the trip agains doctor's orders. Any type of medical expenses incurred for going against medical advice will be tagged as void.
Your insurance provider will learn about it, too, so there's really no point risking it all when your life and finances are on the line.
4. Playing extreme sports
Adventure sports enthusiasts already know that they need a specialized travel insurance that cover the things that come with it: specific injuries and medical expenses for their adrenaline-filled activities.
Amateur or inexperienced people who dabble into extreme sports and get injured in the process will most likely not get reimbursements, due to the limited coverage in their travel insurance.
For these types of activities, always ask your provider for the specific coverage you want to get. It might, however, come at a higher price, but your peace of mind and security sure are sure worth it.
5. Gadgets
Most travel insurance only cover loss of baggage and travel documents. Loss of specific gadgets is usually covered by a higher type of insurance package.
There are also special gadget travel insurances you can get on top of the regular coverage, if you're traveling with expensive electronic gadgets.