Why Nothing Should Stop You From Doing Anything
6 min read
Meet Jessica Cox, motivational speaker, author, and Guinness World Record holder for being the first licensed armless pilot. She travels the world to share her story and inspire other people to "think outside the shoe."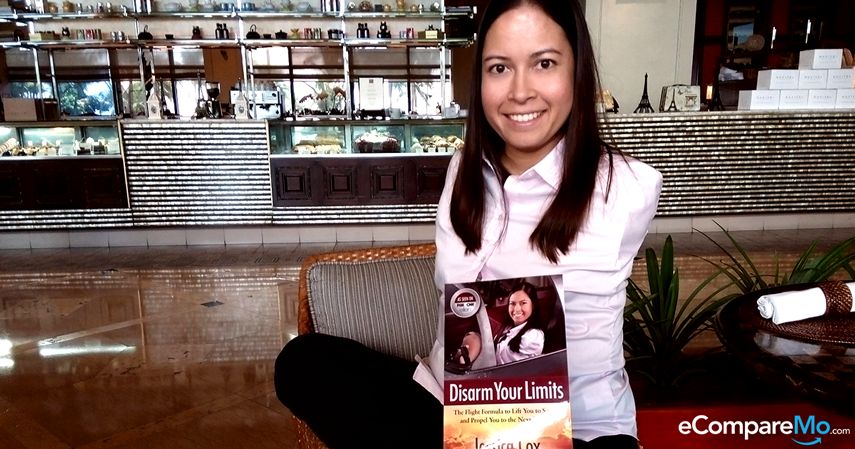 During times you feel like giving up or incapacitated to accomplish your goals, bear in mind that Jessica Cox—who was born without arms due to a rare birth defect—can do the following things:
-Tie and put on her shoes
-Pour beverage on a wine glass
-Drink from the glass
-Surf waves
-Knock out someone at taekwondo
-Drive a car
-Fly a plane
-Write a book about her life
…all using just her feet.
The 33-year-old Fil-Am motivational speaker from Arizona recently came to the Philippines for a talk at the World Trade Center in Manila. She is scheduled for another one in Cebu in March 2016.
"There's no better place that embraces my story than here in my mother's homeland," she tells eCompareMo.com. "This is where my roots are. Though I was born in the US, I'm very much Filipino, and I'm also a dual citizen."
Jessica's mother hails from Mercedes, Eastern Samar. She reveals it's from her that she got her strength and willingness to fight for everything.
Her favorite Tagalog line, "Kung gusto, may paraan. Kung ayaw, may dahilan" resonates with her own saying: "Think outside the shoe." "That's my message: that you can find a way to accomplish your goal by being creative," she explains.
Getting motivational
Jessica got her first chance to do a motivational talk on her sophomore year in high school.
"I was invited to speak to a group of primary school students and they asked me to give a message," she says. "They were underprivileged children, financially. I didn't know what I was doing, I was just sharing my life. But so many of them were inspired, and that was my first feeling of what it was like to deliver a message and share a part of myself with them."
That pushed her to pursue doing motivational talks as a profession, but that happened much later.
It started in 2005, when one retired pilot was so inspired by Jessica that he sent an email about her story to 200 of his friends. It went viral and got translated to many languages. People from all over the world started reaching out to Jessica and sent her emails, showing appreciation on how she had touched them.
"One of the people who emailed me was someone from India, who at one point in time felt suicidal," she relates. "He was so inspired by it and he didn't want to give up. That was the most moving email I've received from thousands of miles away."
"It was then I decided I wanted to do the speaking business full time. And now it's been over 10 years."
Learning to fly
It was also the same year where her career as a pilot took off.
Using her left foot on the throttle and right foot on the yoke, she learned to fly an ERCO Ercoupe, a type of a low-wing light aircraft, without any modifications. "It was my greatest fear to fly, and I wanted to overcome the fear and become a pilot," she admits. "I was set to doing it. It took me 80 hours of training, three years, three different states in the US, four different flight instructors, and four different airplanes. It was all trial and error."
Of all the talents she has and the skills she has learned, she finds flying an airplane the hardest. "[It's] the physical act of it. Also, it requires an emotional component because you're overcoming the fear of flying. It's very involved when you fly an airplane."
Jessica became a licensed pilot in Tucson, Arizona, where she grew up.
Independent woman
Just as much as she was independent physically, she also found a way to become financially independent. "For me it was about finding out what I wanted to do for a career," she says. "I've always been independent. Whether it's financially, physically, or socially, I like independence. And so financial independence is just another thing for me to be able to be my own CEO and handle my own business."
She adds: "I had a small job as a secretary [after college], and then I decided I wanted to do the speaking business full time."
When people with disabilities ask her how she gets through the difficult days, and how she has enough desire to want to do something, she tells them: "It's just something everyone has. It's just you haven't tapped into it. If you want it enough, you can make it happen, and if you don't want it, it's not going to happen. As simple as that."
It hadn't always been that way, though. Jessica reveals that as a child, she felt angry too about being different. "With that anger and frustration, I decided that through the support of my mother and father, who told me that God has a plan," she explains. "So every day I think it was just thinking about being positive. My mom had me do every activity. It was my way of building confidence."
'Disarm Your Limits'
People would always ask Jessica if she had a book, and it was only in 2015 that she completed Disarm Your Limits—a motivational, self-help book that delivers her formulas in overcoming fear, being persistent, and becoming your true and authentic self. One particular formula that Jessica shares is her persistence and having a clear vision of her goals.
She recalls: "I've always wanted the black belt, and then recently in the last two years, my vision was to be the State Champion of Taekwondo. On the back of the uniform, it said 'State Champion'—and I envisioned what my uniform would look like if I were the state champion."
True enough, a year later, she became the state champion. "I wanted that so much," she stresses. "If you want something, you need to have the desire, the vision, and persistence. Also, you need a set timeline of the small goals or steps to get to where you want to be."
Jessica became the first armless black-belt in the American Taekwondo Association. She also holds the Guinness World Record for being the first armless pilot licensed to fly a plane.
"True acceptance is the freedom from the fear of rejection," she writes in her book. "It's the freedom to move forward with your life in the way that's best for you, without caring about what others think."
Aside from traveling the world and touching more people, Jessica is working on a lot of new things, one of which is to start a foundation for people with disabilities.
Asked what advice she would give to the youth today, especially to the Filipinos who feel lost, she says: "It would be to not give up, and to have faith, because faith is what helps me if I'm ever really low. My faith is a tremendous part of my life, and just to be happy."
She adds, "It's helpful to count your blessings and if you have gratitude, it helps you get past the struggles." –Kristel Serran