Why It Might Be Okay To Get The 2016 Starbucks Planner
3 min read
Spending a little extra to collect stickers for this coffeeshop's promo can be beneficial in some ways–if you really are into fancy beverages. And planners.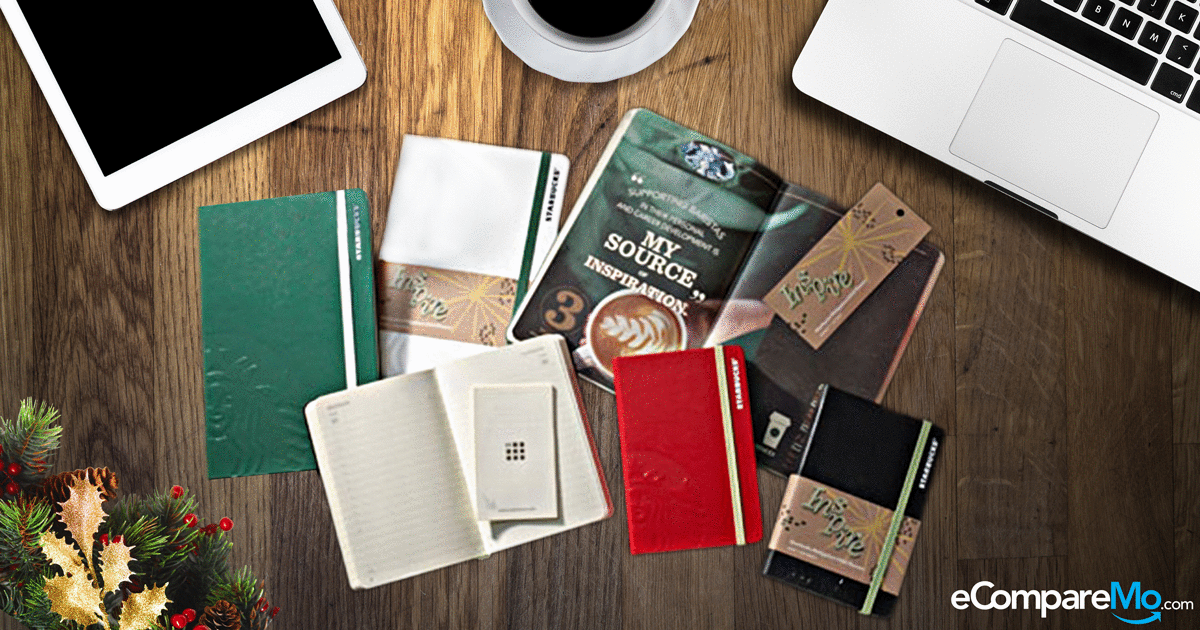 Christmas time is a time for lots of things, and that includes planning on how to get that much-coveted Starbucks planner you've been waiting all year long.
In fact, loading up on caffeinated beverages as the holidays approach has become as much as a Filipino tradition as caroling and putting up a Christmas tree, that coffee lovers and hardcore collectors alike start collecting stickers as early as November.
For this year, these people have got an even more compelling reason to get their daily doses of café latte: Starbucks planners are now made by Moleskine, an expensive notebook brand from Italy.
But even so, is it worth getting your daily caffeine fix? We may have reason to believe that it is.
Grinding by the numbers
Technically, Starbucks planners are not for sale. They come as a sweet reward for accumulating points from purchases of their products.
The mechanics are pretty simple: collect 18 stickers to redeem your planner of your choice. One beverage equals one sticker. But in order to completely fill out your Starbucks Christmas Traditions promo card, you need to buy nine Core Beverages of your choice and nine Holiday Featured beverages. This year's Christmas specials are Toffee Nut Latte, Peppermint Mocha, and Christmas Panettone Latte, which can be served hot, iced, or ice blended.
For Starbucks fanatics, getting the planner is as easy as taking a sip. The journal only comes as a bonus. Non-regular customers, on the other hand, may find it a bit of a challenge to accumulate 18 stickers in such a span of time—and feel that it's an added expense.
How much will getting a Starbucks planner set you back? Let's do a computation: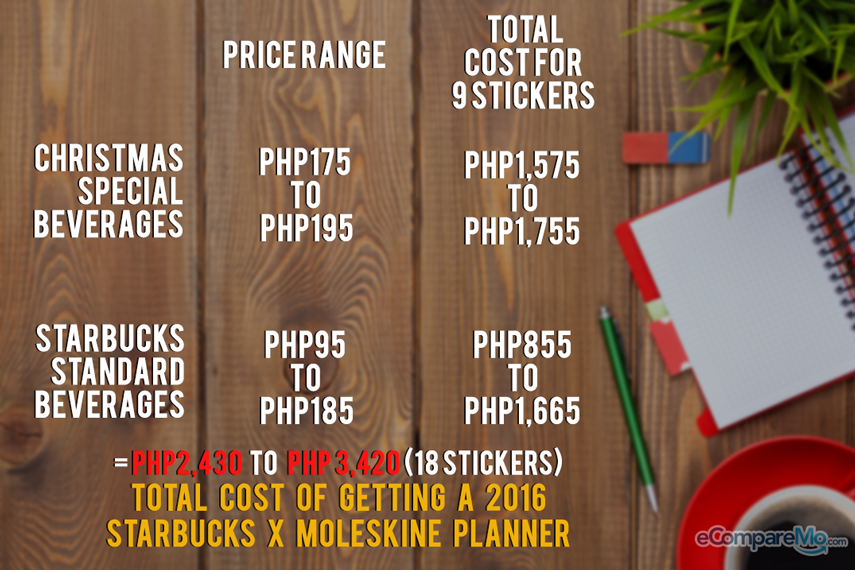 To start things off, a Moleskine notebook/planner costs somewhere between Php440 and Php1,400. Starbucks x Moleskine planners come in two variants: the large weekly planner (176 pages, available in green and white) and the small daily planner (400 pages, available in red and black).
Take out Php1,400 (Moleskine price) from Php3,420 (maximum cost of 18 stickers) and you get a total base price of Php2,020 for all the beverages you've consumed.
That gives you an average cost of approximately Php112 per beverage, or a Php79 discount from the approximate Php191 average cost per beverage of 18 Starbucks drinks.
Furthermore, Starbucks says it will donate an undisclosed amount to their NGO partners for every planner redeemed. Their partner NGOs are Teach for the Philippines (teachforthephilippines.org), which enlists young Filipinos to do voluntary teaching work in public schools, and Philippine Educational Theater Association (petatheater.com), which promotes performance art in the country.
Under these circumstances, availing of the Starbucks promo doesn't sound like a bad idea at all. You get a discount for a product you patronize on a regular basis, with added perks of getting a free branded planner, beverage discounts, and helping out a cause.
Here's plan B
Still, if you're not particular with your choice of planner, you can always choose from hundreds of alternatives available in bookstores and specialty shops. Some of them might even be fit for very specific types of personalities.
FOR THE GIVER
Coffee Bean and Tea Leaf (CBTL)
Collect 12 stamps until January 10, 2016 and get the CBTL Giving Journal. Planners are available in four different colors. Proceeds of this will go to Real Life Foundation to lend a hand to more than 200 scholars.
FOR THE LADIES
Belle de Jour (BJD)
BDJ Power Planner is specially designed to empower women with features such as menstrual tracker and cash flow trackers. For only Php598, the planner comes with more than Php40,000 worth of discount coupons for shopping and dining.
FOR THE ENVIRONMENTALIST
Papemelroti
This company of eco-friendly products offers notebooks for only Php20, alongside other paper products like calendars and memo pads. Customers have a wide array of options of hip and attractive prints.
FOR THE ARTIST
Filed
If your hand is always itching to paint, the Scribbler planner from Filed is your best bet. Release your creativity everywhere you go as you tag along your planner. You get a journal and a canvass in one for only Php595.  –Diana Lyn Balbalosa