Financial Horoscope 2018: What The Year Of The Dog Says About Your Money And Career
5 min read
The year 2018 promises good luck for everyone, especially when it comes to their finances. If your financial horoscope is to be believed, most of the signs are likely to enjoy positive cash flow and career success this Year of the Dog.
Curious about what the stars hold for you? Read up on your kapalaran below and be guided accordingly.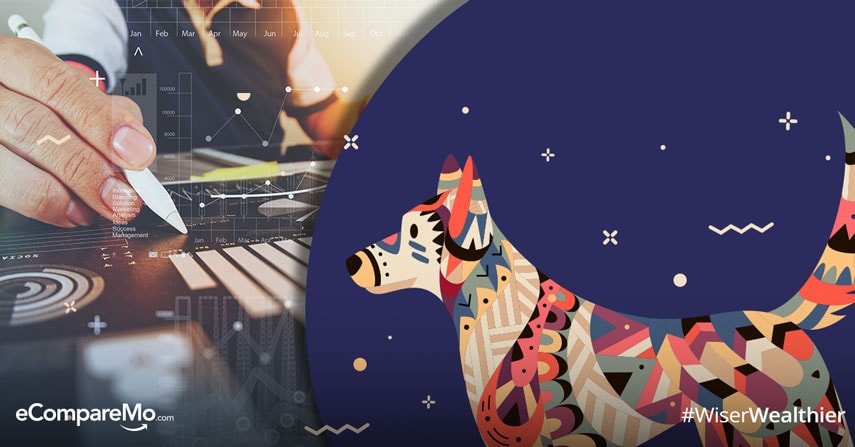 Aries (March 21 to April 19)
Lucky Number: 8
This is a great year for acquiring wealth with the support of others. Time to get associated with powerful figures!
Aside from being surrounded by supportive people, you may receive money through external channels like an inheritance or prizes. It's also a great time to realize your goals to determine your ultimate career path.
This could mean leaving a job to find a better one or going the extra mile at work. However, you need to be mindful of spending your money on an extravagant lifestyle.
Taurus (April 20 to May 20)
Lucky Number: 7
Your financial status will improve through better partnerships. This year is the perfect time to meet a good business partner and find quality clients. You will deal with advantageous work agreements and a rise in popularity with your target audience. You also need to be better at handling conflicts.
Taureans may have more contact with foreign people and travel more. Putting your principles into actions will give your career a push that will last over the next several years.
Gemini (May 21 to June 20)
Lucky Number: 6
Luck is in your favor when looking for the perfect job and seeking more gigs. You will learn the art of time management as you juggle more endeavors or land a higher-paying job. In a nutshell, it's going to be a very busy year for you, Gemini.
Your finances will improve and the possibility of you getting loans and mortgages will be boosted. While this might be a productive year with many opportunities, do not forget to take breaks too. Watch out for unexpected expenses and save up.
Cancer (June 21 to July 22)
Lucky Number: 5
Continue writing that novel, consult professionals about a business idea, push that art project—this is the year to let your creativity and imagination thrive. It is an auspicious time for you to launch a hobby-based business. Pursuing this will improve your financial standing as well.
Do not let your insecurities drag you down. You will attract more artistic jobs and your supporters will grow. However, you should be careful of getting yourself into financial traps. Remember to do every project ethically and think twice before diving into any financial decisions.
Leo (July 23 to August 22)
Lucky Number: 4
Do you feel the urge to move into a new home? 2018 is a good year to invest in property or improve your living conditions through home renovation projects like backyard expansions. People born under the stars of Leo will also find prosperity in selling real estate.
You need a strong work ethic to reach the goals you are about to establish. People who are looking into new opportunities will also find them attainable if they choose to work with the right team.
Virgo (August 23 to September 22)
Lucky Number: 3
The year for Virgo will involve a lot of skillset development, as well as business and marketing opportunities. You will be very busy this 2018 as you have to juggle a number of work tasks. Starting a business or engaging in other commercial activities will be favorable.
You will also have a high rate of success in immigration or filing for residency in another country. Build the momentum in your career and offers will just slide into your email. Keep an eye on your finances, however, as an unexpected financial pitfall may swallow up a portion of your wallet.
Libra (September 23 to October 22)
Lucky Number: 2
The scale is tipping in your favor as this is a fruitful year for your finances. Your skills will be heavily utilized and will soon pay off in the form of a raise or promotion. This year also promises relief from financial burdens.
To attract good fortune, it is crucial to break from old patterns and make well-thought-out decisions. Those who are looking at starting a business will find their efforts bearing fruit by the end of the year. Be careful, however, as you might find yourself tempted to spend your money unwisely.
Scorpio (October 23 to November 21)
Lucky Number: 1
Get ready for a major transformation and prepare to strike when opportunities are offered. Aside from luck in love, you will see progress in your career. This year offers you a large window in which you can garner wealth and brings opportunities to study and travel.
Your reputation will be established if you're taking a risk in your chosen niche. Be mindful when communicating as issues may arise and cause trouble in your career. You will need to allocate your budget carefully as family-related expenditures may increase this year too.
Sagittarius (November 22 to December 21)
Lucky Number: 12
Your year will involve a lot of cleansing. Luck this year will be brought by foreign connections or a possible trip overseas. This is a year when moving to a place with a different culture is likely to happen. Take a sabbatical trip and breath the air of a new environment to gather inspiration to create art.
As part of your cleansing, learn to let go of belongings and downsize your lifestyle. You will be further inspired to join causes and charity organizations too. Make sure to avoid impulse-driven financial decisions.
Capricorn (December 22 to January 19)
Lucky Number: 11
Network building will be in the pipeline for Capricorns in 2018. This year brings chances of attaining goals, material gains, and better social connections. You will meet people who will assist in your professional and financial success.
You may also be headhunted for your skills. Winning money or acing special contracts are also in store for you. Don't forget to keep to standard practices when making transactions to avoid money troubles.
Aquarius (January 20 to February 18)
Lucky Number: 10
This year is the time to climb up the corporate ladder as your skills and talents will be soon recognized. For some, it could also mean getting better pay or a better job.
You will be noticed by the public eye and given an opportunity to lead. You will get support from top people and meet someone who will be your mentor. More responsibilities are in store for you but asking favors from people are in power can assist you.
Pisces (February 19 to March 20)
Lucky Number: 10
Your year will be filled with luck, energy, and discovery. This is the best time to pursue studying abroad and learning a new language. You will also bump into a new teacher or inspirational figures.
Getting a visa or immigration status is also highly auspicious. Do not forget to thoroughly deliberate financial decisions to avoid complications.
What do you think of your financial horoscope? Share this post with your friends.