What Are The Costs Of Working Abroad?
5 min read
Many Filipinos fly abroad in search of greener pastures. While moving overseas may set you on the path to bringing home a higher paycheck, it is also an endeavor that entails taking on a lot of expenses.
When you create a checklist of how to prepare for working abroad, you'll be surprised at the numerous fees that you will have to carry on your shoulders before you can even secure a job.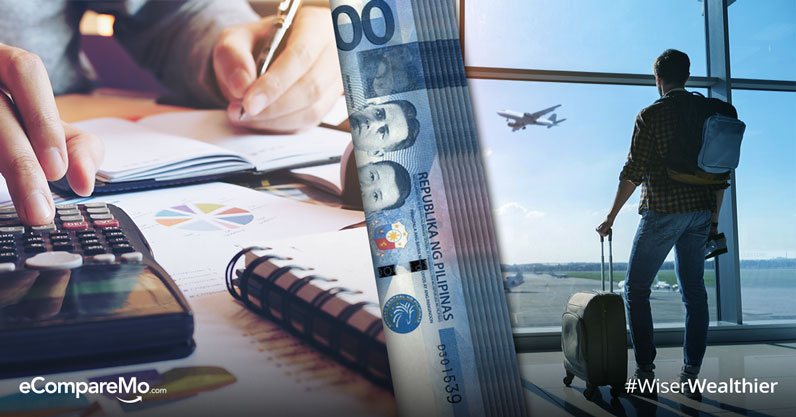 To help you adjust to your life in a brave new world, we've computed the fees that you must pay prior to flying abroad and getting there. We also compared the cost of living between cities here and in major destinations around the world.
How to prepare for working abroad even before you leave
A person aspiring to become an OFW has to complete numerous requirements, which all require fees.
To give you an idea, here are the following OFW requirements that you have to settle before you can even land a job overseas:
Requirement

Cost

NBI clearance

P130

Philippine passport

P950 for regular processing
P1,200 for express processing

Police clearance

P100

PhilHealth contribution

P2,400 per year

PSA-certified birth certificate
P150
SSS contribution
Varies depending on salary grade
Medical examination fee
Varies depending on the laboratory, estimated at around P5,000
Immunization/inoculation fee
Only if required by the host country. Also varies according to laboratory
Placement fee
Usually around the worker's one-month salary
Fortunately, not everything will be shouldered by the employee.
According to Republic Act 8042, which is strengthened by the revised POEA rules and regulations for recruiting land-based OFWs, the following items will be shouldered by the agency or employer and not by the employee:
Requirement

Cost

POEA processing fee

P200 if hired through a recruitment agency
$100 if hired directly by a foreign employer

OWWA membership fee
$25 ( or the peso equivalent)
OFW compulsory insurance
Depending on the insurance provider's quote
Visa fees
Depends on the host country
Airfare
Depends on the host country and the carrier
Pre-departure orientation seminar
P100
What is the average cost to move overseas?
To give you a concrete idea on how much it will cost a person to get the necessary requirements befor leaving as a migrant worker, let's use the salary figures reported by Rappler last January. In this case, a land-based engineer working in the Middle East earns P57,000 per month.
According to another Rappler article, the average cost to move overseas for a worker in the Middle East will be P66,415. Is this still true today?
Before he can fly out of the country, he should be able to shell out the following amount:
| | |
| --- | --- |
| Requirement | Cost |
| Placement fee | P57,000 |
| Medical examination fee | P5,000 |
| Immunization (typhoid fever, malaria, polio, Yellow Fever, and flu) | P5,300 |
| Police clearance | P100 |
| PhilHealth contribution | P2,400 per year |
| PSA-certified birth certificate | P150 |
| NBI clearance | P130 |
| Philippine passport | P950 |
| SSS contribution | P1,760 |
| Total | P72,790 |
Of course, that doesn't include the initial expenses that an aspiring OFW has to budget for upon arrival. What he or she will need to spend to start their new life in another country.
Since this depends from one country to another, we've picked the top destinations for overseas workers and the cost of living they need to prepare to get the average cost to move overseas.
What is the average cost of moving to another country?
The Philippine Statistics Authority revealed that the top five destinations for OFWs are Saudi Arabia, United Arab Emirates, Hong Kong, Kuwait, and Singapore. Although these countries provide the highest salaries for OFWs, they come at a cost because of the exorbitant prices of basic necessities such as food, housing, and utilities, among others.
When you're working overseas, you cannot only consider the life of the family you'll be leaving behind. You'll be living in a whole new world, and so you must also think about the cost of living in your target destination. To help you understand it more, we tried to look for the city-to-city comparison of cost of living.
Using Expatistan's Cost of Living Index, we can determine the cost of living for the Philippines and the five countries mentioned. The website keeps track of the price index of each country to help people determine the cost of living of their home country and destination country—and figure out the disparity between the two.
Based on Expatistan's Cost of Living Index, the central reference for all the countries will be Prague, assigned with a median score of 100. This means that a number higher than this will have a higher cost of living and the same is true with a lower score. Manila got a score of 84, which means that it's 14 percent cheaper to live in Manila than Prague.
To make an accurate comparison, we will use Manila as a baseline for the five top destinations for OFWs. Here are the results:
Jeddah, Saudi Arabia (Expatistan score 126): cost of living is 50 percent higher than Manila
Dubai, United Arab Emirates (Expatistan score 176): cost of living is 109 percent higher than Manila
Hong Kong (Expatistan score 215): cost of living is 156 percent higher than Manila
Kuwait City, Kuwait (Expatistan score 157): cost of living is 87 percent higher than Manila
Singapore (Expatistan score 191): cost of living is 127 percent higher than Manila
What does this mean? For instance, if your cost of living in the Philippines is P20,000 per month, then you have to pay for more than twice the amount to enjoy the same lifestyle in Dubai, or P41,800 monthly to be specific.
When you finally have these figures, you can finally compute how much money you need to prepare before you can fly. Going back to our previous example, an aspiring engineer who wants to work in the Middle East should prepare the following:
Pre-departure expenses: P72,790
Initial monthly expenditure: P41,800
Total cost of working abroad: P114,590
It may sound expensive at first, especially if you don't adjust your lifestyle when you're finally in your destination country. But keep in mind that with a knack for savings and the willpower to resist unnecessary expenses, you can take home a bigger pay for your family in no time.
Sources:
https://www.rappler.com/newsbreak/iq/183680-ofw-tips-cost-work-abroad
http://www.peos.poea.gov.ph/professionals/modules.php?lg=eng
https://www.workabroad.ph/article/8/What-Are-The-Fees-to-Be-Paid-Before-I-can-Work-Abroad
https://www.workabroad.ph/article/27/What-fees-should-I-pay-to-be-able-to-pursue-an-overseas-job-application
https://www.ofwguru.com/guides/how-much-does-it-cost-to-become-an-ofw/
https://www.lawphil.net/statutes/repacts/ra2010/ra_10022_2010.html
http://www.poea.gov.ph/laws&rules/files/Revised%20POEA%20Rules%20And%20Regulations.pdf
https://www.expatistan.com/cost-of-living/index