Can The Internet Connection In The Philippines Handle Netflix?
5 min read
We've tried the streaming service and here are the results.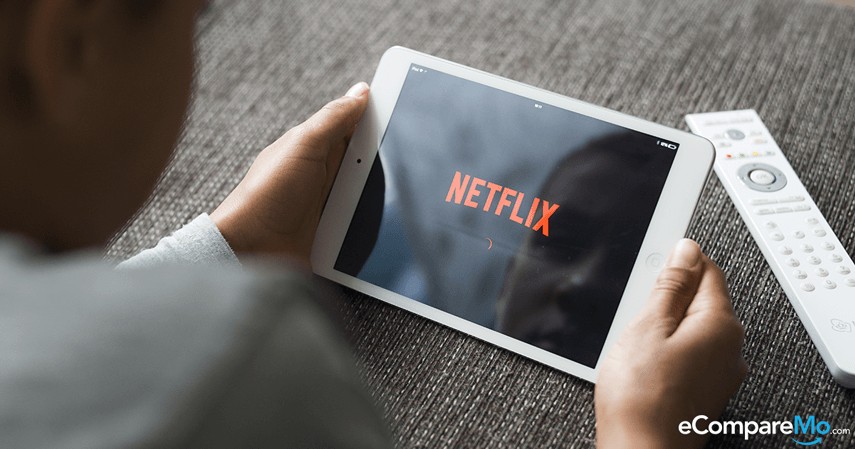 A few days after launching its service worldwide, including the Philippines, global streaming company Netflix was met with positive reception, mostly with first-day subscriptions to watch thousands of movies, TV shows, as well as Netflix Originals such as Beasts of No Nation, Orange Is the New Black, and BoJack Horseman.
Despite the alluring one-month free trial, there are people who have doubts with the performance of streaming in the country, given how unreliable our internet connection is.
So to help you decide whether or not you should get Netflix, eCompareMo tried it out for ourselves to see how it performs on both mobile and desktop platforms.
The challenge
Like most streaming services, Netflix has minimum requirements depending on the level of quality you prefer. To make sure your streaming quality works best with your connection, Netflix has the following download speed recommendation for different resolutions:
• 0.5 Mbps. Required broadband connection speed
• 1.5 Mbps. Recommended broadband connection speed
• 3.0 Mbps. Recommended for SD quality
• 5.0 Mbps. Recommended for HD quality
• 25 Mbps. Recommended for Ultra HD quality
With these ground rules in place, will the people with 4k ultra high-def TVs stream the resolution that will allow them to maximize their display? Not quite, or at least depending on your connection speed.
However, not everyone has access to powerful internet connection that will allow Netflix to stream top-tier resolution. According to a report published by the Philippine Daily Inquirer, the average download speed in the Philippines is 2.5 mbps. Furthermore, our country has one of the most expensive connections in the region, at around P1,000 for a 2-mbps connection.
If you are still unsure about how it goes and need some firsthand experience to convince you to jump the streaming bandwagon, let's see how Netflix will perform on desktop and mobile.
The method
To start with our little experiment, we are going to use two devices: our office PC connected to our ultra-fast internet connection and a mobile phone with LTE capability. By trying it on two devices that use different connections, we can see how streaming Netflix behaves on different scenarios.
Desktop version
First off, our office desktop. After signing up for a free one-month trial, we checked the connection speed of our office and found this result via SpeedTest.net: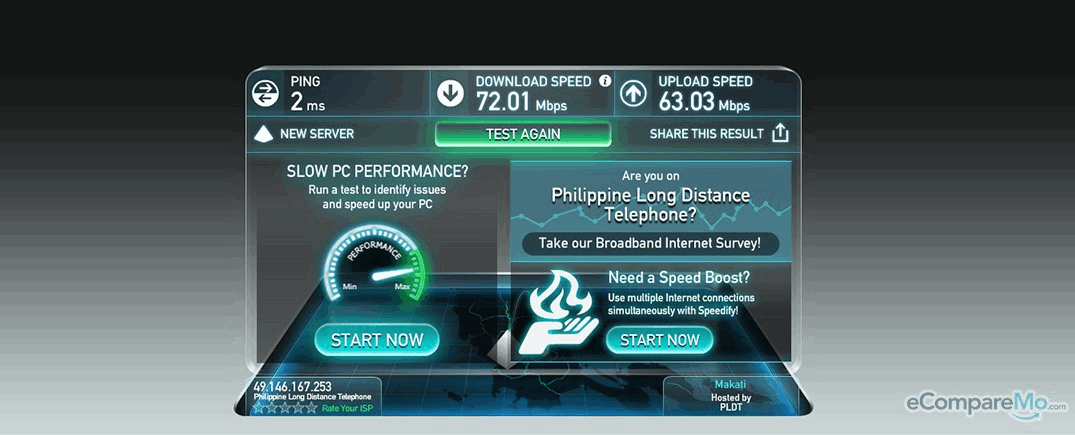 Judging by the results we've got, it seems like we have a connection good enough to stream up to 4k. After logging in and choosing from a wide range of shows they can offer, we picked Unbreakable Kimmy Schmidt, a Netflix Original series written by Tina Fey and Robert Carlock starring Ellie Kemper as the titular character. Seeing the first episode load by itself, we were all excited to see what's about to happen.
When the first few seconds of the show were shown, we noticed the quality was really low, and were bummed to see the results even with our internet speed. However, the quality slowly picked up as the episode went on, noticing improvements in quality. To find out the current resolution of the video we're watching, we pressed CTRL + ALT + SHIFT + D on our PC to show the video statistics, and got this: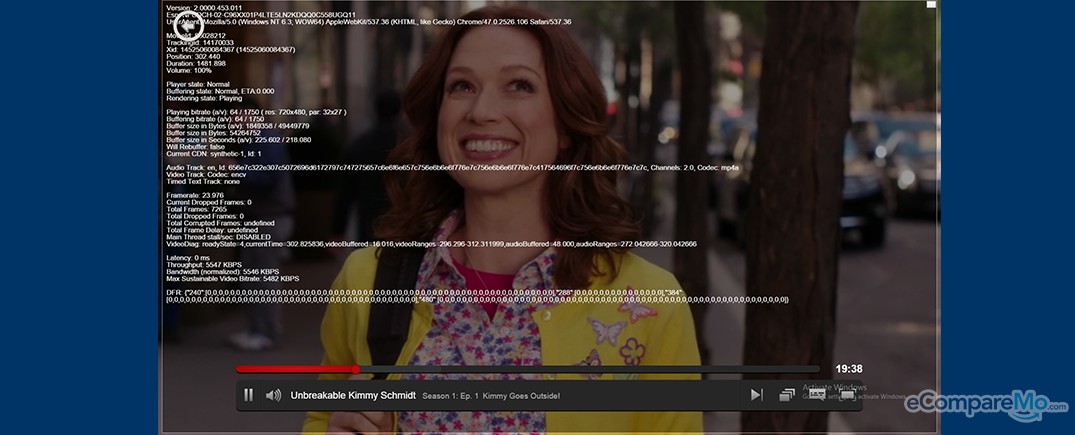 After hoping that the resolution would climb to 4k (3840 × 2160), we finished the episode at peak quality of 720p. Not bad, but we were hoping for more. However, streaming at 4K quality will only be amazing if you have an equally amazing 4k display. If not, just let it stream and hope that it can reach the highest possible resolution based on your internet speed.
Mobile version
The desktop version is not a problem, provided that your internet connection can keep up with your streaming. However, mobile streaming is another thing, especially with "unlimited" data plans having caps that will throttle your connection to unbearably slow speeds once you've hit your limit. Will there be a chance for mobile users to fully enjoy Netflix from their phones or tablets?
To find out how Netflix performs even if you use your mobile data, we tried it using one of our devices and see how it performs. Using a Xiaomi Redmi Note 3 smartphone, we watched an episode of Narcos from a tiny screen with mobile internet promo. After streaming a full episode, we didn't encounter any buffering problem while watching, even if our phone wouldn't connect to LTE.
Scared that a one-hour episode will propel you to your data cap quickly? Netflix can only stream for up to 480p on Android devices, unless your device is one of the few listed to support HD playback. For iOS users, devices with iOS7 and up can stream up to 720p, with the default resolution being 480p. Meanwhile, iPads with Retina displays can play shows up to 1080p.
The verdict
Despite the challenges that can hinder consumers from enjoying on-demand video streaming via Netflix, we encountered zero problems even when we used mobile data. While we cannot promise the same experience to you, here are some tips to ensure maximum viewing pleasure:
• Minimize your online activity while streaming. If you can't close other windows while watching, at least try to close bandwidth-heavy websites like YouTube to give more room for Netflix.
• If you want to keep your bandwidth consumption to a minimum, you can put a limit on your streaming quality. Go to Your Account by hovering on your account on the upper-right corner. Click Playback Settings and select the streaming quality under Data Usage per Screen. This also applies to your mobile device hooked up to the same account.
• Alternately, you can force Netflix to change the resolution while watching by pressing CTRL + ALT + SHIFT + S to open the bitrate menu. Select lower audio or video quality and then press Override to enforce the changes. To revert it to normal settings, simply open the menu again and hit Reset.
• When using mobile data, monitor your data usage using your smartphone to avoid going over the limit. In addition, you can set a data limit using your smartphone to warn you if you're near your daily limit.
Netflix is just one of the many wonders of technology, among others. Regardless of the circumstances we're under—such as slow connection and data cap—knowing your way around this tech will allow you to enjoy it to your heart's content. –Dino Mari Testa