Zoom, Google Hangouts, And Other Free Video Conferencing Apps
5 min read
After almost two months of enhanced community quarantine (ECQ), not everyone has probably adjusted to the effects of the pandemic. Some of us are already become quite adept at using video conferencing apps and the general work-from-home setup. (But admit it—you do miss the office conveniences: swivel chairs, unli air conditioning, and pantry gossip.) A few others, however, may still be in the dark on how to continue their operations at home.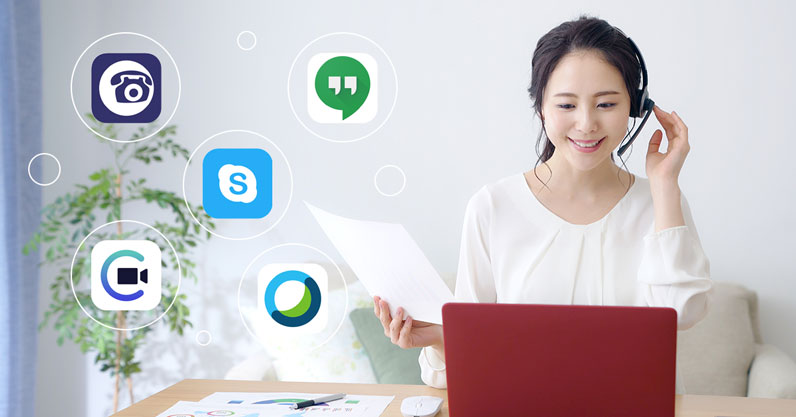 If your office has a subscription to enterprise software, count yourself lucky. Productivity suites like G Suite or Office 365 give you full access to all the work-related services you need.
For online video meetings, there are paid video conferencing solutions like Google Meet, Microsoft Teams, CyberLink U Meetin. These apps are integrated into your work tools. However, they're not available to the average person or businesses that are just starting up.
What if you're a freelancer or a small business owner who needs to conduct meetings online? Here are free video conferencing apps that will help you get through the new normal.
1. BigBlueButton
Perfect video conference tool for webinars and online learning 
BigBlueButton is designed to be the best video conferencing app for educators and professional workshop conductors. Aside from standard tools, what sets this open-source software apart from its competitors is the presence of virtual classroom tools.
During video conference sessions, users can share files like audio clips, videos, slideshows, and even a remote view of your desktop. It also comes with interactive tools that will help collaboration much more convenient like polls, whiteboard, and chat function. While it is primarily designed for students, offices can greatly benefit from this too. 
Since BigBlueButton is free, don't expect the interface to be as slick as other paid apps. It might take you a while to learn the ropes of the software. The entire design is spartan, but you don't have to pay any amount for this. 
2. Skype
For those who need a tried-and-tested brand 
Skype is a name that may be associated with old people and pre-pandemic years. After all, the chat client has long been around even before everyone had access to cheap smartphones. However, the free Microsoft service proves that it has the staying power and can be useful especially for small offices.
With its free version, Skype can handle a video chat of up to 50 people. This makes it ideal for SMEs who cannot afford enterprise software solutions.
(Read: Video Conferencing Etiquette 101)
Other features that make Skype a worthy addition to your office arsenal are: screen sharing, background blur, and chat recording.
Skype is also know for ease of use. For your coworkers who are not technically proficient, they can join online meetings through their browsers via a link. No need for them to install the client and register an account!
3. Cisco Webex Meetings 
One of the most robust free video conferencing apps
A branding like Cisco will easily trigger words like "paid" and "reliable" in their head. Well, you can nix the former; the free version of Webex Meetings is just as powerful as its paid counterparts. 
Small companies may not find the need to subscribe as Cisco's web meeting app already comes packed with features. A free account can cater up to 100 users at a time, get recordings of the meetings in HD quality, and schedule and manage meeting from your account. 
Another thing that makes Webex Meetings friendly to almost anyone is its cross-platform support. Users can get the desktop or mobile app and join meetings there. Alternatively, they can use the browser version but with a few kinks. But whatever platform you're using, you can be confident that your data is safe: Cisco uses TLS 1.2 and AES 256-bit encryption for all its meetings.
Is there a downside to Webex Meetings? The only thing we can think of is the limited cloud storage. But there are many other ways to share files and folders online without subscribing so this really doesn't pose as a problem.
4. Google Hangouts 
For simple small-group meetings  
G Suite is not cheap; the cheapest subscription per user can set you back by a little over ₱250 per month. If you want the same quality without paying some serious cash, you can settle for Google Hangouts. 
There isn't really much about Google's video platform other than its simplicity. Its intuitive and easy-to-use interface makes it perfect for friends and families who need to catch up. While Hangouts isn't really designed for SMEs, you can still enjoy its limited functionality.
Conducting a meeting via Hangouts can accommodate up to 150 people. However, only 10 of those people can have access to video calls, with the rest of the participants relegated to text chats. This makes sense as Hangouts isn't really built for large-scale meetings after all.
What makes Google Hangouts a good consideration for online meetings is its flexibility. You can use either the desktop app for both Windows and Mac or the browser version. Meanwhile, you can download the official Hangouts app for Chrome OS, iOS, and Android. Hangouts really doesn't give you the excuse to miss a meeting.
5. Zoom
The best free video conferencing app for flexible users 
If there is one big winner during the whole quarantine season, it's Zoom. After all, the company skyrocketed to fame as companies were scrambling to set up their remote work policies—and the app seemed the most convenient. It became an easy and popular choice.
Aside from its easy-to-use software, cross-platform support, integration with third-party apps, and others, Zoom became popular because of its filters. However, allowing overlay of filters to your online meetings will require you to install additional software, which might be too inconvenient for people. 
Unfortunately, the world-renowned Zoom video conferencing is also plagued with a lot of issues, particularly concerning security.
"Zoom-bombing," which is the act of raiding Zoom meetings to disrupt the users, became a thing due to the absence of end-to-end encryption. Other concerns like malware-like behavior in MacOS, in-app surveillance measures, and others might turn off users who are sticklers in data privacy. 
Zoom may be a beautiful mess, but it is a mess nonetheless. Use it at your own risk.