5 Fundraising Campaigns Worth Supporting This Christmas
6 min read
Christmas is full of gifts, family, and fun. But it should also the season to reflect, be grateful for our blessings, and extend a helping hand to those who are less blessed.
The season to be merry should also be the season to give back. Make your Christmas merrier and even more meaningful this year by sharing and helping those who are in need.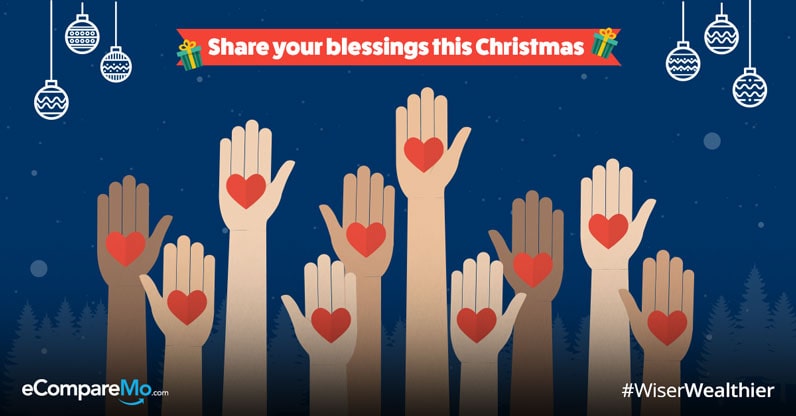 To help you make your Christmas a truly blessed time, we've identified five different causes from Go Get Funding, an online fundraising page, that are worthy of your support this yuletide season and beyond.
Spread the joy and love this Christmas season 2018 by donating, sharing and volunteering for these charitable causes.
1. A New Leg for Grace
Mary Grace Malana, known as Grace or MG by her family and colleagues, has osteosarcoma. This is a type of an aggressive bone cancer usually found at the end of long bones, often around the knee.
It was in 2010 when Grace started feeling a slight discomfort in her left knee. Thinking that it was just a sprain, she ignored it until the pain got worse. After several hospital visits, she was diagnosed with osteosarcoma. She went through nine chemotherapy session and surgery to remove the tumor and reconstruct her knee with the use of a metal implant.
After a year of treatment, Grace was declared cancer free. But that wasn't the end of her struggles. Due to some complications with her implant, she went for two more surgeries, all the while trying to finish high school and pursue a college degree.
By 2017, Grace was able to earn a bachelor's degree in Computer Science. She also received a full scholarship to pursue a master's degree on the same course. However, as she was preparing for her thesis, she was diagnosed with a tumor prosthesis infection. Unfortunately, the treatment didn't work for her anymore. The doctors then suggested that she undergo an amputation process called rotationplasty.
Now, Grace is asking for help via a GoFundMe campaign. The campaign goal is P1,070,000. With this amount, Grace can undergo the following:
Rotationplasty Surgery: P350,000
Tumor prosthesis removal, surgery, and ongoing treatment (as of November 5, 2018): P500,000
Physical Therapy: P40,000
Prosthetic Leg: P180,000
Your contribution, no matter how big or small, can add hope to Grace's new beginning.
You can contribute by making a deposit:
Mary Grace Malana
BPI: 2779 074 636
Brenda Malana
BDO: 0027 002 492 71
Or via PayPal
PayPal email: breakalegmg@gmail.com
2. Hope for Rejoice
Rejoice was only two years old when she was diagnosed with Acute Lymphoblastic Leukemia (ALL). After four phases of chemotherapy (May to Dec 2017), Rejoice hit remission and was declared free of cancer.
Then, on July 2018, Rejoice started complaining about an extreme pain in her lower back. The doctors ordered that she undergo a bone marrow aspiration for them to be able to check blood samples from her bone marrow.
The bad news then came to Rejoice's family that her cancer had returned. Her blood samples were tested positive of cancer (blast) cells. For further testing, her blood samples were also sent for FISH-ALL, FlowCytometry and Karyotyping testing where results confirmed a relapsed Type B-cell Acute Lymphoblastic Leukemia.
Rejoice's chemotherapy began last August and the doctors are preparing her for a bone marrow transplant costing around P3.5 million to P5 million. She is in need of 4000 warriors, each to give P1000, to act as her soldiers as she battles through this journey.
Follow Rejoice's story on her official FB page Hope for Rejoice and Go Get Funding campaign page.
Help rebuild this little girl's future:
Frederic Solam
BPI: 8099 1366 51
BDO: 0019 4040 6089
(Read: Cancer Treatment In The Philippines Isn't Cheap, But Don't Lose Hope)
3. #SAVELIZAFROMBREASTCANCER
Liza, a single mom with two children, was diagnosed with Invasive Ductal Carcinoma Right Breast Cancer Stage IV with Lung Metastasis last September 2017. After her diagnosis, she immediately underwent six cycles of chemotherapy with the help of the Philippine Charity Sweepstakes Office (PCSO).
After finishing her required cycles for chemotherapy, Liza went back to work and continued with her normal life. That was until July 2018, when Liza was rushed to the hospital after having a fever for three days straight.
Tests revealed that her lungs were filled with air and water leading to the diagnosis of an infected wound on her right breast; pleural effusion to malignancy vs. pakapneumonic process, pneumonia in an Immunocompromised host; breast cancer stage IV, right breast with lung metastasis.
The doctor told her family that they needed to perform pleurodesis wherein a tube shall be placed on Liza's chest to lessen the amount or air and water present in her lungs. Although the procedure was successfully performed, she still needs chemotherapy, radiation therapy, and mastectomy to completely destroy all the cancer cells that are in her body.
Give Liza another shot at life by donating to her treatment.
Carl Beneth Torres
Metrobank: 2253 2259 90264
PayPal:
Carl Beneth Torres: 0922-8384567/0956-8899166
4. Brian's Battle with Cancer
Brian Albert Andanar, a nurse by profession, was recently diagnosed with Non-Hodgkins Lymphoma, a kind of cancer that targets the lymph nodes.
Brian needs six cycles of chemotherapy which will cost roughly P200,000 per session. Such an amount is required to sustain high doses of expensive chemo drugs that is needed to cure his aggressive disease.
As a nurse by profession and by heart, Brian is still hoping to continue his rewarding career. He already had his 6th chemotherapy session done last October but his fight against cancer is far from over. He is now starting to feel the adverse effects of the chemo drugs, prompted him to be in and out of the hospital.
Furthermore, he needs to undergo multiple tests to evaluate whether or not he will be needing 2 more cycles of chemotherapy and proceed with his maintenance medications in order to be cleared from any tumors and be cancer-free.
Let's join Brian with his fight against cancer and help him continue to fulfill his dreams:
Brian Albert A. Andanar
BDO: 002030097477
PayPal:
Brian Albert A. Andanar
Visit Brian's official campaign page here.
(Read: 5 Best Meaningful Gifts To Make Christmas Even Better)
5. Herceptin for Jhen
In 2014, Jenifer was diagnosed with Stage IV Breast Cancer. She has undergone the needed cancer treatments, chemotherapy-mastectomy-chemotherapy-radiotherapy cycles and was advised to take a maintenance medication for 5 years with a hope that they would cease the growth and spread of cancer.
This March, barely 4 years since her last treatments, Jhen's cancer returned and she was again diagnosed with Stage IV Breast Cancer. She will be needing six sessions of chemotherapy, a mastectomy, then another six sessions of chemotherapies and eighteen sessions of Herceptin SC (trastuzumab) treatment.
Although Jhen has completed all the required chemotherapy sessions, her battle against cancer is still ongoing. She still needs 18 sessions of Herceptin treatment which costs around P129,139.20 each. Treatment will be every after 3 weeks and it started last September of this year.
Roche Patient Support Program has aided Jhen and provided her with nine free vials of Herceptin, however, the remaining nine vials still need to be bought for a total amount to P1,090,252.80. Four years into this battle, Jhen is knocking on your humble hearts.
Let us all help support Jhen be stronger than her cancer. Visit her official campaign page.