Alcoholic Drinks To Get More Expensive? Lower House Approves Excise Tax Increase
2 min read
Filipinos are known to be avid drinkers with social drinking being an important part of the Filipino culture.
Coming into someone's home or even just up to a group on the street, we're more likely to be greeted with happy shouts of "Inuman na!" or "Tagay!" rather than a simple "Hi!"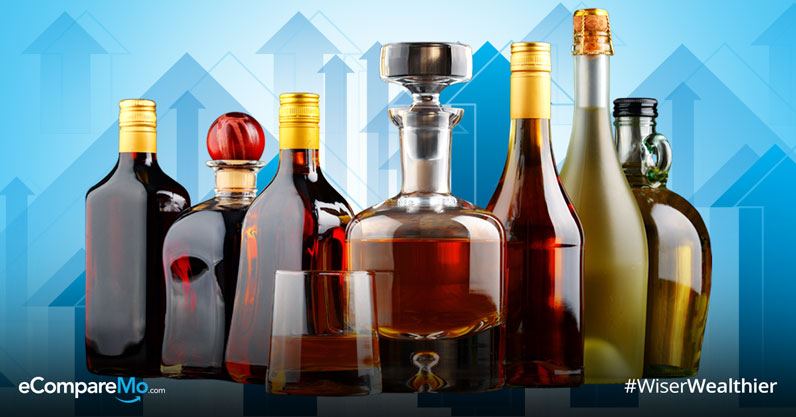 No celebration, be it a birthday, fiesta, baptism, or any other big occasion, is complete without someone bringing out cases of beer. And maybe a karaoke machine.
With drinking traditionally a part of every Filipino celebration, will an increase in the prices of alcoholic beverages affect the manner we say "kampai"?
Increase in excise taxes approved
Last Tuesday (November 19), a Technical Working Group (TWG) of the Lower House's Ways and Means Committee approved an increase in ad valorem tax, more commonly known as an excise tax, on distilled spirits and fermented liquor.
Distilled spirits or distilled liquor are what we Filipinos commonly know as "hard" drinks: whiskey, brandy, gin, tequila, and rum. Meanwhile, fermented liquors include wine and beer.
(Read: Fuel Excise Tax In The Philippines: How It Changes The Way We Drive)
Taxes on hard drinks to increase by 22%
According to a report in the Philippine Daily Inquirer, the TWG green-lighted a 22% rise on the taxes on distilled spirits in addition to the specific tax rates amounting to P30, P35, P40, and P45 per proof liter yearly starting 2019 until 2022. A 7% annual hike starting 2023 was also approved.
Presently, the ad valorem tax stands at 20% per proof, with the specific tax standing at P22.50 per proof liter.
On a good note, the prices endorsed by the TWG were at much lower levels compared to that of the DOF's proposal, as well as what is stated in House Bill (HB) No. 8286 authored by Sultan Kudarat Representative Horacio Suansing Jr.
The DOF originally proposed a 25% increase in the ad valorem tax of distilled spirits. For the specific tax rates during the 2019 to 2022 period, it was P40, P45, P50, and P55 with a 10-percent annual hike beginning 2023.
P28 tax on beer and wine by 2019
Meanwhile, for fermented liquor, the TWG green-lit a hike in excise taxes to P28 by 2019. This would increase to P32 by 2020, P36 by 2021, and P40 by 2022. A 10% annual hike will be imposed starting 2023.
Currently, the excise taxes for fermented liquor stand at P24.44 per liter or P34.07 if brewed and sold at microbreweries or other small establishments.
The hike approved by the TWG is still lower than the proposed hikes from the DOF and HB 8286. They proposed a raise on the specific tax rates on fermented liquor of P40, P45, P50, and P55 during the period from 2019 to 2022 and a 10% annual raise from 2023 onwards.
(Read: Beat Inflation: How To Avoid Overspending This Holiday Season)
As per the statement of the nongovernment Action for Economic Reforms (AER), the sudden increase in excise taxes is shortly below the supposed amount mandated under the Sin Tax Reform Law of 2012 or also known as Republic Act (RA) No. 10351.
Do you think that a surge in the prices of alcoholic beverages will cause a drop in Filipinos alcohol consumption? Share your thoughts in the comments.