Updated Fast Food Hacks For The Hardcore Pinoy Penny Pincher
2 min read
Last year, we schooled our readers on how to maximize the full potential of their money when buying value meals at fast-food chains. Surely, you're already choosing to buy five pieces of Dunkin' Donuts Munchkins over one whole donut to get more value for your money. Presumably, french fries fans are now wiser in choosing the Giga size at Potato Corner stalls.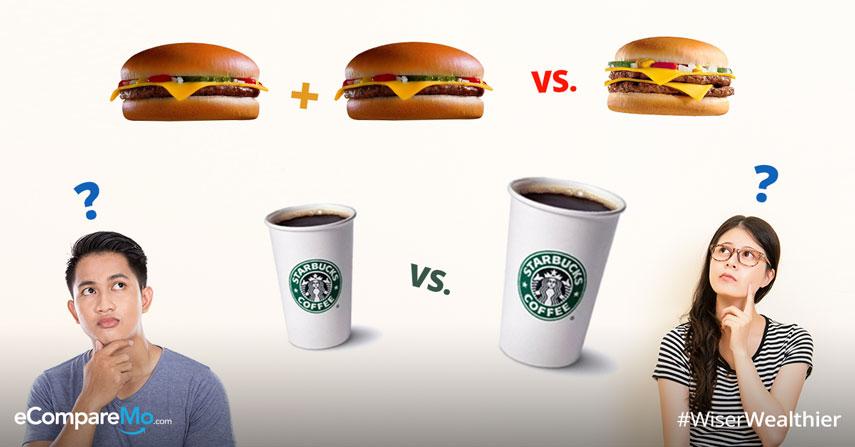 The only thing constant in life is change and new ideas are born every day. All we can do is try and stay updated and keep you updated as well. So here are a few new tipid tips and life hacks to get the most of your trip to your favorite fast food chain.
*Prices in stores may vary
Jollibee
Chickenjoy Spaghetti meal + extra rice = P154
Chickenjoy Rice meal + Spaghetti ala carte = P145.
You save: P9
Two-Piece Chickenjoy meal + extra rice for P192? Nope.
Instead: Order a One-Piece Chickenjoy meal + One-piece Chickenjoy ala carte for only P172.
Save: P20
A Two-piece Burger Steak meal + extra rice = P121.
Feeling thirsty? Order these instead: Two One-piece Burger Steak meals and you pay the same price and get to snag an extra regular drink.
Did we hear anyone say sulit merienda? Go for a regular Yum and order an extra patty or extra cheese instead of ordering a Yum with Cheese or Double Cheeseburger.
McDonalds
Buy two Cheeseburgers ala carte for only P104, instead of a Double Cheeseburger for P107. Save P3 and say hooray to extra buns.
Speaking of extra filling, here's a tip on how to power up your breakfast. Order a Big Breakfast Meal for P128 and get eggs, sausages, muffins, hash brown, and coffee. The regular Sausage McMuffin Meal with hash brown costs P119. For just a P9 difference, you get two times more value.
There is almost no difference in the amount of ice cream in a vanilla sundae cone and a hot fudge or caramel sundae. If you are just looking for something to cool you down, get the P10 cone rather than spend around P30 for the sundae. Save money and save yourself from the calories.
For caffeine addicts, buy a large cup of coffee and get refills the whole day. Facebook user Nix Cue Nicolas confirmed this hack for us:
Starbucks
Want to save on paying for an extra shot? Order a Venti-size Café Americano and tell your barista to put it in a Grande cup. Less water means a stronger kick.
If you are a fan of tea lattes, here's something to try: Order a brewed tea for P115 and pour in some milk and sugar from the condiments bar. As a tea latte costs about P180. This is a budget saver at P65 less.
You can also take further advantage of the condiments bar by ordering a solo Espresso worth P105, asking for ice in a cup and adding milk instead of paying for P160 for an iced latte.
KFC
If you're planning to throw a feast for many, choose to get a couple of Streetwise boxes instead of a 15-piece bucket or 21-piece barrel. According to one reddit thread:
15 pieces Bucket = P900
6 pieces Streetwise (P290) x 3 (18 pieces chicken) = P870
Save P30 with three additional pieces of chicken
21 pieces Barrel = P1,245
6 pieces Streetwise (P290) x 4 (24 pieces chicken) = P1,160
Save P85 with three additional pieces of chicken