You Need to Spend This Amount to Get The Starbucks 2018 Planner
2 min read
Behold. The much-anticipated Starbucks planner is up for grabs and sticker collection has already started. Aside from the expected monthly and weekly calendar views and spaces for notes, the new journal is loaded with more surprises for loyal customers.
The Limited-Edition Starbucks Coffee 2018 Planner comes with a leather sleeve, available in two tones and sizes – regular and mini. It also comes with a stencil ruler and a cup-shaped calendar.
There's also an exclusive Starbucks card featuring a design inspired by their Kape Vinta blend. Customers who activate the card from January 1 to 30, 2018 by loading a minimum of Php300, get the chance to win either 30 or 365 complimentary Grande beverages.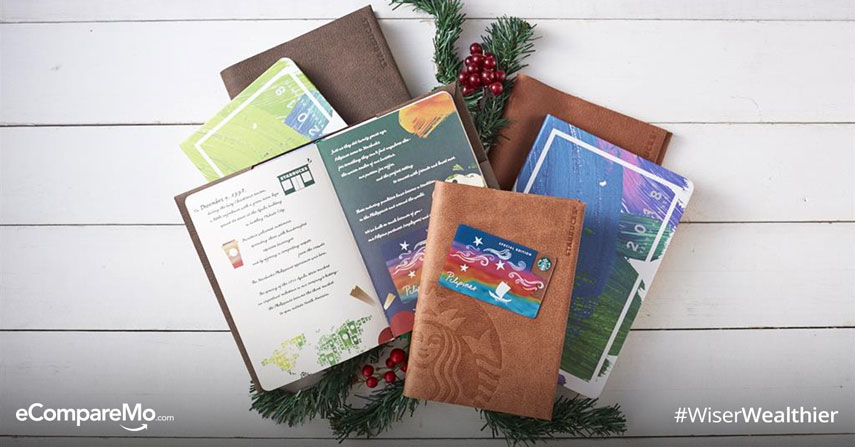 To claim the planner, you need to go through the same drill as the past years – collect 18 stickers. One sticker is equivalent to one beverage purchase. Here's how much you will need to shell out to buy the cups of coffee you will need to earn this coveted limited-edition planner.
9 Christmas Special Beverages

Costing P175 to P195 each

P1,575 to P1,755

9 Starbucks Core Handcrafted Beverages

Costing P95 to P185 each

P855 to P1,665
Average cost of 18 stickers
P2,430 to P3,420
A single receipt bulk purchase of food and retail items with a minimum worth of 7,000 pesos will also get you a Limited-Edition Starbucks Coffee 2018 Planner.
Holiday featured beverages are Toffee Nut Crunch Latte and Christmas Tree Peppermint Dark Mocha which can be either served hot, iced or blended depending on your choice. Another additional Christmas flavor to try by customers is the new Vanilla Nougat Latte.
While the Starbucks Planner looks great and also comes with loads of discount coupons, there are other, less-expensive but still great-looking options out there that can help you keep track and plan your 2018.
For the Minimalist: The MUJI 2018 Planner offers a pristine looking and neat way to keep track of the days for only 345 pesos. Available on MUJI outlets nationwide.
For the Giver: Coffee Bean and Tea Leaf is giving meaning to every sip as they support Real LIFE Foundation and boost their customer's creativity. All you need to do is collect 12 stamps to get the Giving Journal that comes with a customizable cover. Pick from three colors: Grey, green and blue. The 2018 Giving Journal may also be purchased for only 1,999 pesos.
For the #GoalGetter: Belle de Jour now offers a line of powerhouse planners suitable for all kinds of needs and lifestyle. The standard Belle de Jour Power Planner comes in Leather Discbound for 720 pesos, Smythe for 598 pesos, and Leather for 680 pesos which features pages for goals, dreamboard and mood meter. For people aiming to rev up their wanderlust further, Navi: The Life Navigator is the best bet. It has Bucket lists, pre-tip check list, as well as travel guides – for only 598 pesos.
For the Damsel: Design Your Life Planner 2018 Planner by C&S Designs aims to bring you a colorful year ahead. The rainbow ring-bound journal has colorful pages containing sticker emojis, vacation themed designs, a 30-day challenge section, sleep tracker, photo section, as well as checklist and travel planner.
Source: Starbucks Philippines, Coffeebean Philippines, Muji Philippines, CNS Designs, Rappler