Unemployment Drops, Rural Banks Go Digital, And Other Financial News
5 min read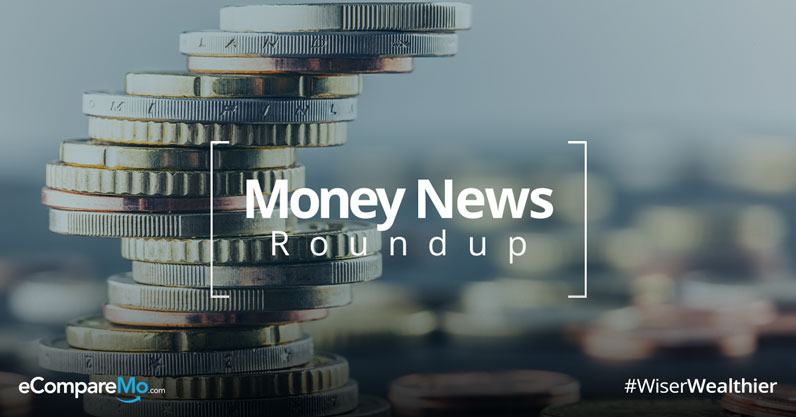 Commercial establishments must post new format for receipt notices—BIR
The Bureau of Internal Revenue (BIR) has regularized the adaptation of the new format of notice for commercial establishments to inform their patrons about their duty to issue sales invoices with the goal of increasing revenue collection.
In a revenue regulation signed by Finance Secretary Carlos G. Dominguez last November 18, 2019, shops are ordered to post the new notices in their places of business, including all branches, and also mobile stores.
The notice must include first and foremost the taxpayer's identification number (TIN), its registered name, the name of their business, and the branch code must be posted within the shop in an area where it could be easily seen by the customers.
This regulation will take effect 15 days after the circular is published in two local newspapers. Business owners caught violating the order will face up to four years of imprisonment.
(Read: Premyo Bonds, 56 Flagship Projects Finished By 2022, And Other Money News)
With 43.15M Filipinos unemployed, PH jobless rate eases in October
Data from the Labor Force Survey released on November 28, 2019 shows the unemployment rate of the Philippines has dropped compared to the same period during October of last year.
The October 2019 Labor Force Survey was computed with the use of 73.53M Filipinos around 15 years and older as the base range, garnering a larger pool compared to the 71.89M the same month of last year
From a total of 2.2M unemployed Filipinos, or 5.1%, in October 2018, unemployment has gone down to 4.5%, or 2.05M, in October of this year.
The data from the survey also showed that employment rate for October 2019 was at 95.5% compared to the same period last year with 94.4%. If translated, this gave a total of 43.15M employed Filipinos, 4.4% greater than the 41.33M in October 2018.
The same goes with the underemployment rate, which is referred to as the percentage of the total employed population who still seek additional work. It was 13% in October 2019, or 0.3% lower than the 13.3% of last year during the same month.
Despite this, the total number of Filipinos who are underemployed went up to 2.1%, or 5.62M, compared to last year's 5.5M.
Also, Filipinos who are employed are working an average of 41.8 hours weekly as of October 2019, which is one hour shorter compared to October 2018's 42.8 total hours of work.
(Read: Find Out How Much PhilHealth Contributions Will Increase Starting 2020)
Looking to boost efficiency, rural banks consider digitizing operations
Rural banks are now joining their bigger peers as they proceed to digitizing operations, with the aim to improve efficiency and advance the goal of financial inclusion.
Cathal Brendan Foley, Fexco Philippines Chief Executive Officer, says he knows of a rural bank that is looking into launching a mobile application by January.
He even added that other rural banks are examining the probability of introducing cash-out schemes.
"And as I see it for now, we see a huge take-up in the cash-out type products because there's pretty much no ATMs (automated teller machines) in rural areas," said Fexco Philippines CEO Cathal Brendan Foley.
Fexco which is headquartered in Ireland is a financial technology firm which has handled around $15B worth of transactions in the whole Asia Pacific region.
They were established in the Philippines in 2015 and has officially launched their services with partner institutions in 2017.
EasyDebit, launched in December 2017, was among its offerings. It facilitates transactions including cash-outs with convenience fees of about P30 from touch points with small merchants such as sari-sari stores, pawnshops, or even groceries.
"To date, EasyDebit processed P3.5 billion in terms of cash-out and transaction value and has seen 200% year-on-year growth in transactions," he said.
The fintech company is currently developing a bank application that can be white labeled by lenders.
They are working particularly with lenders such as the Al-Amanah Islamic Bank, Cantillan Bank, and the Rural Bank of Rizal. They are also in touch with 1,300 more merchants in the country through their cash-in and cash-out transactions.
"There are currently about 11,000 bank branches in the Philippines for 110 million Filipinos. There is never going to be a penetration of brick-and-mortar. I think banks will allow agents to operate on their behalf," Foley said.
Their Springpoint venture, which is a combination of solutions meant for nonbank financial players that are considering delving into accounts opening, bills payments, cash-ins, and loans will be launched by 2020.
(Read: Alabang Skyway Ramp Now Open, New Batch Of License Plates To Be Released, 'Congestion Pricing,' And Other Motoring News)
Youth employment in PH gets $400M loan from ADB
Cristina Lozano, ADB Southeast Asia Senior Economist for Public Finance, high Philippine youth unemployment is preventing robust economic growth from cutting into poverty and income inequality.
"The country has a youth unemployment problem with an employment rate of 13.4% which is twice that of the national rate," as per Cristina Lozano, ADB's Southeast Asia Senior Economist for Public Finance.
"There are also high levels of youth that are not in employment, education, or training, this is called the NEET rate, which is quite high by international standards. The average in Southeast Asian Pacific is 18%, the Philippines is 21.7%," she added.
While such numbers are high, the ADB notes that the numbers have already improved. The NEET rate was previously at 25% in 2012, this is why the ADB approved the $400M policy-based loan on December 3, 2019, to address high youth unemployment in the Philippines and support working programs that are already in place.
The initiatives to be funded include facilitating the youth's school-to-work transition program to improve young Filipinos' employability, expansion and transformation of public employment services offices (PESOS) in local government units to upgrade professional processes and quality standards, and the broadening of the labor department's jobs start PH program to facilitate youth employment and access to job opportunities.
The last employment report from the government covering July and released in September showed an employment holding at 5.4%, with underemployment at 13.9%, the youth have it much worse.
As a program-based loan, the funding will go into the national government's budget for disbursement to appropriate departments or agencies whether it be the labor department, the technical education and skills development authority, or LGUs.
The ADB is also counting on private sectors to play a key role in improving employment conditions and making the Filipino youth more employable through apprenticeship programs and tailor-made training seminars specific to sectors in need of skilled workers.
The ADB's goal is to reduce the NEET rate to below 20% by 2022. The next labor report covering October will be out today.
SOURCE: ABS-CBN, Manila Bulletin