Top LTO-Accredited Driving Schools In Manila
7 min read
"Filipinos are bad drivers"—we've heard enough of that. But in terms of proving that line wrong, and amid the existence of good driving schools in the country, there seems to be very little improvement going on.
We see the chaos every day. Whether you're a driver, commuter, or regularly on the road, we don't really need statistics to see the common lack of discipline and proper driving skills.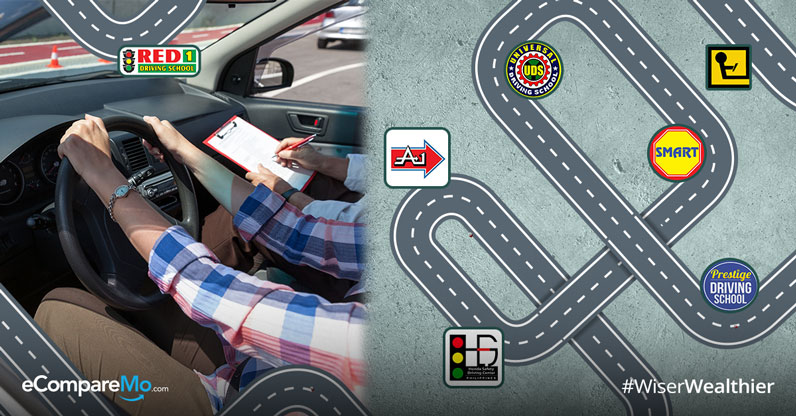 In a 2017 road safety hearing held by the Senate committee on public service, Senator Vicente Sotto III stated that drivers here "are not only reckless but they are also stupid, that's why they will surely fail."
The comedian turned politician even estimated that "50 percent of drivers in the Philippines will fail," if given proper driving examination.
Though not backed by factual reports, there's some truth to what he said: Filipinos have a terrible attitude whenever they're behind the wheel.
You may say that there are a lot of factors involved that's beyond our control: think bottleneck roads and drivers not staying in lane, but we can always start with ourselves.
For one, there's finding a proper driving school to correct our errant ways.
Driving schools, in partnership with the Land Transportation Office (LTO), will now have a bigger role to play in shaping drivers in the country.
According to Vernon Sarne's articles on Visor and BusinessWorld, the LTO-accredited driving schools will become the entity to screen driver's license applicants and conduct lectures and practical trainings.
It's not yet official, but it's good to know that the government is now serious about us having better, educated drivers.
Whether you're a potential car owner learning the basics of driving, or a seasoned EDSA traffic warrior who needs a little refresher, it's best to learn from qualified experts in these LTO-accredited driving schools.
A-1 Driving
Main office: A-1 Driving Building, 2 Sta. Lucia Street, Plainview, Mandaluyong City
Contact number: (02)532-2272
Basic five-hour course
Manual sedan –

P2,500

Automatic sedan –

P3,500

Manual AUV/MPV/pickup

– P4,400

Automatic AUV/MPV/pickup

– P5,400

Automatic compact SUV

– P6,000

Automatic midsize SUV

– P6,200
Branches in Metro Manila
Mandaluyong City
Lower Ground Floor, Building A, SM Megamall – (02) 631-5802
Raymond Tower Boni, Boni Avenue corner Sikap Street – (02) 532-1934
20 San Rafael Street, Plainview – (02) 584-2374
Makati City
Ground Floor, Greenbelt 1 – (02) 871-9930
3rd Floor, Glorietta 5 – (02) 831-4409
569 J.P. Rizal Street corner J.B. Roxas Street, Olympia – (02) 899-1190
Quezon City
Ground Floor, The Block, SM City North Edsa –(02) 928-5853 / (02) 929-9439
Ground Floor, SM City Fairview – (02) 935-0708
Ground Floor, SM City Sta. Mesa – (02) 715-0573
Lower Ground Floor, SM Cubao–(02) 912-7918
Savemore Market Sikatuna – (02) 263-7287
Level 1, Robinsons Galleria – (02) 633-5887
Ground Floor, Robinsons Magnolia – (02) 725-7393
Ground Floor, Ever Gotesco Commonwealth –(02) 932-1253
Ground Floor, Eastwood Cybermall, Cyber One Building–(02) 687-0803
Circle C Mall–(02) 351-1825
Lower Ground Floor, Fairview Central Mall – (02) 281-7763
Xanland Place Condominium –(02) 426-3145
157 Tomas Morato Avenue – (02) 372-0676
G101 Building – (02) 455-2398
329 N.S. Amoranto Sr. Avenue corner Kanlaon Street – (02) 703-7324
164 Rosal Street – (02) 427-0222 / (02) 283-2285
City of Manila
Upper Ground Floor, SM City Manila – (02) 400-8634
Lower Ground Floor, SM City San Lazaro –(02) 565-4599
Level 1, Robinsons Place Manila –(02) 521-7616
4th Floor, Lucky Chinatown Mall – (02) 517-4751
Ground Floor, Harrison Plaza – (02) 587-3812
Pasay City
Ground Floor, South Wing, SM Mall of Asia – (02) 556-0203
Pasig City
2nd Floor, SM City East Ortigas – (02) 565-5895
Unit C, 686 Shaw Boulevard – (02) 565-5895
15 Mercedes Avenue – (02) 263-0381
San Juan City
Ground Floor, Shoppesville Arcade, Greenhills Shopping Center – (02) 624-6990
Taguig City
Services Row, Fiesta Market Extension, Market! Market! – (02) 847-0582
Unit 7, Karport Car Plaza – (02) 818-2835
Ground Floor, Sunshine Plaza Mall, FTI Complex – (02) 263-7288
160 General Luna Street – (02) 263-0530
Marikina City
Ground Floor, SM City Marikina – (02) 477-1574
Garcia Hospital, 40 Bayan-Bayanan Avenue – (02) 475-0183
Caloocan City
Ground Floor, Victory Mall –(02) 293-1877
Muntinlupa City
Lower Ground Floor, Alabang Town Center – (02) 772-2731
Ground Floor, Unit E, 108 National Highway – (02) 847-4315
35 National Road – (02} 861-1189
Las Piñas City
Lower Ground Floor, SM Southmall – (02) 806-2694
SM Center Las Piñas – (02) 874-6845
4965 Naga Road – (02) 847-2416
Parañaque City
Lower Ground Floor, SM City Bicutan – (02) 821-1943
3rd Floor, SM Supercenter Sucat – (02) 820-5590
Ground Floor, SM City BF – (02) 861-6610
Smart Driving School
Main office: Makalintal Building, 701 Boni Avenue, Mandaluyong City
Contact number: (02)534-7152
Basic five-hour course
Manual sedan regular course

– P2,200

Automatic sedan regular course

– P5,000

Manual Innova/Crosswind course –

P4,300

Automatic Innova course –

P5,800

Manual Hilux course –

P5,000

Automatic Fortuner/Montero Sport course

– P6,800
Branches in Metro Manila
City of Manila
2136 España Boulevard – (02) 242-9319 / (02) 781-6567
3390 New Panaderos Street – (02) 940-9964
CNT Arcade, 3333 New Panaderos Street – (02) 501-4230
Ground Floor, Harrison Plaza – (02) 559-1099
4096 R. Magsaysay Boulevard – (02) 516-2209
Unit 65 CTC Building – (02) 940-9964
409 Juan Luna Street – (02) 480-0480
Quezon City
Ali Mall – (02) 709-4286
1118 E. Rodriguez Avenue – (02) 949-2103
Commonwealth Avenuecorner Regalado Highway – (02) 431-2443
Ground Floor, Circle C Mall – (02) 373-4544
Unit A, 18 Mindanao Avenue Extension – (02) 453-5485
C1188 Quirino Highway –(02) 417-4638
645 Quirino Highway – (02) 939-6286
Second Floor, Citimall Building –(02) 920-3714
735 Kennedy Street – (02) 456-5012
151 Roosevelt Avenue – (02) 415-7521
2 Anonas Street Extension –(02) 434-9228
Mandaluyong City
77 Maysilo Circle Street – (02) 531-4326
Ground Floor, St. Francis Square –(02) 631-1663
Level 1, Robinsons Forum – (02) 631-9063
40 Apo Street – (02) 534-7152
Pasig City
41 Dr. Pilapil Street –(02) 642-4391
G4 San Buena Building – (02) 634-0552
Unit 103, 63 Ortigas Extension – (02) 949-1891
SM Center Pasig – (02) 470-3332
Parañaque City
Cristabel Building, President's Avenue – (02) 828-0145
103 Doña Soledad Avenue – (02) 239-7564
433 Quirino Avenue – (02) 851-0183
8232 Dr. A. Santos Avenue – (02) 401-7598
Marikina City
Marcos Highway – (02) 477-9229
167 Buenviaje Street – (02) 942-2595
Bagumbayan Avenue Extension – (02) 941-8479
Makati City
730 J.P. Rizal Street – (02) 890-1513
1653 Evangelista Street –(02) 889-9372
SM Jazz Mall, Jazz Residences –(02) 806-7077
San Juan City
59 N. Domingo corner C. Olazo Street – (02) 722-0003
Unit BS-54, Bridgeway Shops,Greenhills Shopping Center – (02) 283-1001
Caloocan City
456 Mabini Street – (02) 288-3784
Valenzuela City
218 McArthur Highway – (02) 443-2561
Las Piñas City
1825 Pilar Road – (02) 831-1325
Muntinlupa City
125 National Road – (02) 551-8146
Pasay City
537 Arnaiz Avenue –(02) 869-7217
Libertad Street corner Taft Avenue – (02) 534-0112
Socialites Driving Institute
Basic five-hour course
Manual Vios/Altis course

– P2,500

Automatic course

– P3,500

Automatic CR-V course –

P4,000
Branches
Makati City
816 Arnaiz Avenue –(02) 833-2043
Jupiter Street corner Makati Avenue – (02) 425-7383
Chino Roces Avenue corner Kamagong Street –(02) 833-2043
Quezon City
Mayon Street corner Maria Clara Street – (02) 741-7185 / (02) 448-5137
Shopwise Araneta Center – (02) 439-4485
Domingo Street corner Quezon Avenue – (02) 732-4618
Lower Ground Floor, Fairview Terraces – (02) 938-1236
Dahlia Avenue corner Falcon Street – (02) 417-1938
Elliptical Circle corner Quezon Avenue – (02) 924-0137
Pasig City
Puregold San Joaquin – (02) 710-6798
Las Piñas City
Starmall Alabang –(02) 872-5751
Parañaque City
PuregoldSucat – (02) 497-9450
Marikina City
Robinsons Supermarket, Graceland Plaza – (02) 263-8139
City of Manila
1580 Taft Avenue corner Pedro Gil Street – (02) 215-1225
España Boulevard corner Lacson Avenue – (02) 731-9346
Cartimar Shopping Center – (02) 833-2043
Mandaluyong City
Mandala Park – (02) 703-8734
 Xcel Driving School
Basic five-hour course
Manual sedan course –

P2,000

Automatic sedan course

– P4,000

Manual Innova course –

P3,500

Automatic SUV course –

P6,000
Branches
Quezon City
Second Floor, Tandang Sora Arcade – (02) 455-8550
71 Don Mariano Marcos Avenue –(02) 430-2171
Block 56 Lot 7 Samapa Street – (02) 514-1056
Upper Basement, Fisher Mall – (02) 514-0741
San Juan City
Second Floor, AVV Building – (02) 744-9704
Mandaluyong City
314-B Maysilo Circle Street – (02) 470-2934
Pasig City
3 Dr. Sixto Avenue – (02) 470-5996
198 Ortigas Avenue Extension – (02) 919-3305
City of Manila
Third Floor, 304 UC Building – (02) 254-8815
Makati City
Third Floor, Rudex Building – (02) 893-1329
Honda Safety Driving Center
Basic 20-hour course
Automotive learners safety course

– P4,200
Main office: KM 17, East Service Road, South Superhighway, Parañaque City
Contact number: ( 0917) 562-5984
Universal Driving School
Basic five-day course
Special manual course

– P2,500

Manual Innova course –

P3,500

Altis automatic course

– P4,500

Montero Sport automatic course

– P5,500
Branches
Makati City
789 J.P. Rizal Street – (02)898-2493
015 J.P. Rizal Street Extension – (02)882-6859
9594 Kalayaan Avenue – (02)729-7288
58-B Sen. Gil Puyat Avenue – (02)889-4941
Pasig City
16-C M. Concepcio Avenue – (02)628-3168
City of Manila
1647 A. Francisco Street – (02)484-3532
2119 Pedro Gil Street – (02)563-4446
1400 Paz Street corner San Gregorio Street – (02)561-3501
Taguig City
152 Gen. Luna Street – (02)643-6369
RED1 Driving School
Branches:
Pasig City
Unit C, 686 Shaw Boulevard – (02)261-7869
15 Mercedes Avenue – (02)263-0381
Mandaluyong City
Third Floor, Shaw Center Mall – (02) 225-7659
Unit G, 641 Boni Avenue – (02) 225-6428
Quezon City
329 N.S. Amoranto Sr. Avenue corner Kanlaon Street – (02) 703-7324
City of Manila
2128 España Boulevard – (02) 493-0300
Taguig City
160 Gen. Luna Street – (02) 263-0530
Ground Floor, Sunshine Plaza Mall, FTI Complex – (02) 998-5853
Parañaque City
44D President's Avenue – (02)826-3448
Prestige Driving School
Main office: 1935 España Boulevard corner Craig Street, Sampaloc, Manila
Contact number: (0917) 301-2132 / (02) 218-9496
Other sources: Business World