Top Car Companies In the Philippines
3 min read
2019 was a good year for the top car brands in the Philippines, according to data released by the Chamber of Automotive Manufacturers of the Philippines, Inc. (CAMPI), the Association of Vehicle Importers and Distributors (AVID), and the Truck Manufacturers Association (TMA).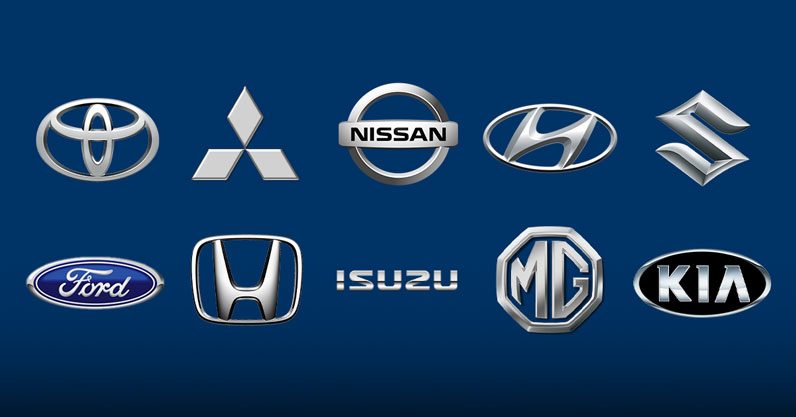 With 410,000 units sold nationwide, this was was a 2% improvement in the number of cars sold compared to 2018's figure.
Additionally, 2020 seems brighter as top car manufacturers are releasing electric vehicles (EVs) and Chinese brands upping their game with affordable vehicles available in the Philippine market.
Want to know if your favorite made it to the top? Check out our list of the top car brands in the Philippines.
Best car companies in the Philippines
Listed below in ascending order are the top 10 automobile companies that reigned supreme last year based on the overall sale.
1. Toyota
The Japanese juggernaut garnered 5.9% sales growth locally with 161,385 units sold last year.
Aside from their vehicle's proven durability, Toyota constantly innovates and releases reasonably priced automobiles effortlessly surpassing their contemporaries nationwide.
2. Mitsubishi
Though they released fewer models last year, Mitsubishi claimed the second spot with 64,065 units sold locally.
Also, last year marked the company's one million-unit sale, proving how effective it's in its five-decade role as a provider of transportation to the Filipino people.
3. Nissan
Nissan's 42,694 sold units helped them land on the third spot last year, with recorded sales growth of 22.15%.
Additionally, the Terra and Navarra which sold 10,469 and 19,034 units respectively are proof that local drivers appreciate Nissan's sturdier releases today.
4. Hyundai
Hyundai produced 32,856 sales last year, thanks to Reina, their in-demand subcompact sedan offered at an enticing price of P648,000 for the base model.
Furthermore, as per the Reliability Index, an international company that measures a car's dependability worldwide, anyone looking to buy a new automobile and doesn't want to spend too much on repair costs should try out a Hyundai.
5. Suzuki
From being on the seventh place in 2018, Suzuki bounced to fifth place last year, thanks to sales of the Ertiga, their highly praised multi-purpose vehicle (MPV) that cost less than a million peso.
Additionally, the demand for their other models like the Jimny, Swift, and Vitara helped the company see an outstanding 34% increase in their sales.
6. Ford
Ford's growth last year saw its sales rising to 21% in the first quarter.
Adding to their revenue is the demand for the Ecosport and Everest, both equipped with modern upgrades that are useful in everyday driving.
7. Honda
Though it placed seventh on the list, Honda is doing good as its target was reached amidst the challenges, they faced from other brands offering similar vehicles at lower prices.
Also, with the release of the all-new Brio plus the growing demand for their versatile City and the BR-V, the Japanese carmaker is likely to achieve better figures this year.
8. Isuzu
Isuzu experienced a significant decline in its sales as no major releases were introduced last year.
As one of the leading manufacturers of diesel engine cars today in the Philippines, they expect a graceful comeback as a revitalized D-Max is to be released this year.
9. Morris Garages (MG)
Distributed locally by The Covenant Car Company Inc. (TCCI), MG sold 5,058 units last year through its marketing efforts backed with their undeniably low prices.
This year, the Chinese-owned company promises to launch seven more dealerships nationwide to cater to the increasing demand.
10. Kia
Completing the list is Kia, now managed by the Ayala Corporation. The South Korean car manufacturer managed to increase its sales by 124.26% through a smart relaunch and better rebranding.
Leading their sales is the demand for the Soluto, a subcompact sedan offered for P625,000, followed by notable models such as the K2500, Grand Carnival, and the Seltos.
Finally, though the list above may influence your buying preference, we highly suggest to carefully examine your needs, consider other related expenses such as car insurance premiums and spare parts availability before purchasing.
Additionally, though all the mentioned brands are reliable, we highly suggest checking customer feedback specifically pre-sale to after-sales assistance as these are important to fully enjoy your ride.