Top 4 IPO Stocks To Look Out For This 2018
5 min read
Is one of your financial resolutions for 2018 to start investing in the stock market? Or perhaps you've earmarked the coming year as the time to expand your existing portfolio? If so, then one of the best ways to start or grow a stock portfolio is to invest in companies that are going public in 2018.
For those who have still not quite gotten the hang of investing, one of the best and easiest ways to start is to buy during a company's initial public offering (IPO).
To the uninitiated, a company going through an IPO means that it is selling ownership shares publicly via the stock exchange as a way to raise capital. Those who buy into newly public companies can get rewarded with dividends as the price per share goes up.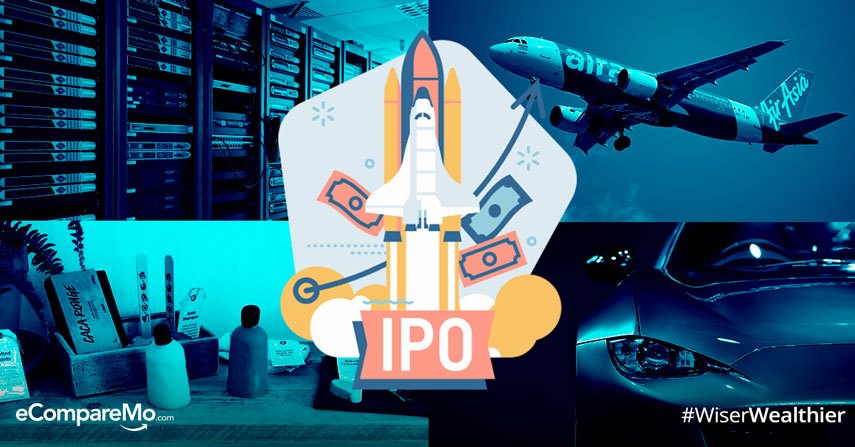 Is it wise to invest in a public company when it lists in the stock exchange? And which companies are expected to go public next year? While the final answer to those question is completely up to you, in this post, we're going to offer you some good advice to help you make up your mind.
Buy in early?
When a company goes public, they hope to expand their capital base so that they can then focus on further accelerating their growth. During an IPO, a company will begin to offer some of its shares to the public in hopes of garnering the attention of people and encouraging them to put their money and faith in the company. By the time the bell rings, the offer price may have already changed, and both an upward and downward movement is possible.
Companies whose closing prices are higher than their offer price during their IPO are perceived to be promising, although future updates and developments are still going to affect them. However, this is where the adage "buy low, sell high" comes in.
In a comparison done by Entrepreneur Philippines, among the 22 companies that went public between 2013 and 2017, 17 of them were first-day gainers, four saw a decline in their closing prices on the first day, and only one didn't experience any change.
Based on Entrepreneur's findings, the 17 IPOs that saw an increase in their offer price by the days closing experienced an average of 19.3 percent growth in their prices. Meanwhile, the four companies that closed a little lower during their first trading day only went down by 3.1 percent. During the said period, some of the biggest first-day gainers were DoubleDragon Properties, Xurpas, Golden Haven Memorial Park, SBS Philippines, and Crown Asia Chemicals. These companies saw almost a 50 percent hike in their share prices.
Take note, however, not all the losers during the first day are still sinking now. Concepcion Industrial Corporation, which closed at P25.85 during its opening (0.6 percent lower than its offer price in 2013), is now priced at P62.65 per share. Robinsons Retail Holdings is now at P92.9—and it closed on its first day at P57.95 in 2013. Both companies had their IPOs at the time when typhoon Yolanda pummeled the country. In addition, only 12 of the companies that in the said study have higher prices per share to date than their initial offer.
(Read: A Four-Step Guide To Investing And Trading In The Stock Market)
Generally, it is still considered a very good idea to buy a few shares on a company during the first day of their IPO. If one of your goals for 2018 is to jump into the stock market or you want to wisely expand your existing portfolio, here are four companies that are planning to become publicly traded in 2018.
1. Philippines AirAsia
Budget carrier AirAsia's presence in the country has been steadily growing since it commenced operations in 2012. Last September, Air Asia Group CEO Tony Fernandes announced that its initial plan to hold a $200-million IPO during the tail end of 2017 was pushed to this year. Aside from holding its long-awaited IPO, the company is also planning to expand its operations in the country by launching new routes and making Clark International Airport their base. Their goal is a fleet of up to 70 planes by 2032.
Given how confident the company seems in its future – and the undeniably large market for low-cost air travel to and from the Philippines, getting in early once Philippines AirAsia goes public seems like a very smart stock market move for 2018.
 2. Converge ICT Solutions
The Clark Communications-owned telco company Converge intends to go public in 2018. Although new to the high-speed internet market, the company has actually been operating for 24 years now as a provider of cable TV in Visayas and dial-up connections in Luzon. Plans for the following years include the inauguration of a P1.2-billion fiber optic cable network to provide fast internet connections to Filipinos. They also plan to offer faster connections to the world by building a P2.4-billion subsea cable before the year ends. The goal is to lower the prices of fiber optic cable internet in the country as well as increase the number of subscribers.
(Read: A Complete Stock Market Investing Guide For OFWs)
Providing faster internet access to Filipinos and the world is indeed an ambitious undertaking. But seeing how so many Filipinos of all classes use the internet – and complain about low internet speeds, the investment Converge is ready to make will probably pay off quite well in the future. You'll want to get on that quickly while you can.
3. The Lush Company
Food cart business titan The Lush Company wants to tap the stock market to fuel its market expansion. The Fruitas-brand owner has already sent feelers to the Philippine Stock Exchange, according to a report by the Philippine Star. Aside from its 700-strong food carts, the company expanded its reach in the food market by opening Le Petite Parisienne Manila wine and deli bar and 150 Maginhawa Food Park. The Lush Company may go public as early as first quarter of 2018.
Food, especially food that is quick and tasty, is always a hit among Filipinos. A company that can deliver something that Filipino's want, crave, and buy almost daily is always a good bet.
4. Bermaz Auto
Berjaya subsidiary Bermaz Auto was supposed to hold its IPO this year, but executive director Datuk Francis Lee Kok Chuan said the company's much-awaited public opening was pushed to 2018 after the government announced its plans to tax new vehicles. Bermaz Auto aims to open up more Mazda dealerships in the country, as well as set up a warehouse and distribution center in the country for better after-sales service.
While there is some understandable anxiety that the new excise taxes on vehicles might impact Filipino's willingness to buy new vehicles, the chances that market for new vehicles will drop off completely are nil. Putting some money and faith in a newly-public auto company is never a bad thing.
Other Sources: The Philippine Daily Inquirer, Entrepreneur Philippines, PSE, Manila Standard