A Four-Step Guide To Investing And Trading In The Stock Market
4 min read
Know the basics of stock trading with this starter kit.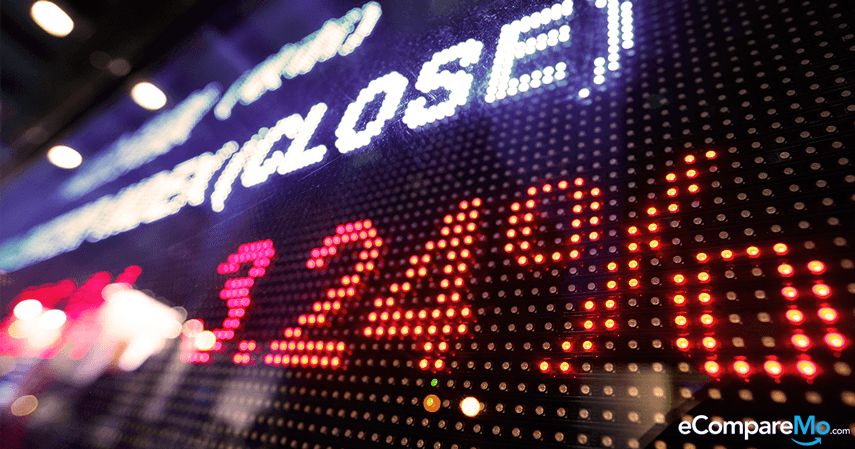 Stock exchange, put simply, is providing publicly listed companies at the Philippine Stock Exchange (PSE) with access to capital, in exchange for giving investors a part of ownership in their companies. This enables traders and investors to grow their money without taking bigger risks like that of the business owners.
There are a lot of success stories in PSE trading, and Filipinos are keen on investing their money in the stock market. If you want to venture in this kind of investment, this guide will provide you with the information you need in creating and maintaining an online trading account.
1. Getting started
You need to have a strong sense of discipline and purpose in maintaining and growing your account. It's important to consider the following questions before signing up:
• What is your purpose in investing in the stock market?
• Are you ready to take risks, which may involve losing some money?
• To avoid losing profit, are you willing to learn new things on your own and invest in helpful seminars?
Make an honest assessment of yourself:
• Are you more of an investor or a trader?
• In decision-making, are you impulsive or cautious?
• How long do you plan on investing your money?
While returns in the stock market have higher yields compared to that of fixed interest rates in time deposit or life insurance, it's important to realize that it is not for everyone. It involves taking calculated risks and utmost discipline to keep growing your money.
The income is not guaranteed. There is no right or "proper" way to trade, and you keep learning as you go along.
Get oriented by reading success stories from people who ventured into stock trading. Learn by attending seminars and reading books and online articles about stock trading. Financial advisers like Bro. Bo Sanchez of Truly Rich Club, Aya Laraya of Pesos and Sense, and Burn Gutierrez of Rock to Riches provide videos, articles, and books to help and encourage you to grow your money in the stock market.
2. Enrollment
Choose from PSE-accredited online stock brokers such as COL Financial, BPI Securities Corp., First Metro Securities Brokerage Corp., and Accord Capital Equities Corp. Enroll by signing up for an account online. You will receive an email with the application form and instructions on how to fund your trading account. You can send the application form and other requirements via courier.
COL Financial and Accord Capital Equities Corp. let you start with a minimum investment of P5,000. You have the option to fund your trading account through online banking or over-the-counter bank deposit.
More money deposited on your trading account means that you can buy and invest in more stocks. COL Financial, for instance, offers three types of accounts:
COL STARTER
Minimum investment: P5,000
COL PLUS
Minimum investment: P25,000
COL PREMIUM
Minimum investment: P1 million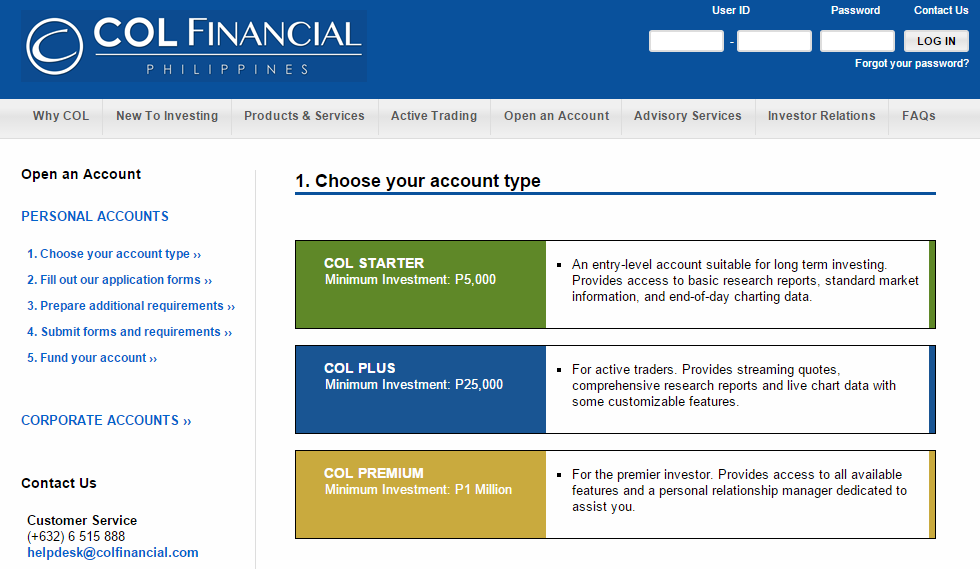 3. Account management
You will receive an email upon activation of your online trading account. Your initial deposit amount will reflect on your account and you can already start buying stocks. The trading hours start at 9:30 a.m. and end at 3:30 p.m.
It may be overwhelming at first due to the number of companies listed on PSE, but you can start buying stocks from Blue Chip Companies.
According to Investopedia, a blue chip "is a nationally recognized, well-established and financially sound company. Blue chips generally sell high-quality, widely accepted products and services. Blue chip companies are known to weather downturns and operate profitably in the face of adverse economic conditions, which helps to contribute to their long record of stable and reliable growth." This stability is what makes them more reliable for long-term investments. Most blue chip companies also tend to provide higher dividends.
To get you started, here are other important terms:
Trade. The purchasing and selling of stocks
Invest. Buying a stock and letting the money grow in your own terms, e.g. 1 year, 5 years, or until you've reached an ideal amount of profit.
Profit. The money you earned from selling stocks.
Dividend. A company's distribution of profit to its stockholders. The frequency of dividend payments is decided by the company. Dividends can also help compensate for your loss of profit in the company. It has two kinds: Cash dividend, which is more common; and stock dividend, which provides additional shares on your account.
As you go along, you will learn more terms such as Fundamental and Technical Analysis, and other trading and economic terms. Don't be overwhelmed, and don't overwork yourself in learning all these terms at once.
Get to know the companies that you want to invest in. More than anything, they should be stable. If you eventually want to take a riskier approach, make sure you don't put all of your money in one company.
4. Account maintenance and growth
You may deposit more money anytime you have extra cash. Putting more money in your account allows you to buy or invest in more stocks.
Investing in PSE will make you more financially literate and help you practice the discipline needed in growing your investments. Be up to date with the status of the stock market, the economy, and PSE enlisted companies, especially the ones that you've invested in.
Eventually, you can go for other forms of investments such as a mutual fund. Some online brokers offer this as another alternative for the traders to grow their money. –Kristel Serran