Everything You Need To Know About The Upcoming TNVS 'Transport Holiday' On July 8
7 min read
If you're dependent on Grab and other transport apps to enable you to get around the city, July 8, Monday, might be a good time to cancel your plans, or take a day off work.
As of July 4, numerous transport network vehicle services (TNVS) groups announced that they have banded together to stage a "transport holiday" on July 8. This means that they will not go on the road and pick up passengers for the entire day.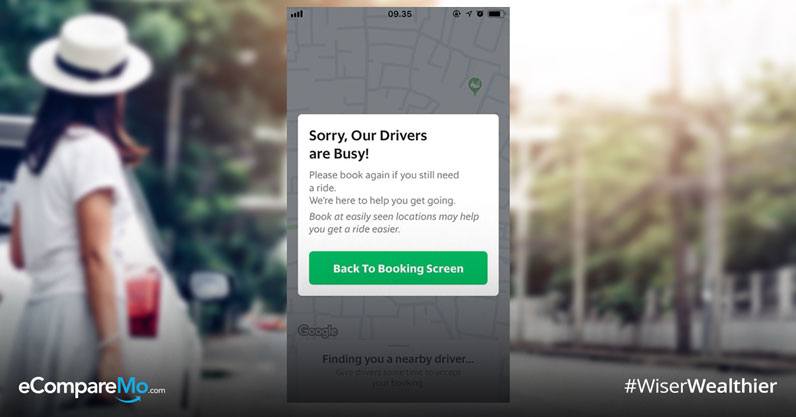 Dubbed #LabanTNVS, the groups, along with Kabataan Partylist and ACTS-OFW Partylist, will try to paralyze the public transport system to send a message to the Land Transportation Franchising and Regulatory Board (LTFRB).
The groups said in a statement that they want to air their grievances regarding the agency's tightening and highly inconvenient application process for new TNVS units. In addition to going offline, they will also stage protests in different parts of Metro Manila.
Although Grab, in a statement, dissuaded its partner drivers from joining the rally, it's better to be prepared than be late for work on the first day of the week.
What can you do on Monday during the #LabanTNVS Transport Holiday then? Let's answer all your burning questions.
Who are the parties involved in the staging of the event?
In a statement from the organizers published by motoring website Visor, the following groups are the ones responsible for the protest on Monday:
Unspecified TNVS groups and communities forming a supergroup called "TNVS Community"
Defend Job Philippines
Lawyers for Commuter Safety and Protection
Metro Manila Hatchback Community
Representatives Sarah Elago of Kabataan Partylist and Ancieto Bertiz III of ACTS-OFW Partylist
Despite the variety of groups participating in the event, the press statement didn't specify the number of Grab drivers who will go off the grid. However, a report by the Manila Bulletin said that 35,000 drivers will join the rally.
(Read: 5 Grab Alternatives And How Much Each Will Cost You)
How long will the transport holiday last?
Drivers who will participate will disconnect from their Grab driver apps on their smartphones and go offline from 6 AM to 6 PM.
Aside from going offline, what else will the drivers do on Monday?
The protesters will set up three command centers that will coordinate with one another as well as serve as their protest grounds:
Quezon Memorial Circle in Quezon City
Mendiola Bridge in the City of Manila
Jose Diokno Boulevard in Pasay City
Meanwhile, members of the Metro Manila Hatchback Community are reported to head to the Office of the Ombudsman on Agham Road "to file charges against LTFRB officials."
Drivers, as well as support groups involved in the demonstration, will occupy parts of the area so make sure that you will take these areas into consideration during your commute on Monday.
(Read: Taxi Fare Hike Approved; Recalibrated Units To Be Installed With CCTVs, Mobile Apps)
Why is this necessary?
To understand why there's discontent from the side of the partner drivers, we need to go back to previous regulations imposed by the LTFRB.
Earlier last year, the LTFRB released Memorandum Circular (MC) 2018-003 that set a 45,700 cap for common supply base of all TNVS companies such as Grab and the now-defunct Uber. Eventually, MC 2018-005 superseded this and increased the available units to 66,750 drivers.
Another hotly contested issue is the deactivation of hatchback drivers. Based on MC 2017-032, vehicles that wouldn't meet the minimum body dimensions imposed by the government would not be allowed to operate as TNVS vehicles.
Eventually, MC 2018-005 softened its stance against hatchback owners and gave existing Grab drivers three years to operate just so they can pay for their vehicle loans. However, they're also subject to other terms such as exclusively operating within Metro Manila and charging lower rates than sedans.
Finally, there's the issue of the LTFRB ordering Grab to remove its "colorum" operators. To avoid getting axed from the network, members have to get provisional authority and certificate of convenience from the LTFRB.
Unfortunately, Grab drivers claimed that the government is pumping the brakes on approving these, disenfranchising around 5,000 units who weren't able to comply with the requirements.
The LTFRB reviews the list of drivers every three months, and they have the power to drop not only drivers who do not have the complete requirements but also those who have not been active to give way to other applicants.
To the organizers of #LabanTNVS transport holiday, all these and more are not just making public transportation through TNCs more inefficient, but they also destroy the livelihood of drivers and operators.
"The 12-hour #LabanTNVS Transport Holiday on Monday is our form of collective protest against our various issues and complaints against the LTFRB's pahirap policies, which curtails our right to decent and legitimate livelihood for our families," said the coalition in a statement.
What does the government think about this?
Needless to say, the LTFRB wasn't pleased with the upcoming transport holiday.
In a statement, LTFRB chairman Martin Delgra III asked the drivers to not "hold the riding public hostage by their planned disruptive action." He also urged the organizers to take their legitimate concerns through proper channels rather than causing inconvenience to the public.
However, Lawyers for Commuters Safety and Protection chairman Ariel Inton told the Philippine Daily Inquirer that they already tried establishing a dialogue between the government and concerned parties.
Intal said that TNVS stakeholders reached out to the government agencies "individually and as a group" but their grievances merely "fell on deaf ears."
What is Grab's reaction to all of this?
Like anyone else, Grab's hands are tied when it comes to the mandates of the LTFRB. After all, slighting the government even just a bit might make the agency suspend their operations.
In 2017, Uber was slapped with a one-month suspension after the former TNC in the Philippines kept taking in applications despite the order to cease it. Grab knows that the last thing anyone wants is them stopping their operations even for a bit.
How did Grab react to the planned demonstrations on Monday? The company's public affairs manager Nicka Hosaka urged its members to "show utmost restraint" before participating in any action that would cause suffering to its users and the commuting populace in general.
"We encourage our TNVS partners to work with us, with passengers, and with our regulators, to address TNVS pain points through dialogue. Let us take the high road and to not resort to any rash actions that would directly affect the passengers we are all committed to serve," Hosaka said.
(Read: Grab Vs. DOTr, LTFRB: Who's Really Responsible For Our Booking Woes?)
What will happen to me if I'm dependent on TNVS?
Whether this goes well or not, it will cause inconvenience to the motoring public. If the figures are correct, then 35,000 units will be taken out of the total drivers available on Monday.
That means that Grab users will vie for the remaining units, surging the price up to accommodate to the spike in demand.
This will also make the TNVS-dependent commuters turn to public transit such as trains, buses, jeeps, taxis, UV Express vehicles, and others. Knowing the demand for motorcycle taxis such as Angkas is high, it can also impact your ability to flag one due to a possible surge in bookings.
In addition, protesting drivers will also block certain portions of the locations stated above, making vehicular flow heavier around those parts.
If you're one of the many people who will be affected by the demonstrations on Monday, plan your route ahead. You can use our handy point-to-point bus guide to navigate through the most common destinations in Metro Manila.
If you think it will be impossible for you to get to work under the potential circumstances, it's time you file for leave as early as now. Or you can tell your boss to just permit you to work from home– the Telecommuting Act has been signed into law after all.
Is there a bright side to this? If, by any chance, TNC partners won't bring their vehicles on Monday during their rally, then it's 35,000 cars taken away from the streets of Metro Manila. That volume of vehicles might still make it impossible to travel from Cubao to Makati in five minutes, but that's still fewer vehicles on the road.
Whether you like it or not, the problems of TNVS drivers and operators are everyone's problems. If their system is broken, then we're all broken too. After all, the Philippine traffic is just one big grotesque version of that famous line from a High School Musical song:
We're all in this together.