This Is How Much It Will Cost You To Own A Tesla In The Philippines 2019
6 min read
Here's a hint how much is Tesla in the Philippines, if ever available now in the local market: it's easier to maintain than buy.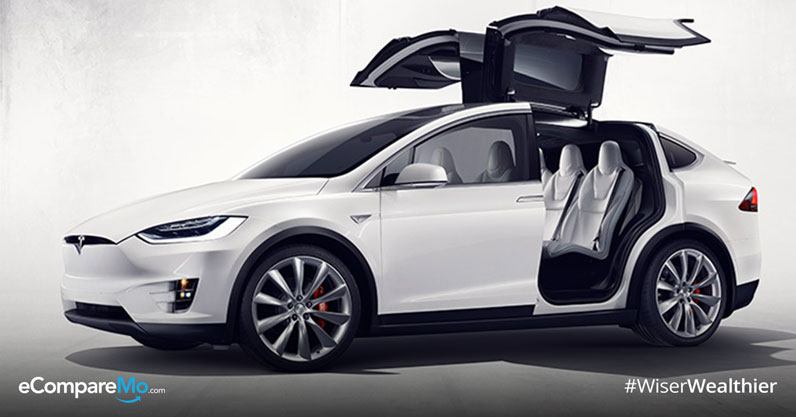 What Sets Tesla Apart?
In March 14, 2019, Tesla unveiled its newest Model Y, which has the SUV functionality and smooth ride like sports car. It also boasts a panoramic glass roof and seating for seven people.
However, what really made the noise was in October 2015, when SpaceX and Tesla Motors visionary Elon Musk announced the latest unit to come out of the Tesla Gigafactory in Nevada: Model X, a full-sized electric SUV with Batmobile-style "falcon wing" doors. Expectedly, America's rich and famous, including Google co-founder Sergey Brin, had rushed in line to reserve their slots.
And why not? With jaw-dropping features like a "bioweapon defense system" (an advanced air filter system that pressurizes the car's interior to keep the bad air out) and a "ludicrous mode" (which allows it to go from 0-100kph in three seconds), everyone would of course want to get first dibs on it.
Now it may still be long before the Model X arrives in the Philippines, but it wouldn't hurt to answer one important question in our collective heads: Will I ever afford a Tesla in this lifetime?
The quick answer: Tesla Models, Variants, and Prices
If there's one thing we have to know, it's that Teslas don't come cheap—even the Model 3, the most budget-friendly model released in 2016 had sent our third-world budgets through the roof.
Tesla website states the Roadster, the model that started Tesla, is announced to make a comeback with improved features and performance. It will be the most expensive model from Tesla at a whopping price of P20 million. Here's a table for its features:
Roadster
| | | |
| --- | --- | --- |
| 250+ | 620 | P10,208,000‬‬ ($200,000) |
Production starts in 2020. However, you can already reserve for a unit and it takes P2,552,000 (or $50,000) of the base price. Other option would be to get a founder series (out 1,000 models) for a one-time payment of P12,760,000 (or $250,000).
Other top-of-the-line models from Tesla are the following:
Model Y
The latest model from Tesla, which will be produced in 2020 also, is basically like Model 3 with extra seating, enhanced interior, and panoramic glass roof.
| Variants | Top Speed | Range of Distance (mph) | Base Price Before Tax |
| --- | --- | --- | --- |
| Standard Range | 120 | 230 | P2,500,960‬‬ ($49,000) |
| Long Range | 130 | 300 | P‬2,398,880 ($47,000) |
| Dual Motor All-Wheel Drive | 135 | 280 | ‭P2,603,040 ($51,000)‬‬ |
| Performance | 150 | 280 | P3,062,400 ($60,000) |
Model X
The top interest among Tesla models is Model X or generally known as Tesla Crossover because of its falcon wing door that is truly a groundbreaking feat and its speed which is considered the fastest in the automobile industry.
| Variants | Top Speed | Range of Distance (mph) | Base Price Before Tax |
| --- | --- | --- | --- |
| Long Range | 155 | 295 | P4,568,080‬ ($89,500) |
| Performance | 155 | 289 | P5,308,160‬ ($104,000) |
| Performance with Ludicrous Mode | 155 | 289 | ‭P6,328,960 (‬$124,000) |
Model S
A popular sports car matched with top-notch speed, though not the leading electric car among the list.
| Variants | Top Speed | Range of Distance (mph) | Base Price Before Tax |
| --- | --- | --- | --- |
| Long Range | 155 | 335 | P4,338,400‬ ($85,000) |
| Performance | 155 | 315 | P5,052,960‬ ($99,000) |
| Performance with Ludicrous Mode | 155 | 315 | ‭P6,073,760‬ ($119,000) |
The difference between Model S Performance and Model S Performance with Ludicrous Mode is the acceleration capacity.
Model 3
This is the most affordable line of Tesla vehicles, which is the first attempt to market electric car to the masses.
| Variants | Top Speed | Range of Distance (mph) | Base Price Before Tax |
| --- | --- | --- | --- |
| All-Wheel Drive Long Range | 145 | 310 | P2,475,440‬ ($48,500) |
| All-Wheel Drive Performance | 162 | 310 | P3,036,880‬ ($59,500) |
| Rear-Wheel Drive Long Range | 140 | 325 | ‭‭P2,271,280‬ ($44,500)‬‬ |
| Rear-Wheel Drive Standard Range | 130 | 220 | ‭‭P1,786,400 ($35,000) |
| Rear-Wheel Drive Standard Range Plus | 140 | 240 | ‭‭P1,914,000‬ ($37,500) |
Tesla Car Importation Tax
Since Tesla doesn't have an official showroom in the Philippines, you'll have to import your unit from the United States. The Bureau of Customs (BoC) is known for charging not-so-modest duties and fees on imported cars. All vehicles are subject to 40-percent import tax, 12-percent value added tax, and ad valorem tax ranging from 15 percent to 100 percent of the total vehicle price. (You may check the BoC's tax calculator here.)
To compute for taxes levied on imported vehicles, the Bureau of Customs use the car book value instead of the acquisition cost, which is more of a global standard than the latter. For the car's book value, they use the Red Book, Blue Book, or the World Book depending on the origin of the vehicle.
In for the long haul
While it is expensive to buy a Tesla—let alone import one here—the long-term savings when it comes to fuel costs can offset the price tag of the car. Depending on the variant, a full charge of the Model S can last for 420 to 500 kilometers before discharge. One full charge will only cost you around P600 to P700. This makes conventional fuel-powered vehicles pale in comparison: a Japanese luxury sedan only has a fuel efficiency of 45 kilometers per gallon.
So far there is only one Tesla owner in the country: business tycoon Manny V. Pangilinan. With a net worth of US$508 million, he sure didn't have a hard time bringing his own Model S in the country. News reports say, however, that he can only drive the car around Meralco's headquarters in Pasig because the Land Transportation Office (LTO) doesn't have the framework to deal with electric vehicles yet. That means while he got his expensive electric little toy easily, he can't get a license plate for it.
No plug, no play
Even if Tesla Motors opened shop here tomorrow, we still do not have the infrastructure to support electric car users in the country, unlike in the US where the company have more than 100 charging stations installed across town. The only real way for people to charge Tesla cars? Through good ol' home charging.
Let's face it: electric vehicles are the future of cheap, sustainable, and eco-friendly transportation on the planet. While the electric vehicle industry is still in its infancy in the US, it's only a matter of time before the rest of the world catches up. We ought to be ready with our car power banks when that time comes.
When will Tesla be available in the Philippines?
Electric vehicles are ideal at these times of climate change, and the world has been fittingly adapting with this mode of transportation. Although there are already few models of EV operating in the country, there's still a long way to for total electrical mobility in the Philippines.
There is lack of infrastructure for EVs unlike China, which has a high number of public charging stations. In contrast, the Philippines lacks support given to foreign nations that want to invest EV in the country.
Tesla sought to expand its business in the Philippines. However, the product involved is the energy storage called Tesla Powerwall, which Meralco presses on its utilization.
For now, importation is the only option for you to get a Tesla car, which entails a greater amount on top of the already whopping prices of the models.