These Horror Stories Are Enough Reasons Why #WeWantUberGrab
2 min read
#WeWantUberGrab has been the battlecry all over the internet for the past few days. This is after the Land Transportation Franchising and Regulatory Board (LTFRB) came out with an announcement, low-balling ride-sharing mobile application companies Uber ang Grab.
An estimated 50,000 Uber and Grab drivers face deactivation for operating without a franchise. Starting July 26, 2017, drivers who operate without permits will be apprehended by LTFRB.
Both Uber and Grab were already fined P5 million each for tolerating alleged "colorum" drivers to operate without certificate of public convenience or provisional authority.
Netizens demanded to lift the ban through mass online petition. However, LTFRB board member Aileen Lozada reiterated that "the board will not be influenced," nor will it "succumb to pressure."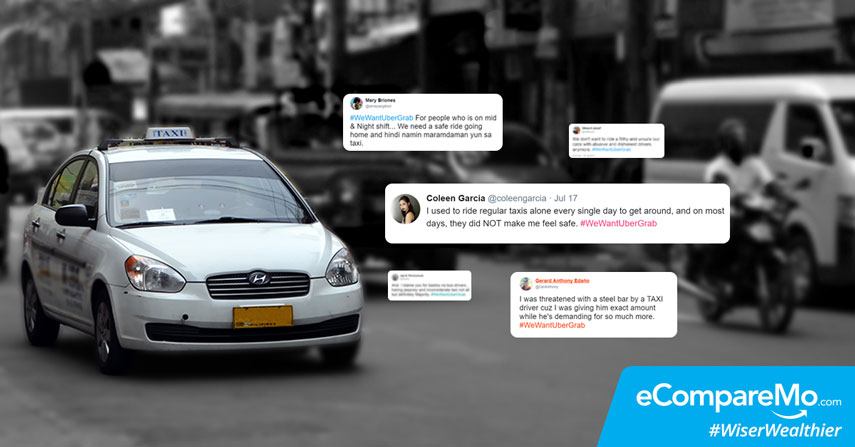 Note that only around 3,000 units were granted franchises by the LTFRB until it implemented a moratorium last year.
"Kung ganito kayo kaingay at kadesididong patawan ng service ban ang Grab at Uber, dapat ganito rin ang aksyon ninyo sa mga reklamo sa regular taxis," Senator JV Ejercito rebuked.
eCompareMo fully supports Grab and Uber for continuously providing safe, comfortable, efficient, and reliable transportation that caters to commuters' well-deserved service and experience.
Even more so, after reading horror stories like these…
In 140 characters (or more), explain why PUVs, specifically taxis, scare us out of our wits.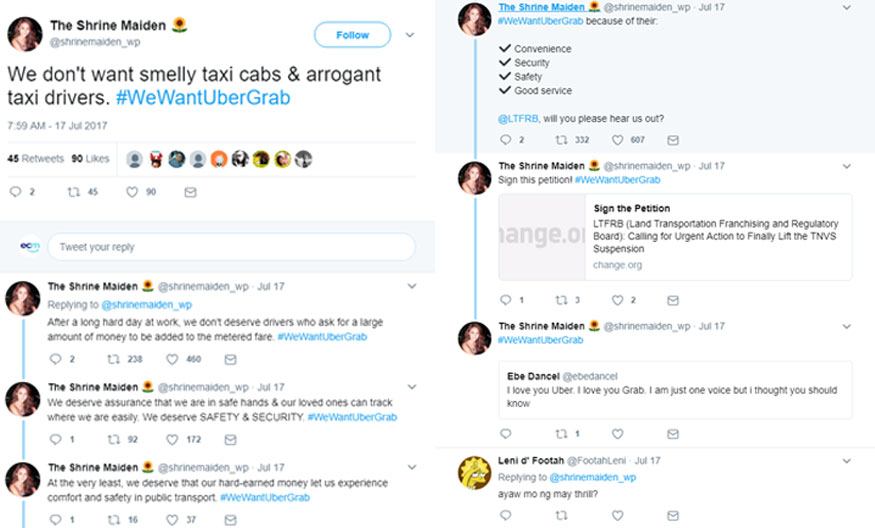 Worse, incident reports aren't even addressed by the LTFRB.

When drivers attack.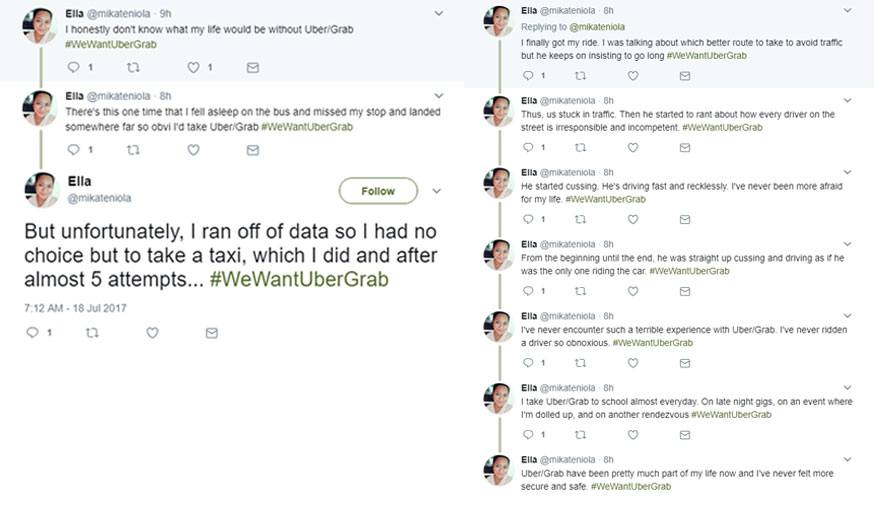 Professional driver's license, unprofessional driving.

Even Coleen Garcia wasn't spared.

Who likes riding in a funny-smelling automobile?
#WeWantUberGrab idont like taxi they are dilapidated, no aircon, dirty, foul odor, they choose passenger etc. we need uber grab!!!!

— bigbird espinosa (@dakokaayo) July 17, 2017
Or rigged meters aka "batingting" and the involuntary "tip"
Yung bang, mas mabilis pa ang pagtaas ng metro ng taxi kesa sa oras ng makakapunta ka sa destinasyon mo dahil sa traffic? #WeWantUberGrab

— salvaTHORe (@imsalvaTHORe) July 18, 2017
P71 taxi fare from EDSA Ayala to Makati Med. Paid P100 waiting for sukli. Seenzoned lang kami ni Kuya, hustisya sa P29 ko!! #WeWantUberGrab

— Margaux (@marrrgauxxx) July 18, 2017
And here is what your money will get you with e-hailing and why #WeWantUberGrab.
Bus, taxi, jeepney… safe?

Holdup with 5 men armed from Megamall to Shaw at 2 PM.

— Diana Aller (@dee_ana87) July 17, 2017
#WeWantUberGrab For people who is on mid & Night shift… We need a safe ride going home and hindi namin maramdaman yun sa taxi.

— Mary Briones (@amayangibon) July 17, 2017
Maybe we deserve a playlist we want while on our way home, work or wherever our destination will be. Simple things LTFRB. #WeWantUberGrab

— ✨AMORTENTIA ? (@dauntlessrizza) July 17, 2017