These Are The Richest Senators In The Philippines Right Now
4 min read
Mirror, mirror, who's the richest of them all?
Fortunately, there's no need for a magic mirror to tell us who's who. According to the 2016 statement of assets, liabilities, and net worth (SALN) of our politicians, two senators hit the billion-peso mark.
The Philippine Daily Inquirer reports that Senators Cynthia Villar and Manny Pacquiao were ranked as the top richest senators in the country. Both officials have 10 digits in their SALN.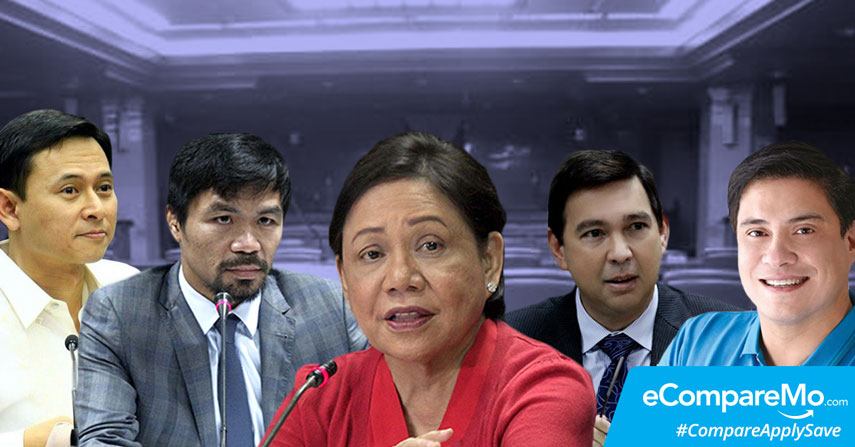 Villar, who replaced her husband Manny in the senate in 2013, declared her net worth amounting to P3.6 billion. Her current net worth is higher than her total value in 2015, which was P3.5 billion.
Meanwhile, the boxer-turned-politician listed in his SALN a net worth of P3.072 million. While Pacquiao may be one of the richest politicians even when he was in the House of Representatives, the senator from Sarangani had just been knocked out by Villar from being the richest government official.
Other senators that would make the top 10 richest were the following:
Ralph Recto, P522.6 million
Edgardo Angara, P123.9 million
Juan Miguel Zubiri, P121.7 million
Sherwin Gatchalian, P92.1 million
Grace Poe-Llamanzares, P88.4 million
Frank Drilon, P82.4 million
JV Ejercito, P79.1 million
Richard Gordon, P66.9 million
The rest of the senators whose net worth is above P10 million are:
Vicente Sotto, P63.8 million
Nancy Binay, P60.48 million
Loren Legarda, P40.9 million
Panfilo Lacson, P38.7 million
Bam Aquino, P33.8 million
Alan Peter Cayetano, P24.1 million
Joel Villanueva, P21.5 million
Gregorio Honasan II, P21.2 million
Aquilino Pimentel III, P17.7 million
Risa Hontiveros, P16.3 million
At the bottom of the list, with net worth lower than P10 million, are:
Francis Pangilinan, P9.28 million
Leila de Lima, P6.61 million
Francis Escudero, P6.6 million
Antonio Trillanes IV, P6.5 million
If number-crunching isn't your game, then here are a few fun facts:
• The total wealth of all the senators in the Philippines is P8.21 billion, which is 0.25 percent of the national budget.
• The sum of their net worth is almost equal to the amount awarded by President Rodrigo Duterte to the Commission on Higher Education to be used for free tuition on state colleges and universities.
• Villar's net worth is enough to buy other non-billionaire senators twice over—with enough change, of course. To cover for her and Pacquiao's net worth, the rest of the senators would require four times of their combined net worth to equal the billionaires' combined total value.
• Trillanes declared a total amount of P16.01 million in assets, but his liabilities such as home and personal loans lowered his net worth to P6.5 million.
• Combining the net worth of all non-billionaire senators, their total net worth almost has the same amount as the budget of the Presidential Communications Operations Office, which has a 2017 budget of P1.255 billion.
Treasures out of rich
Last year, Senator Villar surprised the public when her 2015 SALN reflected an astronomical jump from 2014's P1.9 billion to P3.5 billion. According to the senator, she said that her almost double net worth was due to her husband Manny, since they file a joint SALN as husband and wife.
"Alam mo yang pagyaman namin ni Manny [Villar], sya ang nakakaalam nyan. Hindi ko naman alam yan, hindi ako nagbi-business kaya lang joint filing kami, di ba mag-asawa," she said in a report by the Philippine Daily Inquirer.
Even before the couple jumped into politics, the family has been involved in several ventures. Among the industries where the she and her husband Manny has stakes include real estate and retail. Mr. Villar is ranked by business magazine Forbes as the 12th richest Filipino with a value of $1.8 billion.
Despite being in the real estate business, senator Cynthia Villar's SALN showed that she only has a total of P4.588 million worth of real estate properties.
However, her investments in shares of stocks are worth P2.249 billion. Other real and personal properties she has amount to P1.346 billion. She has no liabilities listed, according to reports.
Meanwhile, Pacquiao's riches are no secret: win or lose, the pugilist is expected to take home tons of money after every match. For instance, Pacquiao was reported to have taken home $120 million in 2015 after his much-awaited fight with Floyd Mayweather Jr.
According to his SALN, some of the notable assets of Pacquiao include a residential home in the US worth P115 million, his Forbes Park home worth P388 million, a property in General Santos City worth P400 million, and a commercial lot in the same area at P120.5 million. Among others, his real assets amounted to P1.596 billion.
In addition to his properties, Pacquiao also declared some personal assets amounting to P1.853 billion, which include personal assets like cash and jewelry, investments, and transportation equipment.
While his total assets reached an amount of P3.422 billion, he had liabilities for a total of P350.595 million.