Christmas Shopping Guide 2015: Top Christmas Bazaars In Metro Manila, Sorted According To Your Needs
5 min read
On the lookout for vintage finds, food, clothes, or shopping for a good cause? Here are the most happening bazaars around town to check out this holiday season.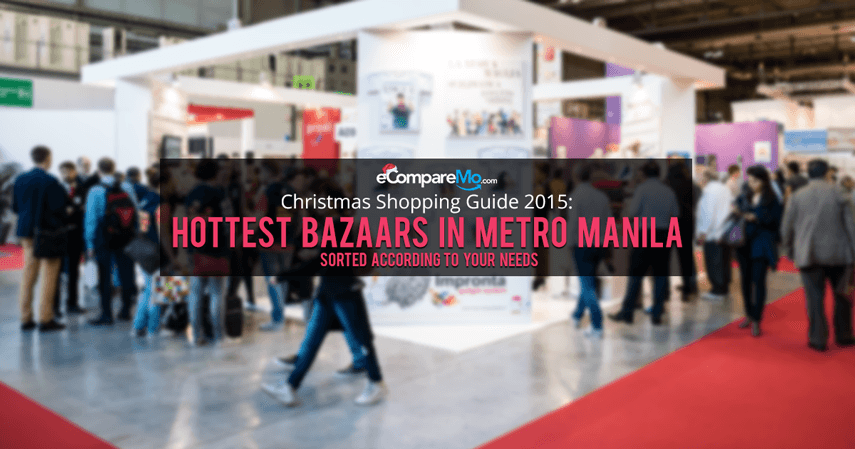 It's the most wonderful time of the year—for great, affordable buys. With the 13th month pay and Christmas in your hands, nothing can to stop you from shopping and sharing your blessings with your friends and loved ones, regardless if they've been naughty or nice.
Thankfully, there are a number of Christmas bazaars in Metro Manila to keep you within budget this 2015 holiday season. We've rounded them up for your convenience. Below are the bazaar schedules and locations to make your Christmas shopping more convenient.
ARTS & CRAFTS
Pasko ng Sining Holiday Bazaar
Get unique items and artisanal products at Pasko ng Sining bazaar. The event features products and art pieces from Casa Mercedes, Balay ni Atong, Casa San Pablo, Natalya Lagdameo, Rurungan sa Tubod, Ayala Museum, and Flip + Inna.
When: December 4 to 13
Where: 2/F Function Room, Ayala Museum Makati, Makati Avenue corner Dela Rosa Street, Makati City
Urban Arts and Crafts Fair
Enjoy shopping flagship items and other unique buys partnered with acoustic music and sumptuous food. Concessionaires are certified crafters and independent handmade makers so you're sure to get only superior exclusive items.
When: December 11 to 13, 4 p.m. to 11 p.m.
Where: Midnight Mercato, Bonifacio Global City, Taguig
La Feria BGC Urban Marketfest
If you're looking for vintage, handcrafted lifestyle buys, La Feria showcases vintage flea, artisanal eats, and art pieces from both local and foreign exhibitors in the country.
When: December 12 to 13
Where: Terra 28 Park, 28th Street, Bonifacio Global City, Taguig
FOOD & ENTERTAINMENT
CRSmas Bazaar: The Candy Carnival
If you've got a sweet tooth and a giving heart, help yourself and head to UP Town Center. This project of the UP Communication Research Society in partnership with several online sellers aims to lend a hand to the children of Tulong sa Kapwa Kapatid Foundation.
When: December 10, 10 a.m. to 9 p.m.
Where: UP Town Center, Katipunan Ave., Quezon City
Christmas Toys and Collectibles Fair 2015
Unleash your inner child and fan over your favorite superheroes and anime characters. You can find numerous toys, game boards, figurines and collectors items at this much-awaited Toycon event.
When: December 11 to 13, 10 a.m. to 9 p.m.
Where: SM Megatrade Hall, SM Megamall, Mandaluyong City
Manila Children's Festival
If you are looking for the best gifts to your children or inaanak, all the right kid stuff is just situated in the heart of Megamall. With a tie-up between Superkids – A Young Child Expo and Manila Children's Book Fair, the whole place is sure to give kids smiles this Christmas.
When: December 11 to 13, 10 a.m. to 8 p.m.
Where: SM Megatrade Hall, SM Megamall, Mandaluyong City
Pasko Sa Maginhawa Bazaar
We all know Maginhawa as the fastest-rising food meccas in the metro. This year, Maginhawa holds a Christmas bazaar and banchetto in the area to fulfill your gastronomic adventures whilst shopping. You surely won't leave the area empty-handed.
When: December 18 to 20, 10 a.m. to 10 p.m.
Where: Maginhawa Covered Court, Maginhawa corner Masinsinan Streets, Teacher's Village East, Quezon City
Maginhawang Pasko 2015
Aside from the typical food trips that Maginhawa Street offers, you will also get to wander on the lane with fashion booths and arts and crafts catered by 320 concessionaires. Music and games will be provided from time to time as the road is closed all day for more fun shopping and dining.
When: December 12 to 13, 9 a.m. to 12 m.n.
Where: Maginhawa Street, Quezon City
Santa's Attic at Glorietta
If you're looking for stylish apparels and hip items, go to one of Manila's lifestyle hubs. Santa's Attic showcases the latest fashion trends, accessories, and more of what you want for Christmas. Feel the Christmas spirit too as selected choirs sing your all-time favorite Yuletide carols while you shop.
When: December 12 to 13, 10 a.m. to 10 p.m.
Where: Glorietta 5 Atrium, Makati City
Christmas Bazaar at Greenfield District
Make your Christmas shopping stress-free at Greenfield District. Grab tasty eats paired with ice-cold beverages and enjoy the sight and sounds of band performances.
When: December 20, 1 p.m. to 12 m.n.
Where: Greenfield District Central Park, Edsa corner Shaw Boulevard, along Mayflower Street, Mandaluyong City
FASHION & RTW
Trendsetter's Bazaar
From clothes and shoes to arts and craft, Trendsetter's Bazaar has it all in store for you. If you're on the lookout for interesting finds and hearty food and drinks with your family and friends, this is the place to be.
When: December 11 to 13
Where: Metrotent at Metrowalk, Ortigas, Pasig City
World Bazaar Festival
Looking for a one-stop shopping experience? World Bazaar Festival is one of the largest bazaars in the Philippines, with over 600 exhibitors and a wide array of products and services offered. The event will also benefit the ABS-CBN Lingkod Kapamilya Foundation.
When: December 4 to 21, Monday to Thursday, 12 p.m. to 10 p.m.; Friday to Sunday, 10a.m. to 12 m.n.
Where: World Trade Center, Pasay City
Marikina Riverbanks Christmas Saya Bazaar
Looking for new and affordable kicks and other RTWs? Riverbanks Christmas Saya has got you covered. With Marikina being synonymous with quality footwear, expect great value for your money.
When: October 1, 2015 to January 17, 2016, Sunday to Thursday, 2 p.m. to 12 m.n.; Fridays, Saturdays and Holidays, 2 p.m. to 2 a.m.
Where: Riverbanks Center, Bonifacio Avenue, Marikina City
Christmas Bazaar at PNR 2015
No time to hit the mall to shop for gifts? This bazaar, strategically situated at the PNR Tutuban Station, offers clothes and novelty items at affordable prices.
When: November 8, 2015 to January 23, 2016, 7 a.m. to 8 p.m.
Where: G/F, PNR Tutuban Station
ORGANIZATION
Rotary Club International Family Bazaar
Shop for a cause as Rotary Club, in partnership with OLX.ph, raises awareness of dengue prevention and polio, and helps victims by providing medical aid. Special guest performers and 100 exhibitors will participate too.
When: December 4 to 6, 1 p.m. to 12 m.n.
Where: Eastwood City Open Park Mall, Libis, Quezon City
American Women's Club Monthly Bazaar (AWCP)
AWCP, an organization of women expats in the country, celebrates American culture along with other nationalities through a monthly bazaar. You can find both food and non-food stalls selling ready-to-eat goods and other imported items.
When: December 15, 8:30 a.m. to 2:30 p.m.
Where: SMX Convention Center MOA Complex, Pasay City
OFW/SME Business Christmas Expo
Open up to new business ideas and expand your network in this upcoming expo. This caters to startup companies, entrepreneurs, and people who are looking for new business opportunities.
When: December 15 to 16, 10 a.m. to 9 p.m.
Where: SM Megatrade Hall 2, SM Megamall, Mandaluyong City